Top American Muscle Cars of All Time
20. 1970 Oldsmobile F-85/Cutlass W-31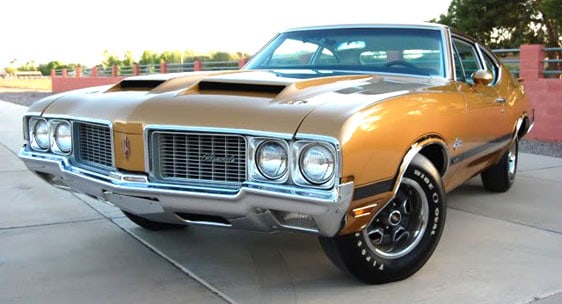 Another one of Oldsmobile's ventures into the muscle car market was the 1970 Oldsmobile F-85 Cutlass W-31. With a slight edge over the Rallye 350, the 1970 model of the W-31 package was a bump ahead of the previous year's model.
The W-31 model had a decal near the marker lights that said "W-31" and had dual Outside Air Induction hood scoops. While the standard F-85 was considered an everyman car. The kind of car your Dad drove back and forth to work, or the kind your grandparents cruised in. The W-31, though, was a beefy upgrade that serious performance enthusiasts were begging for. With a 350 engine, it commanded 325 HP and 360 lbs./ft. of torque. This was NOT an everyman car; it was machine built for speed. Thanks to multiple hand selected parts, including aluminum intake valves, pistons, bearings, and crankshaft, the W-31 had a 10.5:1 compression ratio. And although it was a small block engine, this car ran anything but small.
Unfortunately, though the F-85 itself was extremely successful, this performance package only sold 1,352 units. And eventually the W-31 package was scrapped after 1970, thanks to the prior mentioned poor sales. Oldsmobile strayed from their norm of big bodied, big block cars, and they had created an American muscle classic.
Engine:
350 V-8 –
Top speed:
115 mph
Quarter mile time:
15.1 seconds –
0-60 mph time:
6.5 seconds