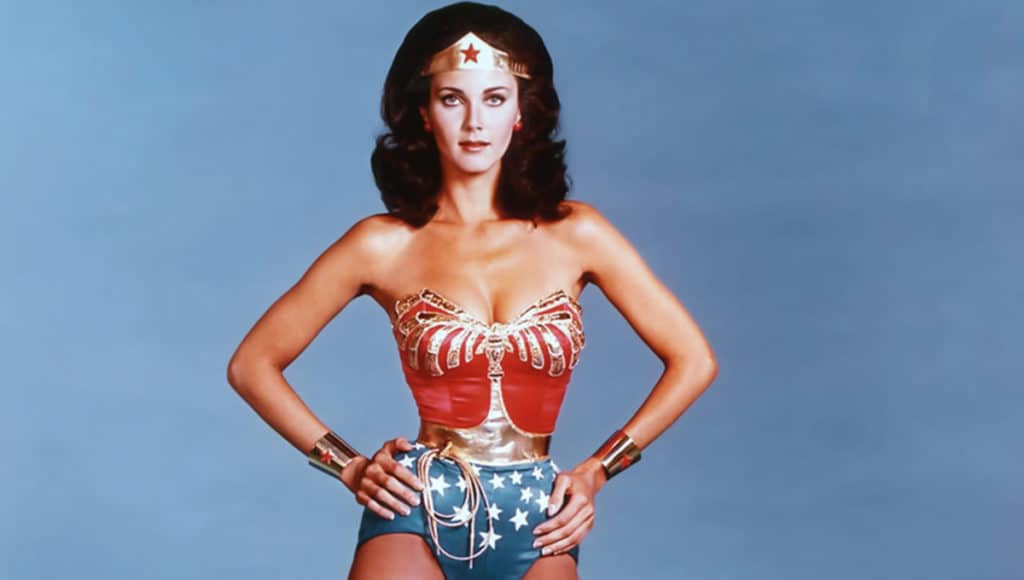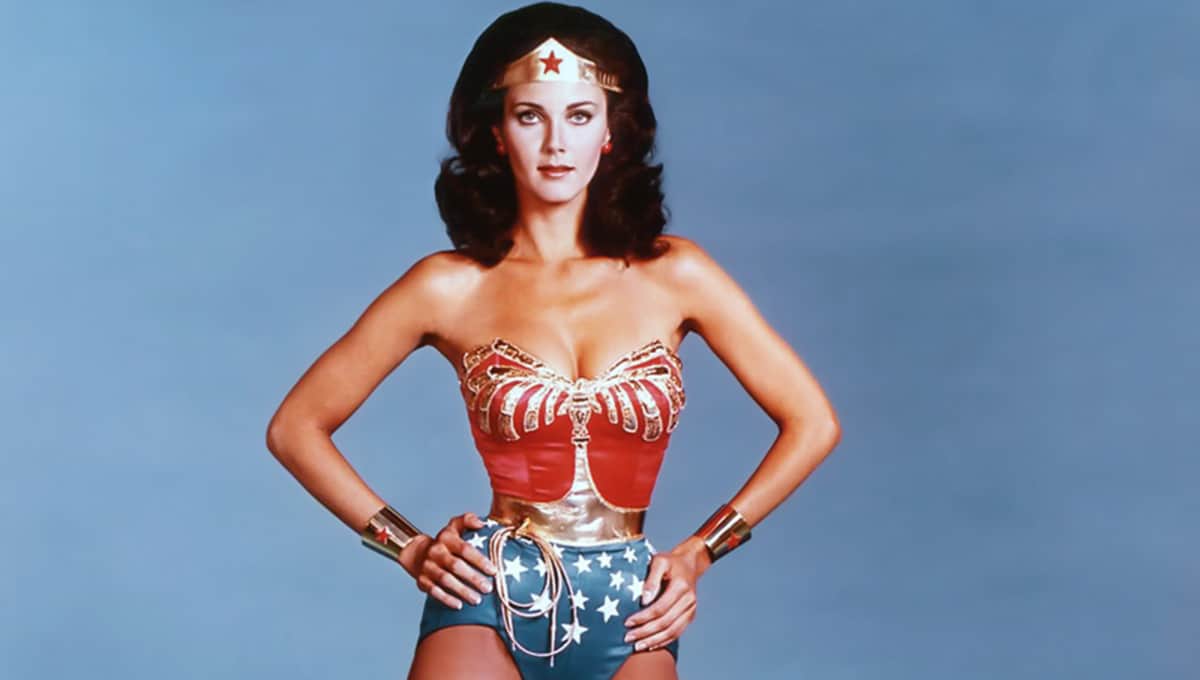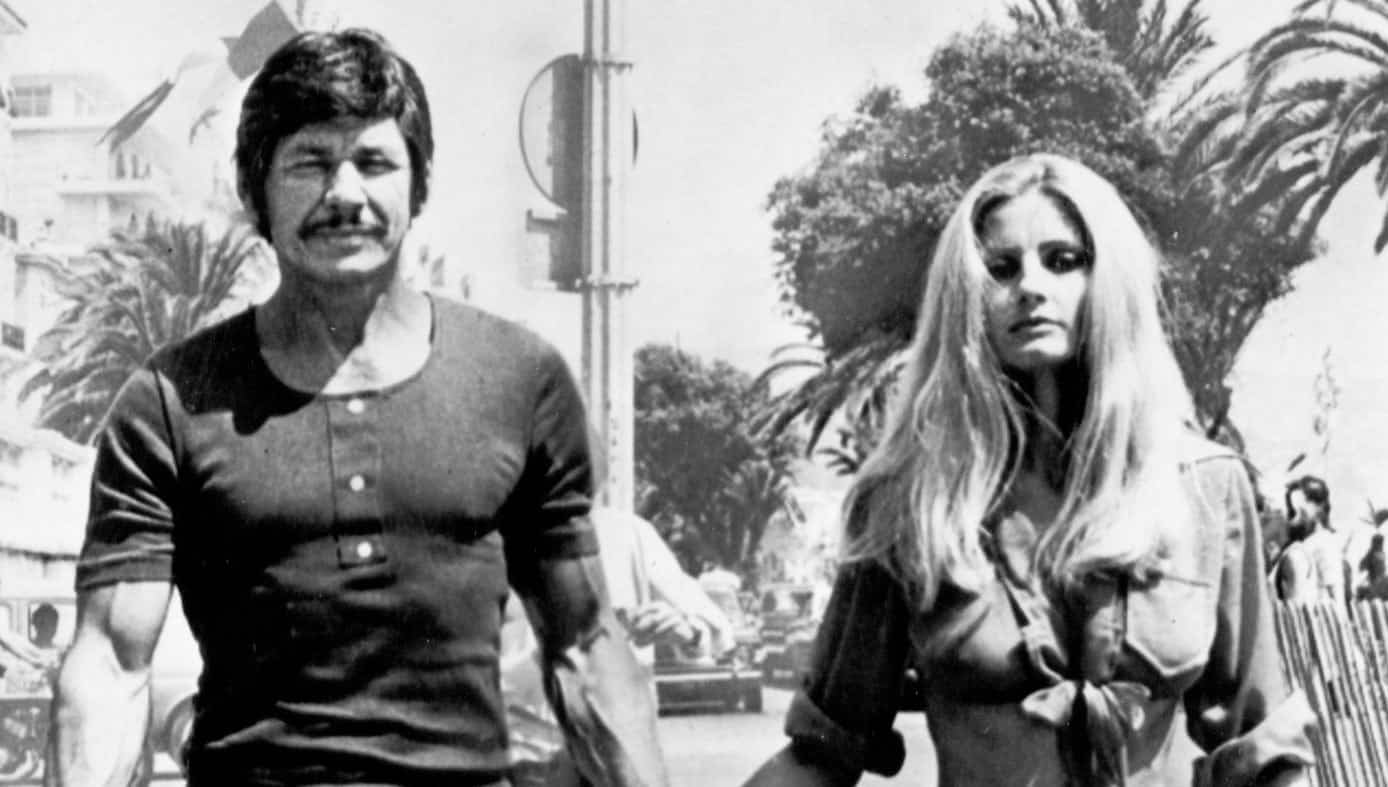 Charles Bronson and Jill Ireland, 1971
Who ever thought a ripped Pennsylvania coal miner would become the quintessential American bad ass and ultimately known around the world? They certainly don't make them like Charles Bronson anymore. Here, he is seen with his wife of 22 years, Jill Ireland. It's funny to think the guy whose nickname in Italy was "Il Bruto" (the Ugly One) landed a catch like Jill. Maybe she saw what others did not. Bronson loved to play tough guy roles and worked hard to keep up his larger than life persona. In fact, in true Death Wish fashion, he often bragged to reporters about his penchant for fist fights and hinted at knife throwing as a favorite hobby. However, Jill knew better. He had no police record and was by all accounts a quiet Hollywood star with a smoking hot wife. As for his real hobby? He enjoyed painting.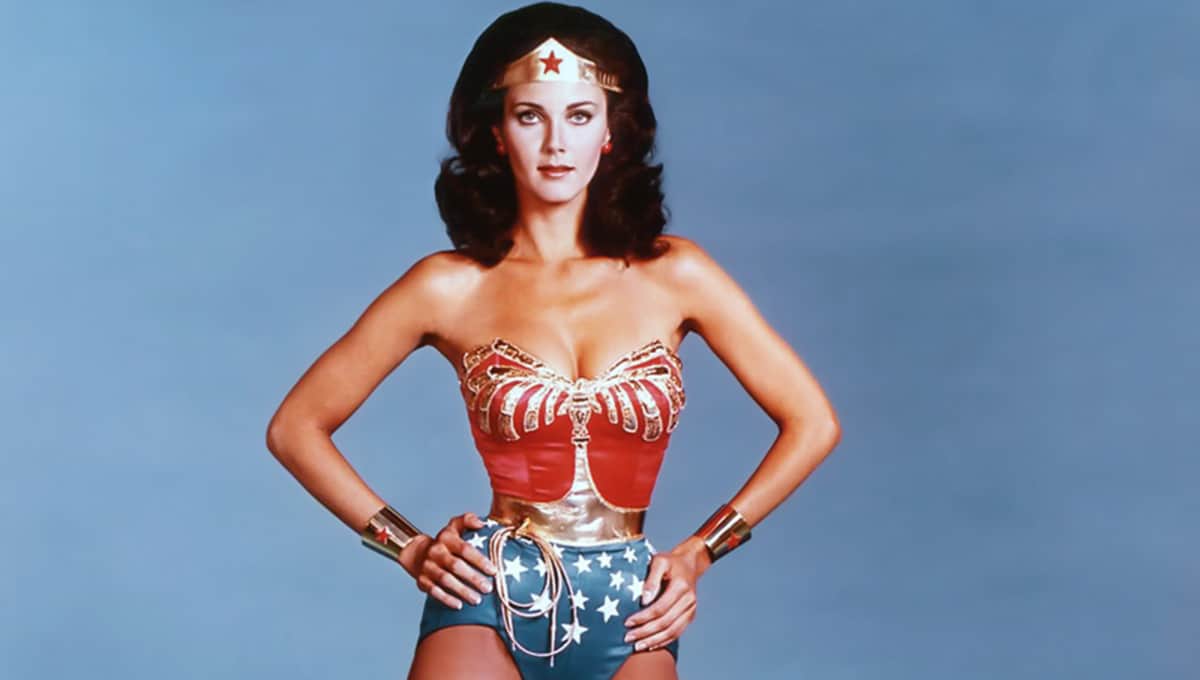 Lynda Carter aka Wonder Woman
Wonder Woman debuted in November, 1975 as a two hour pilot. Ultimately, the series would run for three seasons strong. Lynda Carter played the Paradise Island Amazon princess who lived among us mortals fighting crime. Her civilian name was Diana Prince. She brought a certain grace, charm and fortitude to the hero aspects of Wonder Woman. She was approachable and served as a fantastic role model for women. At first, the studio tried to downplay the idea of the alter ego, but Lynda would have none of it. In her mind that was how the audience would get to know Wonder Woman so Diana needed to be just as important. In addition, Lynda was responsible for the trademark spin that occurred every time Diana became Wonder Woman. Studio executives were having trouble coming up with a transformation transition and Lynda tossed out the idea of a twirl because she used to be a dancer. And that's how we fell in love with Wonder Woman.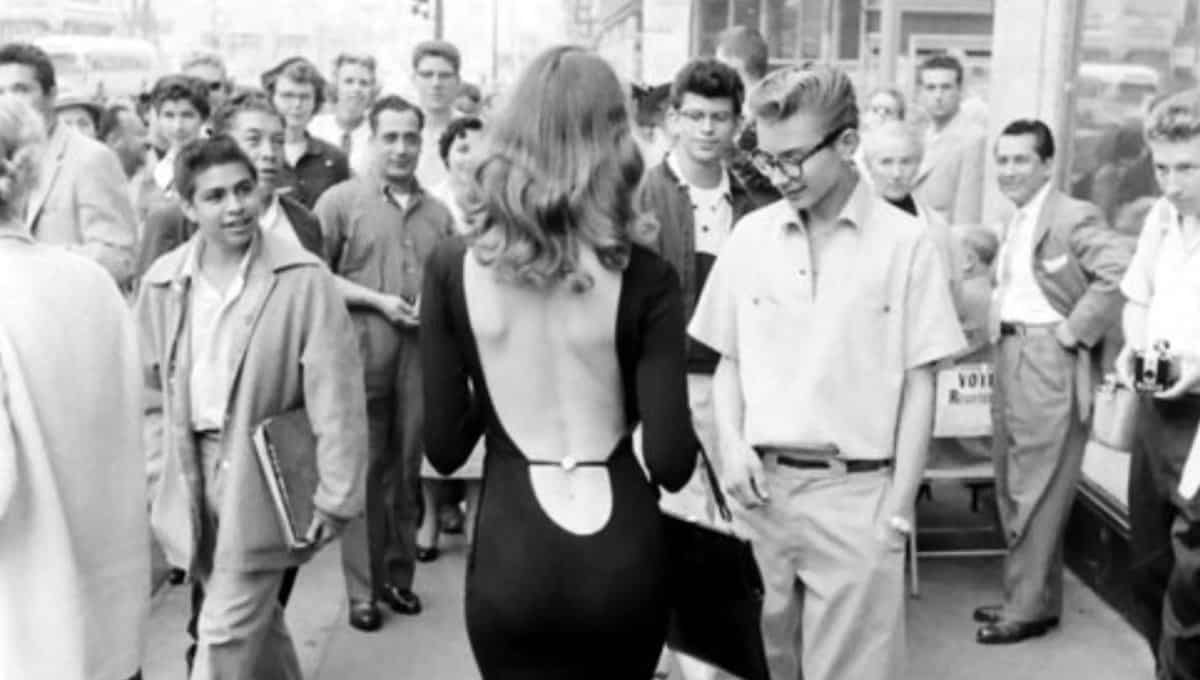 Vikki Dougan, Inspiration for Jessica Rabbit from "Who Framed Roger Rabbit"
You can't have a conversation about Jessica from Who Framed Roger Rabbit without talking about Vicky Dougan. Born in Brooklyn, New York in 1929, her real name is Edith Tooker. She wasn't known by it though. In fact, she wasn't really known by her stage name either. Instead, she was often called by her nickname, The Back. This was because her dresses were backless, with a line stopping just above her, um… gluteal cleft. This caused quite a commotion as you can imagine. In fact, rock group the Lime Lighters titled one of their songs, Vicky Dougan, after her to commemorate the phenomenon. That line mentions her "callipygian cleft" and the rest of the song begs her to, "Vicky turn your back on me!" Her beauty, curves and dress were the ultimate inspiration for Jessica Rabbit's character in the 1988 hit Who Framed Roger Rabbit.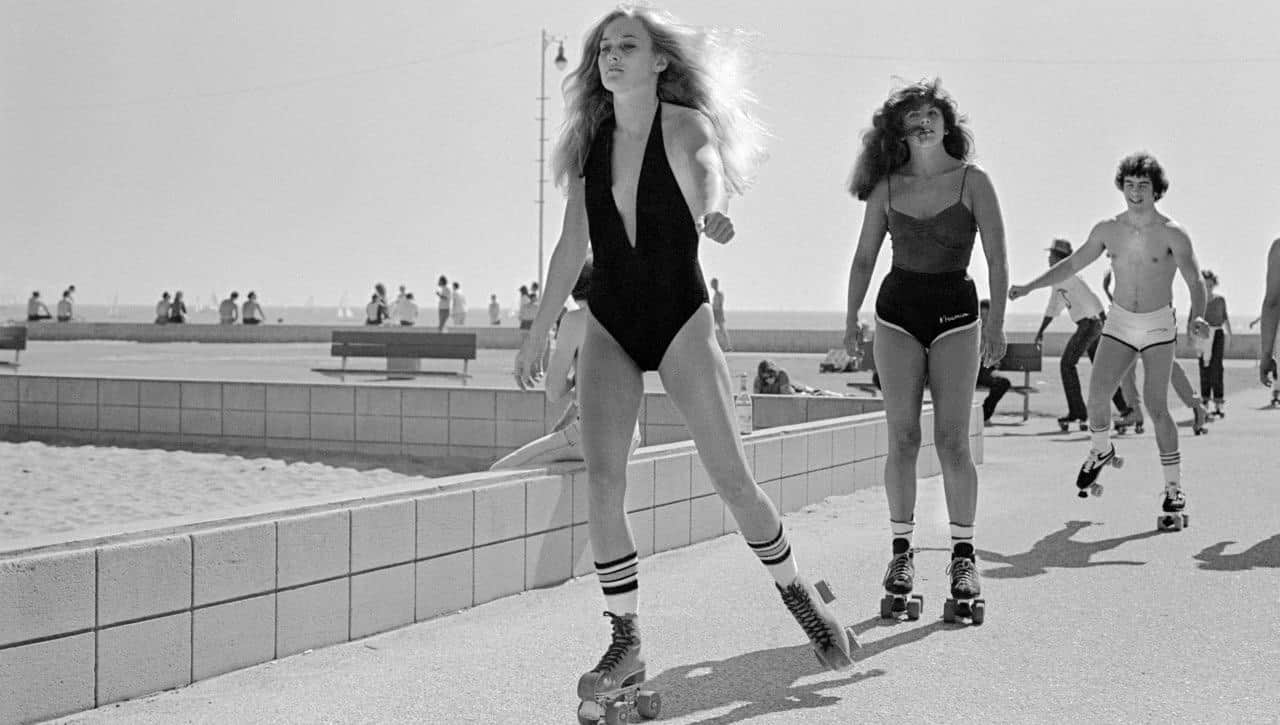 Venice Beach, 1980
In the late 70s and early 80s, it was quite popular to go rollerskating in Venice Beach. In fact, participants called themselves the Bohemian Skaters. The movement took root in the quaint California seaside town which was considered to be almost a slum of sorts. It was originally established as its own picturesque seaside resort village.The cheap bungalows attracted people like musicians, artists and other bottom feeding counter cultural creatives. Then, almost overnight, roller skaters started cruising down the Venice Beach boardwalk. The paved promenade made it perfect for skating, and people of every size, shape and ethnicity took part in the past time. It was annexed as part of Los Angeles some years later. That's when the roller skating really took off. Had it not been for that, this cultural phenomenon may have been considered a roguish waste of time.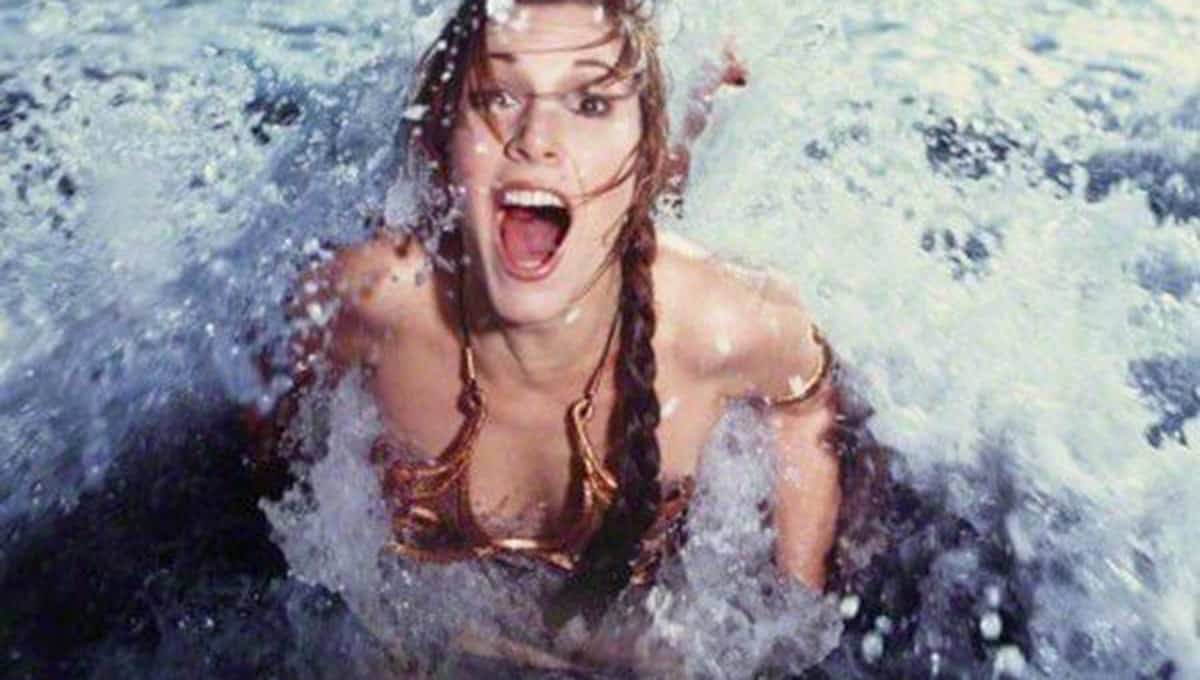 Carrie Fischer Promoting Star Wars: Return of the Jedi at a Rolling Stone Magazine beach shoot, 1983
Carrie Fisher never looked hotter than she did in the slave bikini she wore for Return of the Jedi. Here she is pictured in a 1983 photo shoot by Rolling Stone Magazine promoting the movie. The film was the third installment in the ultra popular franchise (recently acquired by Disney). And while all signs point to success with Disney holding the reins, recent controversy has surfaced regarding Carrie and her slave bikini. Seems like the incident stemmed from a father who was irate and wondered what to tell his daughter about the outfit? Plus, the slave/bondage innuendos were something that always annoyed Fisher. She thought they were juvenile responses. As for her response to the outrage over wearing the bikini? She says simply tell the kid that a giant slug took her hostage, forced her into the bikini and was later killed by her because she didn't like it. Sounds just like something Princess Leia would say.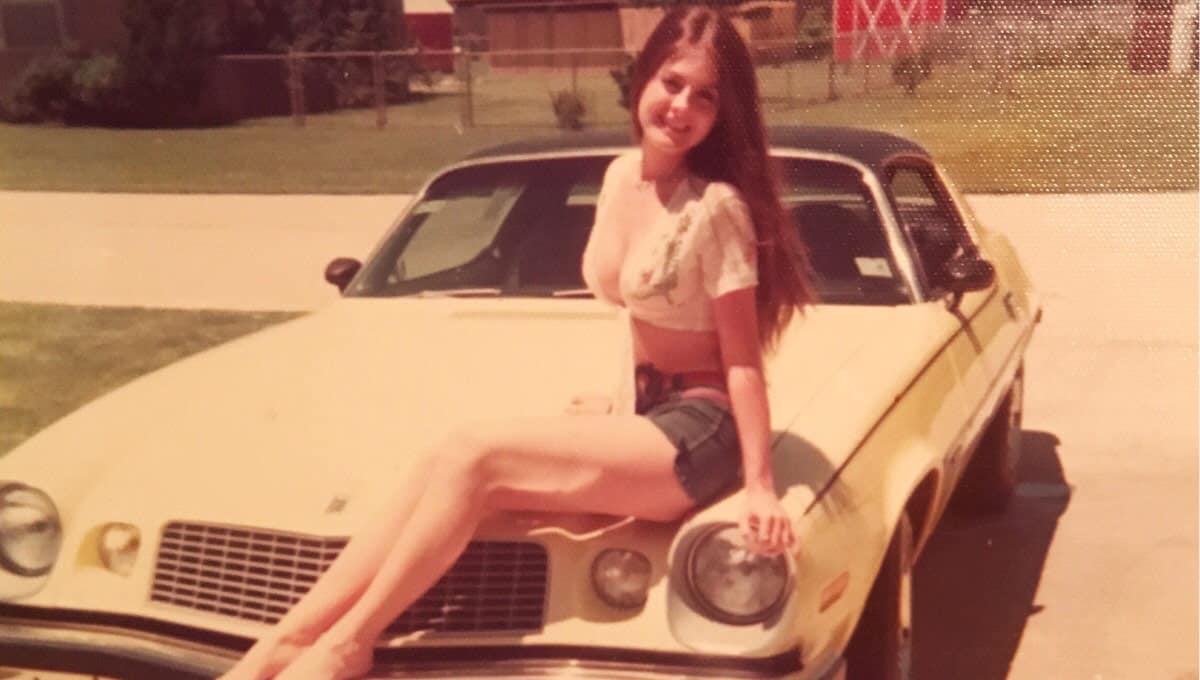 Woman and her Camaro, 1975
Nothing says let's invent time travel like this picture of a woman and her Camaro from 1975. Let's just say her babies never went hungry and we are sure the backseat probably shows a bit of wear. Maybe it had something to do with the catalytic converter. That was one of the newer additions for the 1975 Camaro. The add-on made for more efficient fuel economy and allowed engines to be re-tuned for maximum performance. Also, convertibles ended with the newer model. So if you see a 1975 Camaro convertible for sale it's probably a hoax.  And there was one more huge difference. The old Z28 engine was discontinued due to stricter emission standards. This resulted in engines with about 100 less horsepower (from 247 hp-ish to 145 hp-ish). However, to forget about the horsepower just keep staring at the girl on the hood.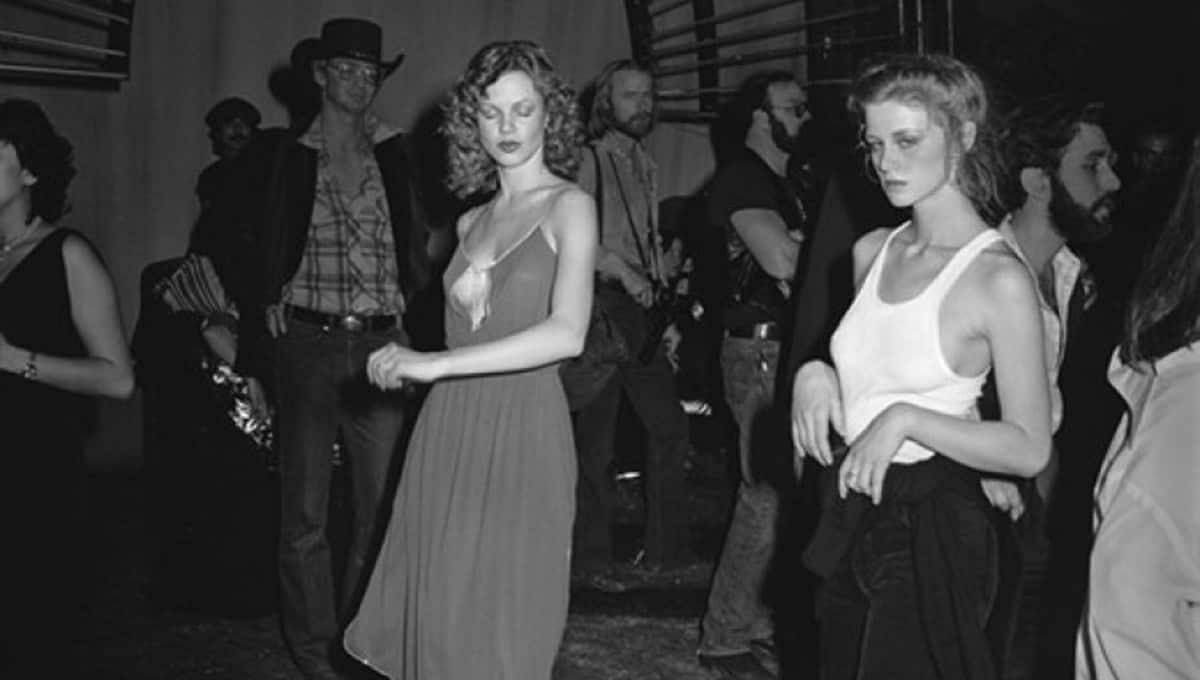 Studio 54, 1978
When we think of Studio 54, typically images like this picture come to mind. However, the former famous nightclub has a storied history. Originally, the building was known as the Gallo Opera House. It opened in 1927 and changed names a few times. Eventually, it would become studio 52 for CBS radio and television. Yet, once it was a club, the building located at 254 West 54th Street would often draw the likes of Tennessee Williams, Andy Warhol, Cher and Grace Jones to name a few. The culture was wide open too. Open drug use, sex and celebrity mixed to create a hedonistic playground that has yet to be duplicated since Ian Shrager first opened the doors in 1978. However, the weirdest thing about studio 54 may be this. Alec Baldwin had a brief stint there working as a waiter.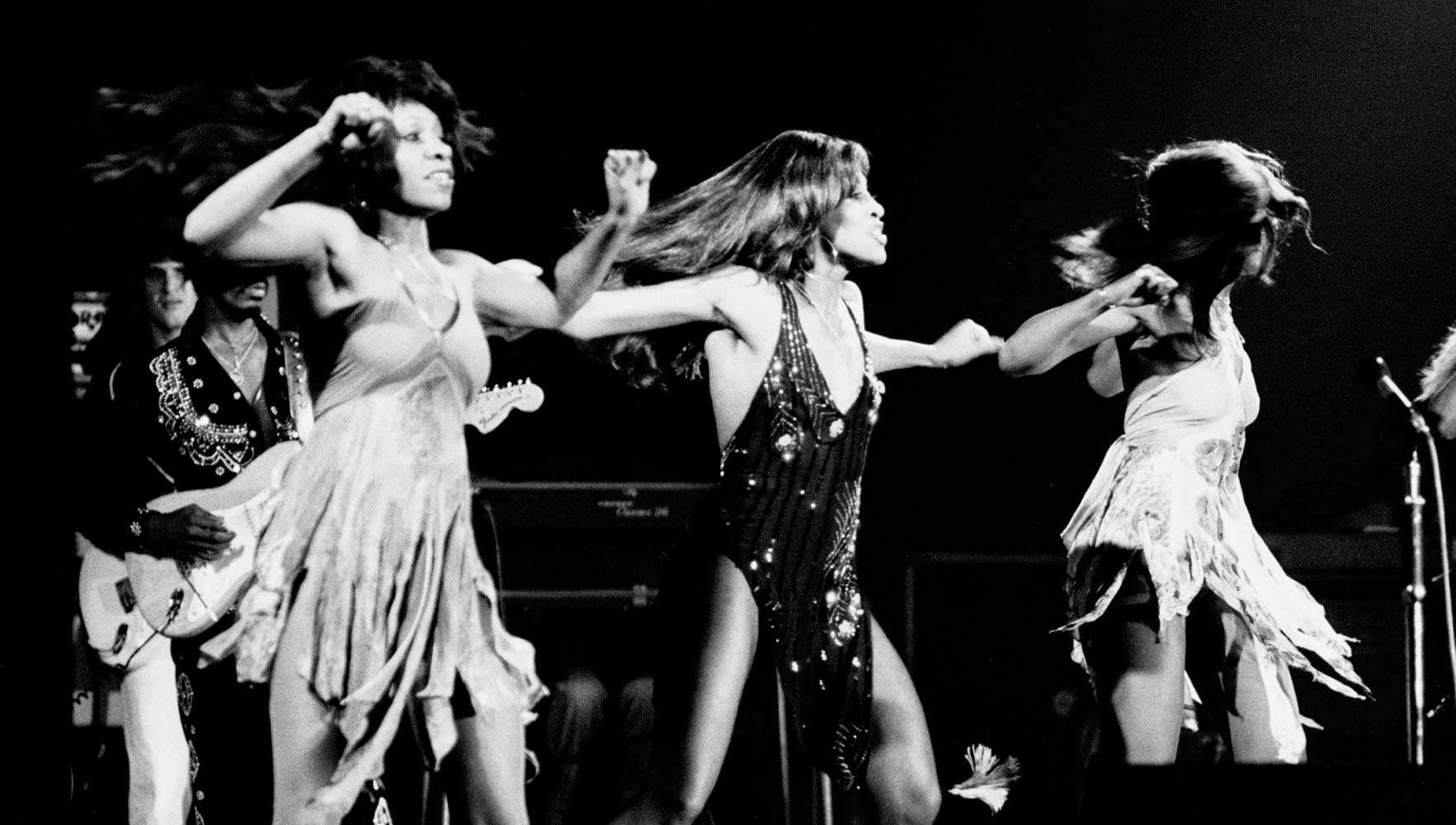 Tina Turner
November 26, 1939 forever changed music history when Anna Mae Bullock was born in Brownsville, Tennessee. Today, we know her as Tina Turner, the iconic rock, rhythm and blues soul singer with a career spanning 50 years. Her humble life went from sharecropper to hot ticket when she moved to St. Louis Missouri and met Ike Turner. After joining his band in 1956 (Kings of Rhythm), she started performing under the name Tina Turner. Her stage presence was electric and quickly turned her into the star of the show. It wasn't all smooth sailing though. She and Ike had trouble (he was abusive) and she didn't always see eye to eye with Phil Spector (her producer). Yet, Tina was a trooper. She went on to release a solo album in 1984. Private Dancer was a hit and Tina never looked back. That success was followed by her appearance in Mad Max: Beyond the Thunderdome.  While the movie wasn't a massive success, most of us just liked seeing more of her gorgeous thighs.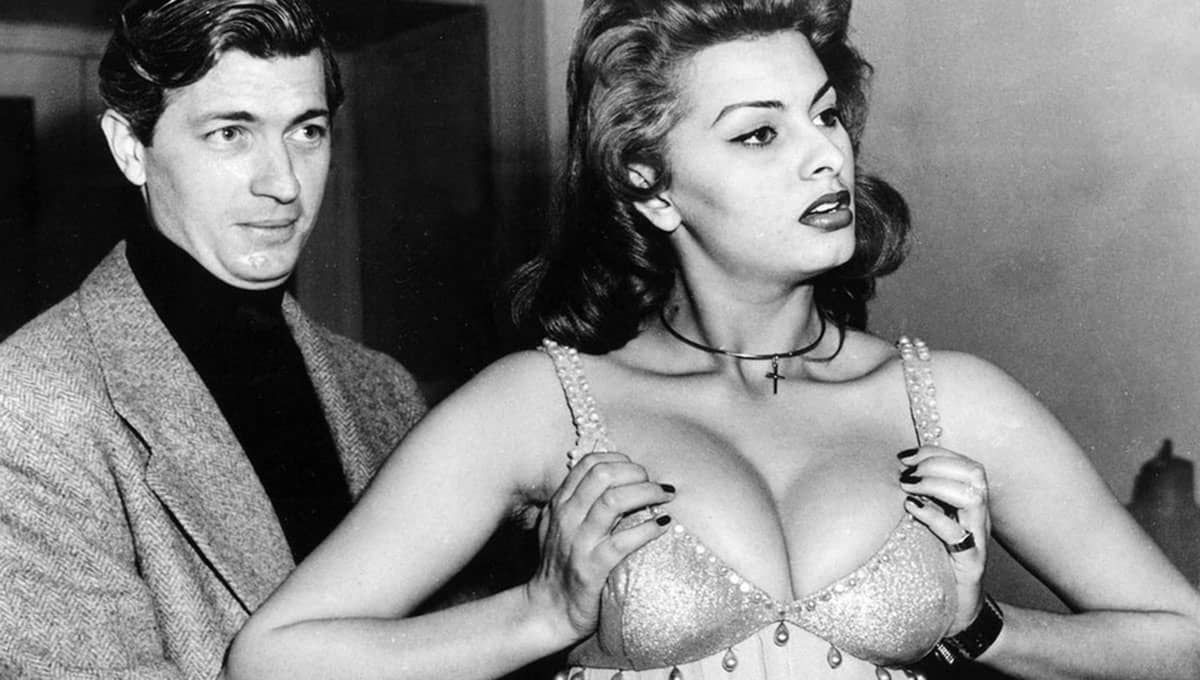 Sophia Loren at a Costume Fitting for the classic film, Attila, 1954
It's obvious from this picture why we are so infatuated with Sophia Loren. She gives us three good reasons to be enamored with her. Her beautiful face and the other two reasons seen in the photo. Check out the expression of the guy in the picture. Yes, he is trying to remain professional, because it's Sophia Loren. However, we can't help but think he's really thinking, "I am the luckiest guy alive!" And to think, Sophia got her start after entering a local beauty pageant. She was encouraged to take acting lessons afterward and never looked back. Her film career began in 1950. She was just 16 years old. However, at that time she did not have a stage name. She was known as Sofia Villani Scicolone. The stage name suits her.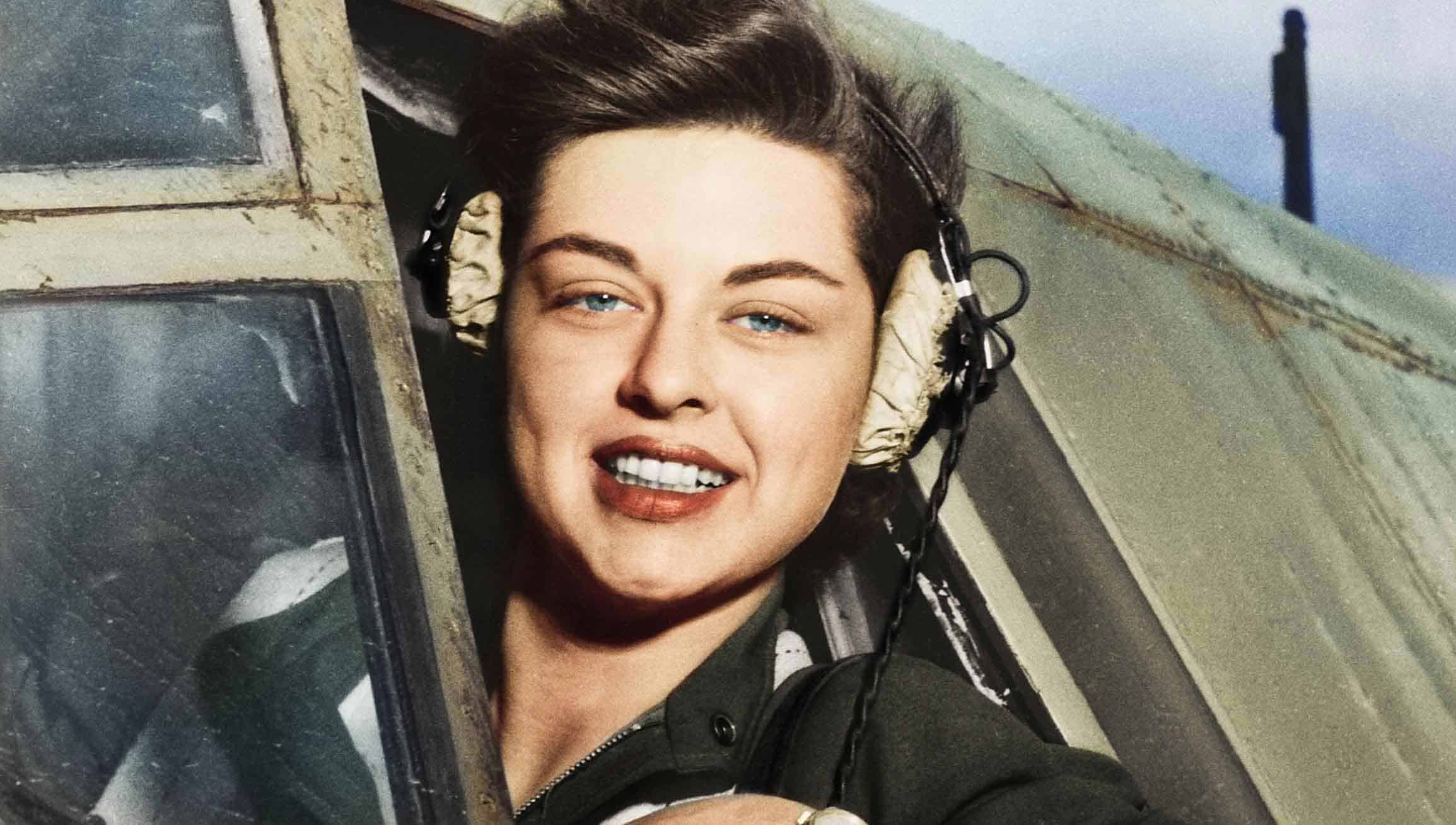 Elizabeth L. Gardner, Women Airforce Service Pilot, in her B-26 Marauder, 1943
This lady is one of the Women Air Force Service Pilots or WASP for short. Seen here flashing a wide smile outside the cockpit, they were more than just pretty faces. The WASP program was designed to fill a void. Women would fly military planes states side during the war so male pilots could fly overseas. Women couldn't wait to full the void either. In fact, the program sparked such interest that women applied in droves. Over 25,000 made application, yet only 1,830 were ultimately accepted. They flew every type of aircraft imaginable from B-17s, B-26s and B-29 bombers. One of their main duties was ferrying planes from factories to military bases. They would also fly them to departure points across the United States. And even though many of them had dreams of becoming full-time military service personnel, the program was canceled just two years after it began.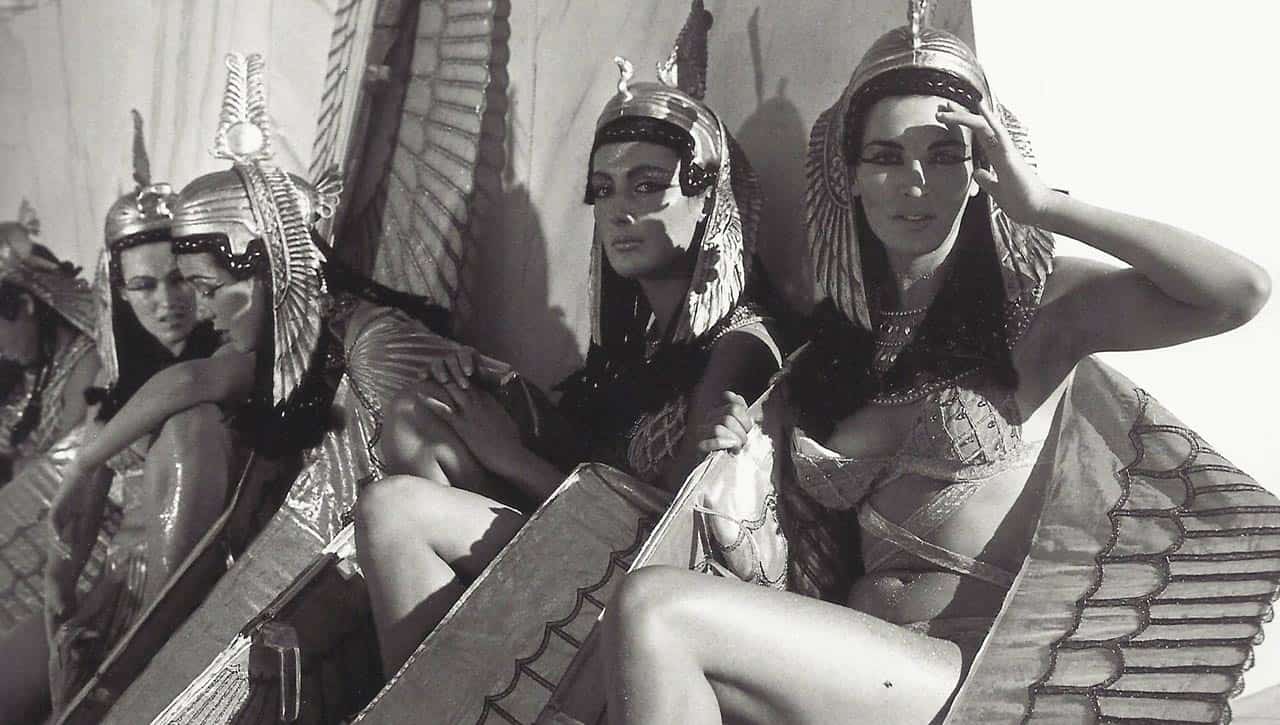 Female Extras on the set of Cleopatra, 1963
Speaking of expensive things, here we see four female beauties relaxing on the set of Cleopatra. That also happens to be the most expensive ever made (up until that time at least). Here's the kicker. Originally, the film had a respectable budget of $2 million. However, ultimately it would cost just over $31 million! That was in 1963. Put that in today's money and you have some explaining to do ($246,197,105). For comparison, the production budget for Kong: Skull Island was 185 million and the final movie in the Furious franchise had a budget of $250 million. Our modern-day version of Cleopatra would be Avatar. It's total production costs in 2009 were $450 million, or $520 million in today's money. Still though, Cleopatra was impressive for its day, and who wouldn't mind hanging out with those extras?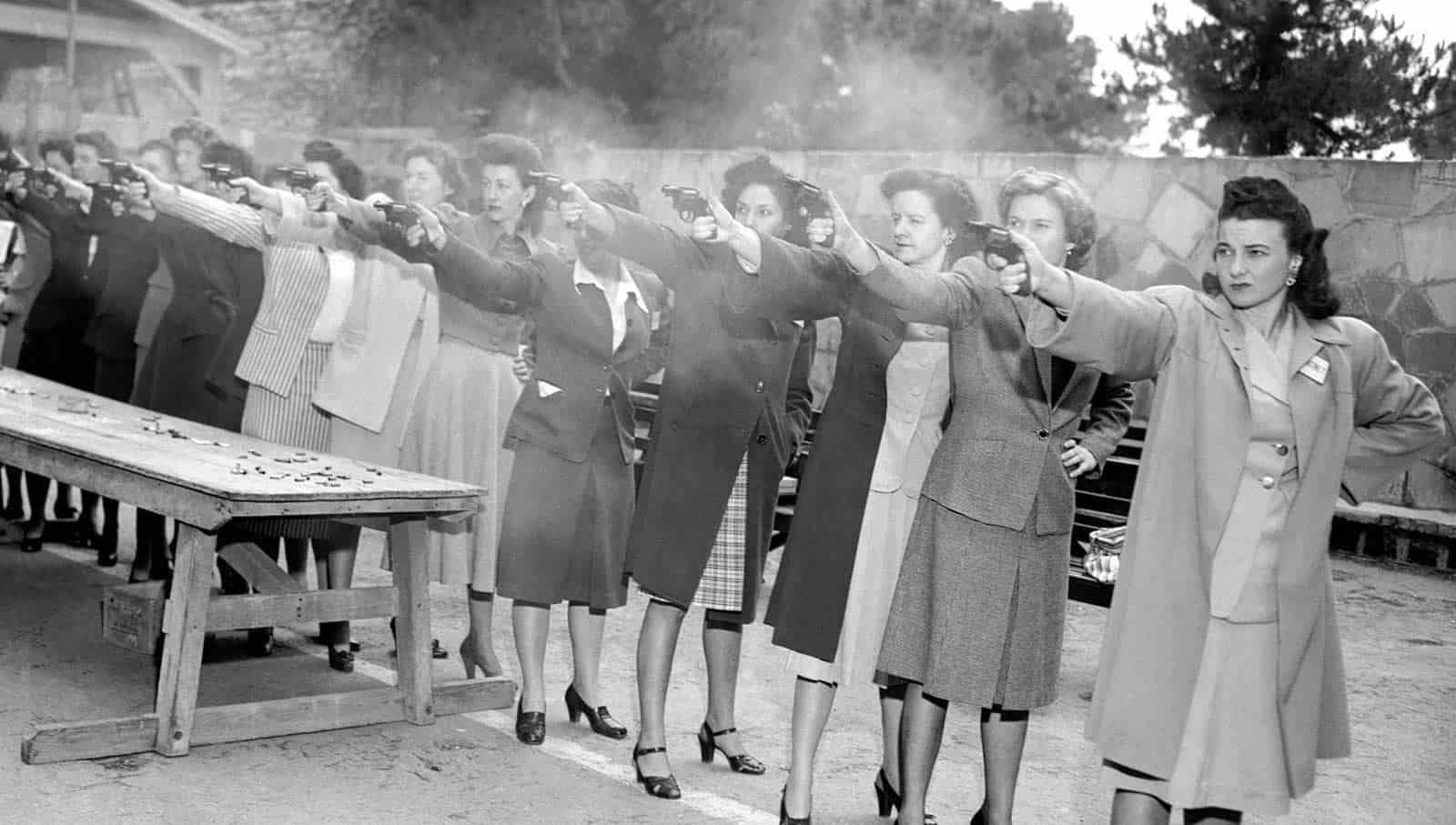 Women training to join the LAPD in 1948
The LAPD has a long history of inclusion. More than 100 years ago, they pinned a badge on a petite female recruit from Kansas. She was doing the unthinkable, solemnly swearing to become an LAPD officer. By doing that, Alice Stebbins Wells breached the exclusive men's club. The department would go on to shatter other records as well. For instance, before civil rights entered the national conversation, the Los Angeles police department hired the nation's first Latina and black police officers. The photo here is from a series of 1948 recruits testing out their service weapons. Ultimately, they would trade in their skirts for genderless uniforms. Later on they would become sex symbols like Angie Dickinson. She played Sergeant Lee in Pepper Anderson in 1974's groundbreaking series Policewoman. This was not just the first television show to promote a female police officer, yet it was the first hour-long show to feature a female as the title role character. Much of today's perception of female police officers can be traced back to the LAPD's insistence on gender diversity and inclusion.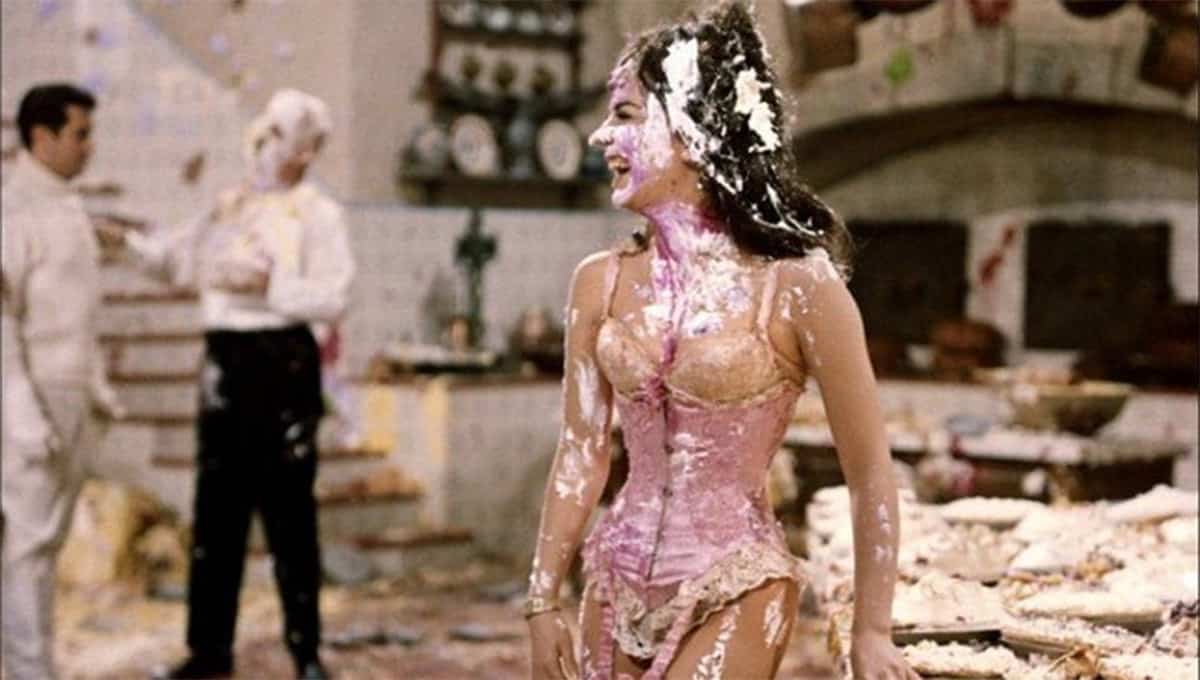 Nathalie Wood on the set of The Great Race after a Pie Fight, 1961
There's a legendary scene in the 1960s movie The Great Race involving a pie fight. Nathalie Woods is practically covered in the stuff afterwards. The picture above is from one of the shoots. Here's what you don't know. The epic scene was filmed over five days and the actors had to be carefully made up during each successive day with the same amount of pie filling and topping for the scene to look concurrent. Also, there were 4,000 pies involved, the most ever used for a pie fight scene. The full scene runs four minutes twenty seconds and had a price tag of $200,000 to shoot. Even more astonishing, $18,000 of that was just for the pastry alone. To put that in perspective, the pastry dollars in today's money is about $143,000 (three new Cadillac cars). The whole scene was themed around the hero (in white) not getting hit until just the right moment because the director told the actors that's what makes a pie scene funny. Yet the funniest thing happened when he yelled"Cut!" Actors hid several hundred pies during the shoot and unloaded on him after the last shot.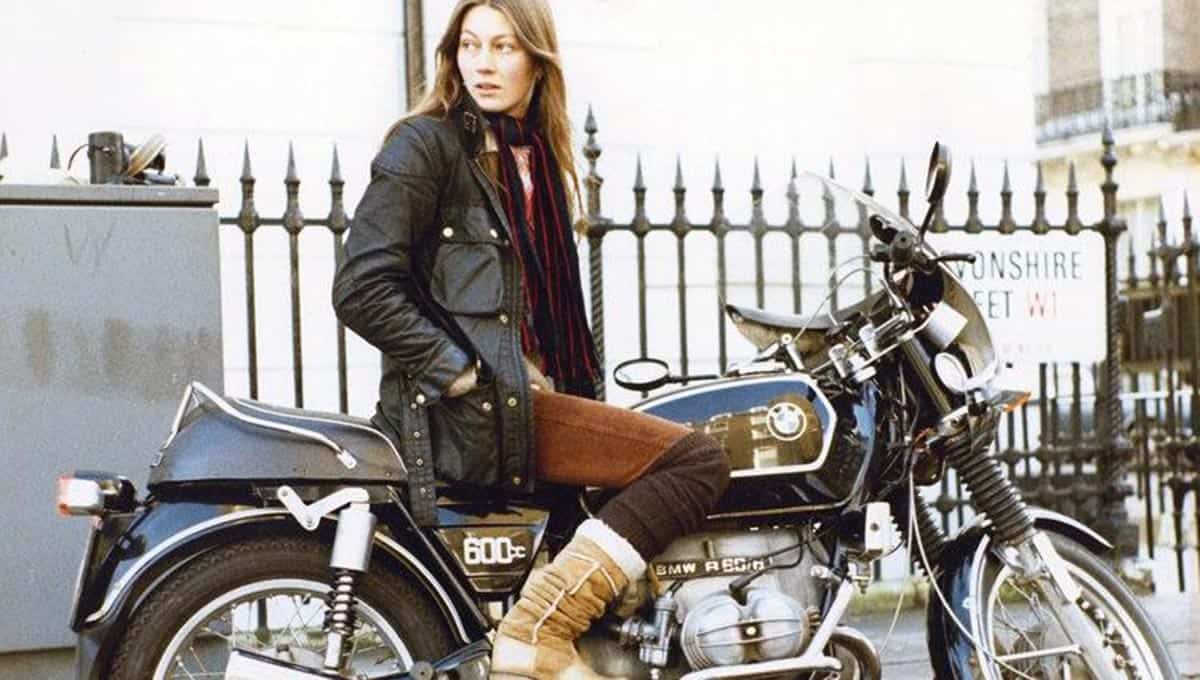 Elspeth Beard, the first English Woman to ride a motorcycle around the World, 1980s
There was a strange world trip in 1980 taken by Elsperth Beard. She quit 3 years of college training, to become an architect, in favor of traveling the world on motorcycle. Her ride was a BMW R 60/6. Here's the full loop. Since she was in New York, she had the bike shipped over from the UK. Once it arrived she took off to Canada, Mexico and LA. Form there she shipped the bike to Australia where she biked across the continent. There was a mishap in Townsville, Queensland that put her in the hospital for a couple weeks. Yet she never skipped a beat upon healing traveling on to Singapore, Asia, Thailand, Punjab, Pakistan and Turkey… before motoring back to Europe. She returned in 1984 logging 35,000 miles under those tires. That seated her as the first Englishwoman to ever bike around the world on a motorcycle. We're not sure if that merits a trophy, but it should.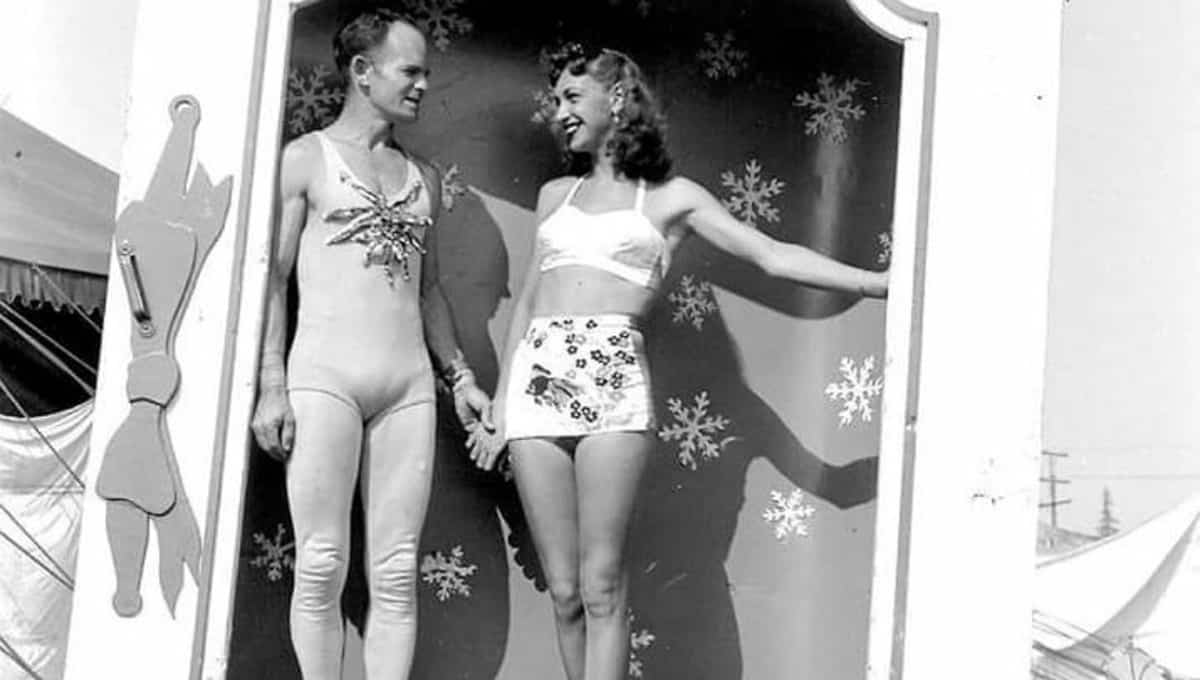 2 Aerialist that worked for the Ringling Circus, 1948
Mostly, it lives in our memories today. Ringling Brothers Circus did their last show in May of 2017. The animal rights movement is credited for bringing the 146 year circus run to its demise. Yet, in its day The Greatest Show on Earth lived up to its name. It was the way the circus functioned that made it spectacular. Some performers grew up in the circus and had famous names like "Wallenda" (the famous high flying trapeze family). Others were like the couple in this photo. Seems a grand daughter found this old picture of her grandparents working the Ringling circuit in 1948. He was a World War II vet, performed trapeze acts and ultimately became a clown. Grandma was a showgirl and aerialist who later went into real estate. She was both a real estate agent and landlord. And to think, most of our first jobs were more along the lines of, "Would you like fries with that?" We will never be this cool.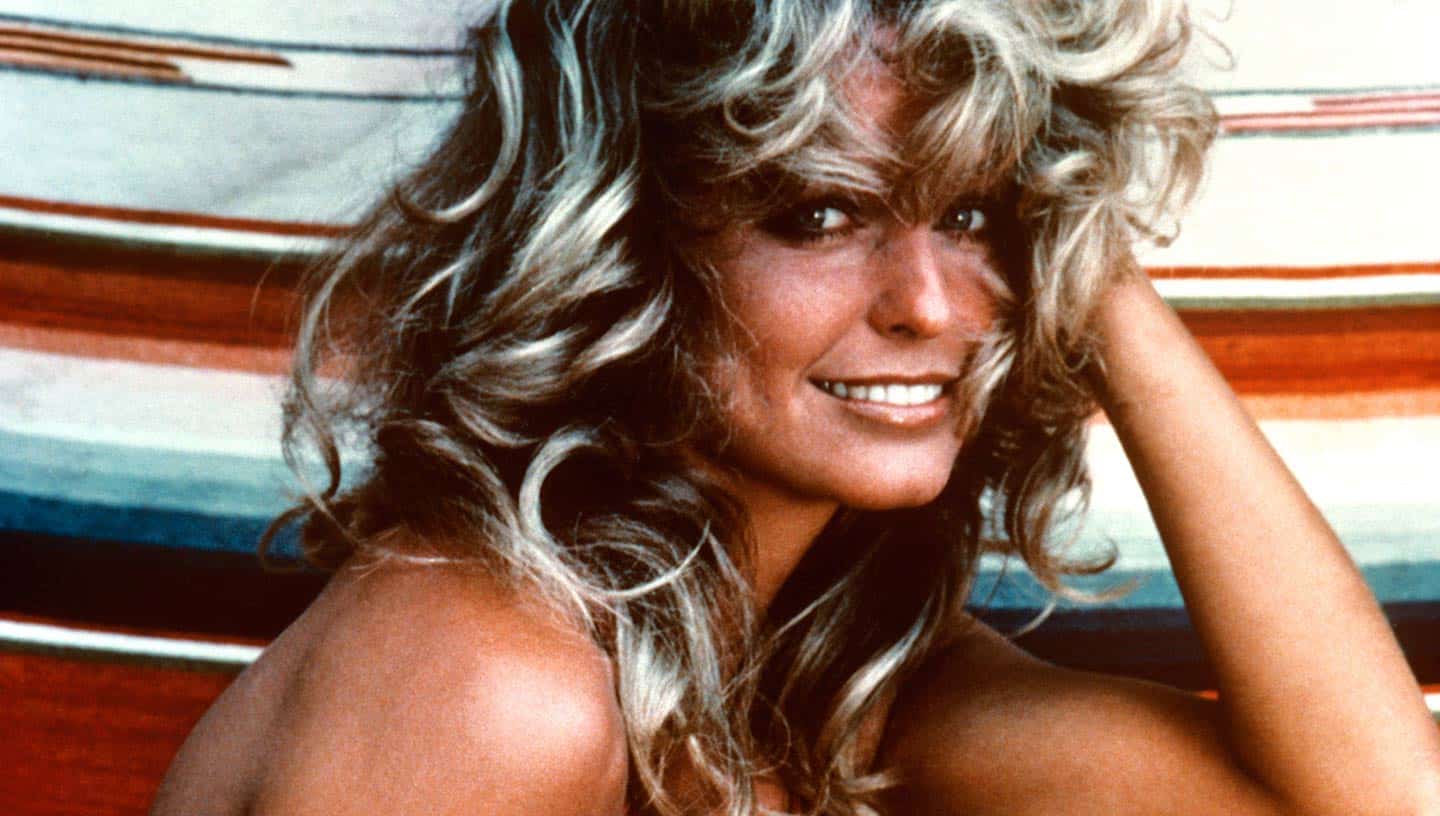 Farrah Fawcett, 1976
There are three things Farrah Fawcett is most known for. First, her TV role as one of Charlie's Angels. Second, her signature hairdo. What female didn't try to emulate her during that time? Finally, she was smoking hot and achieved modern-day pinup status for her looks and figure. Yet, it all started with her character Joe Munro in 1976. It was shortly thereafter that a poster of her in a red bathing suit rocketed her stardom because it sold 12 million copies. She was equally popular with females as well since every salon in America was busy giving women the "Farrah Fawcett," (it involved lots of feathering if you are behind the curve). After her iconic television role, she went on to star in lead roles for both TV movies and major motion pictures. As a result, she received three Emmy nominations, but was taken from us in 2009. She died of cancer June 25 of that year.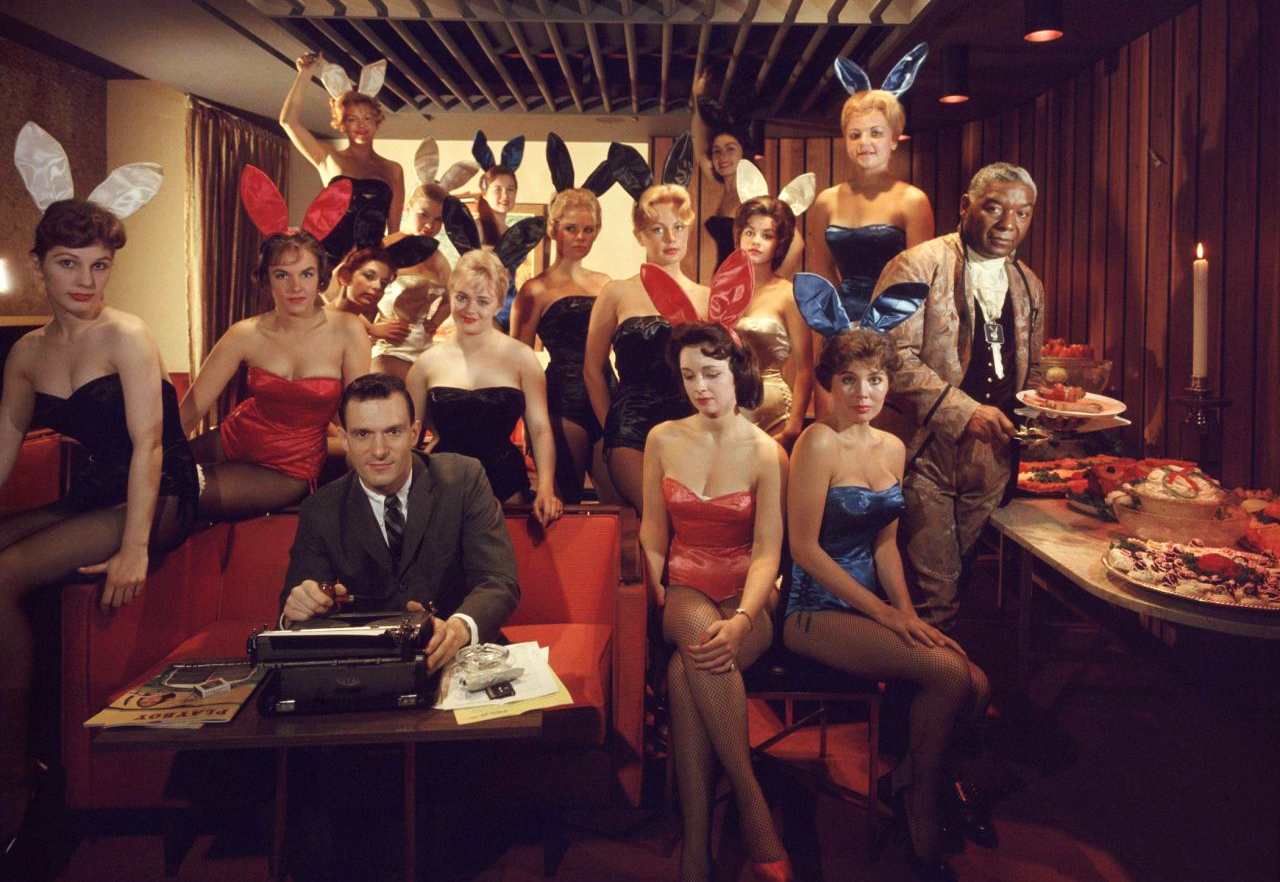 Hugh Hefner after a Tennis Game at the Playboy Mansion, 1977
Hugh seemed to have it all at the Playboy Mansion. That's because he did. And to think, it all started in 1953 with his men's entertainment magazine Playboy. Ultimately, the magazine would prove fundamental to the sexual revolution the 1960s were known for. And Hugh would build Playboy into a lucrative global enterprise.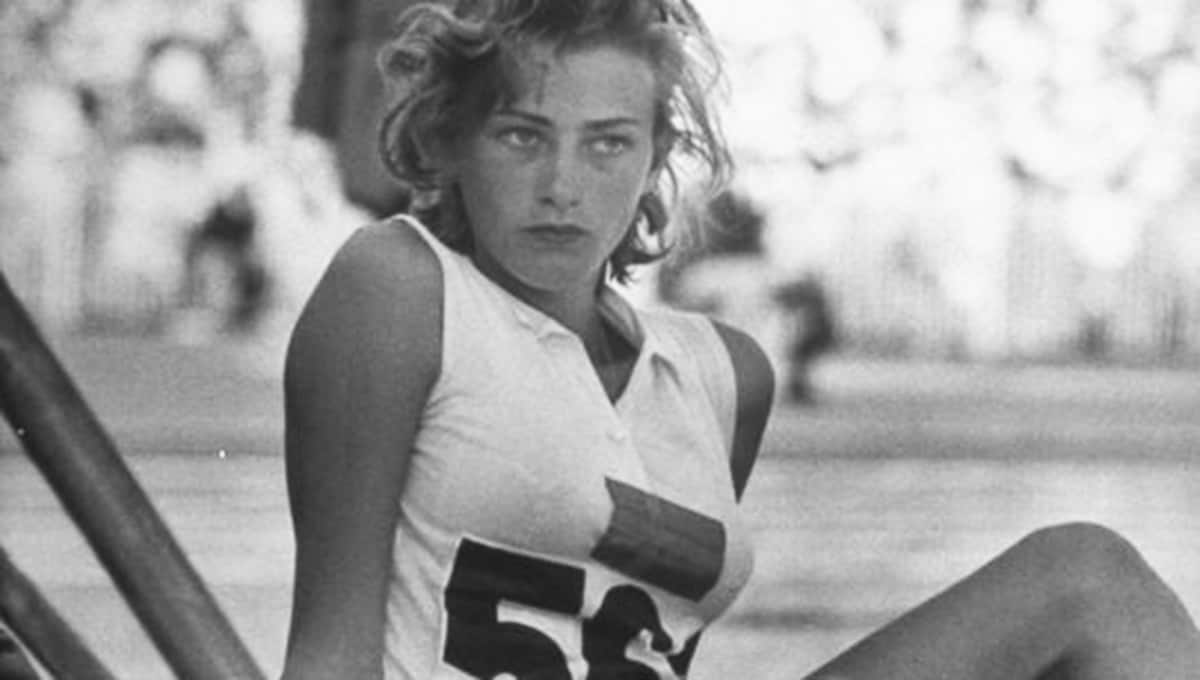 Gunhild Larking, Swedish High Jumper, awaits her turn at the Melbourne Olympic Games, 1956
This is an iconic photo that has one funny back story. Pictured is Swedish high jumper Gunhild Larking. She's waiting her turn at the 1956 Olympic Games in Melbourne, Australia. She is a stunner in every way. Her looks, form and physique make her the definition of eye candy in its purest form. Perhaps, this is why she caught the attention of George Silk. He was a photographer for LIFE magazine and shot this picture while Gunhild was waiting her turn to jump. However, Mildred McDaniel, the incredible American high jumper, literally set an Olympic record while George was taking this picture. George thought Brunhild's image was much more iconic, and missed the record-breaking jump. How's that for irony? Still, Gunhild didn't do too shabby. She placed 4th.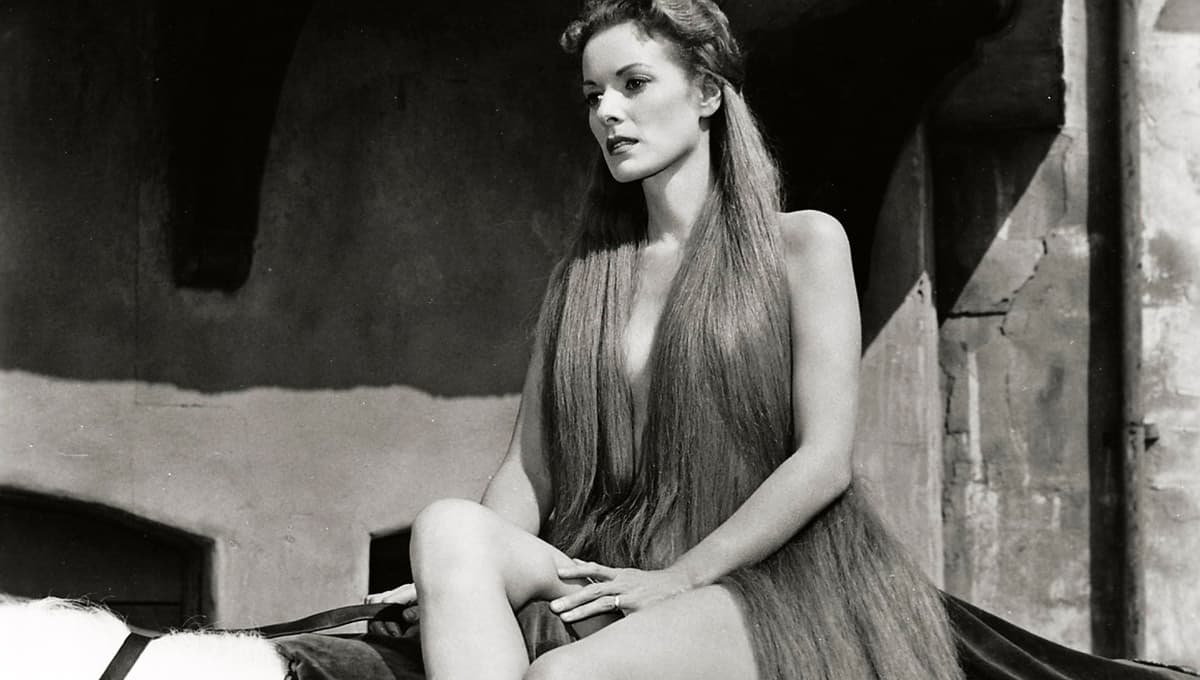 Maureen O'Hara as Lady Godiva in the film Lady Godiva of Coventry
One things for sure, Maureen O'Hara was no Hollywood flyweight. She was known to be beautiful and tough, which is why John Wayne referred to her as,"A great guy." Here, she is seen playing Lady Godiva, the title character of the film. Her costume was simply a body stocking and long wig. This is a point in her career she really doesn't care for. She considers these desert romance movies to be stinkers (matching the opinion of film critics). In fact, she referred to them as "Tits and Sand" movies. However, even though the film was not a hit with critics, it still noteworthy for two reasons. First, it stars Maureen O'Hara, the beautiful Irish lass whose first kiss ever was on screen with men like Tyrone Powers and John Wayne. Second, Lady Godiva also starred a young, unknown actor, Clint Eastwood. In the credits you can find him listed as First Saxon. Maureen remembers Clint approaching her at one of the awards ceremonies to tell her how grateful he was for that role. He told Maureen he didn't have much at the time he found the part, so it helped pay rent.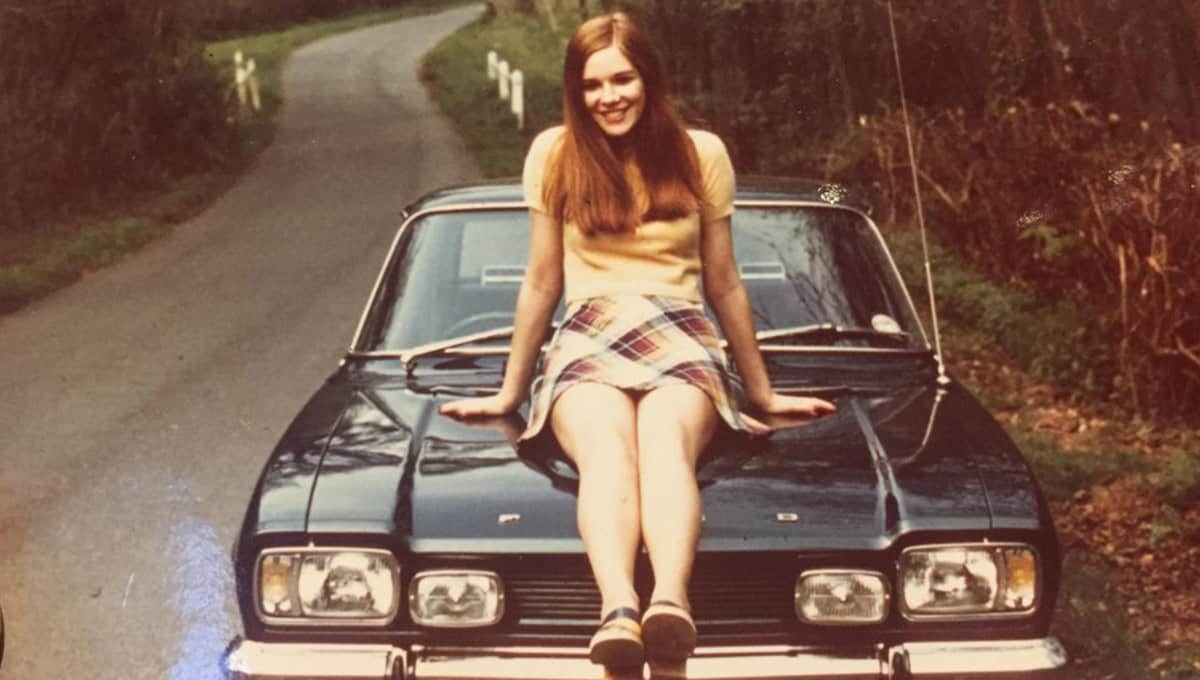 Woman on Ford Capri, 1969
What a beautiful specimen we have here. And no, we are talking about the car not the lady. The Ford Capri was produced between 1968 and 1986. Philip T. Clark was the designer and if that name sound familiar it's because he also had a hand in tweaking Ford Mustang look. The guts of the car used components from the Ford Cortina and was supposed to be the European equal to the American Mustang pony car. As a result, sales were highly successful with 1.9 million cars finding homes in European garages. And if variety is the spice of life then the Capri was the answer. Engine choices were amazing. For instance, you could go with a Cologne V6 or Essex if you chose a higher end model. Lower models featured the Kent Straight 4 or Taunus V4. And though there still exists no official replacement for the Ford Capri, many consider the second rendition of the Ford Probe (1992) to be just that. Still, throughout the late 60s and 70s, there was nothing like the look and feel of a Ford Capri.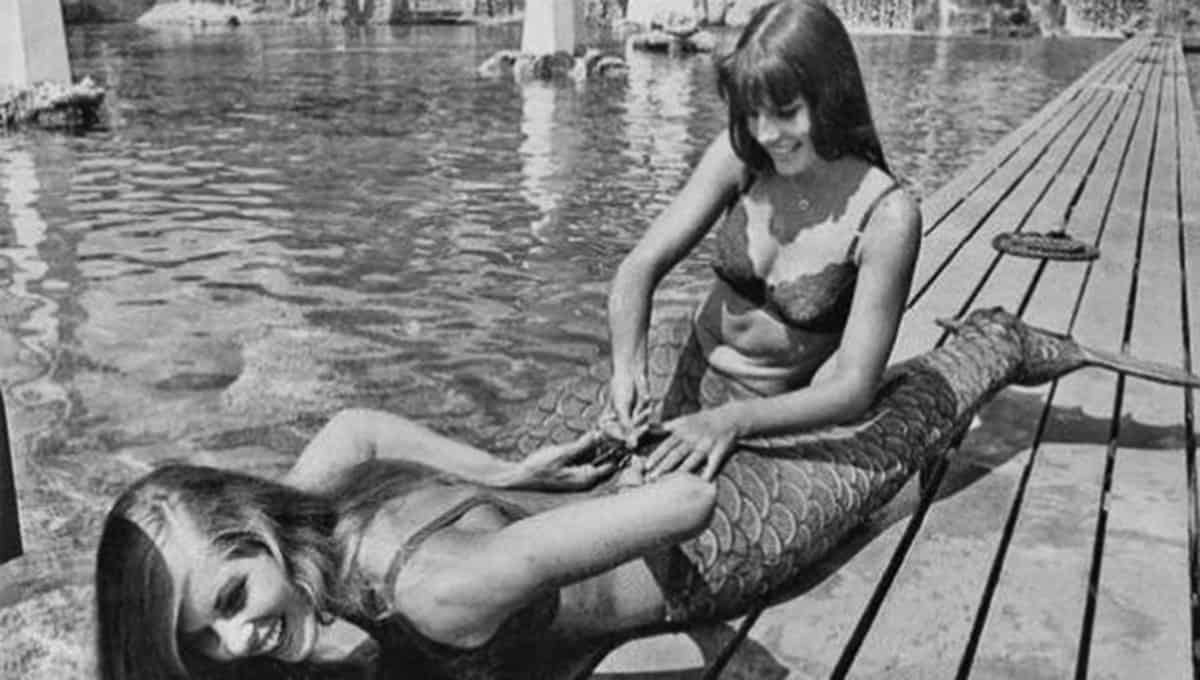 Mermaids at work for Disneyland, 1967
If you were a kid walking to the submarine ride at Disneyland in 1967 this would've been a familiar sight. These beautiful ladies were paid to sit among the rocks close to the ride and wave at passengers as they approached. Here's the kicker, they were there no matter the weather. It was a hot, miserable gig, but it sold the Disney persona to kids. After all, who gets a mermaid to wave at them before they ride a submarine? However, there were complications. The mermaids were short-lived because at the time the submarines were diesel powered. As a result, the exhaust made the mermaid sick. However, when the ride became associated with the movie Finding Nemo, the problem was remedied. All submarines were switched over to electric. They recharge every night after the park closes.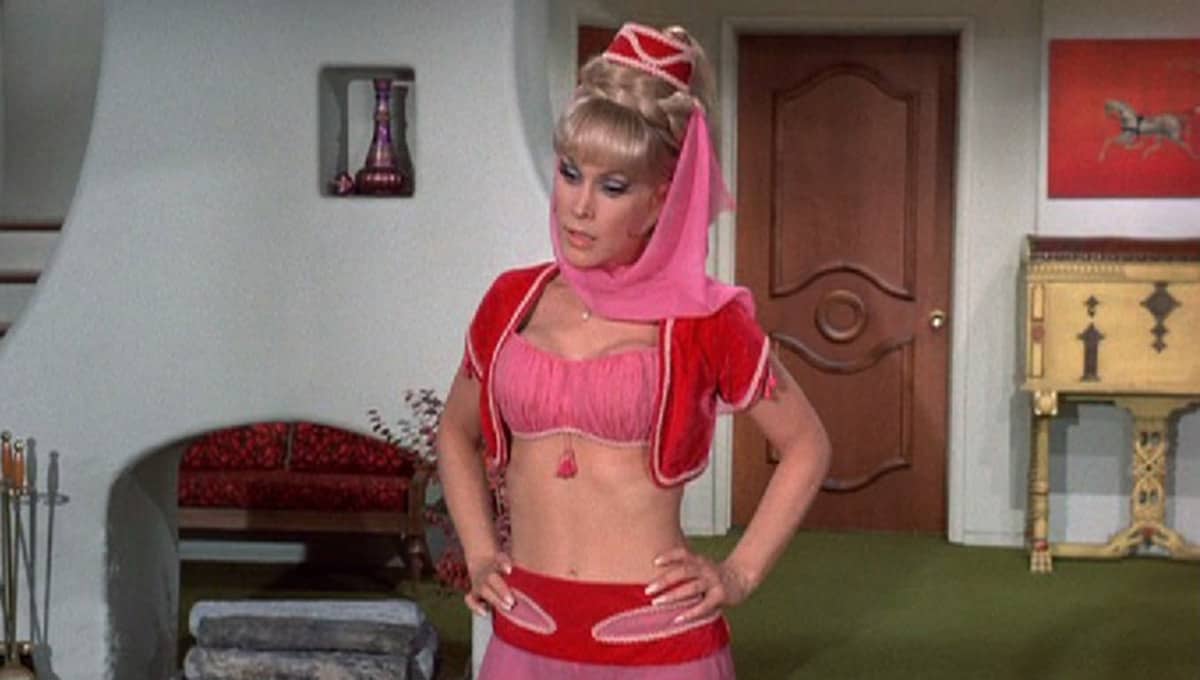 I Dream of Jeannie, 1965
What happens when a United States astronaut stumbles across a bottle with a gorgeous genie inside? Well, his life becomes extremely complicated. That was the premise behind the hit series I Dream of Jeannie starring Barbara Eden, Larry Hagman and Bill Daily. And for all the success the series garnered in syndication, it was never a huge hit for NBC. During the entire five season stint it only managed to crack the top 30 Nielsen rating twice. And even at that, it never scored higher than a 26. Syndication success would go on to beat out prime time competitors, a first for an off air program. So what about the show? Here are a couple of funny things. Barbara Eden constantly had to cover up her belly button. Showing that much skin was a no-no in the 1960s. Second, that beautiful bottle she lives in? Yeah, it's not ancient. It's really a dressed up Jim Beam decanter. Also, Larry Hagman was known to be a jerk on set. When Sammy Davis Jr. visited for a guest role, he asked Barbara how in the world she could work with such an a**hole. Yet, she did, and in fact maintained her friendship with Hagman for the rest of her life. Sometimes oil and water do mix.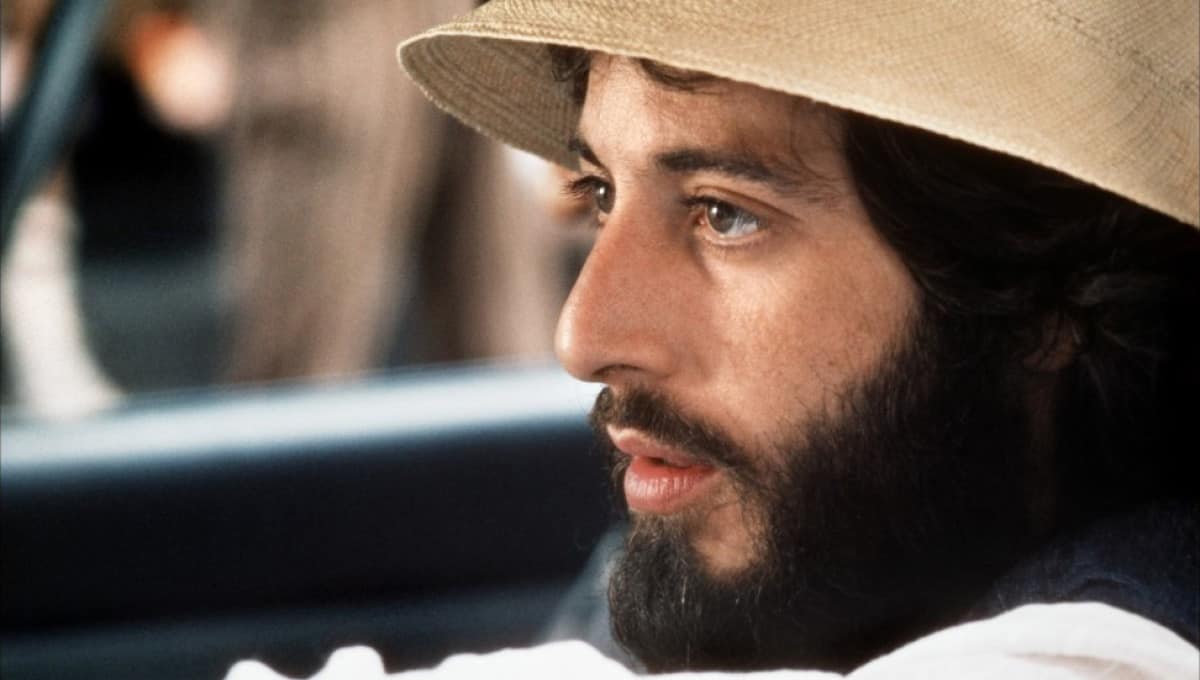 Al Pacino in Serpico, 1973
Who can forget Al Pacino's performance in Serpico? He played a New York cop by the same name. Frank was an honest whistle blower. He sounds the trumpet on the widespread corruption in the New York City police force. However, it backfires and his comrades turn on him. However, that's just the movie plot. In real life the American film Academy ranks this Pacino performance as an all time 40. However, to hear Pacino talk about his career is another thing entirely. He says it was never about the money, or the awards. There were times he was unemployed, particularly after college. In fact, he admits to sleeping in front of storefronts for several days during that time period. Yet, it was his grandfather, James Gherardi that taught him the value of work. He was a plaster worker and loved it. This taught Pacino to find something he could enjoy just as much. Film audiences everywhere are glad he did.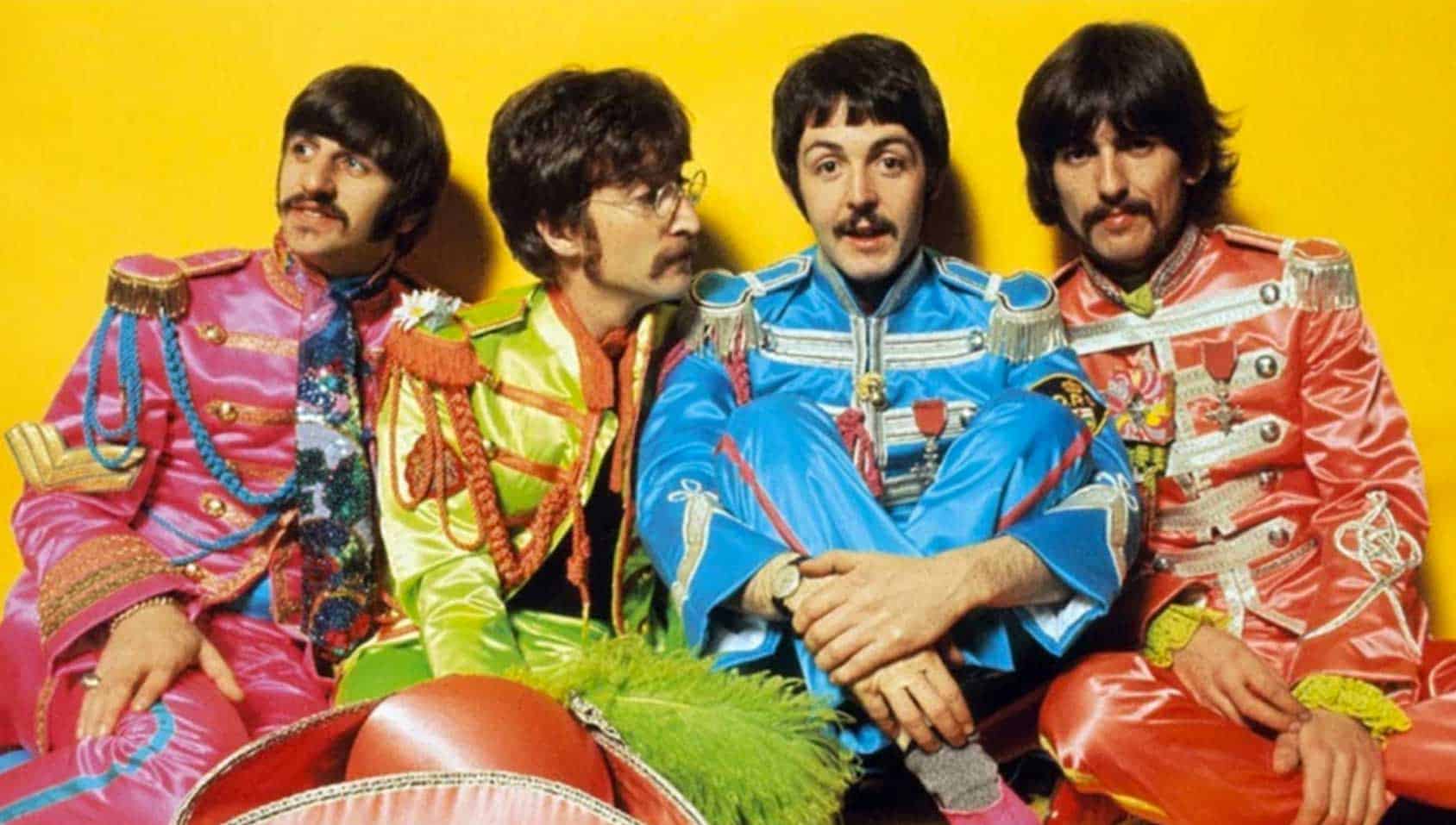 The Beatles, 1967
Looking at all the top groups of the 60s, no group proves their success was a case of the whole being greater then each part like the Beatles. Most of this is attributed to the fact that they played in Liverpool for about five years together before they started churning out hit records. In other words, they were familiar with each other. John Lennon was a teen rebel and guitarist who started his own group The Quarrymen. They were joined by Paul McCartney, then George Harrison and ultimately changed their name to The Beatles. Ultimately, Ringo Starr would join the group to replace Pete Best whom George Martin said, "wasn't good enough to drum during the recordings anyway." Ultimately, they would go on to become one of the most epic rock groups that defined an era, until Yoko came along anyway.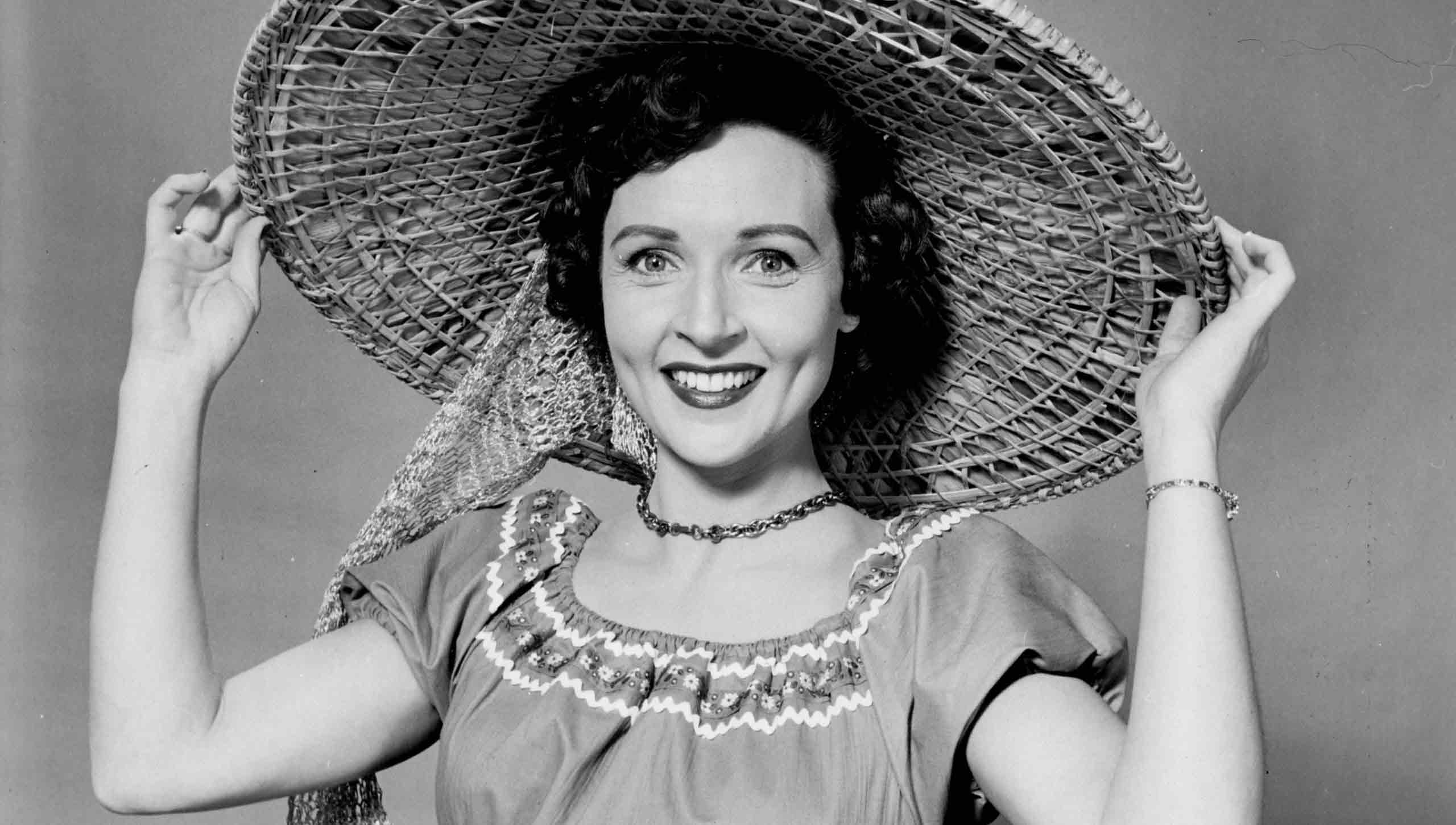 Betty White, 1973
Most of us know Betty White as the iconic clueless friend from Golden Girls, or perhaps as a Sue Anne from the Mary Tyler Moore Show. Yet, she got her start more than eight decades ago during the 1950s. She landed a starring role on Life with Elizabeth which led to her starring in her most memorable roles mentioned above. Yet, she was a regular on the Tonight Show, as a favorite of host Jack Parr, and made regular appearances on the TV game show Password. Yet, it was her role as Sue Anne on the Mary Tyler Moore Show which gave her two Emmys. Today, after enjoying a string of success in both television and movie roles, Betty continues acting for one reason. She says it allows her to pursue charity work.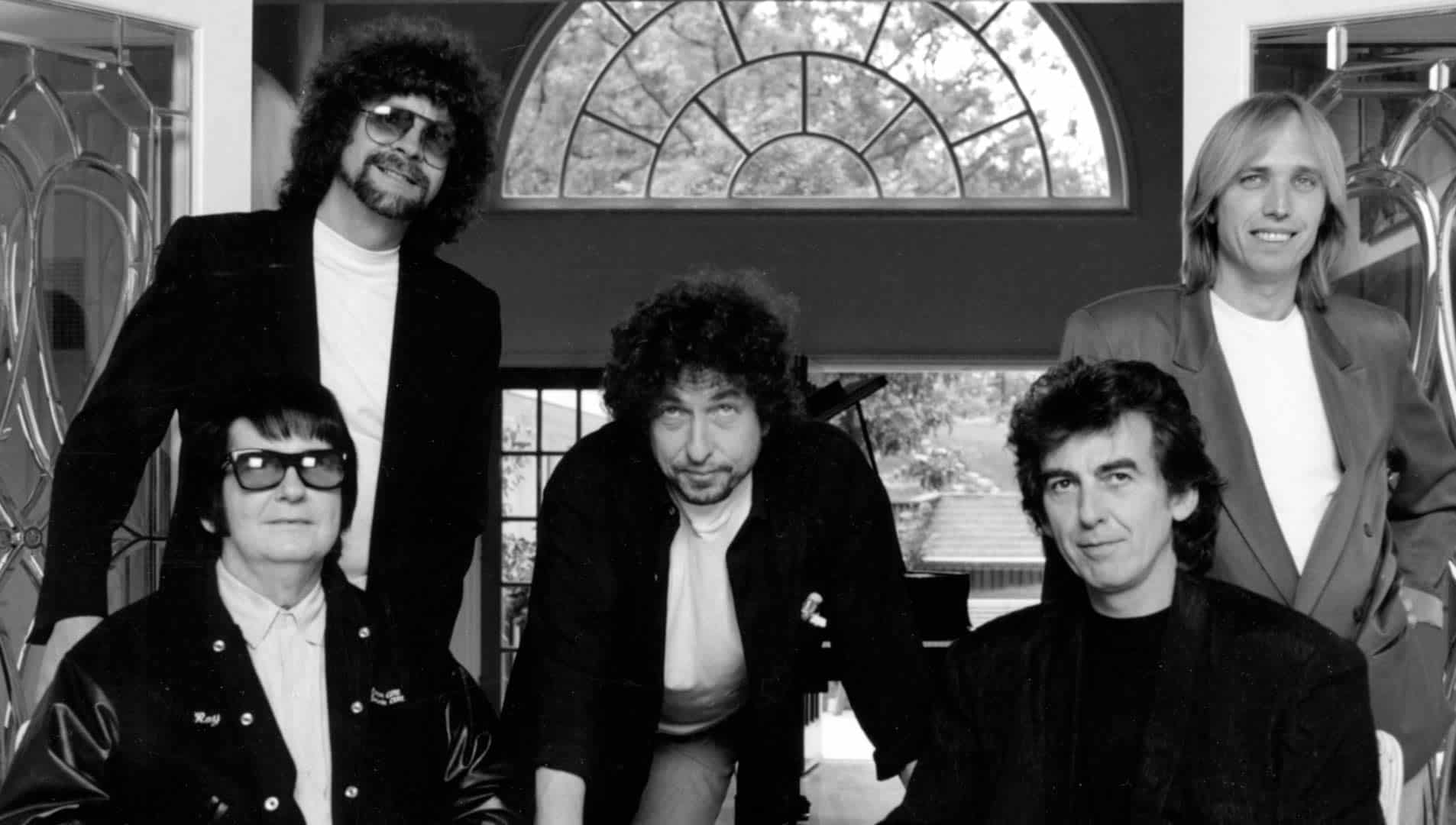 Traveling Wilburys
Sometimes magic happens in the most unexpected of circumstances. Take the case of the Traveling Wilburys. It happened like this. The International Department of Warner Bros. records called up George Harrison to ask a favor. They needed a B-side for his hit single, This is Love. You might remember this hit from the Cloud Nine album. As for the request, it was quite customary at the time. An A-side would be coupled with a never before heard song on the B-side to boost sales. So, George teams up with Tom Petty, Bob Dylan, Roy Orbison and Jeff Lynn at Dylan's recording studio. When he passed the track over to executive heads they immediately knew this was destined for more than a B-side recording. Once studio execs convinced George to go ahead with the idea, members of the group decided against using their own names. Thus, the Traveling Wilburys was born. It was taken from a nickname the group used for limiters, equalizers and other studio equipment.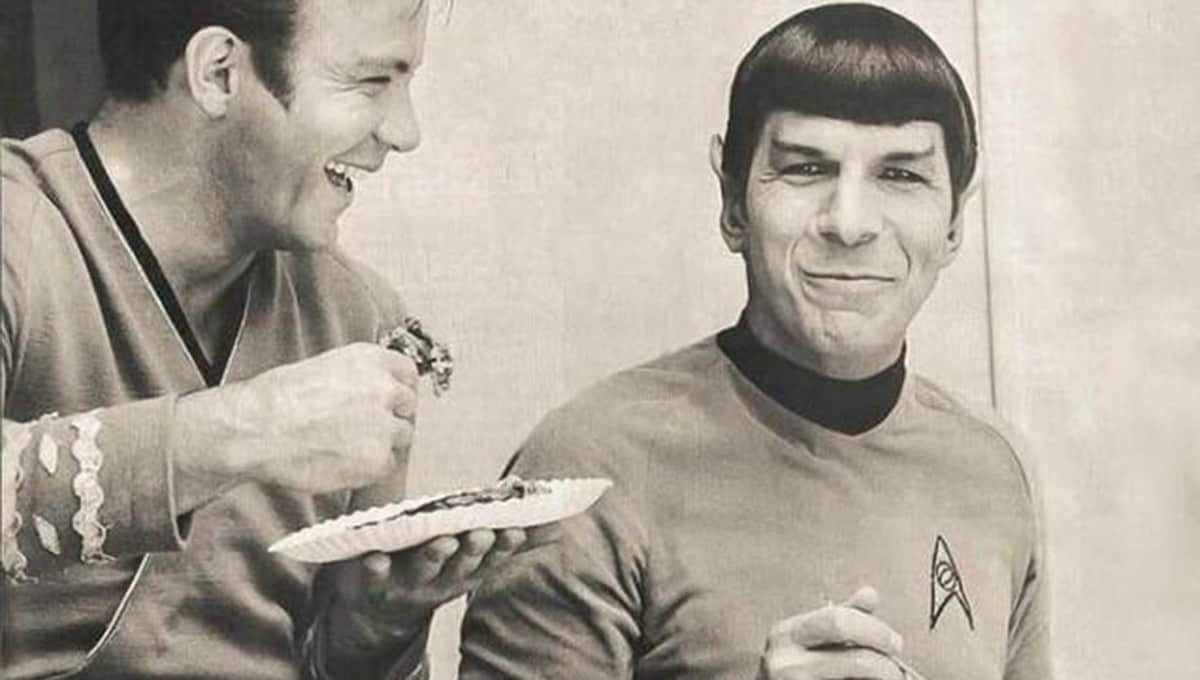 William Shatner and Leonard Nimoy on the Set of Star Trek, 1960s
From one nerd base to another. Here's something you don't see every day, the cast members of Star Trek actually enjoying each other's company. Wait, was that too soon? It's no secret that cast members were often at odds and some even loathed William Shatner. However, in the early days they had their moments. Yet, this picture is striking for another reason entirely. That's right, it's odd to see Spock smile. He rarely did so throughout the entire series. In fact, there are only two epsiodes that come to mind. The first involves the episode where he gets infected with spores and falls head over heels in love. The second one is titled Plato's Children. However, the smile is "forced" because alien creatures are exercising mind control over the entire USS Enterprise crew. Yet, they survived, Why? Well we all know the only thing worse than mind control is Trouble with Tribbles. Once you make it through that, it's easy to live long and prosper. Sometimes, you might even crack a smile.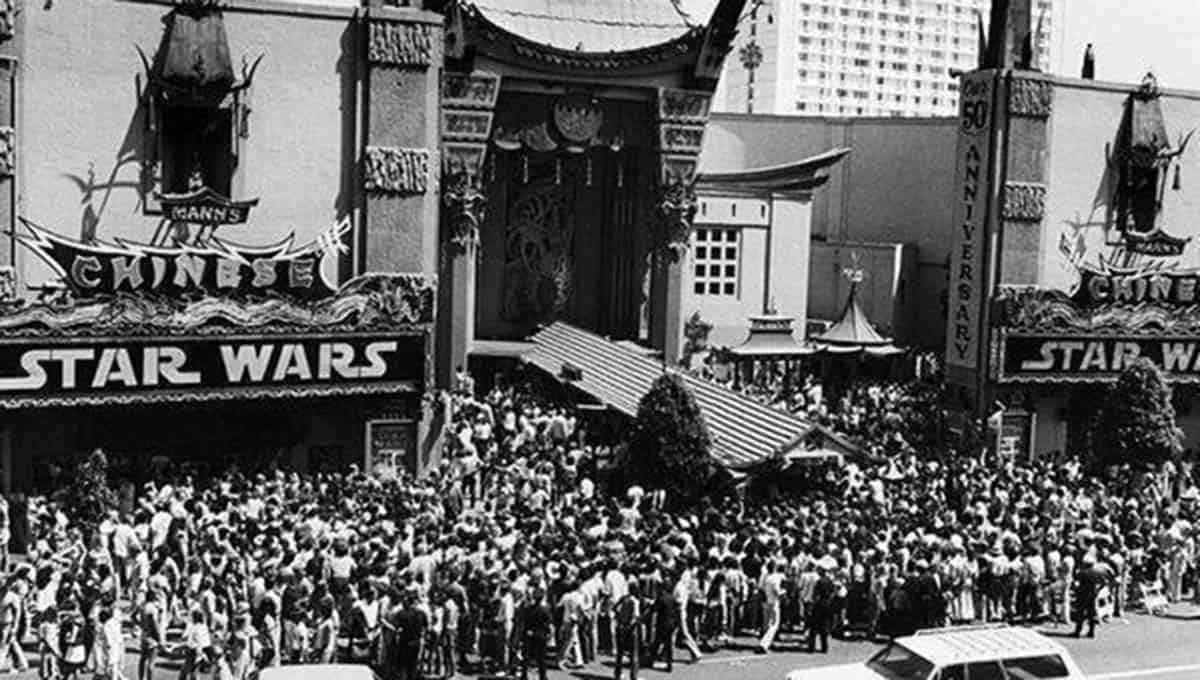 Opening Day for Star Wars at the Mann's Chinese Theatre, May 25, 1977
Sandwiched between Jaws and E.T., Star Wars briefly held the title of "highest grossing movie of all time." Just how much exactly? Try $775 million worldwide. US movie goers generated $461 million while overseas the film snagged $314 million. It was rebranded Star Wars Episode IV: A New Hope after its release. And technically it' not a sci-fi movie. Star Wars is an "American Epic Space Opera." The photo you see here is three months after the original opening day. This was the first viewing at Mann's Chinese Theater, and the crowd was enormous. Since then many wonder how it was able to gross so well with no internet. Remember, there were basically three advertising mediums: word of mouth, television commercials and print ads. However, sci-fi fans were already primed to explode after the success of Logan's Run. Due to that, Star Wars was the drug they had been waiting for.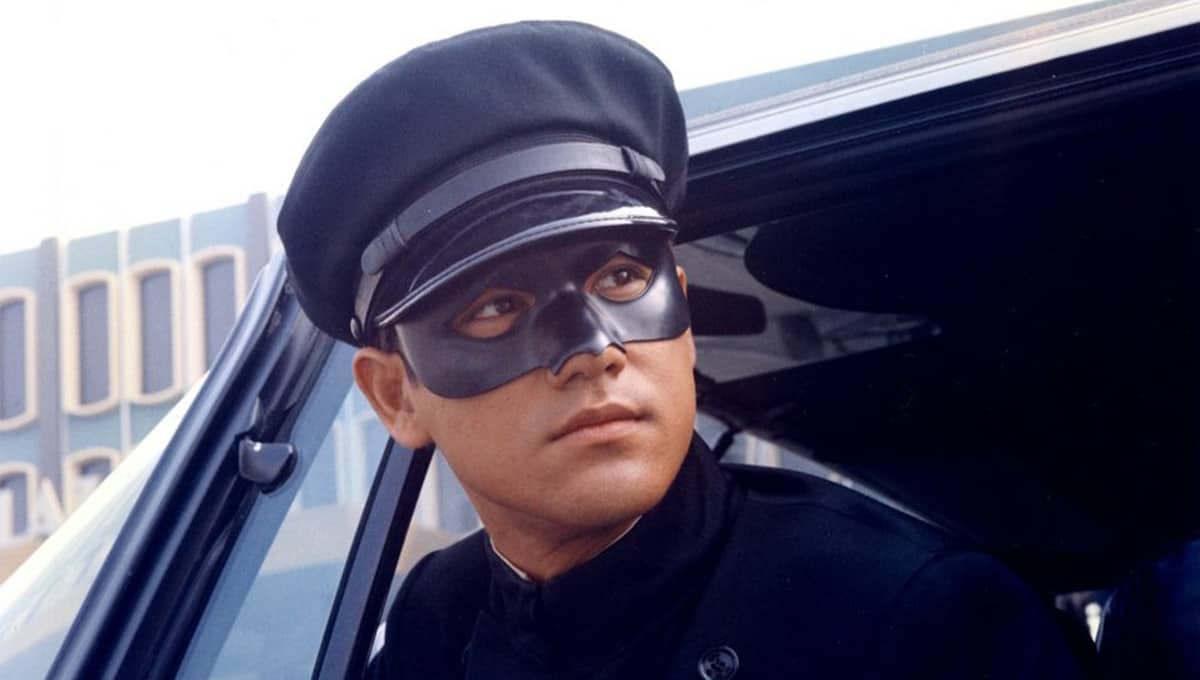 Bruce Lee as Kato in The Green Hornet, 1966
There's a funny story about Bruce Lee and his character Kat0 from the 1960s superhero series Green Hornet. During his screen test he was asked the difference between karate punches and kung fu punches. His reply was epic. He told them a karate punch was much like being hit with an iron bar. One simple smack and you're down for the count. However, a kung fu punch was something entirely different. It was likened to being hit with an iron ball, swung from an iron chain, with another iron ball attached to the other end. He said it went, "Whaaaaaang!" and hurt inside. Then, he promptly stood and showed them just what that would look like with a fury of hand and foot movements so quick they were one huge blur. No wonder he got the part. Ultimately, his character would go on to capture the hearts of kids and families across the nation. Seems like Bruce may have been the real star of the show after all.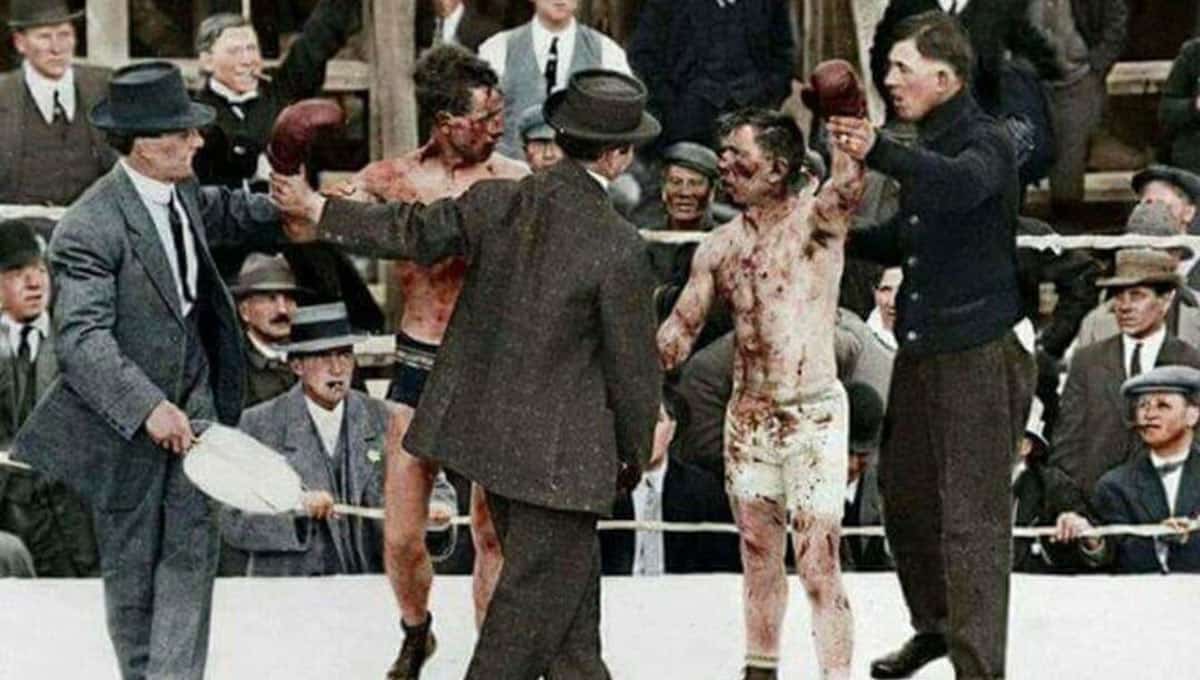 Ray Campbell and Dick Hyland after a Boxing match, 1913
Check out these two guys covered in Smuckers! Boxing has come a long way for sure, but early photos are just epic. They literally beat each other black & blue. It's one of the reasons boxing jelly is used today. The jelly lubricates the boxer's face so gloves slide off after initial impact. There's a trade-off though. While it keeps you from getting bloody, it hurts worse than a straight punch. Yet, keep in mind, we also live in a world of the "mandatory eight count" and "neutral corners." Those didn't exist in 1913 so "San Francisco" Ray Campbell was able to beat the stew out of "Fighting Dick" Hyland who was the lightweight title favorite at the time. The fight lasted 15 rounds and was won with a left jab/right cross that was effective for one reason. It landed more times than it missed!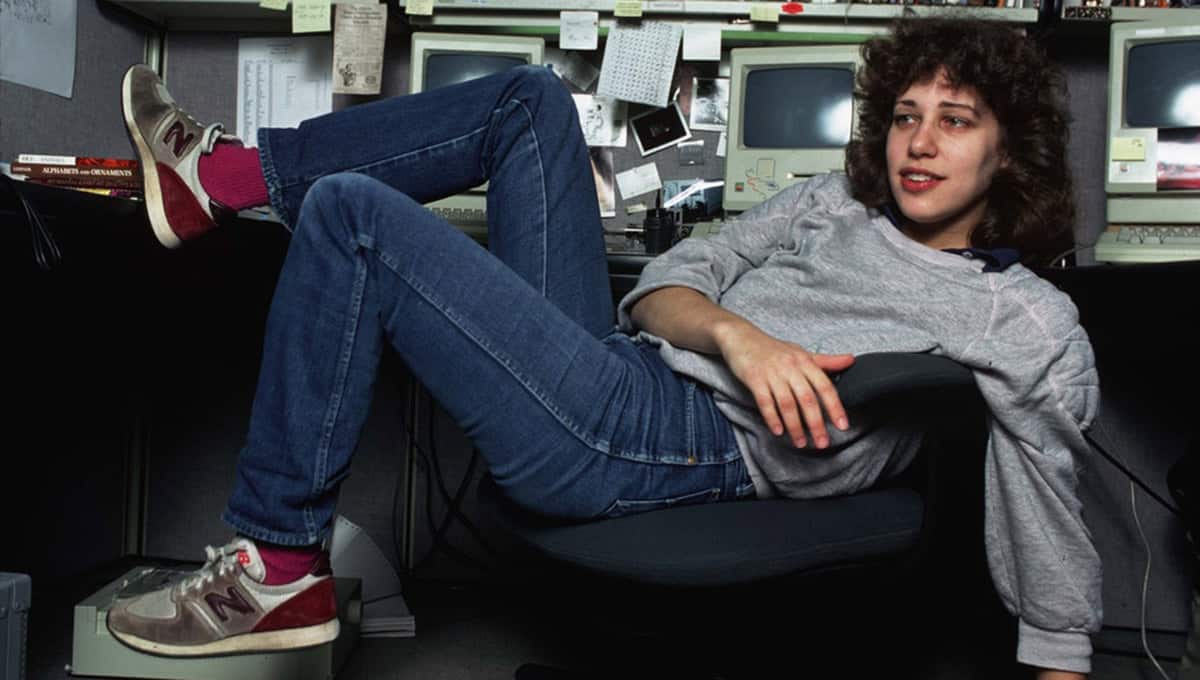 Susan Kare, the Artist who designed many of the fonts, icons, and images for Apple, NeXT, Microsoft, and IBM, 1980s
Susan looks quite different today than she does in this pic. A beautiful, strawberry blonde, polished, professional known for her work with Apple, she is seen here looking a lot like Punky Brewster!  From 82 to 85 she was the creative genius behind the cute, soft look and feel of Macintosh user interface. She designed bitmap fonts and several icons. However, her claim to fame as far as fonts go are New York, Chicago, Geneva and several others with city names. However, her Chicago font is perhaps most famous. It can be found in early versions of Mac OS as well as the iPod's first four generations. After her time at Apple, Susan moved on to Microsoft to help flesh out the them and design of Windows 3.0.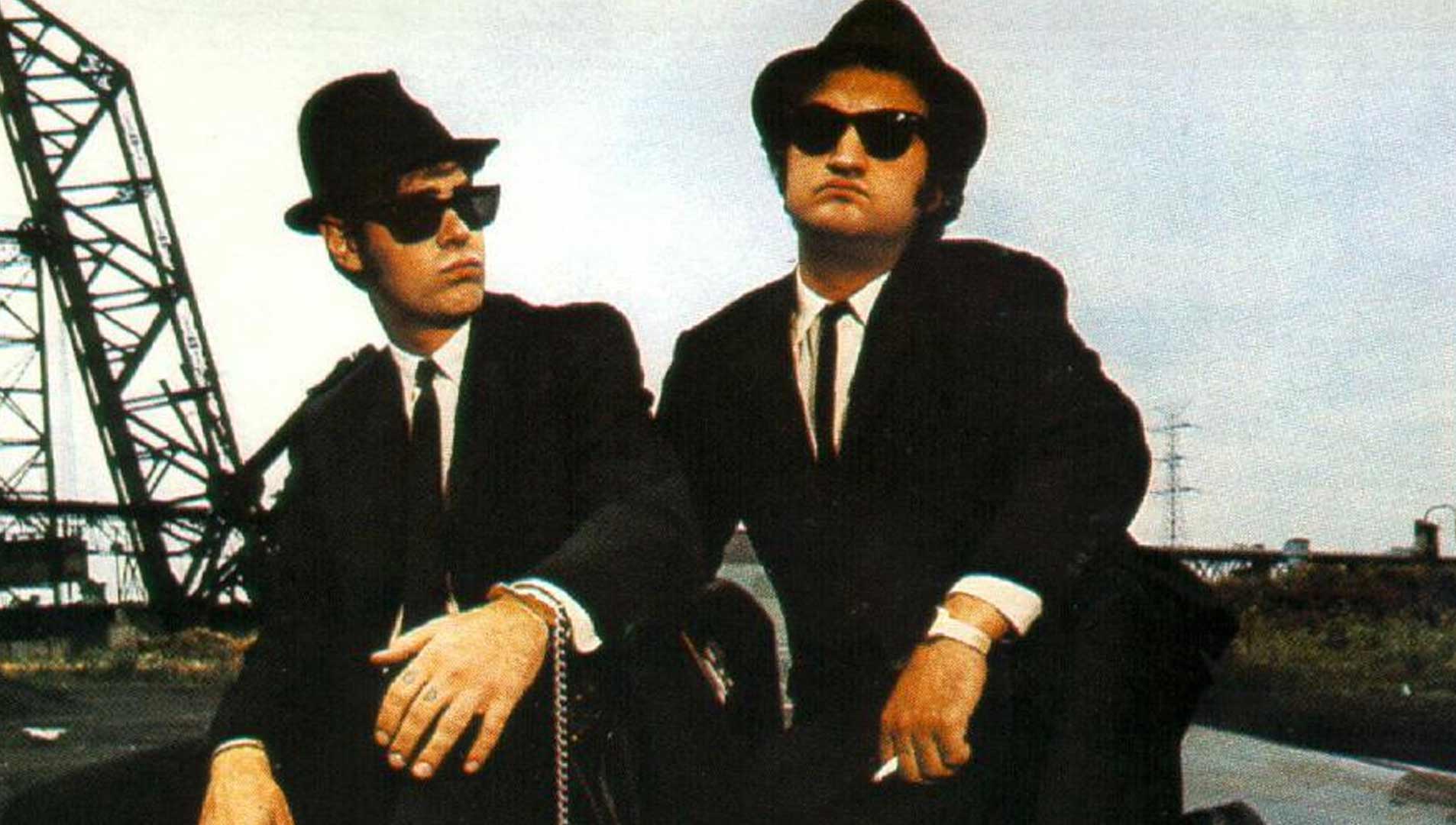 The Blues Brothers, 1980
Released in 1980, The Blues Brothers became an instant cult classic. However, here are a few lesser-known facts about the film. For starters, the first draft of the movie was written by Dan Aykroyd. It was quite lengthy too, 324 pages. However, even though Dan was brains behind the script, John Belushi received twice as much for his role in the film. Aykroyd was paid $250,000 while Jim earned a cool $500,000. And here's the thing about Chicago. It had been a while since they remembered cars careening around every corner (the mob was gone after all). As a result, high speed car chases scared locals so much many of them called local newspapers to report them as actual incidents. And the car chase through the mall? Yeah, it was filmed at an actual mall. Closed in 1979, Dixie Square Mall was scouted and chosen for that scene. Oddly enough, it never reopened. However, it wasn't demolished until 2013.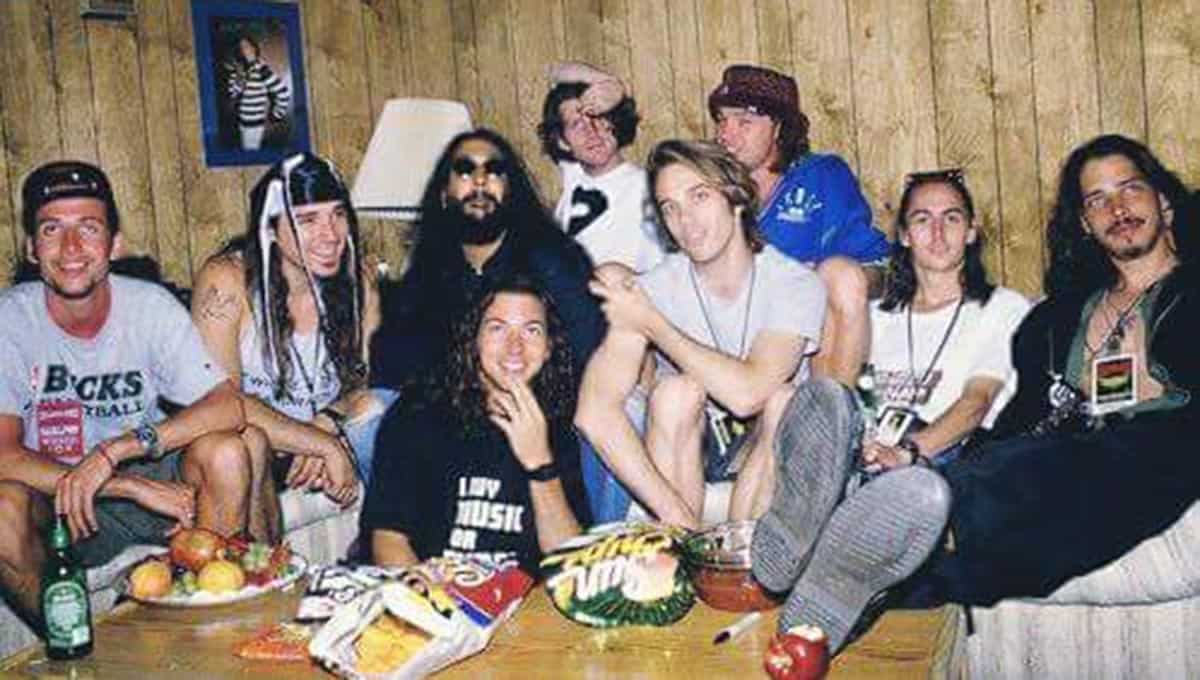 Soundgarden and Pearl Jam Hanging Backstage at Lollapalooza, 1992
What do you get when Soundgarden, Pearl Jam, RHCP, Rage Against the Machine and Ministry show up? Lollapalooza 1992. If you recall, this was right before hurricane Andrew hit. They even made an announcement over the loudspeaker to warn people they might only be left with what they were wearing after the hurricane passed through. As for the festival itself? Both the crowd and the bands loved it. Eddie Vedder remembers the bass guitar going out for two songs during their live set and some of his vocals dropping out too, but he never worried one bit. He said there was so much to the festival besides one band. It was about what they were creating. Soundgarden guitar player Kim Thayil put it best. "Lollapalooza 1992 was all about 40,000 white suburbanite type kids affirming their alternativeness."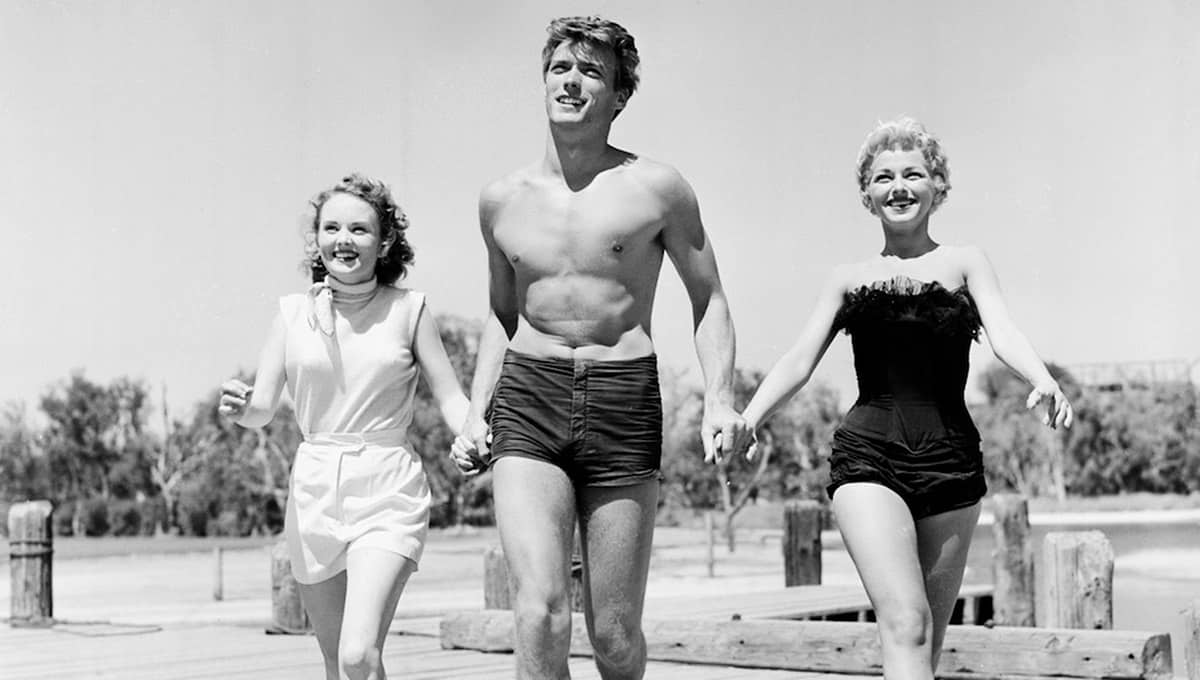 Clint Eastwood taking a stroll with actresses Olive Sturgess and Dani Crayne in San Francisco, 1954.
Here is a young Clint Eastwood in 1954 looking mighty fine with a couple of young actresses in San Francisco. Clint has one of those storied careers that can only be described as legendary. His work has literally taken him all over the world. And while he is in his mid-80s now, Dirty Harry is still as cool as it gets. He must've been really cool because he ultimately fathered seven children to take up his legacy. Yet, he wasn't always know for his good looks. In fact, Universal fired him as a contract player over his looks(ouch). Yet, that didn't slow down the former swim instructor for the US Army who also happened to survive and emergency plane landing over water. He continued, and decided to stay around until he was 80 plus! We don't mind at all. Had that not happened, we would never have received the gift of Grand Torino!
David Bowie and Freddie Mercury teaming up for their song Under Pressure, 1982
Ironically, the song Under Pressure is said to have been written under those very circumstances (more on that in a few). Both Bowie and Mercury admit to having more than enough cocaine and wine before composing the track. In addition, it was recorded in one night; and Bowie and Mercury blind swapped their verses before recording to lend to the tracks jerky, slightly off, feel. Plus, though studio sessions seemed light hearted, writing the song itself was said to be an experience full of tension. The song evolved from another song, "Feel Like," written by drummer Roger Taylor. Ultimately, the three note bass line would become uber famous (it would show up again in 1988 as a sample loop for "Ice Ice Baby"). Yet, several of the band members were not happy with the hit song. For instance, guitarist Brian May says he would love to sit down and remaster the whole thing. As for the song itself? It was written in response to a question on the band's website posed by a fan.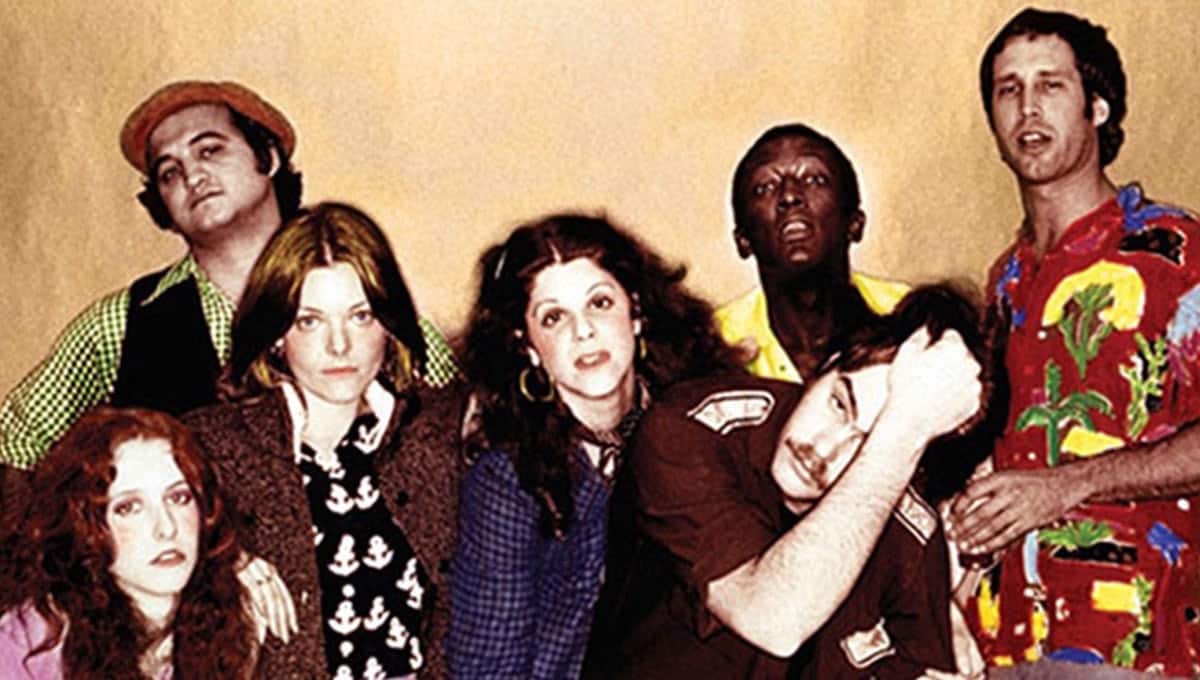 The Original Cast of Saturday Night Live, 1975
Do you think anyone really had a clue when Michael O'Donoghue and John Belushi uttered the words, "I would like to feed your fingertips to the Wolverines!" Yes, TV history was in the making when NBC launched Saturday Night Live on October 11, 1975. It's doubtful at the time that anyone fully understood the magnitude of what was going on, except for Lorne Michaels. As show producer, he was constantly telling his fledgling troop and the bewildered writing team that one day they would look back and realize they were history makers. Though it's a popular TV mainstay now, it hardly started out that way. At first, it was considered a counterculture show. Lorne really had to battle traditional network thinking to turn it into what he wanted it to be. What was that exactly? A show packed full of amateur comedians doing comedy sketches for Americans that TV networks did not understand. Remember, the target audience for Saturday Night Live were younger people who weren't home on Saturday nights. In time they would tun in by the thousands to watch greats like Chevy Chase, Jim Belushi, Dan Aykroyd and Gilda Ratner. Today the show is as strong as it ever was.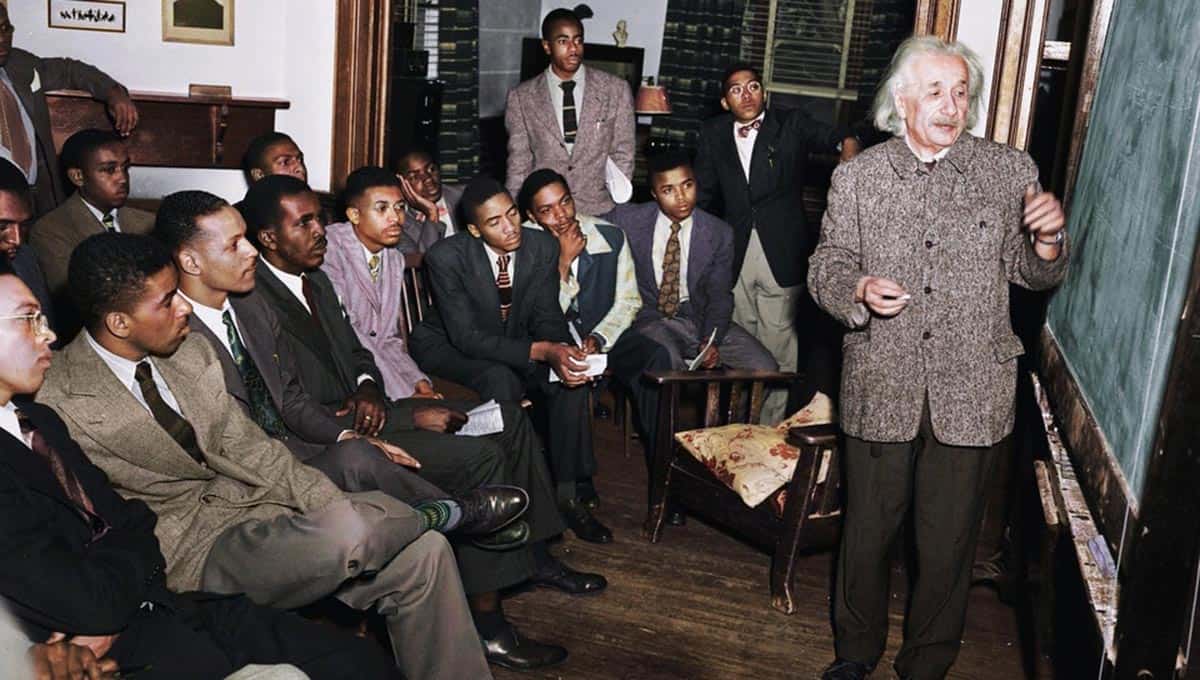 Albert Einstein Teaching at Lincoln University, 1946
During the last 20 years of his life, Albert Einstein rarely accepted speaking invitations to universities. However, he broke his own rule in 1946 by accepting and addressing Lincoln University. The traditional black college located near Philadelphia gave him an honorary degree after he spoke. Einstein was no stranger to prejudice either. He moved to attend Princeton in 1933 in order to escape the Holocaust. Yet, Princeton was no safe place either. Jews and blacks were not welcome. In fact, after the war when black soldiers returned home they were often faced with a hostile American stance. People resented them for wearing soldier uniforms, considering themselves as equal. Ultimately, this resulted in a wave of violence in 1946 (the year he accepted the speaking invitation). The end result was 56 dead African Americans, most of them veterans. So, when Albert Einstein excepted the invitation to speak at Lincoln University in the mid 40s, he was doing more than breaking protocol. He was making a huge statement for equality.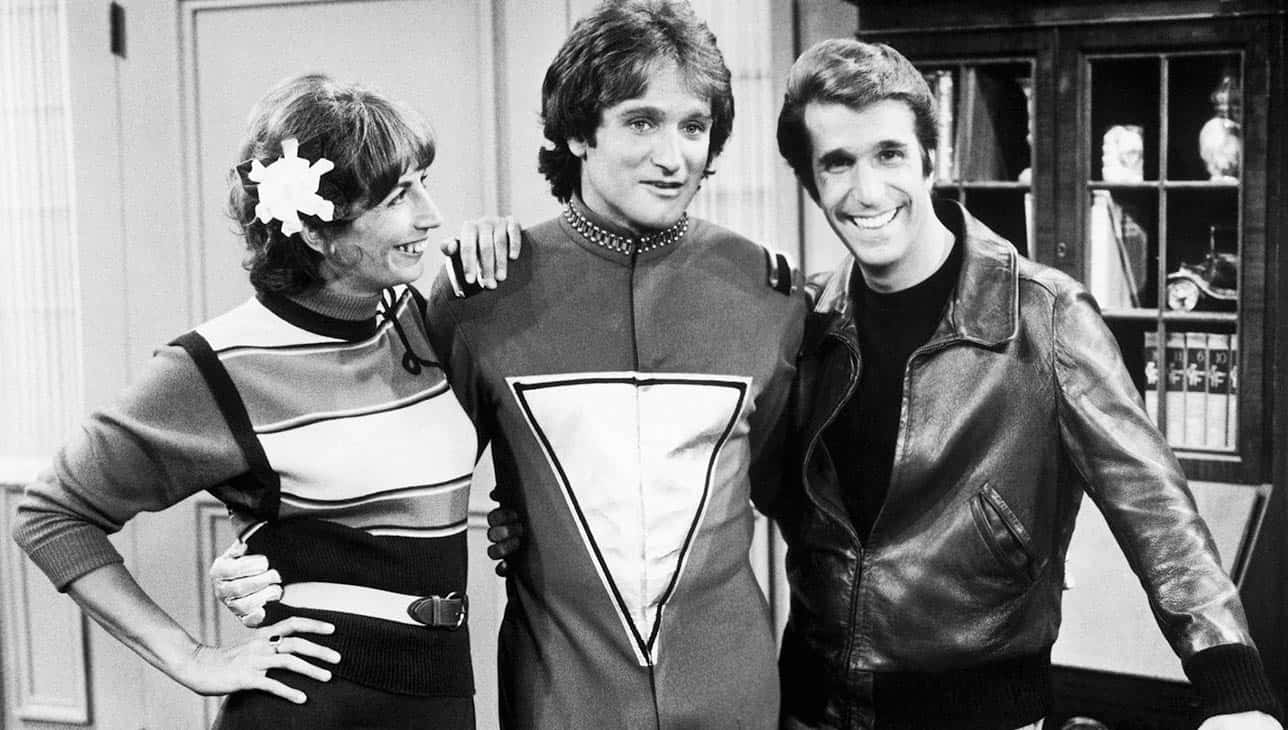 Robin Williams as his role on the show Happy Days as Martian
So Robin Williams role as the martian on Happy Days is one of the most interesting stories in television. Anson Williams, who played Potsie, said the initial script reading was horrible. In fact, he says it was unreadable. However, the back story behind the bad story is funny. Show producer Gary Marshall went to see Star Wars with his son. Afterward his son begged him to come up with a space episode for Happy Days. This was it. Anyway, so the cast goes through the first reading and its bad. They get a second polished script that Anson describes as unreadable. Yet, on with the show as they say, and this is where it gets really good. The production process for Happy Days is 4 days long. Monday through Wednesday are cast days, Thursday is all blocking (mechanics), and Friday is filming before a live audience. Rehearsal was so much of a disaster that the guy playing the martian quit Wednesday night. So George Marshall asks if anyone knows a comedian who can play the role. Someone mentions an unknown funny classmate named Robin Williams. He comes in and improvs the entire scene, blowing studio execs away. The episode went from being a disaster to the best episode in television history. Four days later, Robin had his own show… Mork and Mindy. Nanu believe that?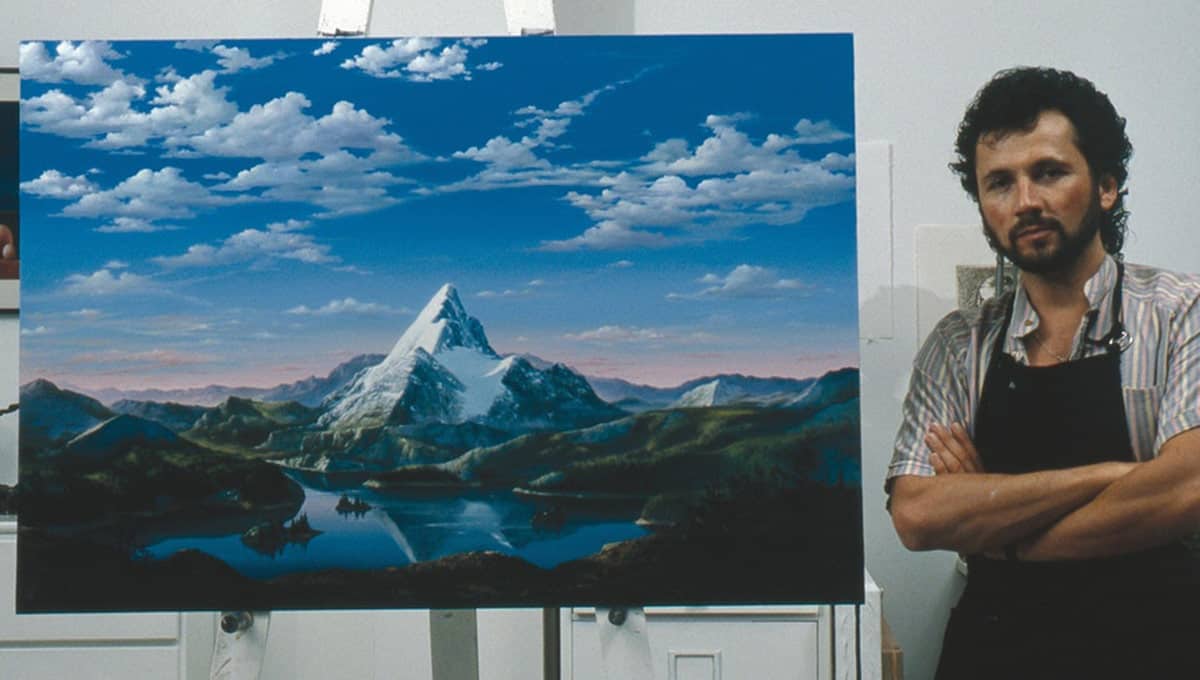 The Originally Painted logo for Paramount Pictures, 1965
So this is the actual Paramount Pictures logo painting, the day the painting was made. However, it had most humble origins as a boardroom doodle by W.W. Hodkinson (Paramount's founder). As it happens, Paramount was the first nationwide US film distributor. Founded in 1912 as Famous Players Film Company, it changed to Famous Players Lasky Corporation, becoming entirely owned by Famous Players in 1916. Surprisingly, through all the changes the logo has remain relatively unchanged. There was a brief period where blue was fashionable (1975-1985), but afterward the lush mountain scene came back. Incidentally, the scene was painted by Adolf Zukor and is more than 100 years old. The painting was so inspiring people began naming their kids after the artist.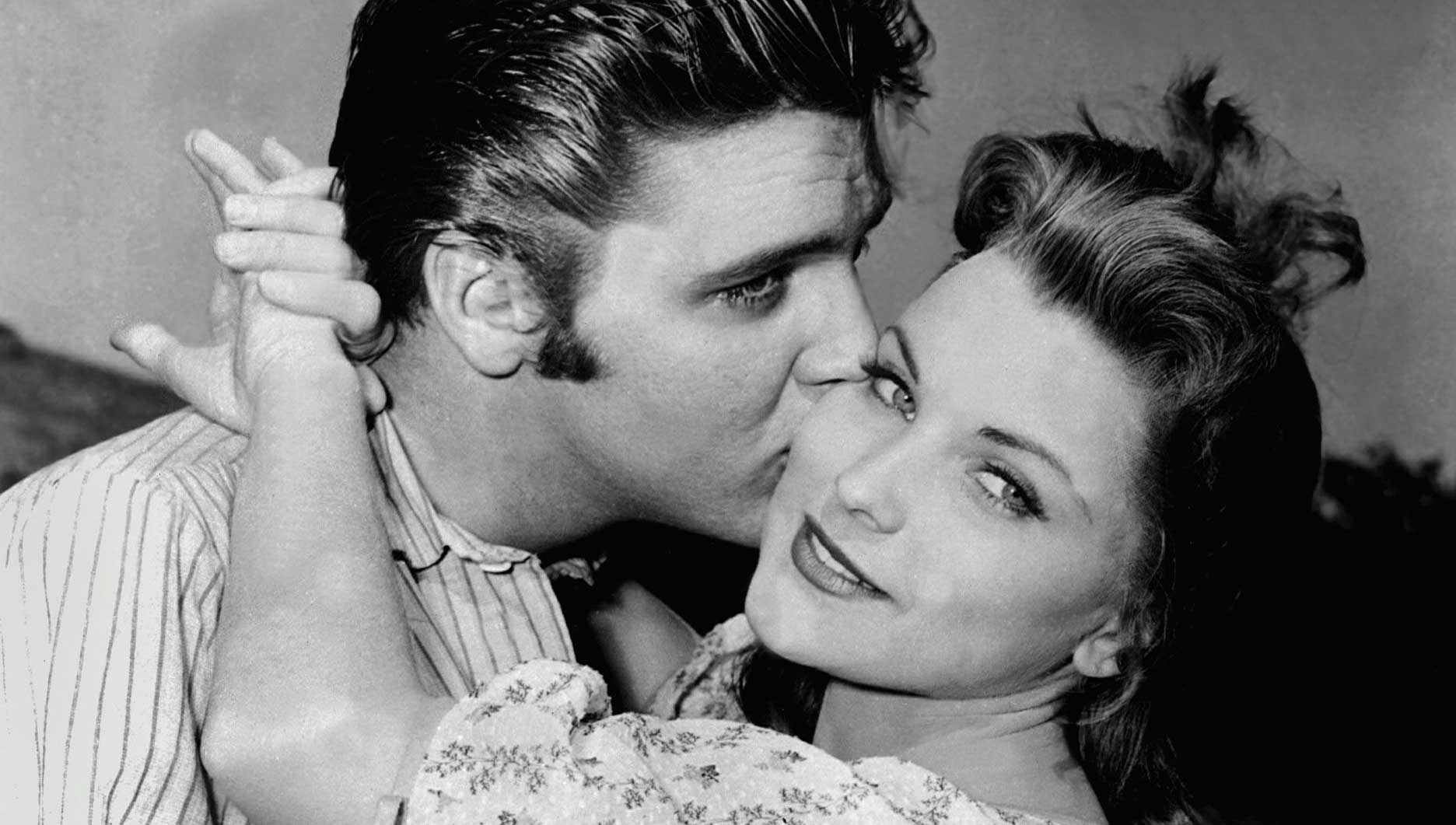 Elvis Presley and Debra Paget in the film Love Me Tender, 1956
So you probably know Love Me Tender is all about a Confederate bandit team robbing a Union payroll train with some feds thrown into the mix. However, here are a few things you may not know. Originally, the film was going to be a B rated picture until Elvis Presley signed on. Then it was upgraded to A status and given a nice $1 million budget. However, because this was his film debut, Elvis did not get top billing. He was number three after star Richard Egan and costar Debra Pagett. When the film was released in theaters, Presley's fans scream so loud audiences could not hear his lines. The title was originally written to be The Reno Brothers. However, they changed it to promote the song Elvis Presley sings during the film. And finally, the footage of Presley crooning Love Me Tender was an add-on. Audiences reacted so poorly to his character's death that the studio had to do something. However, this addition created continuity issues because Elvis had already changed his hair back to black. In the movie he's blonde.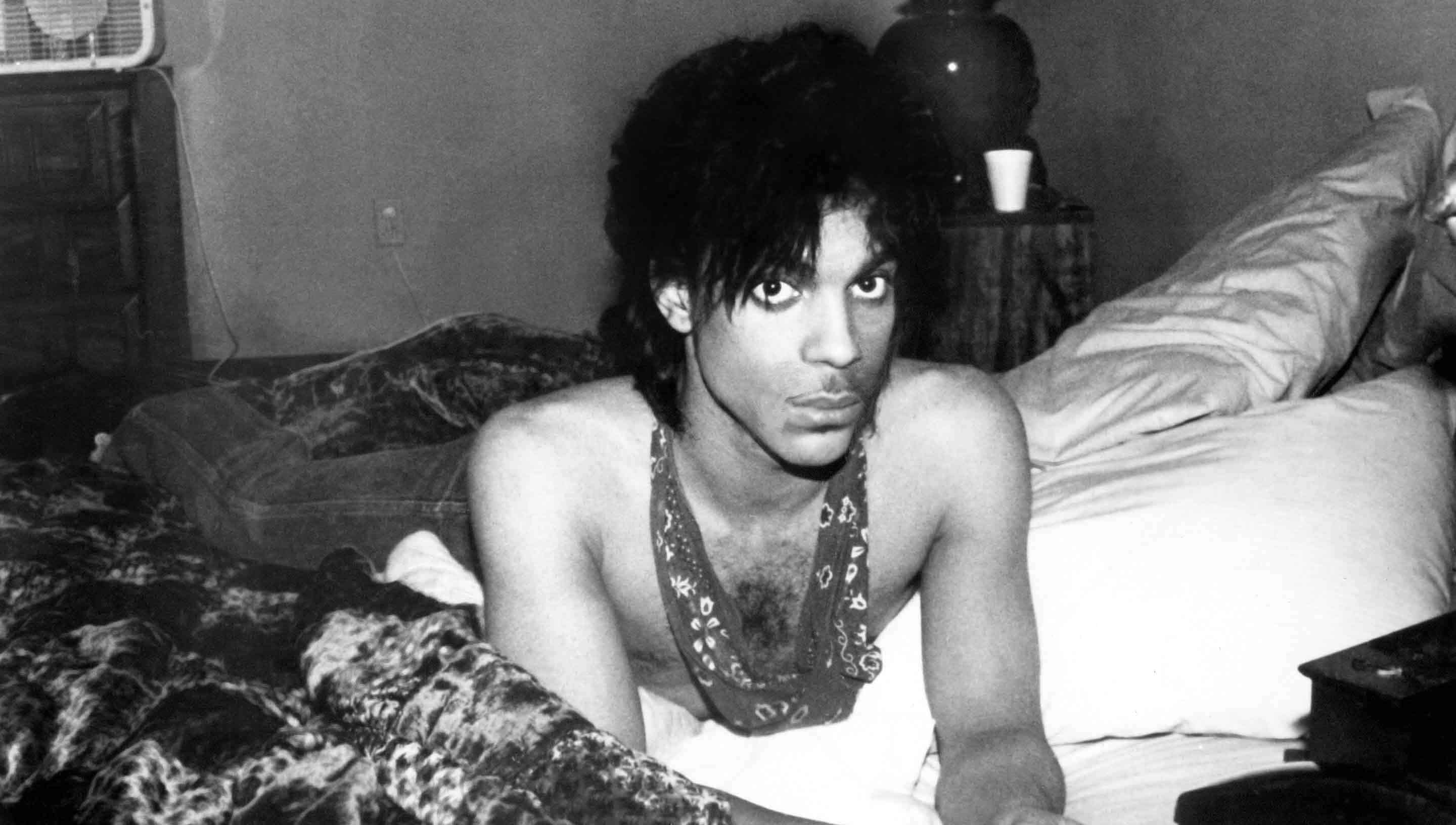 Prince
So the funny thing about Prince is his name actually is Prince. Born June 7, 1958 in Minneapolis, Minnesota, Prince Rogers Nelson would later make his mark on the world in the late 70s. His 1978 debut album For You continued a string of successes like Prince in 1979, Dirty Mind in 1980 and of course Controversy in 1981. All four albums featured his trademark sound, funky grooves with deep synthesizer and provocative sexual lyrics. Of course, all of these rock ballads were sung with high falsetto. His most famous album of all is Purple Rain from 1984. Ultimately, it would morph into a movie. This album had other chart topping singles like Let's Go Crazy and When Doves Cry. And while he's gone today, he certainly left his mark on the music industry, and our entire American consciousness.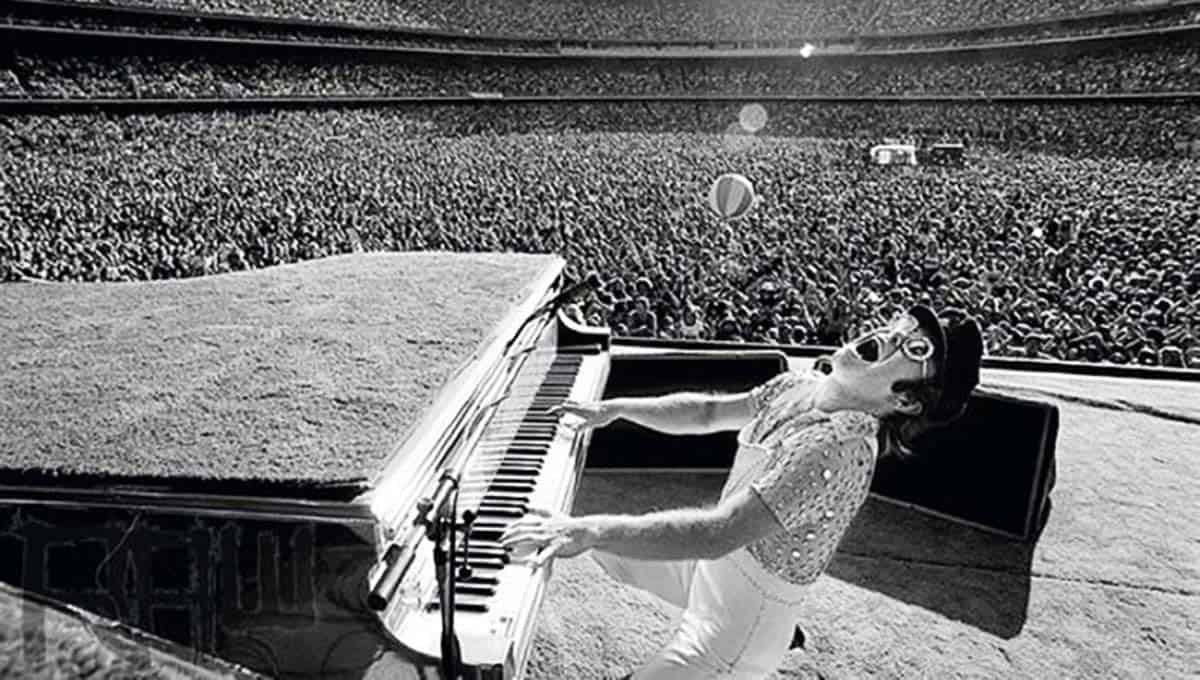 Elton John performing at Dodgers Stadium, 1975
This was one of the most memorable performances of John Elton in the history of rock. At the time, he was huge. He literally delivered multiple hits at a time and produced a few number one albums each year. Plus, his concerts were legendary with his stage antics and ostentatious outfits. This concert opened with Your Song as John's piano could be heard just before the curtain rose. Then, the piano literally glided from the rear of the stage to the front while the song played. After the second song, I Need You to Turn To, the rest of his band joined him. There were new members to as the band had been reorganized a bit. John continued for a full 10 song set featuring several familiar tunes. Then he left the stage, only to return to wearing the sequined dodger outfit you see in the photograph. The second set was compiled mostly of his top hits, featuring his latest five month old top earner, Captain Fantastic and the Brown Dirt Cowboy. Billie Jean King (the tennis star) made an appearance to help out with background vocals for Philadelphia Freedom, as well as Bernie Taupin, John's lyricist writing friend. The concert ended with Don't Let the Sun Go Down on Me as the sun was literally setting over Dodger staium. And that's how the stadium made history in 1975 without hitting a single baseball.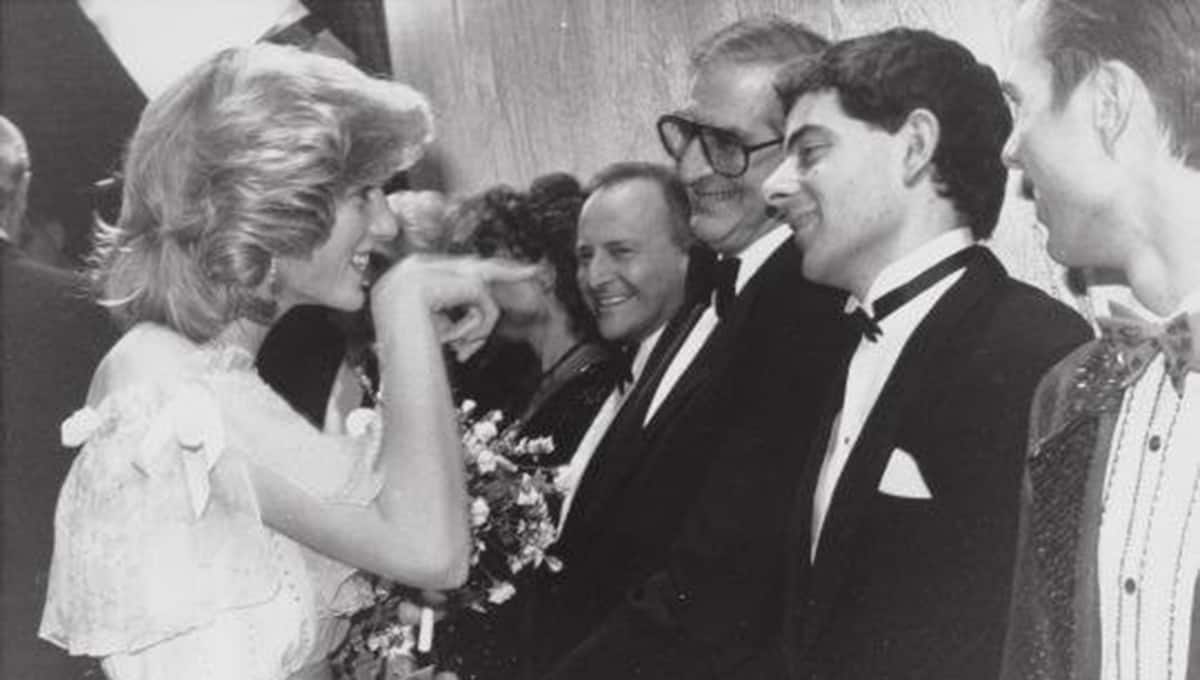 Princess Diana meeting Rowan Atkinson, Mr. Bean, while greeting the cast of the "Royal Variety" show, 1984
Princess Diana enchanted the world before her life was taken in a fateful car accident. Here, she is seen in a picture from 1984 with comedian Rowan Atkinson, otherwise known as Mr. Bean. She is greeting the cast of the Royal Variety Show, but what exactly is she saying to Rowan? Well, keep in mind he is 29 in this picture so youth is on his side, however, it's doubtful she is flirting with him. In fact, Rowan was a friend of Prince Charles and attended the couple's wedding. Yet, what you probably don't know is Rowan was appearing in a West End play called The Nerd. In the photo, Diana is joking with him telling him, "Don't you ever call me a nerd!" We know this because the press reported it at the time this photograph (by Ronald G. Bell) was snapped. Of course, Mr. Bean went on to become one of Britain's most prolific comedians and has a healthy US fan base as well.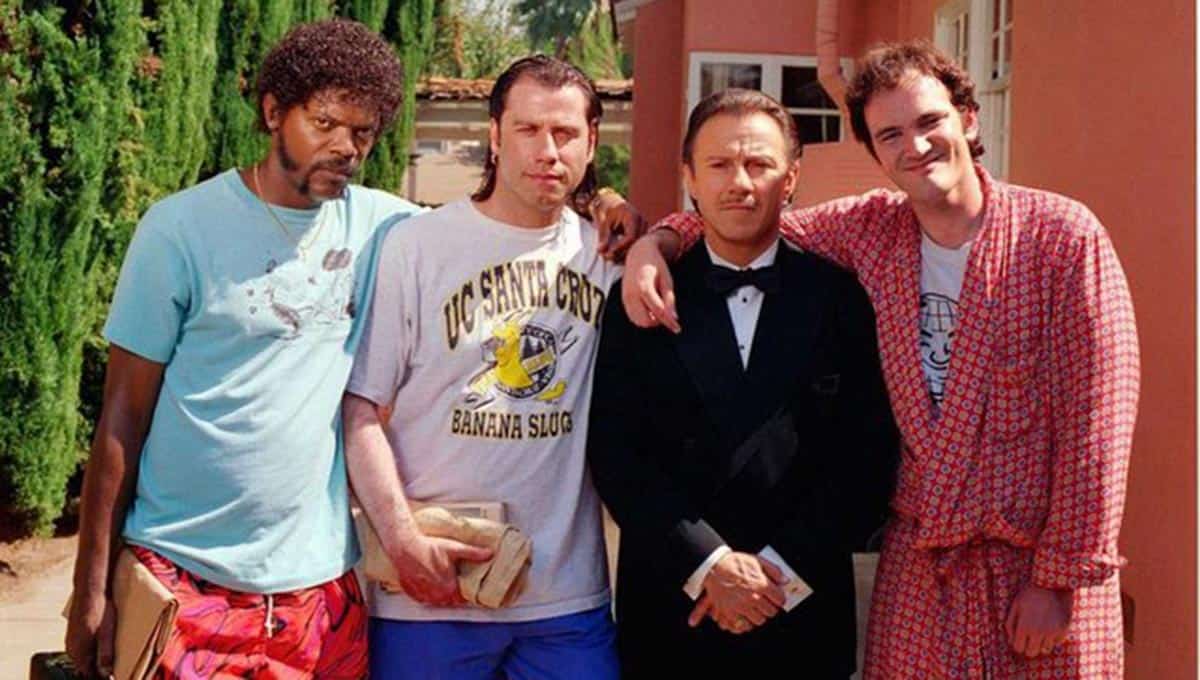 Samuel L. Jackson, John Travolta, Harvey Keitel, and Quentin Tarantino on the set of Pulp Fiction, 1993
In 1993, Quinn Tarantino released Pulp Fiction and forever impacted the movie industry as a result. Here are a few things that might surprise you about the film. First, Samuel Jackson's wallet was owned by a really famous person. In fact, the wallet belong to Quentin Tarantino himself. Little did he know that wallet would start the next fashion craze. Also, when Samuel Jackson quotes Ezekiel 25:17, it's a ruse. Tarantino admits to making up most of the words. Yet, there are a few head nods to reality tucked inside the script. For instance, when Bruce Willis's character is on the phone with a friend to plot escape to Knoxville, Tennessee it's a nod a Tarantino. He was born there. Also, if you recall, Vincent had just returned from Amsterdam. That's where Tarantino wrote Pulp Fiction. And finally, you can't say anything about Pulp Fiction without saying something about the F bomb. It's dropped 265 times. That's a lot. However, another Tarantino film takes the cake for most F bomb uses. Reservoir Dogs uses the word 269 times. Finally, there are connections to other things in the Tarantino universe. For instance, Vincent Vega is the brother of Reservoir Dogs character Vic Vega. In addition, Red Apple cigarettes show up in the film too, as they do in just about every Tarantino flick.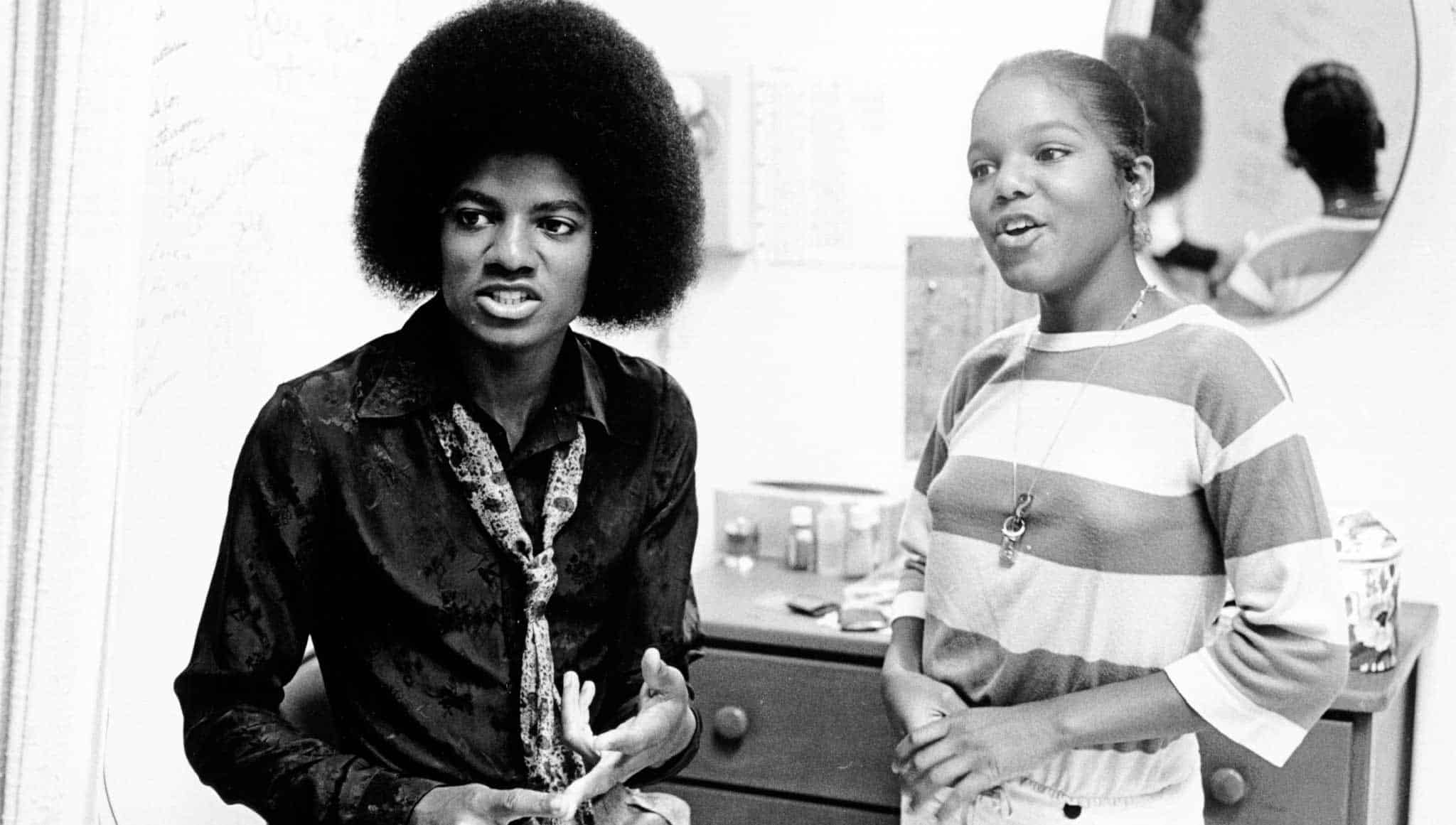 Michael and Janet Jackson, 1966
This is a rare glimpse into Jackson family life. Many of us know Michael and Janet Jackson for the performers they are in their own right. Michael began performing with his siblings as part of the Jackson 5. Originally the three older brothers were the only ones in the4 group. Yet,Marlon was soon added, then Michael, and the Jackson 5 was born. In 1970 their song I Want You Back in collaboration with Diana Ross hit number one on all the charts. This was the first of many for Michael. In total, he would have 18 chart toppers during his career. However, his sister Janet is another story entirely. If you recall, her first claim to fame was not music. She played Penny on the TV show Good Times. The only reason she wasn't part of the Jackson 5 is simple, she was too young. However, if you've seen the famous Super Bowl wardrobe malfunction, you know she grew up to be an an incredible singer, and gorgeous celebrity. The sneak peek was a bonus.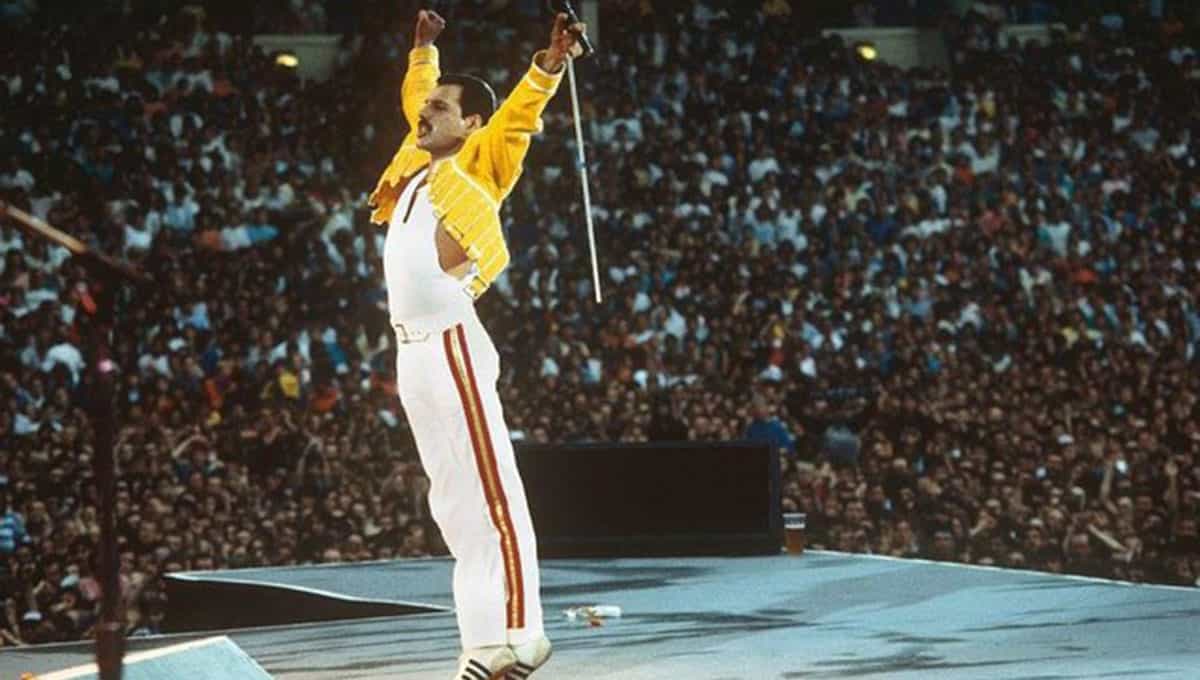 Freddie Mercury on stage at Wembley Stadium, 1986
1986 was the peak of a lot of things, most notably music group Queen. Here is Freddie Mercury performing during  The Magic Tour at Wembley Stadium in London. The date was July 12 and many remember this as one of the greatest concert experiences of their time. Freddie was always known for his energy and athleticism, but he was equally known Known for his incredible stage presence. This photo showcases those aspects. Also, this was Queen's final tour so Wembley stadium was packed. How many Mercury maniacs were there? Try 70,000. Kind of makes any other event you've attended seem a bit lackluster. And while we can't go back in time, this image gets us pretty close.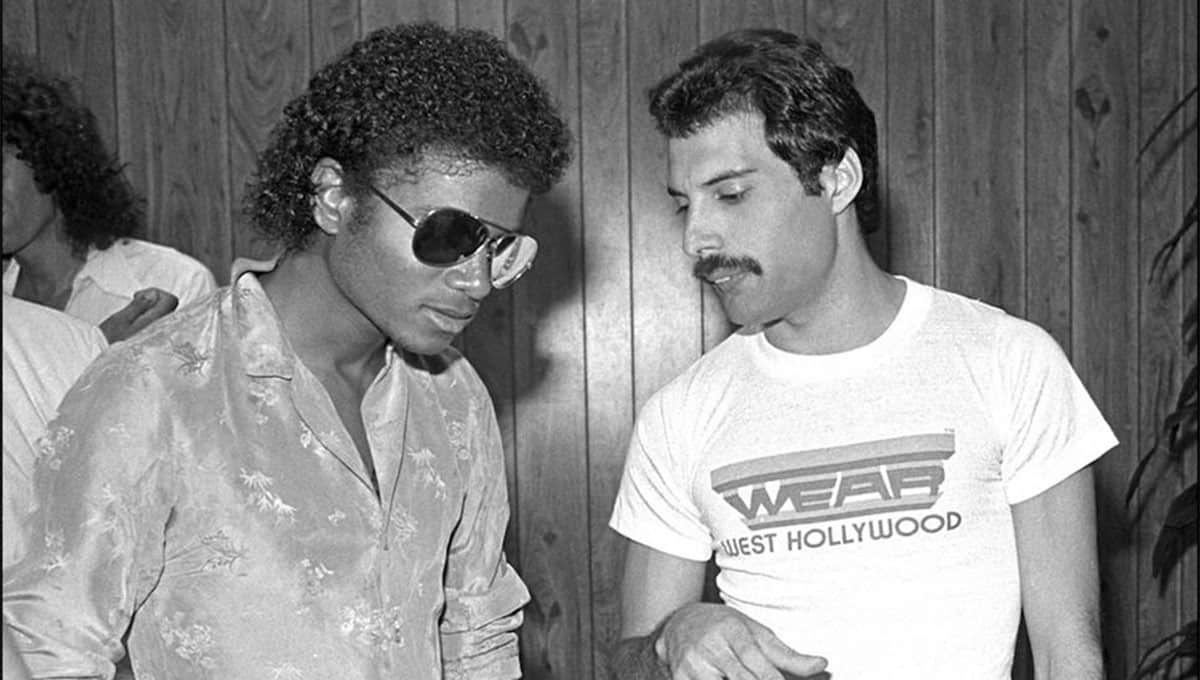 Freddie Mercury and Michael Jackson, 1980
Well what do we have here? It's a picture of two heavyweights, Michael Jackson and Freddie Mercury. The year is 2014 and the album is Queen Forever. This recording is considered a gift among Queen fans because it features several previously unreleased tracks. The collaborations and sessions go back to 1981. That's the year this photo of Mercury and Michael was taken. They did a duet, There Must Be More to Life Than This, during the Hot Space recording sessions. However, it wasn't complete. Mercury did eventually release a version of it on his 1985 solo album, Mr. Bad Guy. When Queen Forever was released on November 10, 2014, it featured the original recording.  Seems like the 1980s were all about musicians collaborating to produce hit songs. After all, that's the decade that brought us, "We are the World."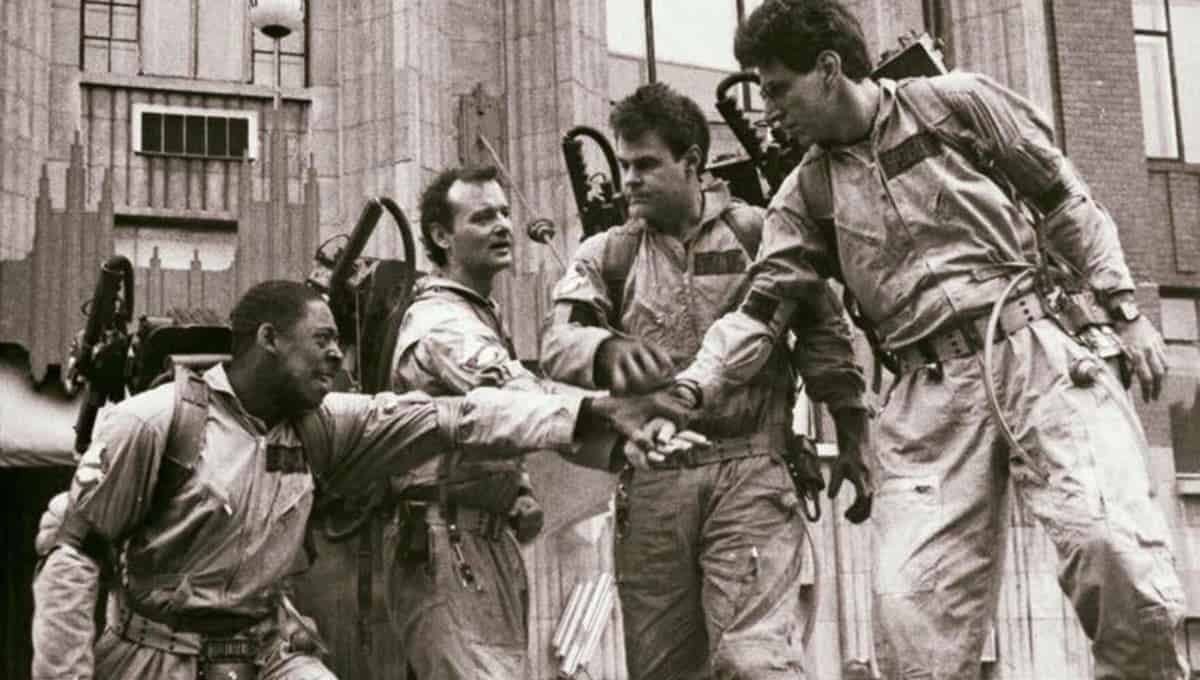 Ernie Hudson, Bill Murray, Dan Aykroyd, and Harold Ramis on the set of Ghostbusters, 1984
Here's an interesting thing about the Ghostbusters. The inspiration for the film came from Dan Aykroyd. His great-grandfather was a noted psychic investigator. He would conduct séances on the family farm in Ontario alongside a medium. As a result, Dan was very familiar with that world when he left Saturday Night Live. Shortly after leaving in 79, an article from the American Society of Psychical Research concerning parapsychology inspired him to make content for the film. However, he went a little too big. The original script involved the Ghostbusters fighting creatures from the other side in several different dimensions across time. His idea for the protagonists were John Belushi, Eddie Murphy and himself. And the Stay Puft Marshmallow Man? Yeah, that was only one of 50 huge monsters the foursome would contend with. Ivan Reitman said if the movie were made according to the original script, it would cost around $300 million to make. That's a hefty price tag for 1984. Still, we are glad for the movie. It gave us Slimer!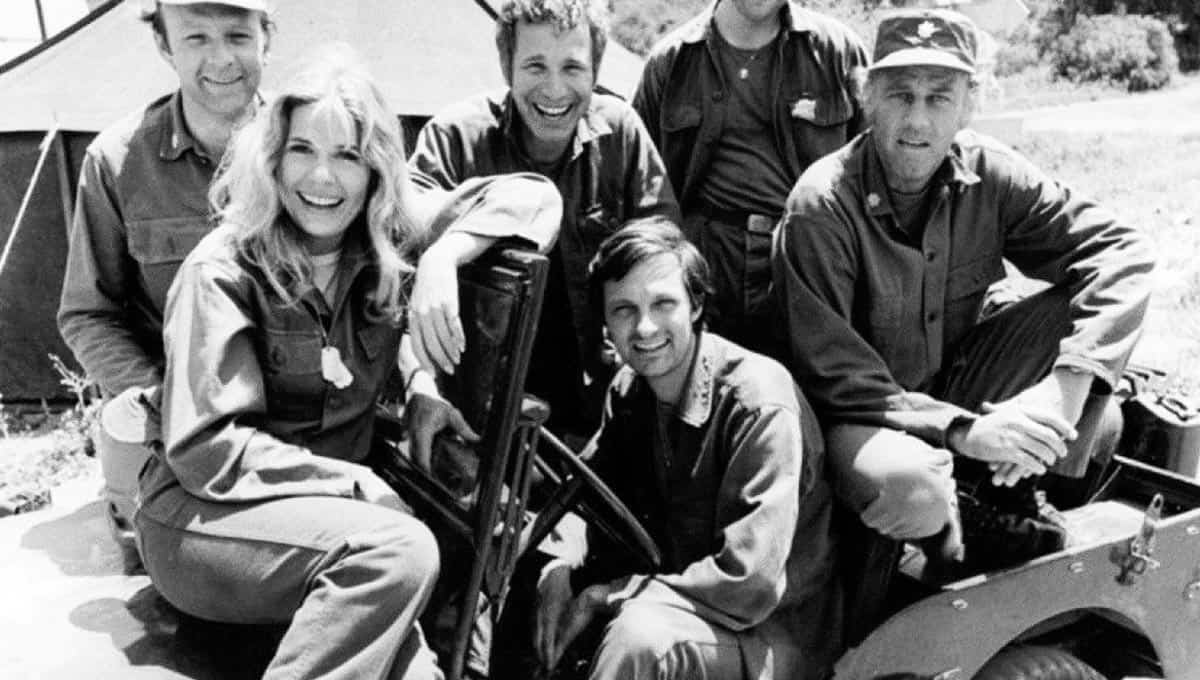 M*A*S*H
You probably know MASH as one of the most successful TV sitcoms of all time. However, did you know that it was based off a 1968 novel written by Richard Hooker? The movie made in 1970 also served as inspiration, yet both Hooker and film producer Robert Altman said they didn't care much for the TV show. In their opinion it didn't serve justice to the anti-authoritarian spirit or anti-war themes of the movie. Yet, it was still a hit. Maybe that has to do with the fact that some of the stars were actually war veterans. For instance, Alan Alda served in Korea during the 1950s and as well as Jamie Farr (after joining the cast). In fact, the dog tags Maxwell Klinger were are his very own. In addition, Mike Farrell was a Marine and Wayne Rogers served as a Naval ReserveOofficer. And don't forget Larry Gilbert, theshow's  screenwriter. He was a veteran too. Maybe that's why it only took him two days to write the pilot episode. He received a whopping $25,000 for that script. Not bad for a day's work! He probably had no idea how huge MASH would become.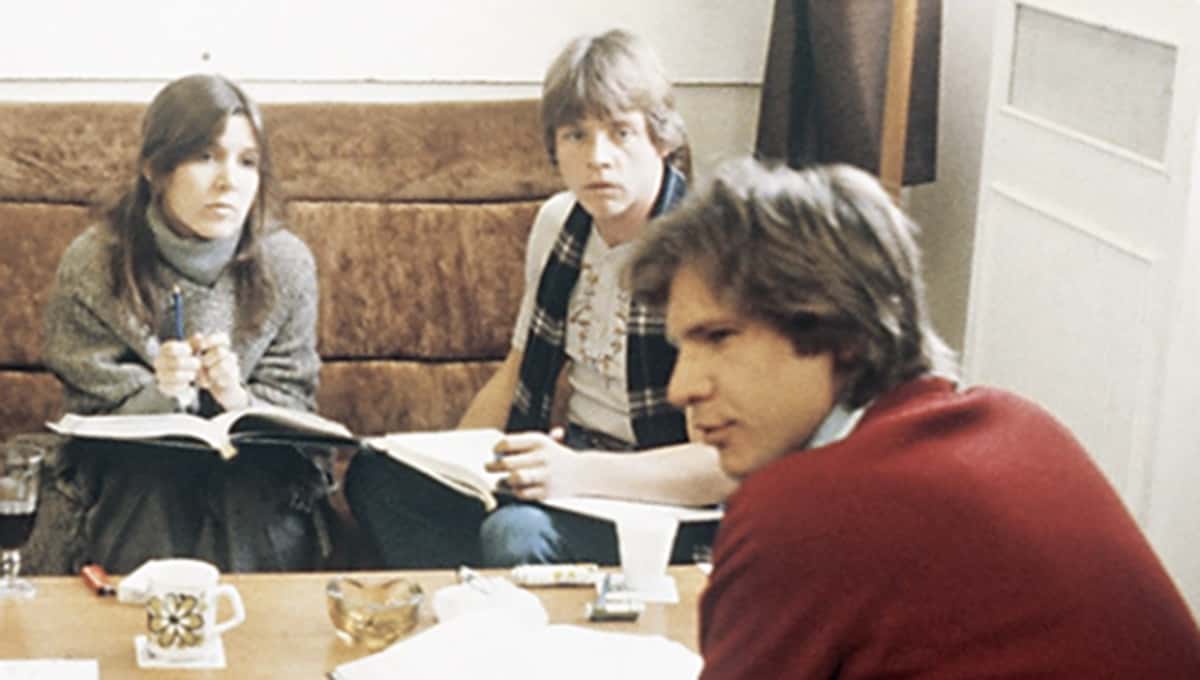 Carrie Fischer, Mark Hamill, and Harrison Ford going over the script for The Empire Strikes Back, 1979
Pictured here are the three stars of Star Wars reading The Empire Strikes Back script. By this time, fans were expecting a second installment just as epic as the first. It's said that the cast and crew spent hours arguing over details like the frozen carbon scene with Han Solo. They wanted to make sure they got it perfect. There are other interesting tidbits too. For instance, Yoda was originally named Buffy (Yep, like the vampire slayer). However, in later drafts Lucas envisioned Yoda to be a small frog like creature and gave him his full name, Minch Yoda. There were several other story concepts as well, like visiting planets with underwater cities, cities with planets built over them and a separate planet Hoth, where Lando Calrissian's clone race livde. However, perhaps the best thing that never made it to the movie was Darth Vader's evil fortress. It was originally designed to be a castle, with some versions having it surrounded by lava, teeming with gargoyles who were Darth Vader's pets. Oh yeah, and the draft script didn't cast Vader as Skywalker's dad. Originally, he meets his real dad who says he sent Luke and Leia away for their safety. The Empire Strikes Back could have been very, very different.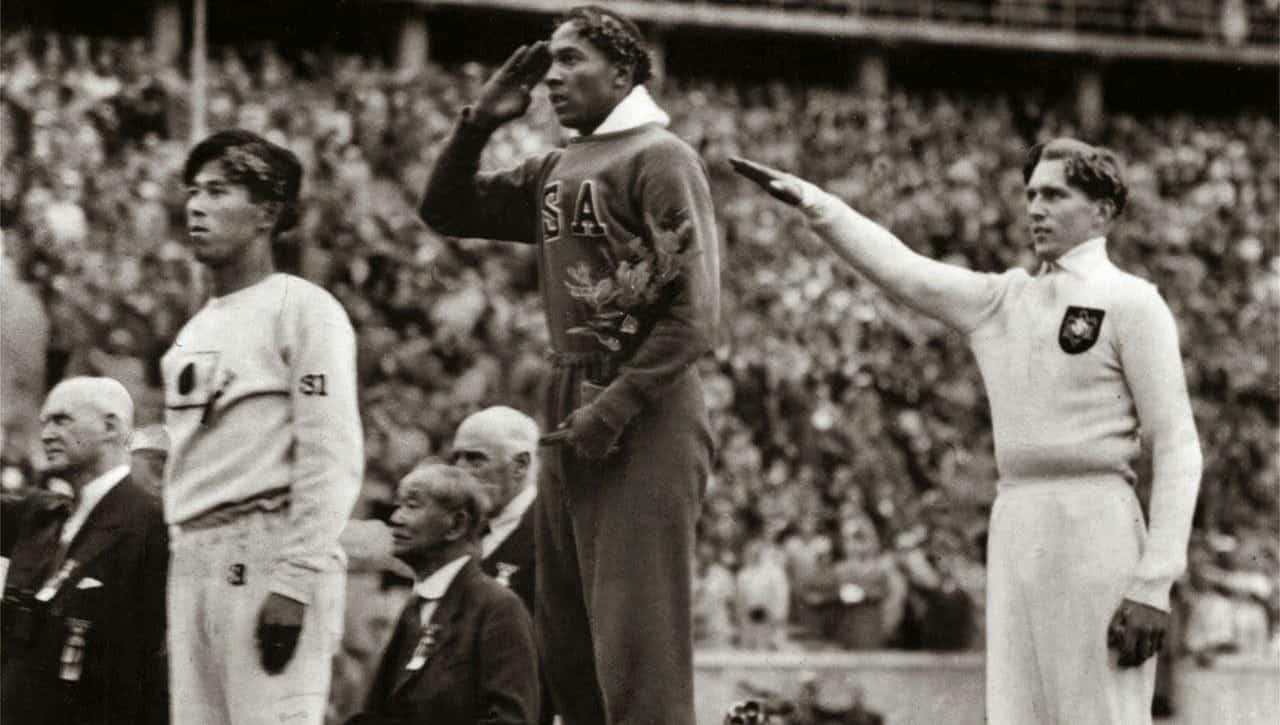 Jesse Owens winning gold in the Summer Olympics in Nazi Germany, 1936
There's so much history going on in this picture it's incredible. For starters, Jesse Owens (a black American) wins the gold in the 1936 Summer Olympics held in Nazi Germany. Jesse is seen saluting the flag. This was surely an anxious moment as the entire world was a powder keg, building towards an explosion of war. The German beside Jesse Owens, Lutz Long, died during the World War I in 1943. American troops killed him in Italy. As for the Japanese man to the right of Jesse. His name is "Naoto Tajima." He scored a gold medal in the Triple jump event during the 1936 Olympics. That would be the last Track and Field gold for Japan until 2000. One more interesting bit. There is a very short Japanese fellow pictured between Owens and Tajima. This is Dr. Kano Jigoro. He founded Judo and wanted to introduce it to the world as both a sport and way of life. The Olympics were the vehicle. In fact, if it weren't for him, Japan may have never entered an Olympic competition at all.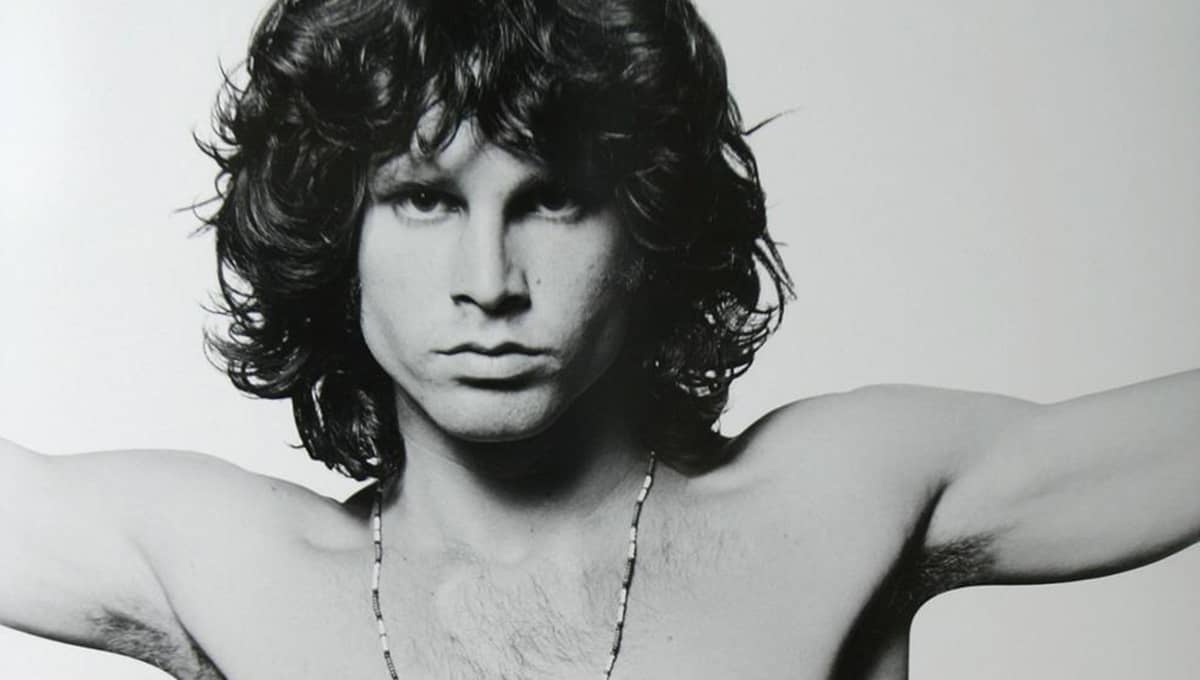 Jim Morrisson
All you need is one look at this iconic photograph and images instantly come to mind of charisma, rock and sadness. Jim Morrison, the lead singer and songwriter for the doors died in Paris and only 27 years old. He was responsible for such hits like Hello I Love You, and Riders on the Storm. However, he was known for being a huge drinker, had a nasty drug addiction and exhibited outrageous behavior on stage.  It sold tickets, but kept mamas shielding their daughter's eyes. The sad thing about Morrison is that he was really intelligent. He excelled at school when he was a youngster and particularly loved reading, drawing and writing. Yet, he rebelled in his youth, casting off his father's discipline in favor of women and alcohol. In fact, his sister says he once told a teacher he was having a brain tumor removed and simply walked out of class. Still though, he left to read so much he asked his parents for the works of Nietzsche as his graduation present. It is sad he was taken from us so soon.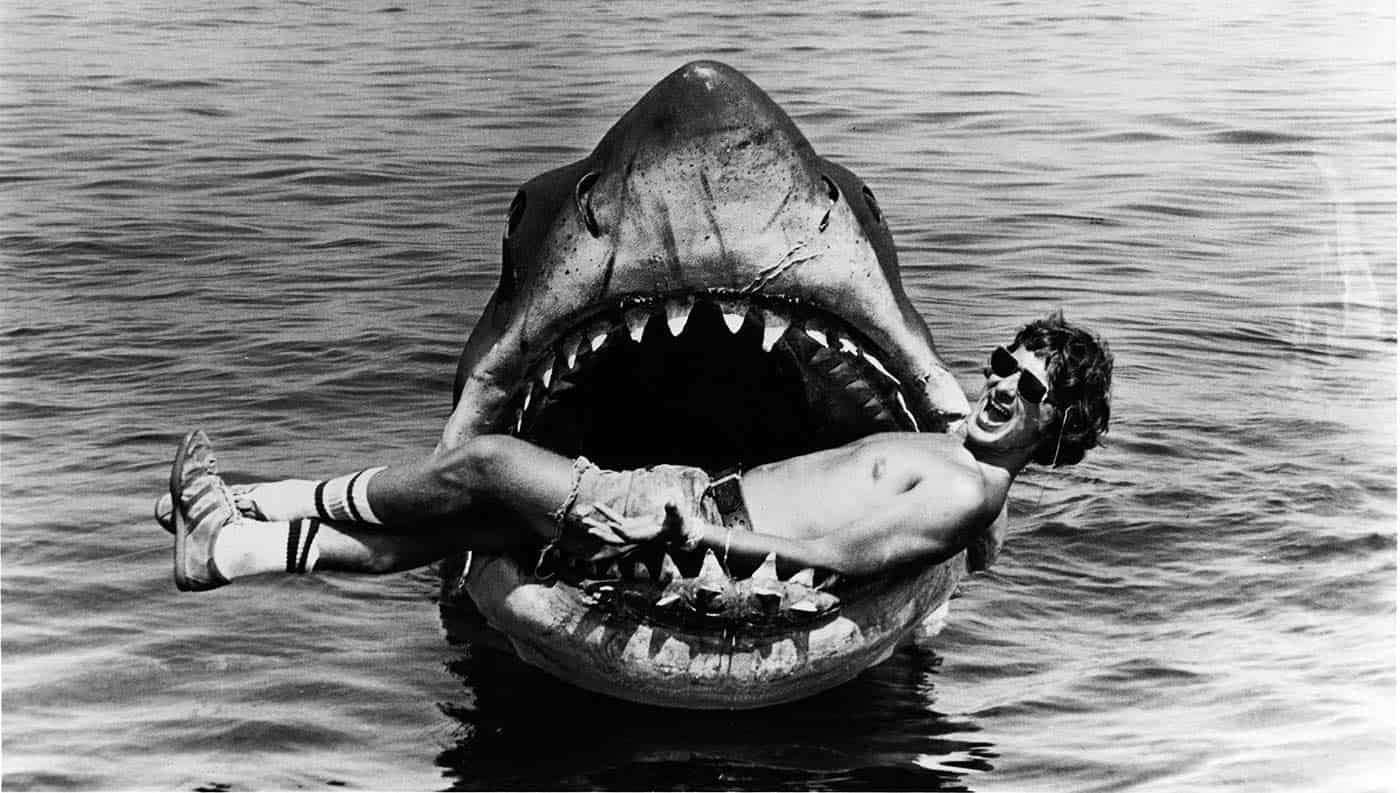 Jaws, 1975
For all the success Jaws had in 1975, it was no easy feat to produce the film. Remember, Spielberg was only 28 at the time and only had one movie under his belt, The Sugar Land Express. Jaws was fraught with huge challenges. These included filming most of the movie at sea, an expensive robot/mechanical shark (named Bruce after Spielberg's lawyer) that never worked, a budget that was tighter then your cheap insurance selling uncle and a schedule that was beyond impossible. For those reasons, many thought Spielberg was done. Yet, Spielberg was an innovator and took a page from Hitchcock's playbook. Since the shark didn't work properly, his plan was to show it as little as he possibly could. Instead, those famous musical notes we've come to love and dread would serve to announce the shark. The impact on the audience was much better than anyone could have possibly dreamed. It scared the dickens out of them. So what started as a solution of practicality became the absolute foundation for the film that kept us all afraid of the water for decades.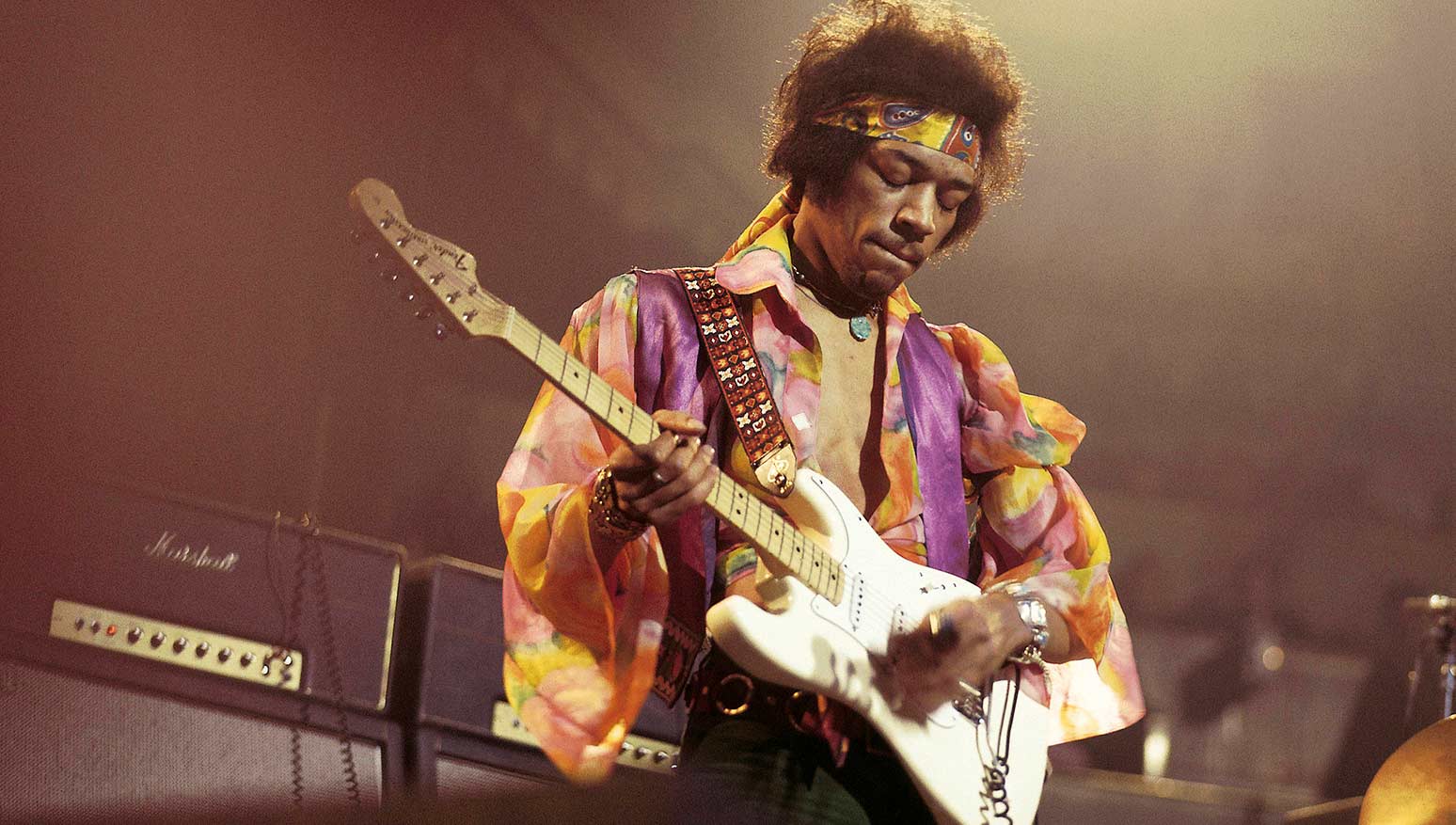 Jimi Hendrix
Hendrix is widely regarded as one of the most influential and creative musicians birthed during the 20th century. He is responsible for unlocking the explosive potential of electric guitar. His combination of feedback, fuzz and control distortion created an entirely new form of music. Even more remarkable, Hendricks could not write or read music at all. Given that, his rise to prominence in four short years is nothing short of amazing. Plus, his influence affected a range of other modern music masters like Miles Davis, George Clinton, Steve Vai and Jonny Lang. As a youngster, he used to play the straw broom like a guitar until his dad bought him a one string Ukelele. in 1958 he upgraded to first guita. It was a secondhand acoustic purchased from one of his friends for the whopping price $5. His first electric would find its way into his hands in 1959.It was a Supro-Ozark 1560. The rest is history. Jimi Hendrix moved to the UK after serving in the United States Army. That's when his success skyrocketed as civil rights was not near the issue across the pond as it was in the US. Being black did not matter. As for us, we are forever grateful for his rendition of the Star-Spangled Banner. Nobody can beat that one!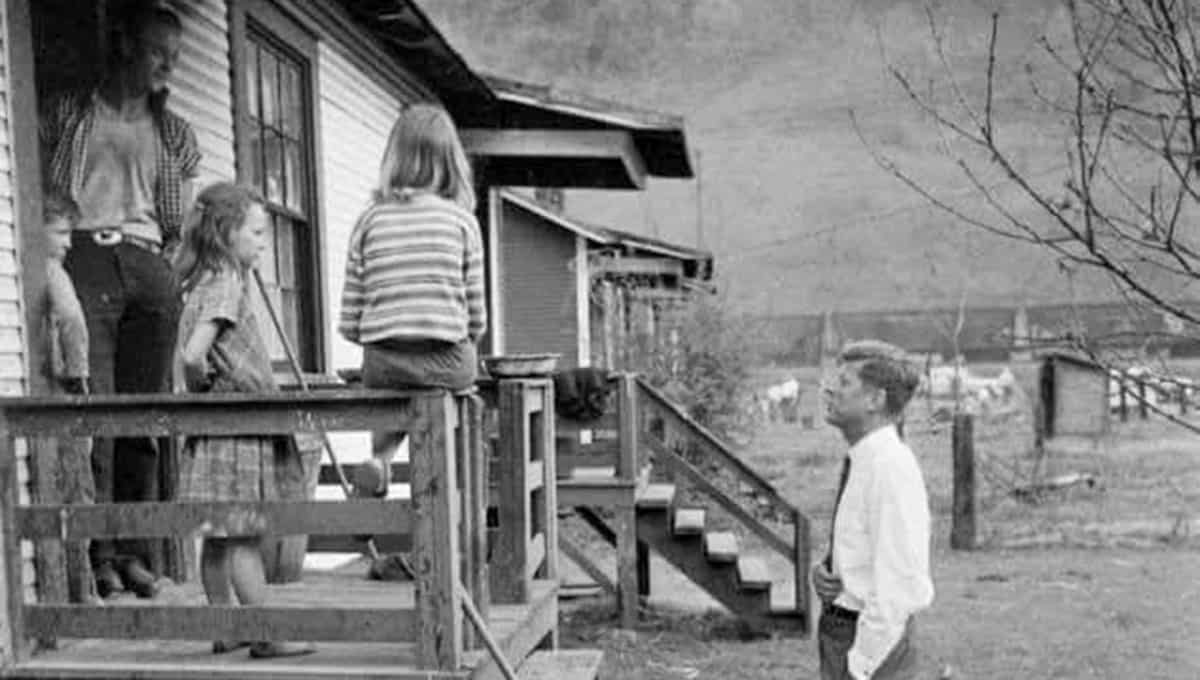 John F. Kennedy Campaigning Door to Door in West Virgina, 1960
Pictured here is John F. Kennedy knocking doors in West Virginia. The 1960 campaign was a challenging one for somebody with Kennedy's religious persuasion. He was Catholic and it was thought Protestants would not give him their vote. To make the situation more grim, only 5% of the West Virginia was Catholic. However, Kennedy was determined. He went into coal miner neighborhoods and shook hands with them. He explained his position and told them his plan for making a better America. The end result was religious bigotry lost. Kennedy swept West Virginia proving that a Catholic could win votes and politics didn't have to be so divisive. However, sadly enough, his triumph was short lived. Just a few years later, on November 22, 1963, the 35th president of the United States was assassinated at 12:30 pm riding in his motorcade through Dealy Plaza in Dallas, Texas.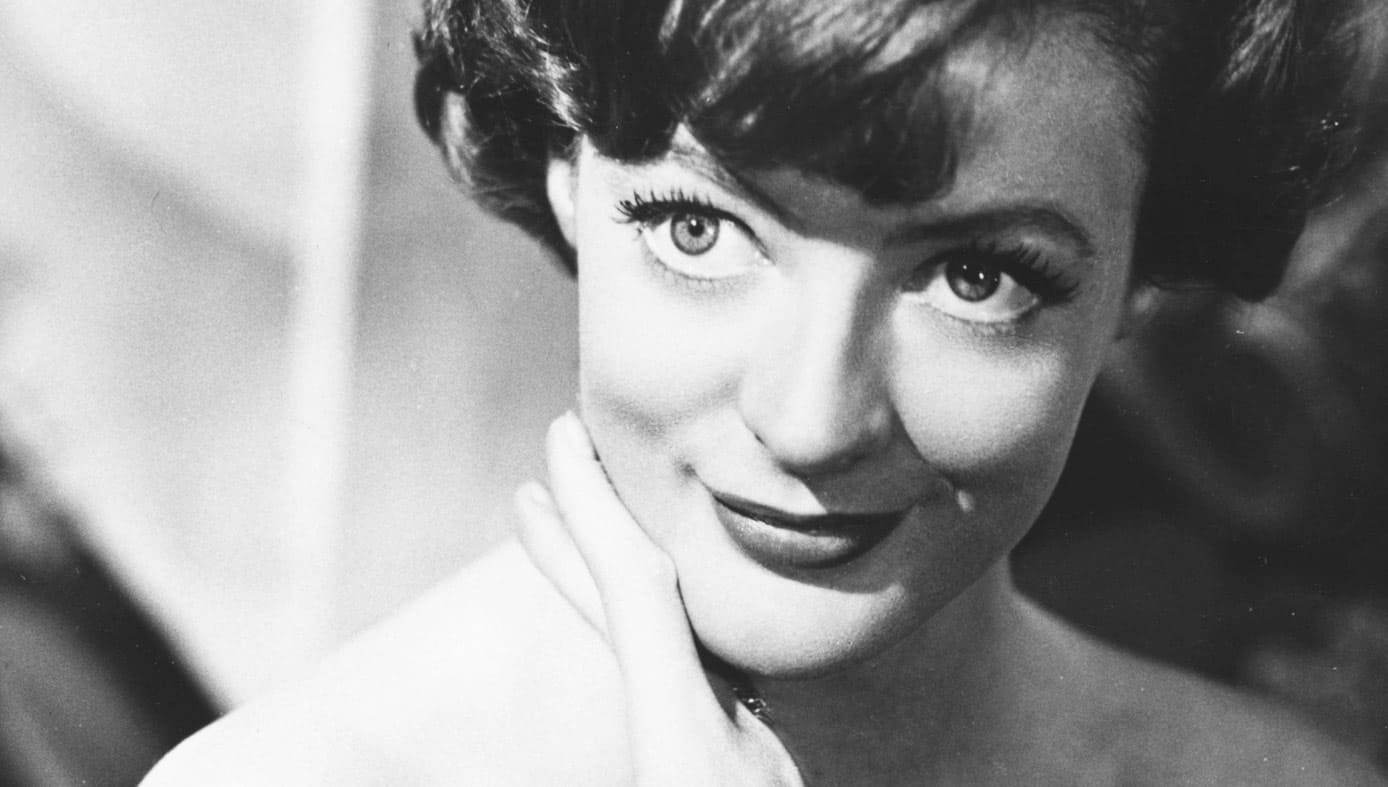 Maggie Smith, 1960s
We know Maggie Smith best from her role as dowager Countess of Grantham in the series Downton Abbey. This role skyrocketed her to a household name, seemingly overnight. However, in the 1960s Maggie was known for something else entirely. She was involved in theater and starred in the hit play Mary, Mary. In fact, one of the critics/reviewers noted she was, "a gem of an actress, an undeniable dish." However, Maggie says that description really does not apply to her. Although she is grateful for beauty, she understands that it's fleeting. She also understands it is difficult to come to terms with. Yet, she quips if you're used to being a character actor your whole life the transition is much easier. She says you realize one day you're playing someone's mother then the next time you're a grandmother and so on. Maybe it's that perspective that makes her such a force on Downton Abbey. Either way, we are smitten by her.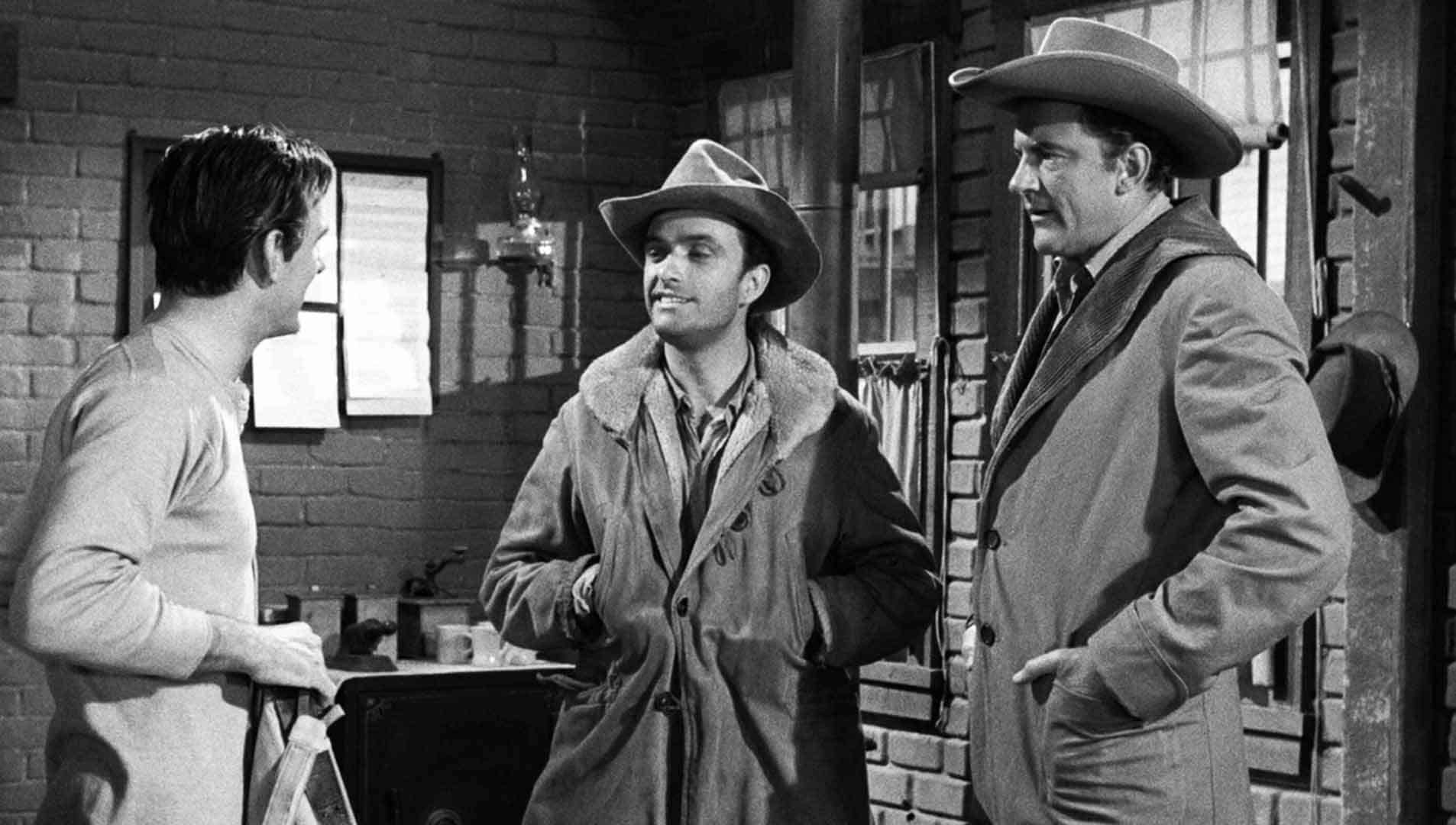 Gunsmoke, 1955
Mention Gunsmoke and some people get misty eyed. The series starring Milburt Stone, Amanda Blake and James Arness defined two generations from 1955 to 1975. At a time in the 70s when muscle cars and long hair became popular, Gunsmoke proved the Wild West was still in fashion. There was something about watching Marshall Dillon keep peace in Dodge City that kept us glued to the screen. Maybe it was Arness himself. He was tall, 6'7 and one of the first soldiers to storm the beach in Italy during World War II during the battle of Anzio (1943). He sustained injury to his lower leg and foot which earned him a bronze Star and Purple Heart. As such, he could not walk for extended periods of time. Therefore, if you notice, all scenes involving a lot of walking were shot early in the day. Also, look close you might see a few famous faces. Kirk, Bones, Spock and Scotty from Star Trek show up in a few episodes as do three of the Brady Bunch kids. However, watch long enough and you will see James Arness and Milburt Stone are the only actors who stay on for the whole series. Of course, we wouldn't have it any other way. Those two made Gunsmoke a classic.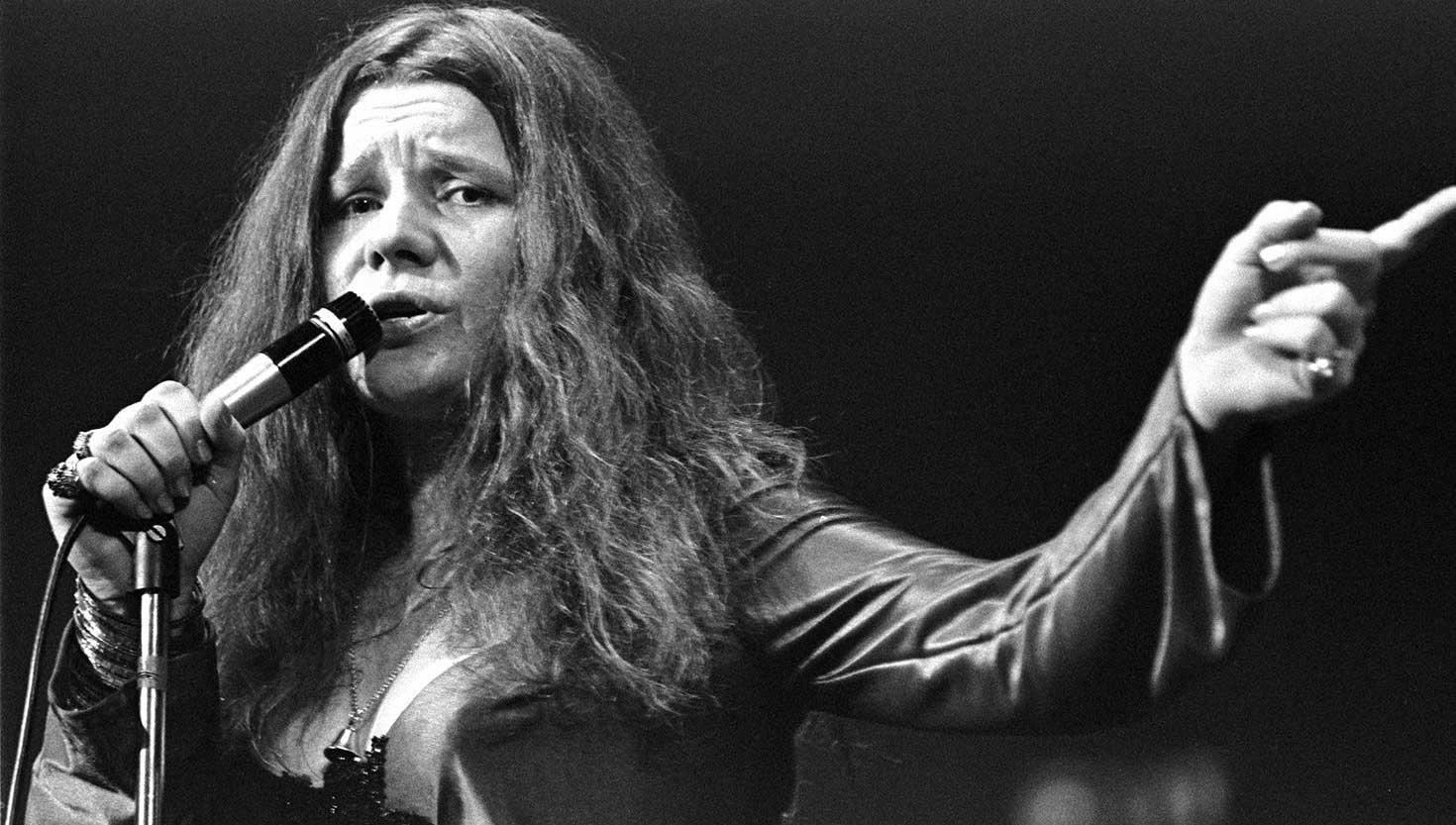 Janis Joplin
Janis Joplin's style can best be described as fierce or uninhibited. Born in Port Arthur, Texas on January 19, 1943, she would go on to become a blues – rock icon. Originally, she teamed up with her brother and stunned audiences during the 1967 Monterey Pop Festival with the performance of Ball and Chain. Her single Cheap Thrills in 1968 skyrocketed to the number one spot as Joplin continued to transform into a sexually aggressive, strong-willed rock legend. Leaving her brother's band, she started her own in 1969, but broke up shortly after performing at Woodstock because due to her own heroin addiction. Yet, a year later )with her life somewhat on track), she was engaged to be married and had a new group, the Full Tilt Boogie Band. However, she died after a heroin overdose. The album was released after her death. The single Me and Bobby McGee skyrocketed to become a 1971 chart topper.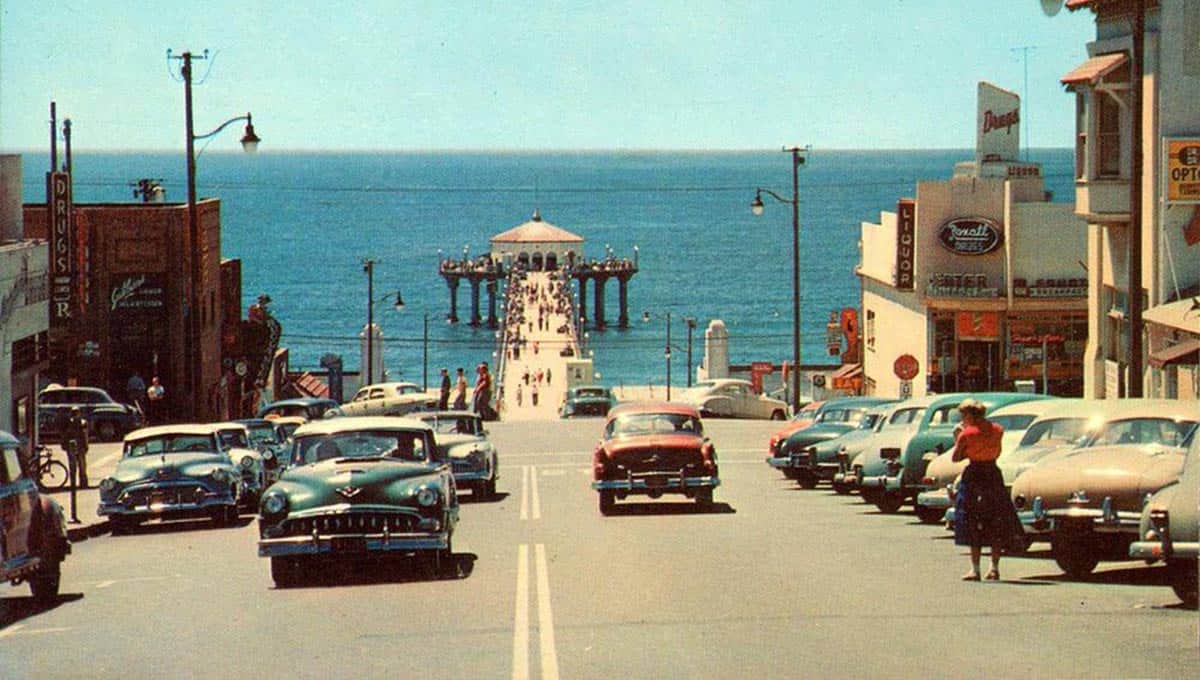 Manhattan Beach, California
This 1950s photo of Manhattan Beach, California has enough classic cars in it to make any gearhead's upper lip sweat. However, Manhattan Beach was much like any other sleepy seaside town when it wasn't full of tourists. During the course of the 1950,s for instance, the main strip changed. They moved the fire station from an old hardware store to its new location, 1400 Manhattan Beach Blvd. At that time, there were 21 full-time firefighters and 15 individuals serving as volunteers. Volunteer involvement was relied on heavily in the mid 50s. However, in a twist of irony, the old fire station which was converted into Manhattan Hardware after they moved, caught fire. The fire department had to go and fight a fire at their former fire station. Imagine seeing a 1950s firetruck rolling past these classic cars in the photo and you start to get a sense of what life might have been like during that decade. If only we could go back in time.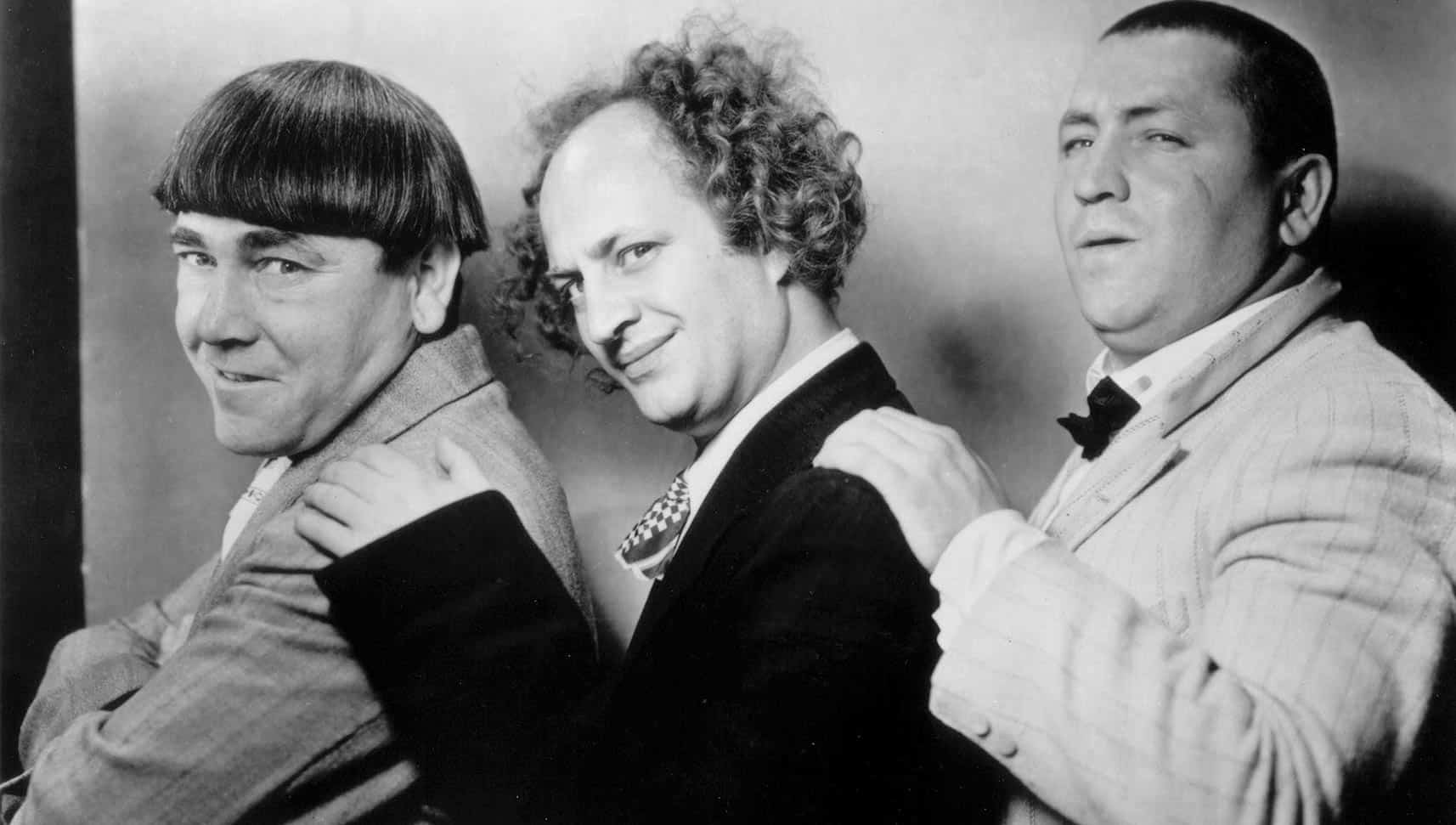 The Three Stooges
The 1930s and 40s gave us three comedic geniuses. Moses, Samuel and Jerome Horwitz, better known as Larry, Moe, and Curly, grew up as blue-collar Jewish kids in Brooklyn. They didn't have any leaning or bent towards theater. However, when Moe and Shemp decided to go into show business, the rest was history. Ultimately, the Stooges would team up with Ted Healy (1930) to become part of his comedy routine. Ted had connections to Fox Studios and produced a feature film with the Stooges called Soup to Nuts. Yet, Ted's comedy did not translate well to the big screen. However, Fox brass loved the Stooges. In time, they would ultimately land their own contract with Columbia after doing a few features for MGM. And while they were responsible for keeping the Columbia film short division in the black, the studio made sure they were none the wiser. The Stooges were kept on yearly contracts and brow beaten into submission for lower pay with the studio head telling them the film short division was in financial crisis (the Stooges appeared mostly in short 10 minute films before the main feature, much like Pixar animated movies today). Nobody argued either because of his mob connections which ultimately led to the death of Ted Healy. Seems like there was a lot of stress and pain behind those famous Nyuk, Nyuk, Nyuks.