39 Highest Paid NFL Players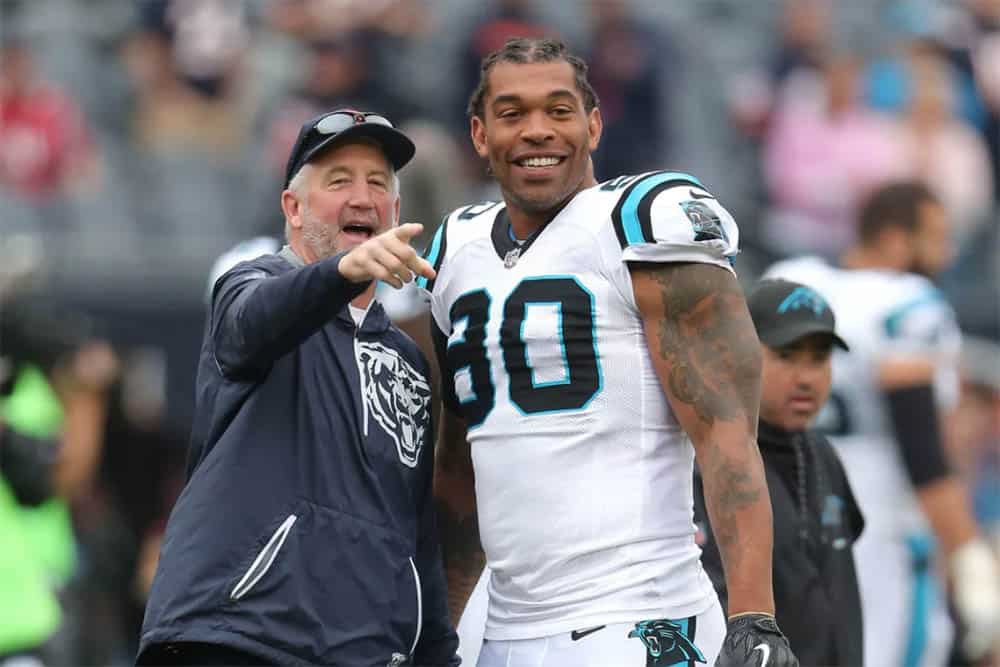 39. Kawann Short, DE $80.5 million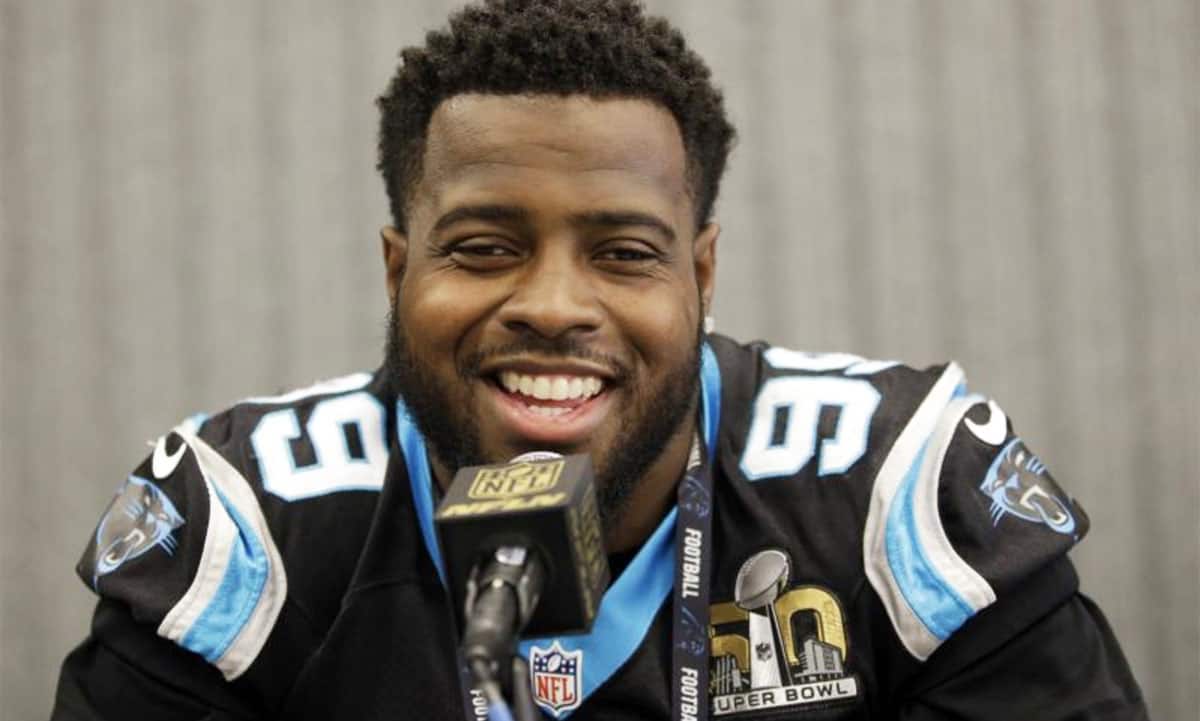 Last updated early 2018. So the Carolina Panthers just awarded Kawann a five-year extension contract. The amount will blow your mind. It's worth $80.5 million. Much of the contract pay is based off his ranking. Included is a $20 million signing bonus as well to make him the third highest paid defensive tackle with Ndamukong Suh and Fletcher Cox at the lead. This means he will be a free agent at the end of the 2021 season. Depending on his performance, he could become one of the highest paid NFL players in the league in his category provided his performance keeps improving. He has already shattered the franchise record for sacks by a defensive tackle and earned his first pro bowl nomination. Add to that he hasn't missed a game during his entire four year career and started each game for the past two seasons, and you have the makings of a powerhouse on your hands. We only expect his contract numbers to escalate in a few years.
38. Andre Johnson, WR $96.4 million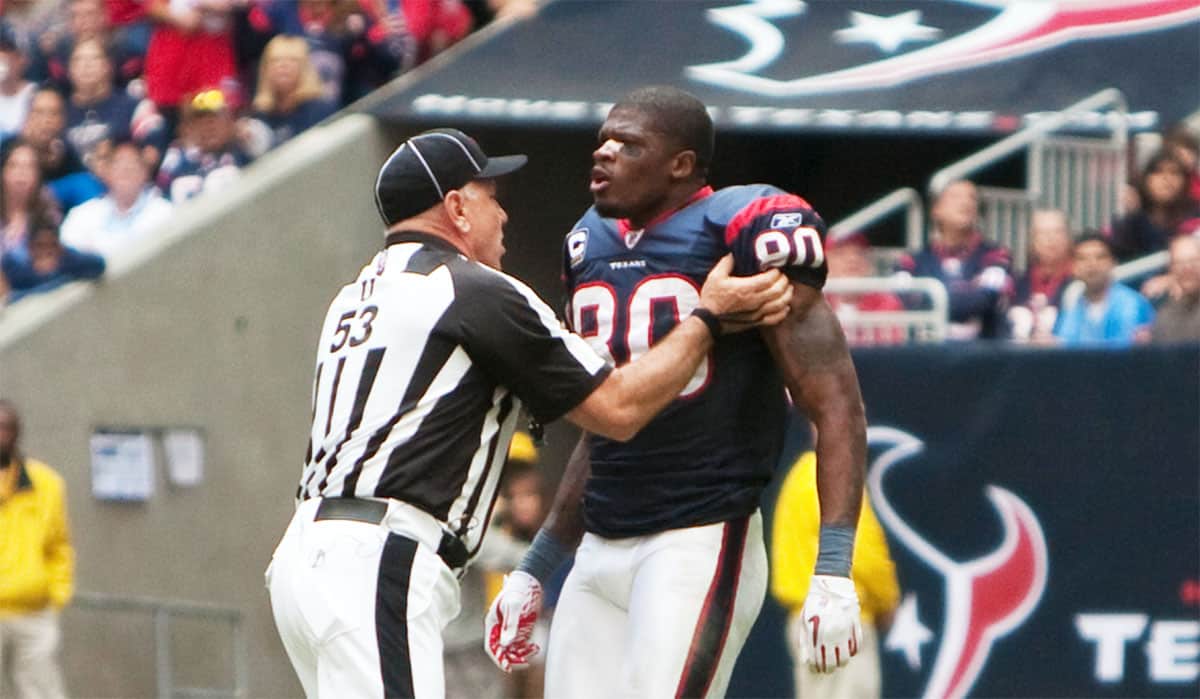 Though he retired in 2016, ending his career with the Tennessee Titans, Andre Johnson spent the majority of his NFL career playing for Houston. He also racked up a $96.4 million contract during that time period. When the Texans decided to release him, he didn't have any trouble finding work. At least three teams were willing to pony up $10 million, which was his salary for Houston at the time. One of the lead runners was the Indianapolis Colts. They had a need for someone who was good downfield. And while his record proved he had moved past his prime, he was still a great team asset. Andre hoped he would get cut so he could entertain future deals as a free agent and make his own negotiations. We would say his plan worked.
37. Richard Seymour, DL $97 million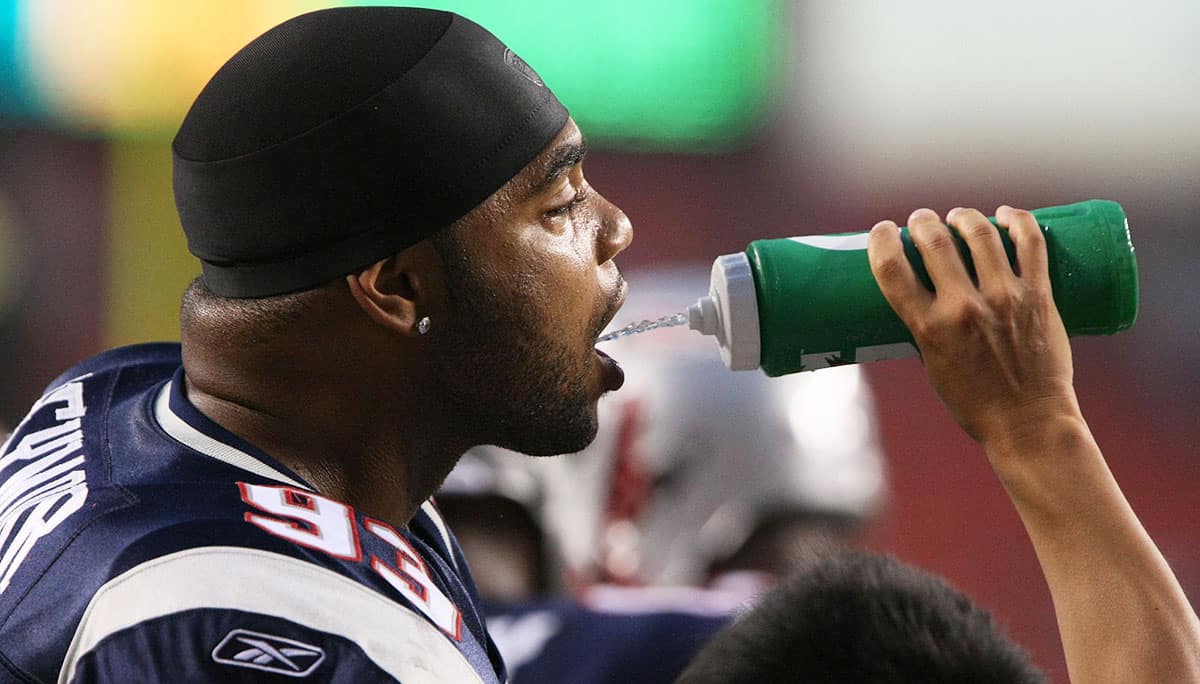 University of Georgia grad Richard Seymour racked up an impressive $97 million multiyear contract during his time in the NFL. Of course, that's the kind of cash you expect to pony up when your first gig is the Patriots. He was a first-round draft pick. The date was July 24, 2001. The payout was a six year $14.3 million contract (not bad for a rookie). From the Patriots, he would hop to the Raiders (2009). This is where he made his big money, becoming the highest paid defensive player in the NFL with a two year $30 million extension contract. So what does he do now? Well, what many celebrity athletes and movie stars entertain themselves with. He loves poker and can often be spotted at World Series event tables. He is a fixture, earning just north of six figures with his side hobby. Ironically, it brings him full circle. Richard remembers his dad and uncles playing poker while watching football on weekends and Monday nights.
36. Donovan McNabb, QB $97.5 million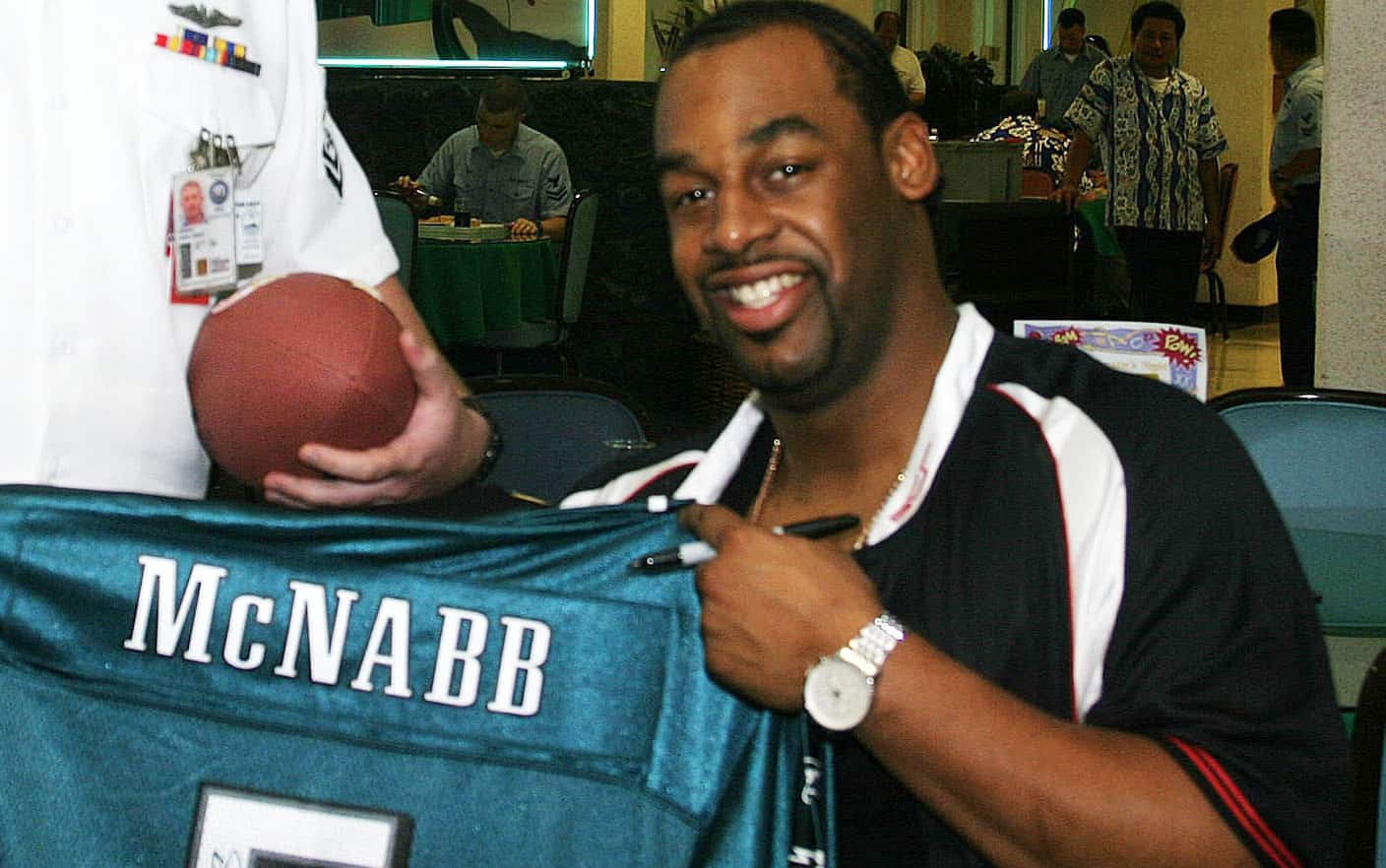 Most NFL players stay in the game for 5 to 6 years, retire, and go bankrupt. Donovan McNabb is not one of those people. Smart on and off the field, this 13 year retired football veteran raked it in and put his earnings to good use. In total, his contract totaled $97.5 million, with a highest single-season earning of $16.4 million in 2010, including a $5 million signing bonus. His one season with the Washington Redskins snagged him the most money, though he played most of his career with the Philadelphia Eagles. He made them famous, transforming a lackluster team into an NFL powerhouse. He also brought a lot of brand recognition to Campbell's Soup. His mother even got a piece of that pie, or er–soup! Currently, his estimated worth is $78 million. Yet, it's not just about the wealth. Donovan supports charities near to his heart. He and his wife partnered with their local hospital, Vicu, to expand the NICU unit because all four of their children were born there. He put his communications degree from Syracuse to good use by becoming an NFL broadcaster after retirement. He won't be going bankrupt anytime soon.
35. Jared Allen, DE $97.9 million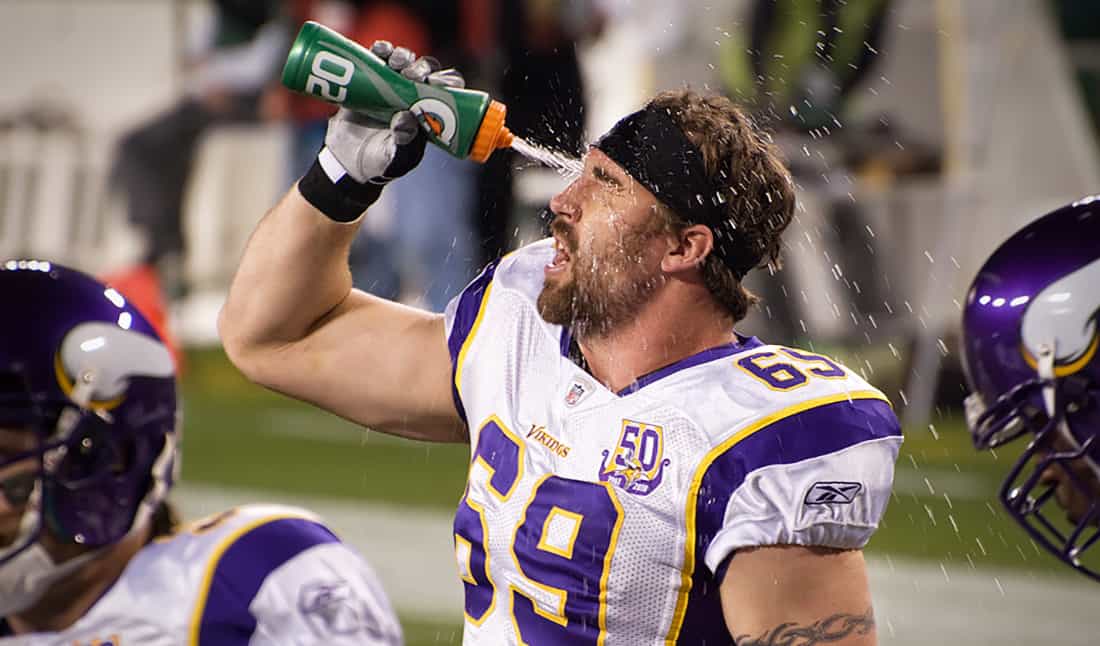 In 2013, it looked like Jared Allen was staring a situation in the face. His time with the Vikings was drawing to a close. He would be a free agent after the season was over. Part of the decision to move on was personal. Rather than just become a nice name to have on a team, he really wanted to win a championship. So in 2014 he joined the Chicago Bears, only to be traded during the 2015 season to the Carolina Panthers. Do you think he was upset? Not at all. After signing a $32 million contract with an $11.5 million bonus, who could be unhappy? Oh yeah, and he would snag another $12 million in prorated salary and bonus money from the Bears. In all, this military veteran played for the Kansas City Chiefs, Minnesota Vikings, Chicago Bears and Carolina Panthers. His retirement video was pretty epic. He posted the footage on Twitter. It showed him riding a horse out into a western sunset. A fitting end to a storied career.
34. Albert Haynesworth, DT $100 million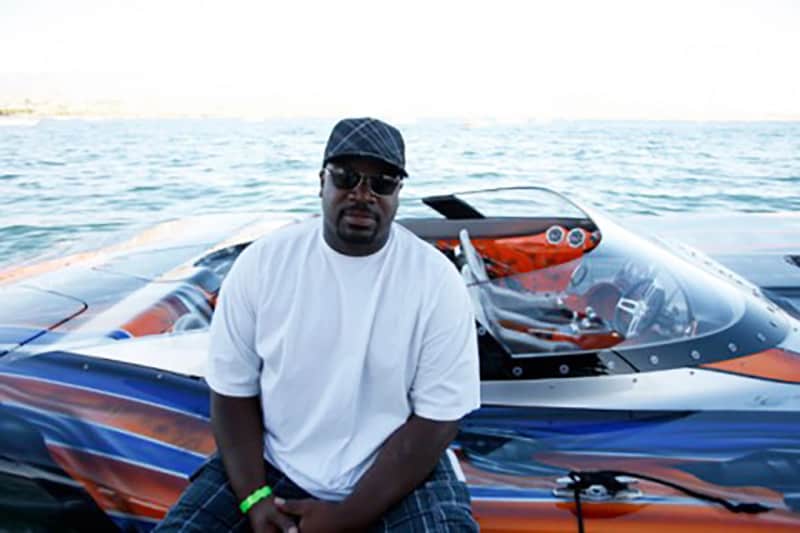 In 2009, an unrestricted free agent known as Albert Haynesworth signed a $100 million contract deal with the Washington Redskin's on his first day as a free agent. According to terms of the deal, he would receive $32 million within the first 13 months. The guaranteed amount was $41 million and he could potentially receive $115 million if all contract incentives were met. The funny thing here is Albert took a pay cut. Tampa offered him a deal worth $120 million that could have potentially increased by 20% more. However, Haynesworth says he took the Redskins offer because of their larger fan base and media attention. Tennessee could not offer that, but they got catty anyway and tried to file charges against the Redskins. The claim was that they reached down to Haynesworth before the designated free agency period. Either way, he got paid.
33. Justin Houston, DE $101 million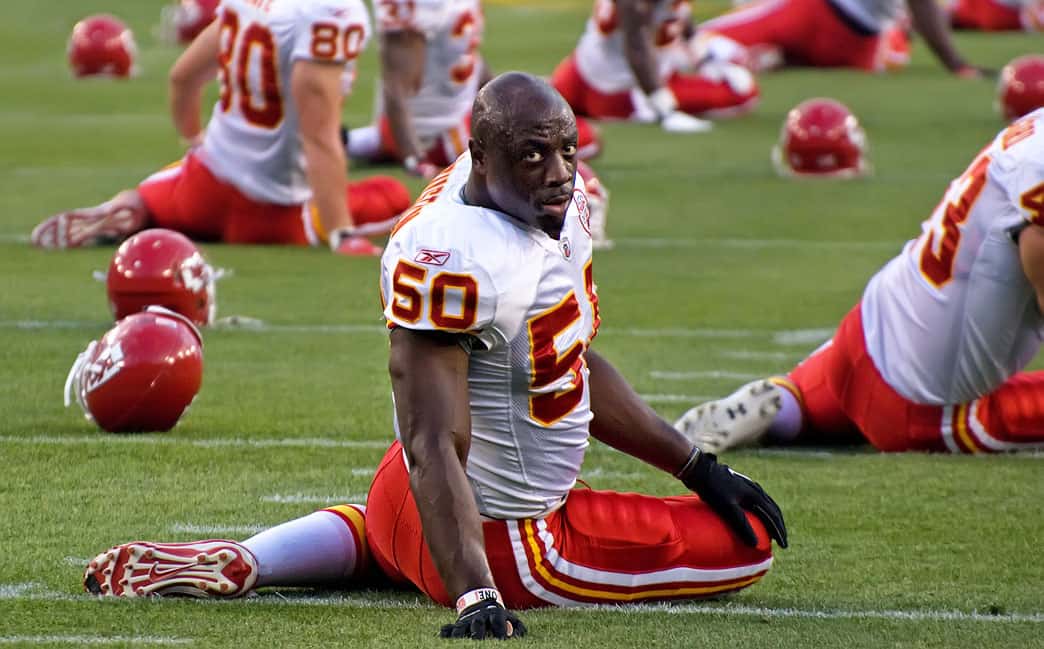 July 2015 was a great year for Justin Houston. It was a nameless Wednesday for most people, but for him it was deal day. You see, mere hours before the franchise deadline, he signed a $101 million six-year deal with a $52.5 million guarantee. That made Justin's contract the richest in Kansas City Chiefs history. It also made him the highest paid NFL linebacker in the history of the league. Sometimes it pays to be loyal. According to franchise tag rules, if players didn't sign a long-term contract then they were required by the CBA to play under one year deal offers. That was the case at least in the 2014-2015 season and several big names like Dez Bryant, Demaryius Thomas and Jason Pierre–Paul drew their line in the sand. Not Justin. He snagged the deal of a lifetime and has no regrets. He even stayed on with the team during the 2016 season when the Chiefs were having money issues. To further compensate him, they created a $6 million bonus. Maybe those other players should have taken a cue from him.
32. Fletcher Cox, DE $102.6 million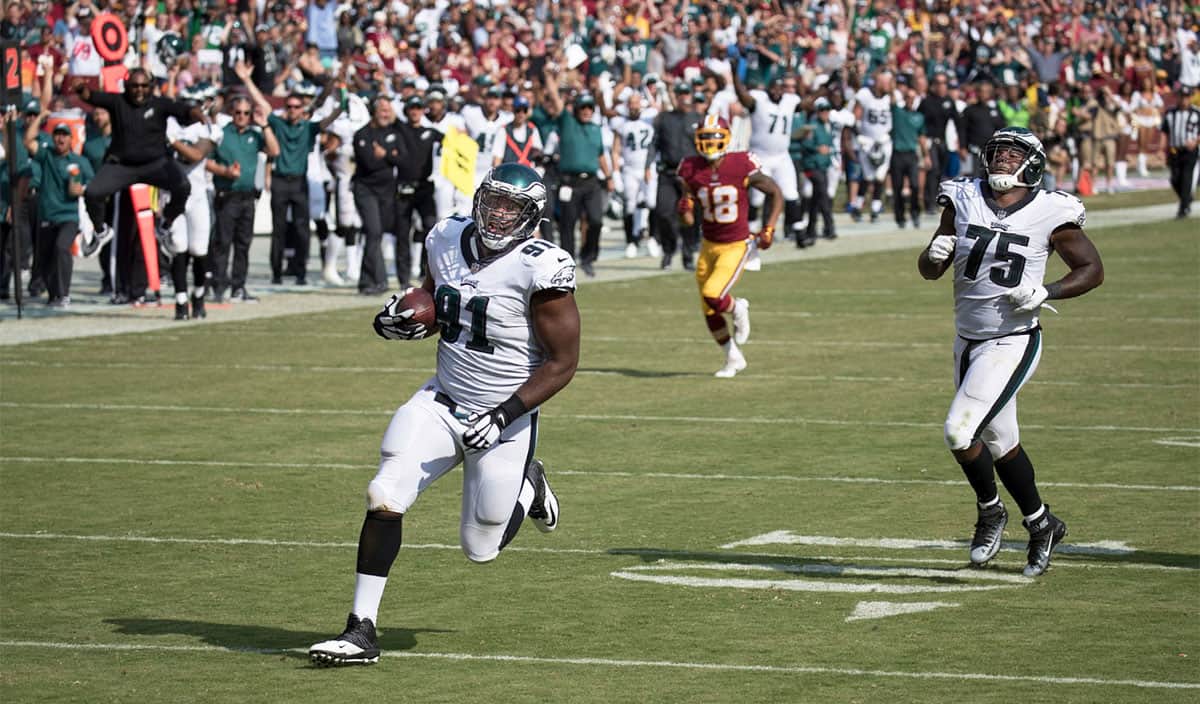 What's one standout quality Fletcher Cox possesses? Loyalty. Well, almost. There was a dustup with a married woman that he was pretty open about (she told him she was single), but as far as the Philadelphia Eagles are concerned, he played his entire career with the franchise. He also racked up $102.6 million during that time. His breakout year was 2014, going pro bowl in 2016 with a $103 million extension from the Eagles. Oh yeah, we forgot to mention that $63 million of that was guaranteed. Not bad for a guy from Yazoo City, Mississippi. By the way, that's where he claims his most satisfying hit originated. He was a junior on the high school team for Yazoo City and the game forced into overtime against Pearl. He sacked a player during the final moments. Yazoo ended up winning 20–14. Of all the plays, sacks and hits he made with the NFL, that one play from small town Mississippi is his favorite.
31. Champ Bailey, CB $102.8 million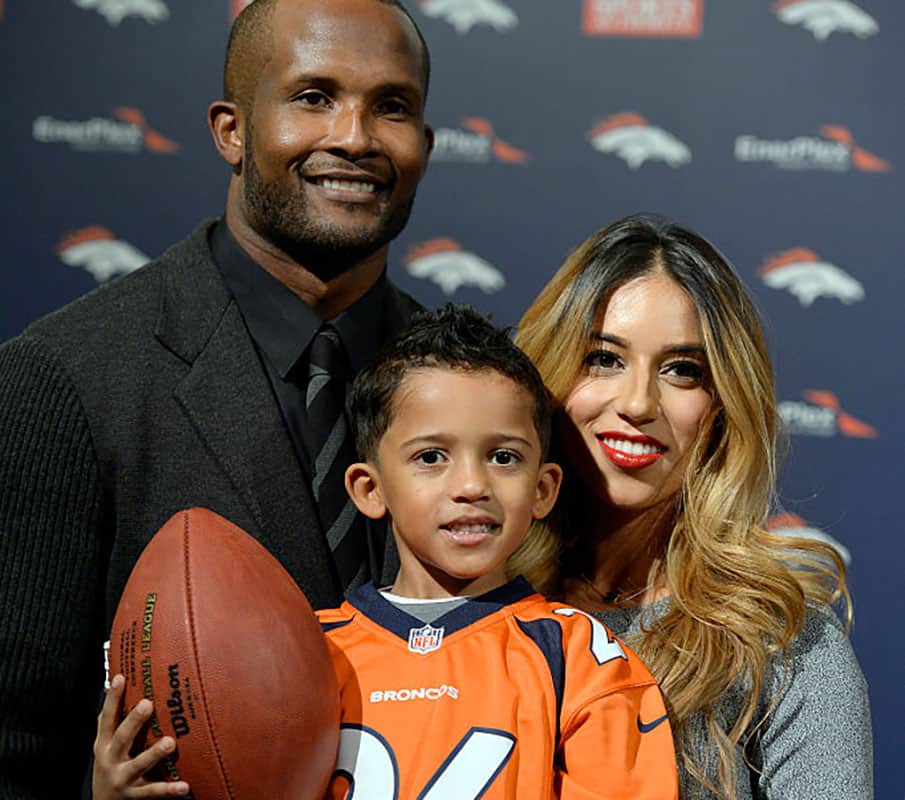 Champ has another distinction other than racking up huge amounts of money. During his career, he was chosen for 12 pro bowls. That's the most in the history of the league for an NFL cornerback. It all started in '99 when he signed with the Washington Redskins. The five year, $12 million deal included a $2 million sign on bonus. After establishing a reputation as one of the best defensive backs in the league, he was traded to Denver, for Clinton Portis of all people. The two friends still argue about which team got the better end of the deal, Champ obviously believing he was the better choice. 2012 was a banner year of sorts for Champ. He was named by the league as the 46th best player. After an ACL injury in 2013 it was doubtful he might return. However, he did and subsequently played his first Super Bowl with the Broncos. He was released in 2014 due to the loss. The Saints picked him up next with a $7 million two-year deal. He was released in August 2014 after failing to make the final roster. Yet even with a choppy career, he still managed to stack a lot of paper.
30. Drew Bledsoe, QB $103 million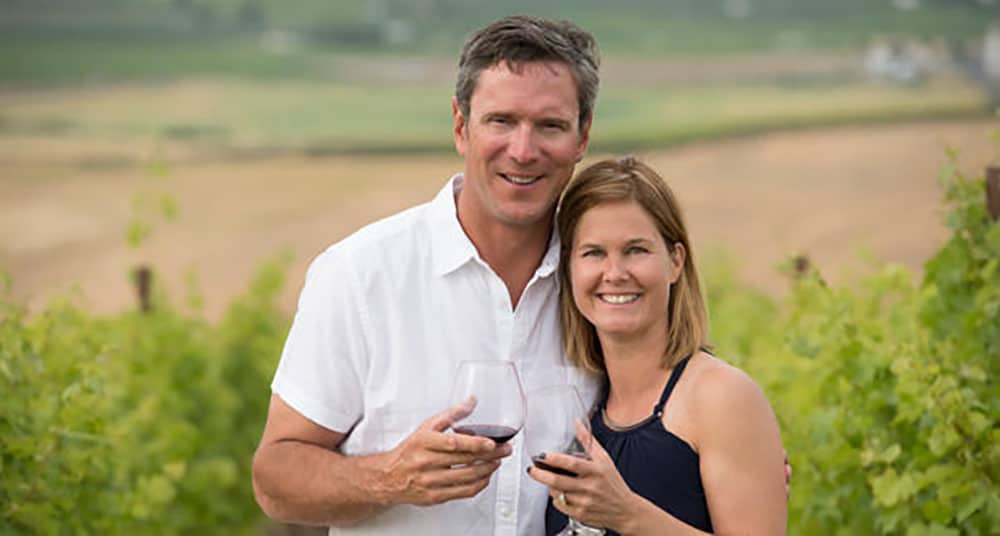 Remember when Drew Bledsoe became one of the highest paid NFL players in history with a $103 million contract from the New England Patriots? Do you also remember when he was replaced shortly thereafter by a rising new phenom named Tom Brady? Yeah, so do we. However, it doesn't seem to have slowed Drew down. His career with the Patriots from 1993 to 2001 put him on the map as one of the best quarterbacks in the league. After being traded to the Bills in 2002, he would ultimately land with the Cowboys for one season, 2005–2006. Then he would be replaced again by another familiar name, Tony Romo. Drew was still a fantastic quarterback and enjoys retirement. What does he do with his days now? You have to travel to Walla Walla for the answer. Drew makes wine near Buffalo, New York. Evidently the climate is perfect for cultivating a vineyard. If you ever wondered what $103 million taste like, just ask Drew. He can tell you.
29. Alex Smith, QB $106.5 million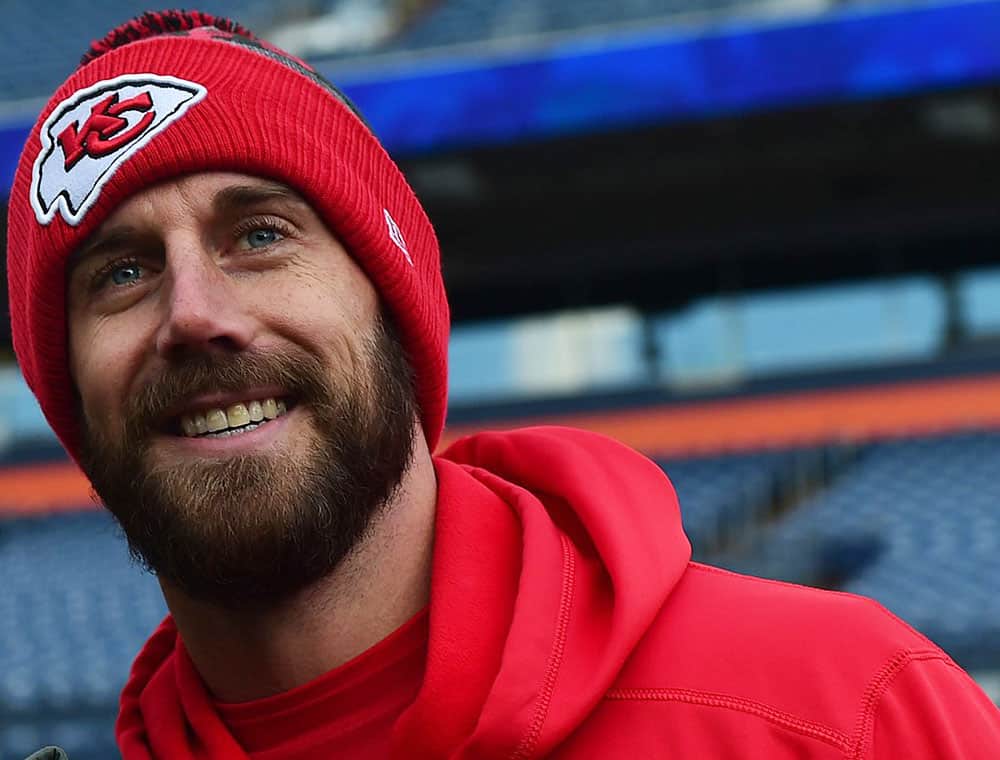 What does it take to amass a nice pile of cash in the NFL? Alex Smith knows. For most of his career he played for the 49ers. He came on in 2005-2006, but 2007 saw the 49ers with a new head coach, Norv Turner, with a completely different style. He transferred this onto Smith, and all of a sudden, the 49ers were a force to contend with. Alex kept trying to compete for the top quarterback spot with little success until 2010. He finally earned the top starter spot, only to be booed by the crowd during the game in week five. 2012 found him as a free agent, yet he signed a $24 million contract to stay on with the 49ers. He would ultimately be replaced with Colin Kaepernick, who has since found himself without a job as well. Smith has a different story entirely. His career would continue with a trade to the Kansas City Chiefs as starting quarterback. After three strong seasons, it was reported that he would be traded to the Redskins, however as of this writing, no one can be certain. The deadline is still a few days out. Either way, he remains one of the highest paid players in the league.
28. Calvin Johnson, WR $113.8 million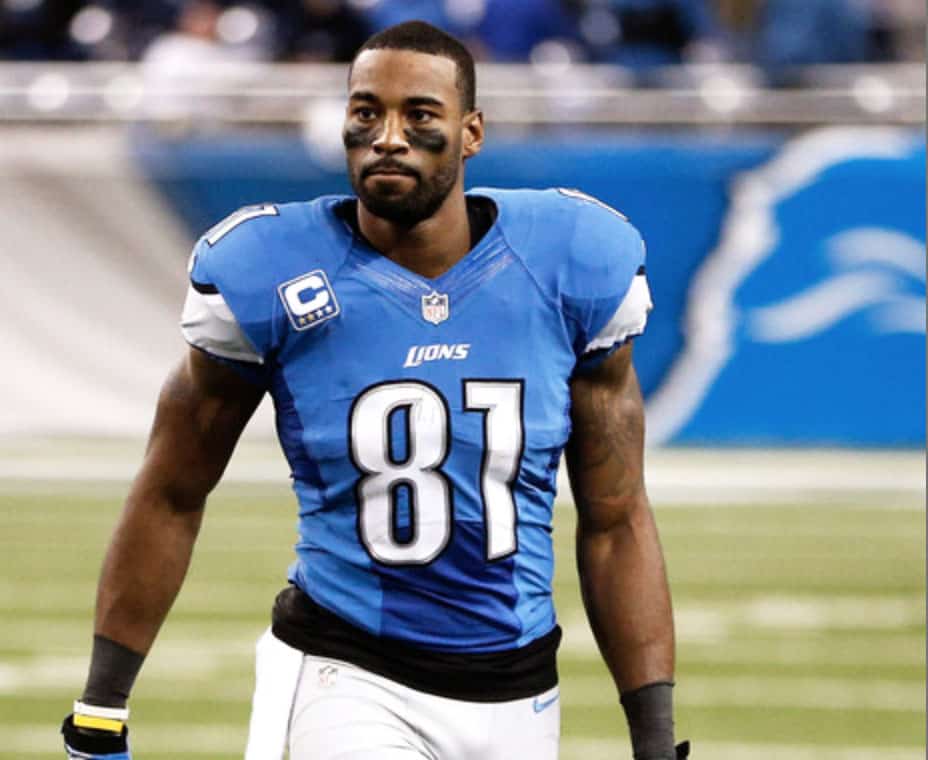 This Newnan, Georgia, Georgia Tech college player would ultimately become $113.8 million richer as a wide receiver for the NFL. Calvin initially stated he would finish his college degree, yet skirted his senior year at Georgia Tech. This probably had something to do with him being the number one player on most draft pick boards. In 2007, he signed a $64 million deal with the Detroit Lions. This made him the highest paid player in Lions history… for the moment at least. Since then, Matthew Stafford and Ndamukong Suh have eclipsed him. Calvin's contract also gave him the title of highest-paid receiver as far as guaranteed money is concerned, in the history of the NFL. All of this, and he didn't even start the first game. He would go on to play through the 2012 season, signing a $132 million extension contract with the Lions. Again, this would put him as the highest paid player in the league. Other notable achievements? He beat 42 other athletes, including quarterback Cam Newton, to find himself on the coveted cover of Sports Nation (2013, Madden edition). But wait, there's more! He retired in 2016, after nine seasons with the Lions, holding several records like most receiving yards per game and receiving touchdowns… at least through the 2015 season.
27. Sam Bradford, QB $114.1 million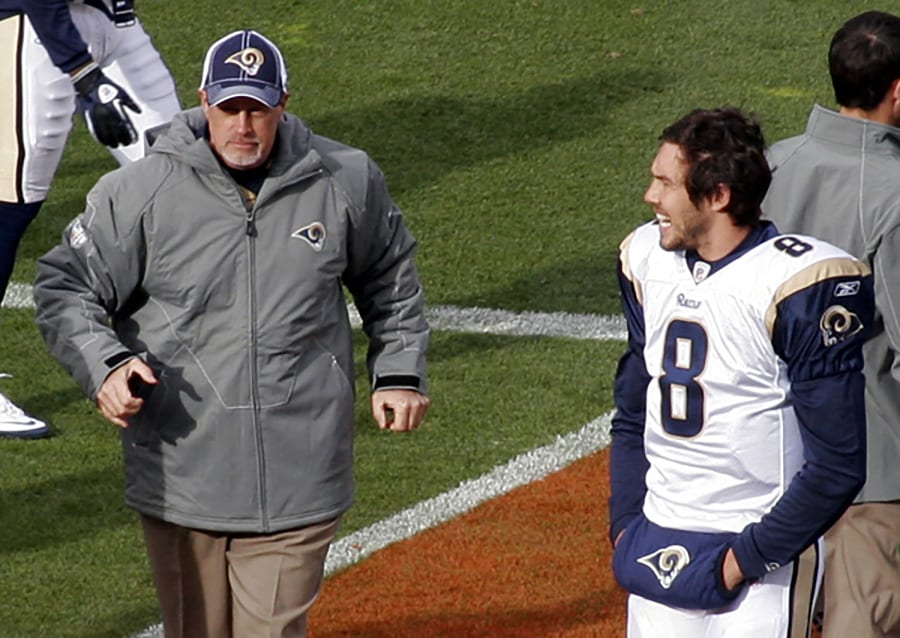 Things always look good for Sam Bradford. In 2008, he became one of only two sophomores to ever win the Heisman trophy. From there, he would become legendary in the NFL. He decided against the 2009 draft and opted for 2010 instead since he was the number one draft pick. He began his career with the St. Louis Rams, immediately entering a training camp to develop his pocket technique. An injury to his ACL would find him missing the entire 2014 football season. 2015 would find him traded to the Eagles, with 2016 again seeing him traded to the Vikings in place of a first round 2017 draft pick. And while his record has been spotty at best, he still managed to rack up north of $100 million. We don't know what they put in the Oklahoma Sooners' water, but we want some. It seems to pay great dividends down the road, even if you bounce around more than a pinball.
26. Von Miller, LB $114.5 million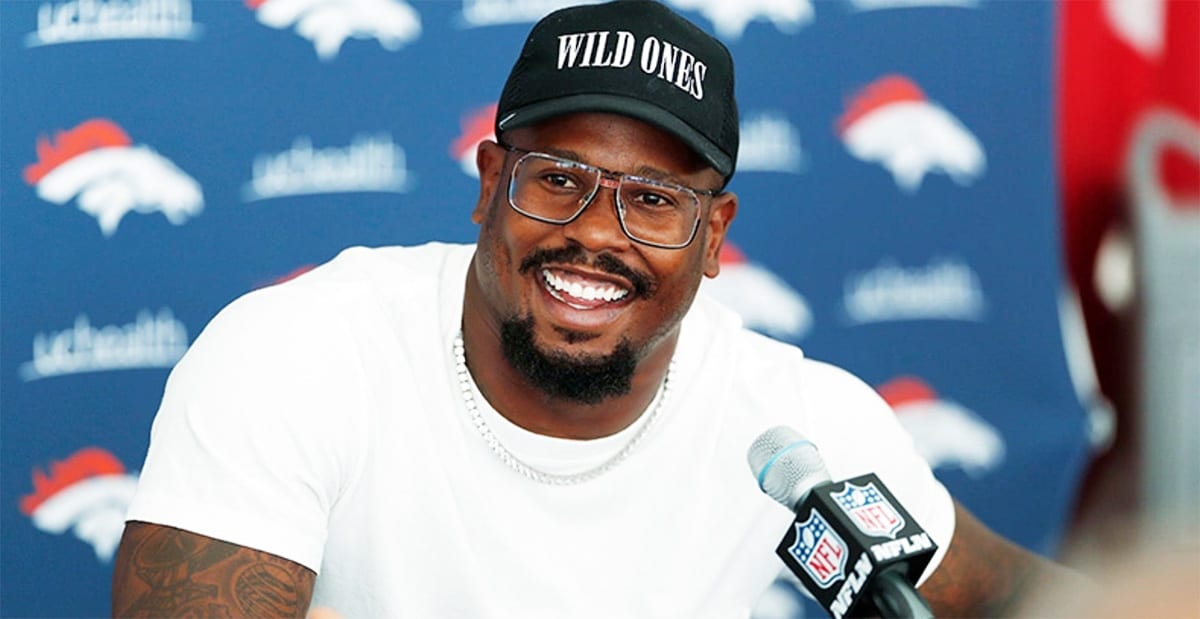 Before Von Miller was a linebacker for the Denver Broncos, he played for Texas A&M. While there, he earned the Butkus award for most outstanding college linebacker in the US and would go as a second round pick in the 2011 NFL draft for the Broncos. His $114.5 million contract made him the highest paid NFL linebacker since LeVar Arrington. We like him because he is a huge supporter of the troops (you can find pics of him signing autographs in Kryrgzstan, 2013). Just prior to the season of that same year Von was ranked number nine among the top 100 players (voted on by the NFL players themselves). Yet 2016 is when he found the money. That was the year the Broncos signed him to a six year exclusive franchise tag deal worth the amount you see listed above. Of that amount, $70 million is guaranteed. That made him the highest paid defensive NFL player at the time. His current net worth estimates fall between $24-$32 million. He has multiple endorsements, is a five time Pro Bowler, and known by your wife as the Old Spice guy.
25. Joe Thomas, LT $119.9 million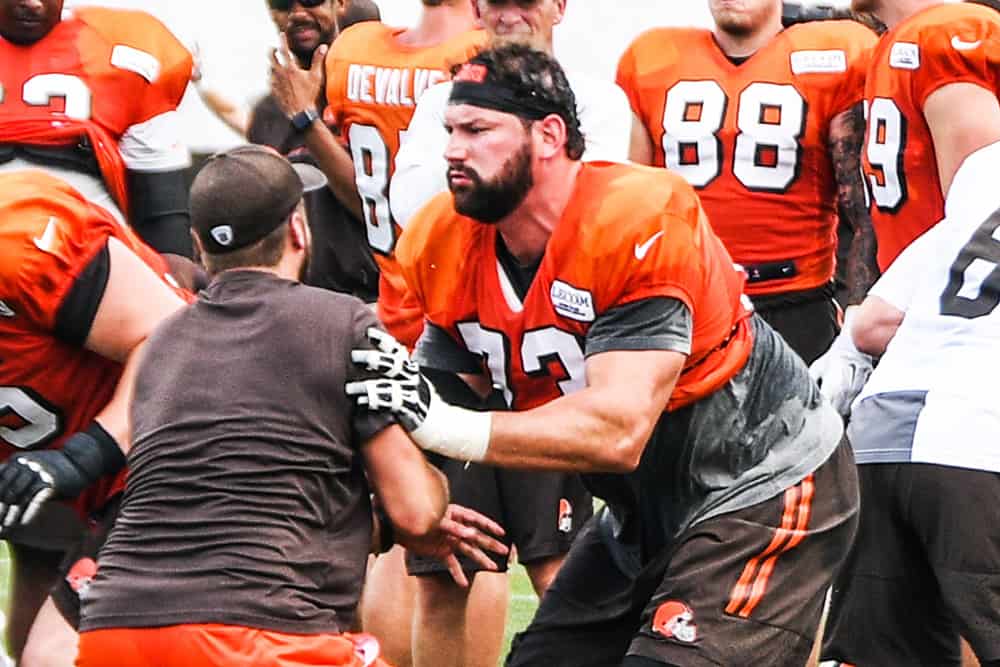 How would you like to see your net worth increased by 140% in just a few years. Well, if your name is Joe Thomas that is your reality. His net worth jumped from $52 million to $70 million after signing the massive contract deal negotiated with Cleveland. Even better, he is worth the paper. There have only been two offensive lineman in history to make Pro Bowl in their first five seasons. He is one of them. After his first deal was set to end, he successfully negotiated his $84 million contract, with a guaranteed $44 million salary and $15 million signing bonus. This is a record for linemen in the NFL. On the side he likes to dabble in business investments. The specifics of the ventures are kept under lock and key, but we do know that he has made right around $22 million. That's about $5-$7 million worth of annual income every year in addition to his killer whale of a contract.
24. Mario Williams, DE $120.4 million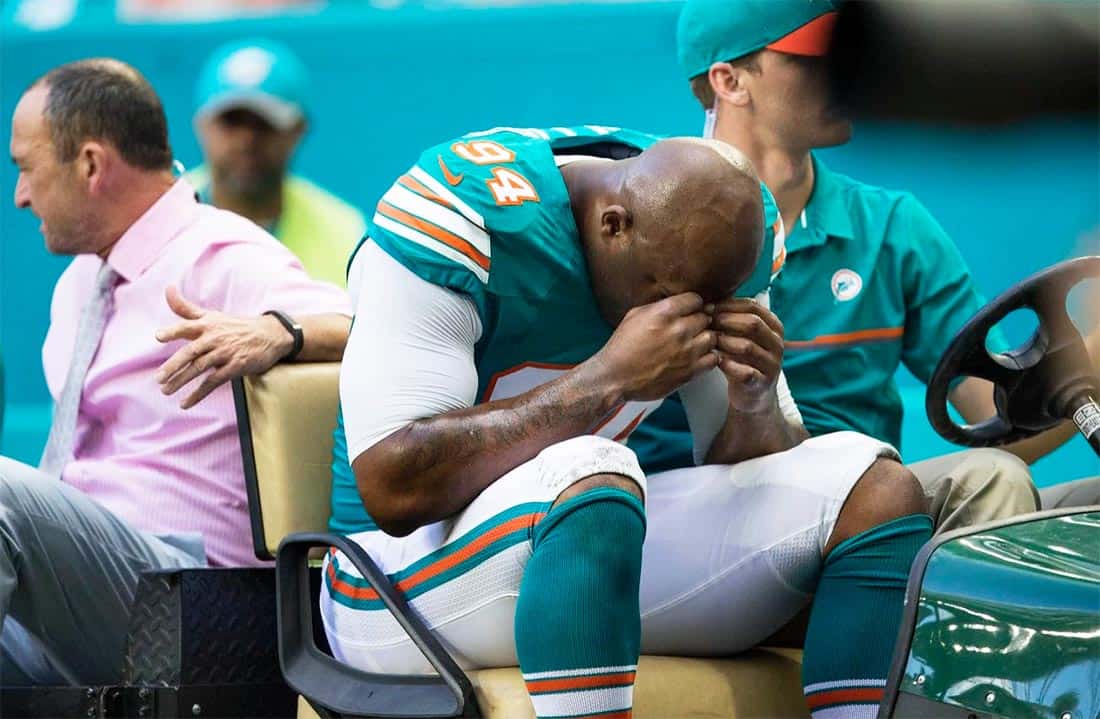 Once known as one of the highest paid players of all time, with a more than respectable contract amount seen above, Mario Williams didn't do so well in 2016. In fact, many sources say he had the worst offensive in contract in the NFL. He had two years left on the Dolphins contract and would realistically be cut in 2017. It didn't help that he had ACL surgery and was coming off one of the worst seasons of his career. To cut him will cost $2 million in dead money. However, his money days came in 2006 with Houston Texans. The six year $54 million contract with signing bonuses and endorsements was a phenomenal start to his career. In 2012, he went to the Buffalo Bills. They signed him to a $100 million contract with almost half of that guaranteed. So make no mistake, even though this might be the end of his career after a lackluster performance with the Dolphins, he still made plenty of bank.
23. Jay Cutler, QB $122.2 million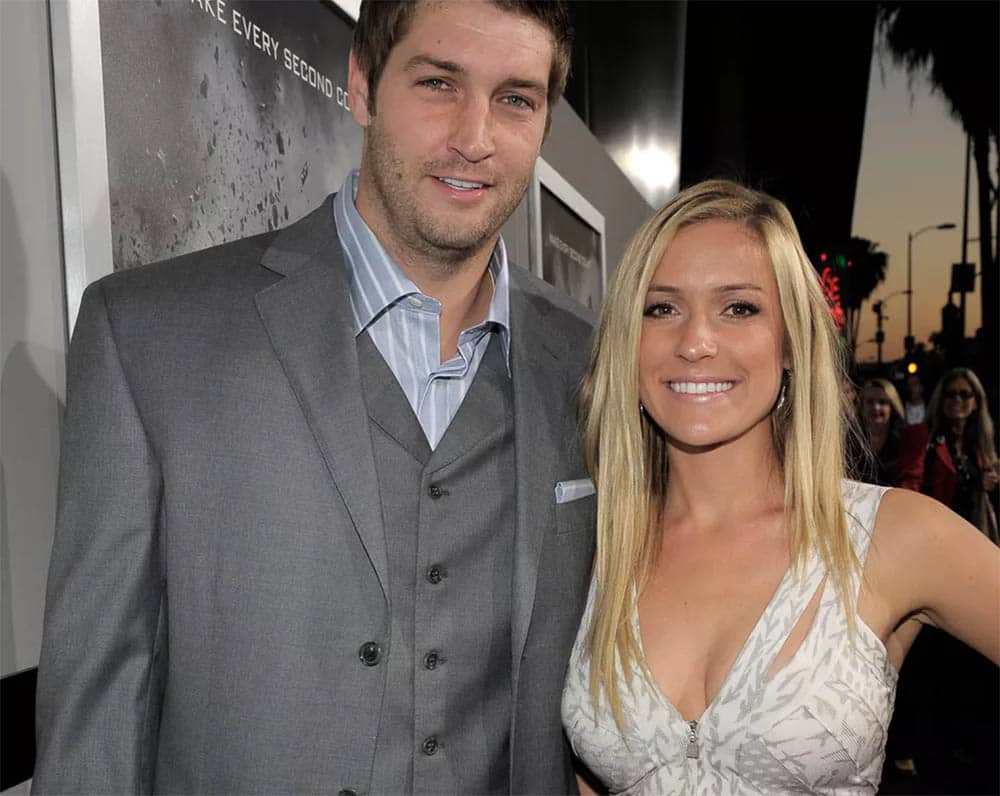 After having a phenomenal run with the Chicago Bears where he earned the monster contract listed above, it seem like Cutler was headed for retirement. The Bears run was significant for him. It was structured so airtight that cutting him would leave loads of dead money on the table. The Bears didn't want that, but they eventually severed their relationship with him in 2017. Cutler was picked up by the Dolphins and actually spent the entire 2017 season in a hotel room while his wife and children stayed behind in Nashville. Word on the street is he racked up a TON of hotel reward points. Still, the 2017 season was quite dismal for the Dolphins, but it does not negate the run he had with the Bears, or the salary either. In fact, he may not even play next year. The only reason he came out of retirement was because the Dolphins' quarterback (Tannehill) had an injury to mend. Tannehill is expected to play this coming year.
22. Andrew Luck, QB $122.9 million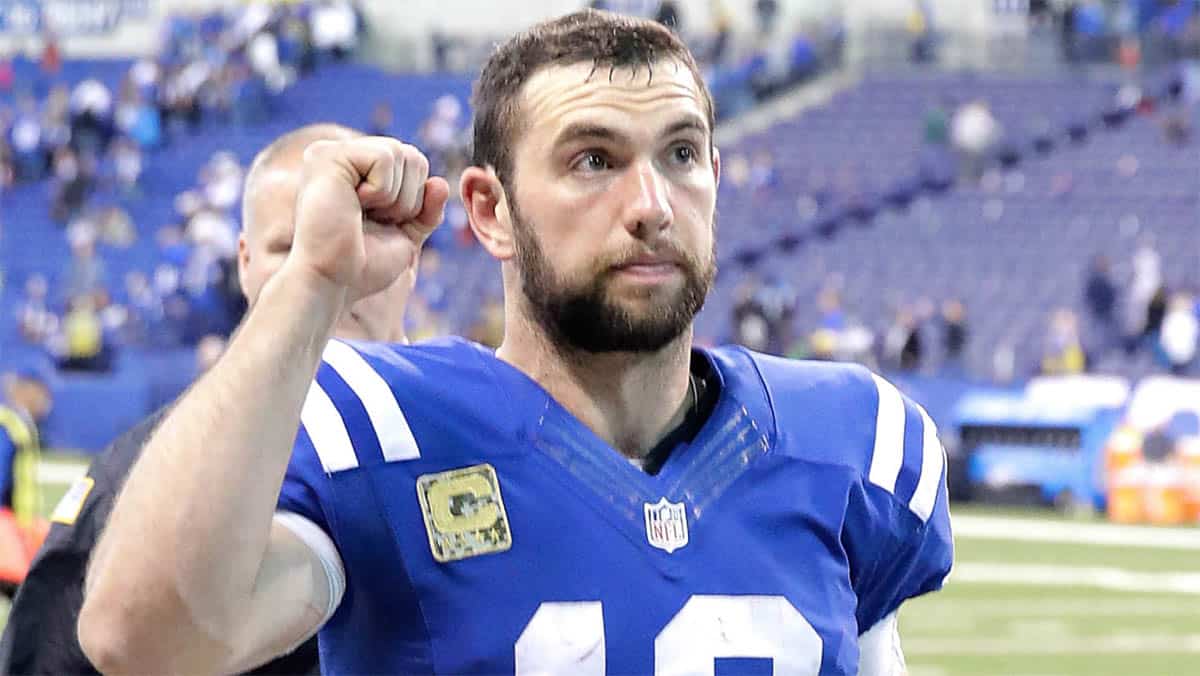 Jim Irsay, owner of the Indianapolis Colts, promised that there would be a shocking contract for Andrew luck in February 2016. Therefore, it came as no surprise that their offer made him the highest paid NFL player in history (up to that point at least). The deal, a $140 million franchise contract includes a $47 million guarantee with an average of $23.3 million each season. And while it was no surprise at the time, it did put forth the idea that the Colts had a lot of faith in Luck. 2015 saw his career plagued with injuries, and Andrew himself even admitted to playing poorly. However, he promised to be much more careful going forward, sliding when he runs out of the pocket in an effort to prevent injury. In many ways, you can compare Andrew's career to Panthers star quarterback Cam Newton. The only difference being Andrew Luck is sitting on a pile of money.
21. Darrelle Revis, CB $124.2 million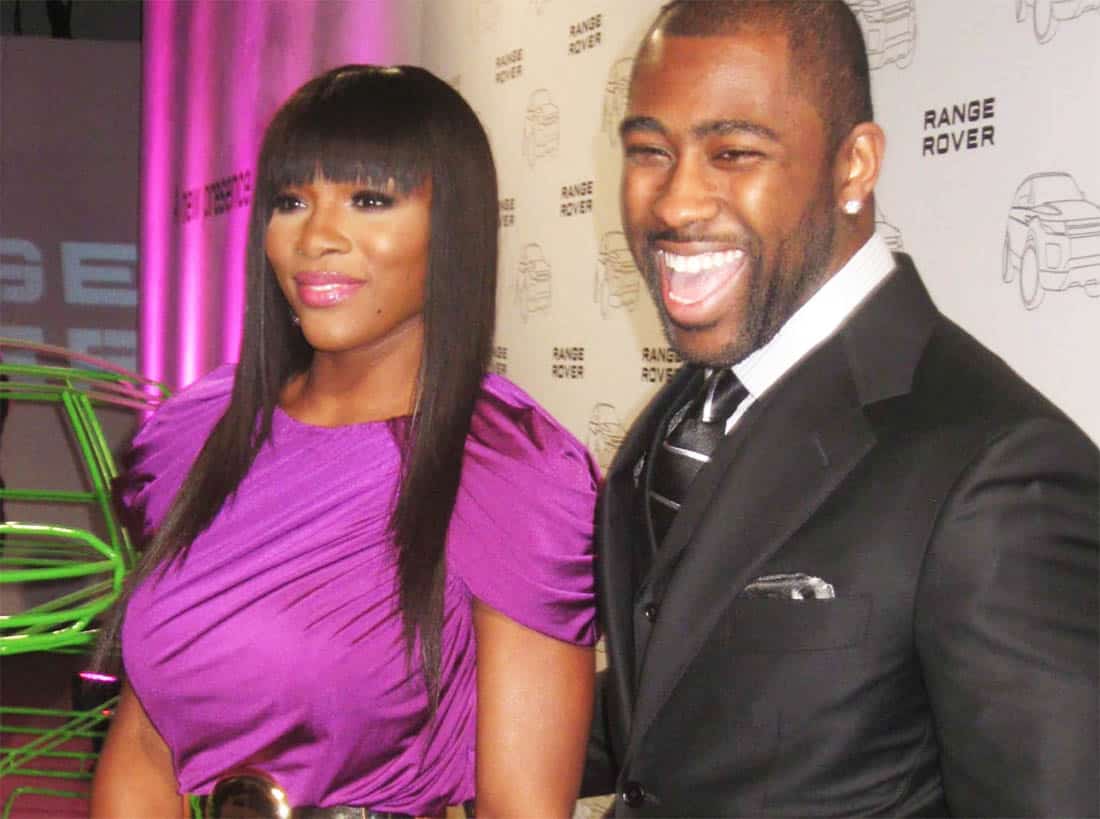 Remember in 2015 when Darrelle Revis became the seventh highest paid player the NFL has ever seen? Yeah, we do too. That deal came just after his departure with the New England Patriots. And while that deal was a monster, currently, he's just another face in the crowd. 2018 will see him earning $13.5 million if the Chiefs happen to win the Super Bowl. That means his base salary is somewhere around $350,000, but does not include the $6 million guarantee that will still be paid from his time playing for the New York Jets. But wait, it gets a little better, albeit in small increments. For instance, there's a workout bonus and a weekly bonus if he makes the roster, that could bring his total salary to $8.8 million during the course of the next season. So while he may not be at his peak, Darrelle is still far from hurting. He cries only happy tears.
20. Ndamukong Suh, DT $124.2 million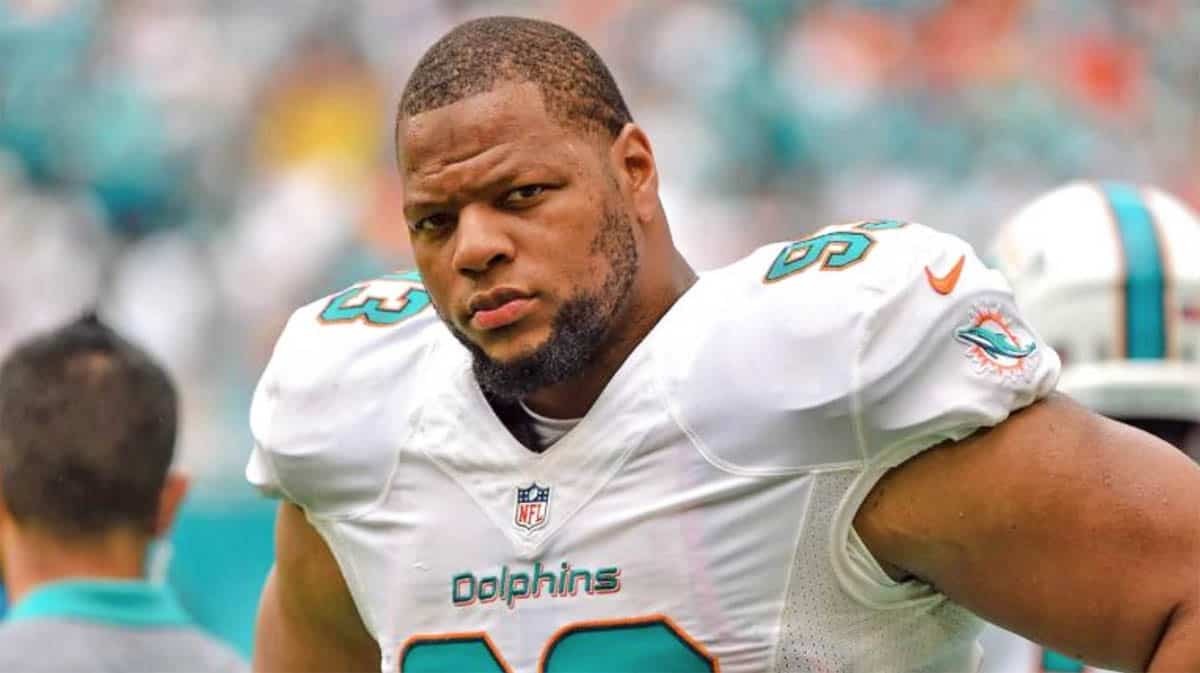 They say records are made to be broken. For a while, Houston Texas defensive end J.J. Watt held the title of highest-paid defensive player in NFL history. Then along came Ndamukong Suh. He changed everything and snatched the title outright when the Miami Dolphins signed him to a six-year deal. The specifics of the deal include a $60 million guarantee as part of his $114 million contract. If you remember, though, after inking the deal, Suh didn't report to training with his teammates. Instead he missed four days of practice. The reason? Coach Jim Schwartz said there was a conditioning test Suh had to pass before he could join teammates in practice. He joined the team that following Wednesday. Tom Lewand, team president of the Detroit Lions, said he had a lot of respect for Eugene Parker, Suh's agent. Obviously, it takes involvement from the athlete to get a deal done, but agents play a huge hand in the specifics. As for Suh, the 6-foot-4, 300 pound defensive lineman will have a lot on his shoulders for the next few years. They don't shell out millions of dollars for nothing. There is an expectation, and somehow we think Suh will meet it.
19. Michael Vick, QB $124.8 million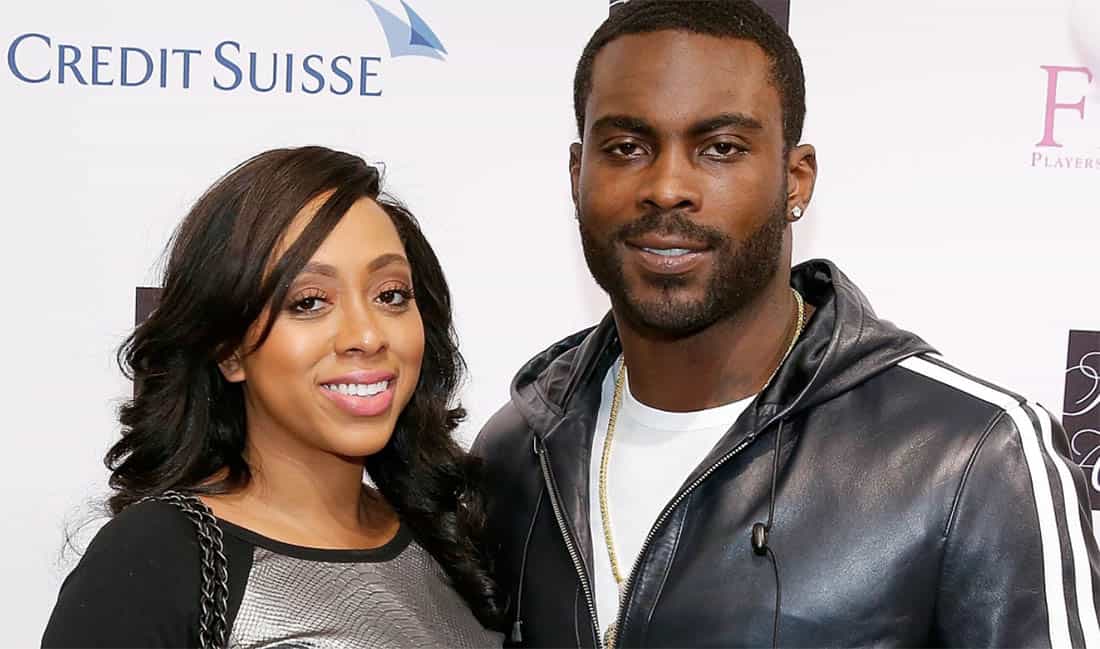 It must be vindicating to suffer defeat, then rise back to greatness simply because you're a phenomenal player. Such has been the story of Michael Vick. In 2004, during his time with Atlanta, he had a nice hefty contract. It was a 10 year $130 million deal that was cut short after some unfortunate occurrences and a bit of jail time. However, in 2010, the Eagles gave him a guaranteed $40 million deal with a massive six year, $100 million contract. The year prior he played like one of the NFL's best quarterbacks. The Eagles would now pay him his worth. Even better, he became the Eagles designated franchise player, earning $16.7 million as a result. It was a long time coming. Since easing his way back to the NFL in 2009, he slowly inched his way towards a starting position in 2010. The huge contracts prove only one thing, Vic is a dangerous weapon.
18. Derek Carr, QB $125 million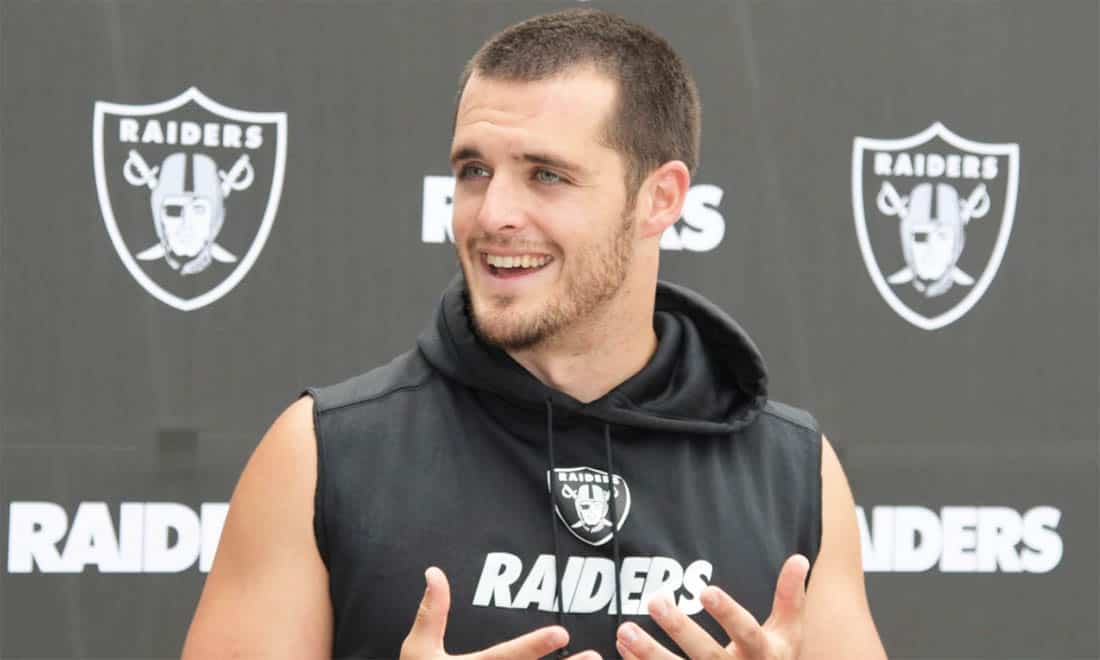 We think it's pretty safe to say any of us would love to have a base salary of $25 million. For Derek Carr, that's his average pay. His 2017 five-year deal with the Oakland Raiders tops out at $125 million. This includes a $12.5 million signing bonus. $70 million of his contract is guaranteed. In 2018, things get even better. His base salary will be $7.4 million. Additionally, he will gain a roster bonus of $5 million along with a workout bonus of $100,000. Would you like to get paid $100,000 every time you worked out? Oh yeah, and he has a dead cap value of $25 million. That's a lot of money if Oakland decides to walk away. It doesn't seem like they will, though, since they just gave him an extension rewarding him for strong performance during 2016. Derek tweeted the affair saying, "I wanted to be a Raider for life. One step closer to that! Blessed! Business done! Let's just play now!" Seems like the two are certainly enjoying their time together.
17. Tony Romo, QB $127.4 million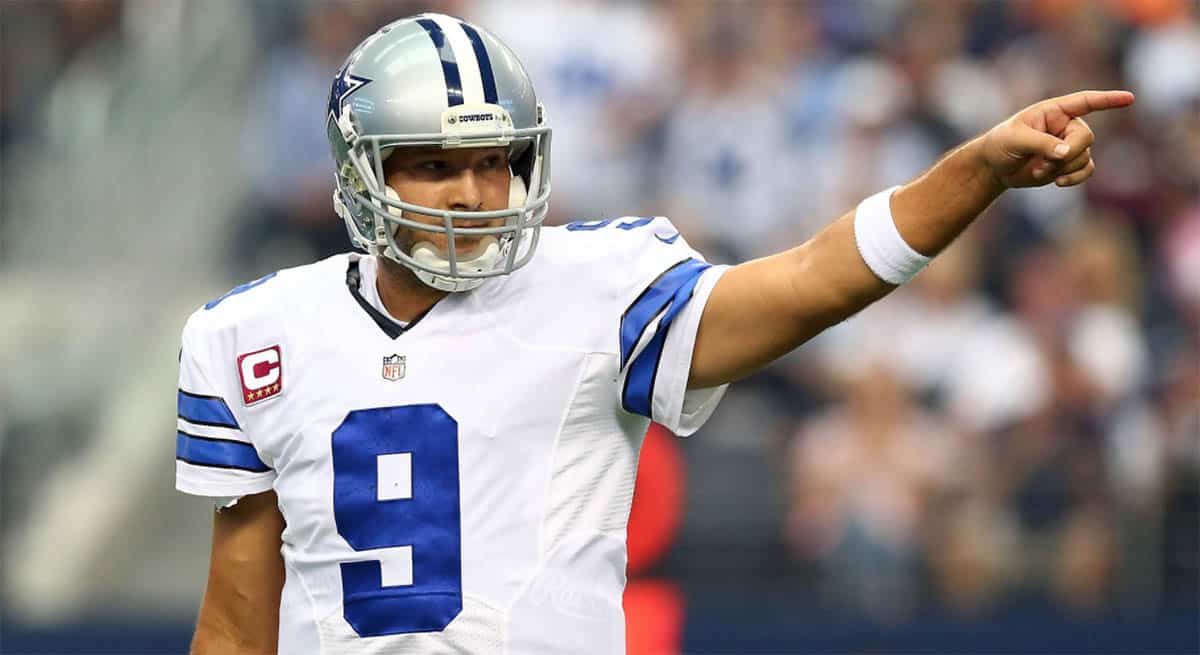 In 2013 a young 32-year-old Tony Romo earned a base salary of $1.5 million. He was given an option bonus of $1.6 million and a signing bonus of $5 million, in addition to a restructuring bonus of $3.68 million. Fast forward to 2017 and things are drastically different. These are the kinds of numbers you see reflected in the contract figure listed above. In 2017, at 36 years old, Romo earned a $14 million base salary with a signing bonus of $5 million and a restructuring bonus of $5.7 million. There is talk of what the Cowboys will do with Romo after 2017. Many commentators suggest they should keep him because he will only cost them $5.1 million. However, that's wrong when you consider the cold facts. His base salary is $14 million. They would not have to pay that amount if he went elsewhere, and it seems we don't have to guess. The Cowboys ultimately decided to release Romo, even though he was retiring. It seems that his contract simply couldn't be justified. It was too impractical for Dallas to keep him. But don't feel sorry for Tony. His current career earnings are $128,920,000. He's definitely not hurting.
16. Joe Flacco, QB $135.8 million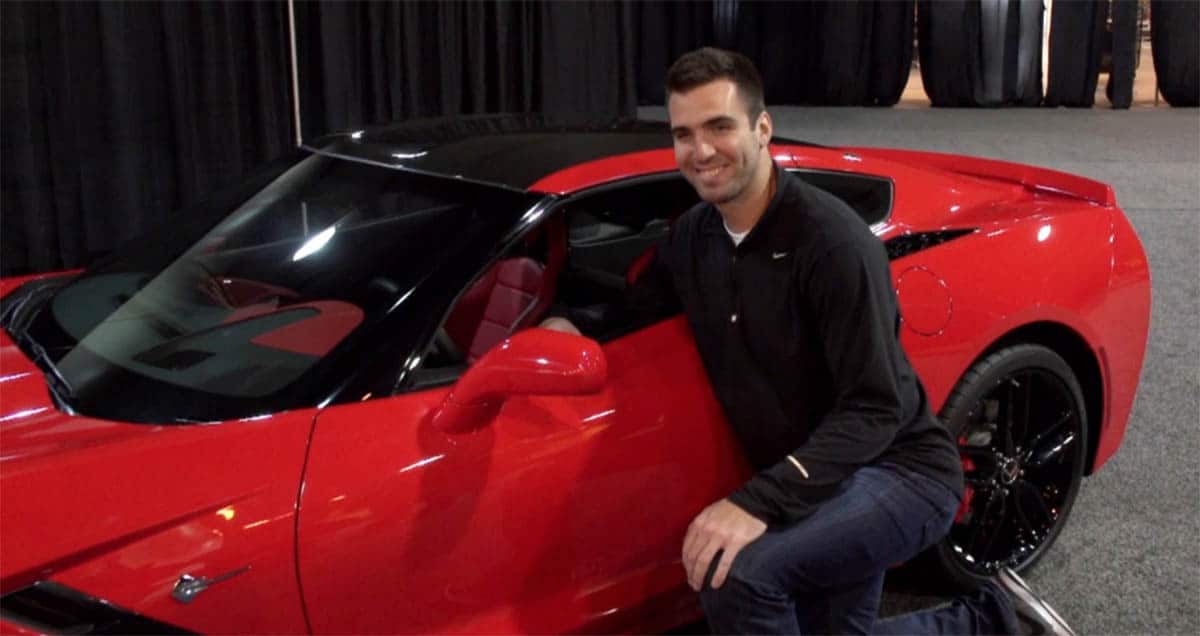 If you wonder why Joe Flacco is smiling every time he's photographed, it probably has to do with his fat contract. Four years ago he signed a deal that guaranteed him $50 million. That spoke volumes about him and his relationship with the only franchise he's ever worked with. To quote his words, "I took a couple of days to at least sleep on it because this only happens three times in the career, two times – whatever it might be." That deal consequently made him the highest paid player in the NFL in terms of average money paid per year. So what did it do for the Ravens? A lot. It guaranteed that their Super Bowl winning quarterback remains under contract until 2021. It also keeps the rate somewhat more forgiving in terms of their salary cap. The three-year extension Flacco was given included a $40 million signing bonus and $44 million guaranteed. That means his contract is worth $66.4 million, making Flacco the biggest signing bonus owner in the history of the NFL.
15. Aaron Rodgers, QB $137.5 million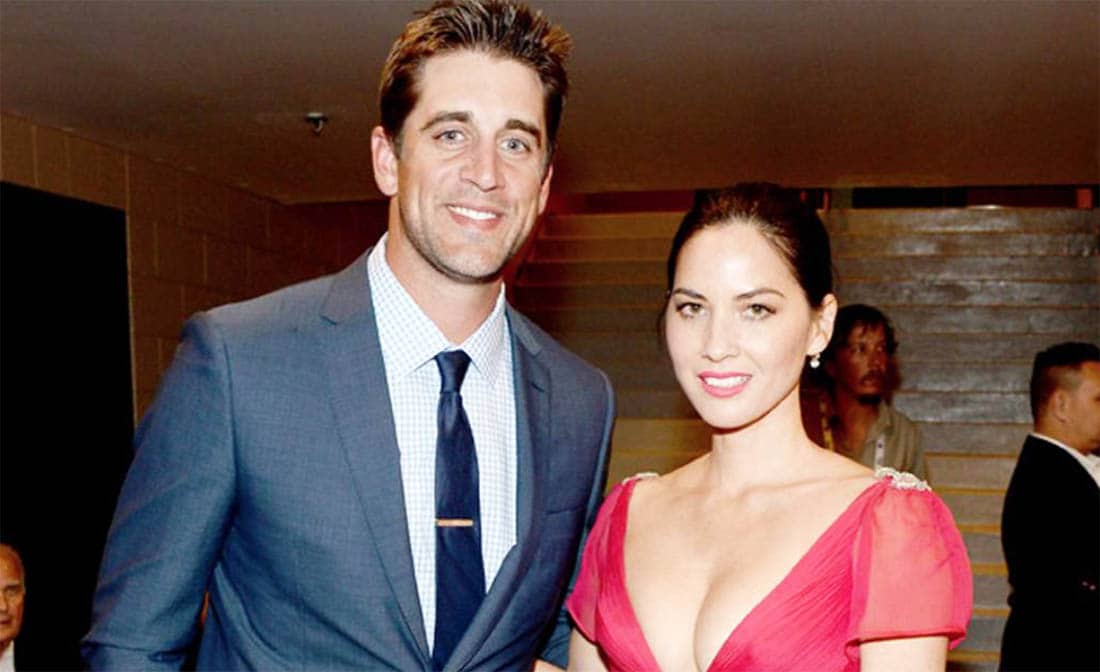 This is one of the best contract stories ever to come out of the NFL Combine. Heading into free agency at the NFL Combine always provides several tidbits as scouts and coaching executives are readily available to chat. Picking up on tidbits here and there, the Green Bay Packers may have pulled off one of the slyest moves by completing Aaron Rodgers contract during the off-season. It slid under the radar but could end up being one of the most significant developments of 2018. Why is that? Well, Rogers is not just another quarterback in a leapfrog line of usual suspects. He can obliterate the market now if he wants to. Since signing in 2013, his percentage has crept from 9.65% to 12.45%, about half a percent each year give or take. These numbers certainly hamper the argument that teams need low cap numbers from quarterbacks if they wish to succeed. If that were true, why does Tom Brady's team-friendly deal eclipse the Patriots' salary-cap by 13% (even though he still plays at a discount. More on that later)? Yeah, we didn't have a good answer for that one either. The smart thing for Rogers to do is to wait until Kirk Cousins's deal is complete, which is reported to be higher than Garoppolo's. At that point, he could drop the hammer and have a monstrous contract. What could Green Bay do besides pay him more money than they already have?
14. Jimmy Garoppolo, QB $137.5 million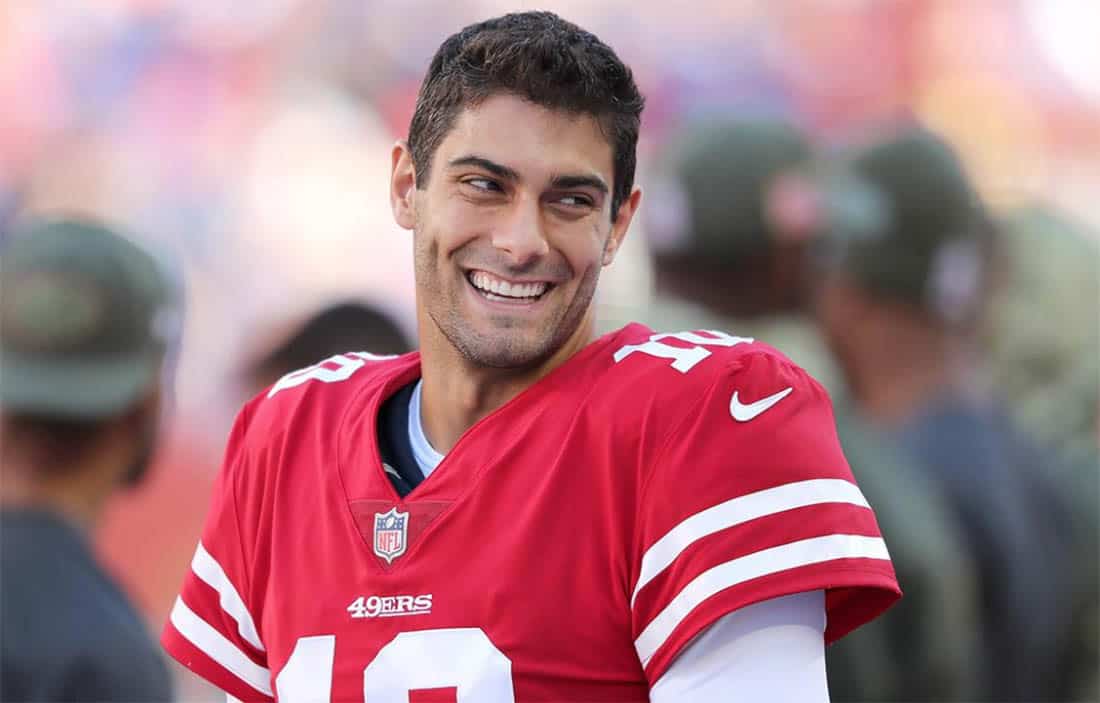 Today's highest paid player in the league will be tomorrow's record broken. Such is the case with Jimmy Garoppolo and his five-year deal with the 49ers. His $137.5 million contract is every bit as good as Aaron Rodgers's contract mentioned previously. However, it all has to do with waiting games. As mentioned previously, Aaron Rodgers could likely become the highest paid annual salary player in the league, if extensions, bonuses or other issues are encountered. As for Garoppolo? Well, he's paid based on his performance. The benefits of training camp paid off. He learned offense and was able to win every game he started with San Francisco. He has a pass completion rate of 67.4% for 1560 yards, seven touchdowns and five interceptions. So, $137.5 million is one sweet deal. But wait, you might think Andrew Luck's contract signed in 2016 is worth more than Garoppolo since it is a $140 million deal. That's true, but remember, the span is six years, not five. At five years, Garoppolo is still tops.
13. Brett Favre, QB $137.8 million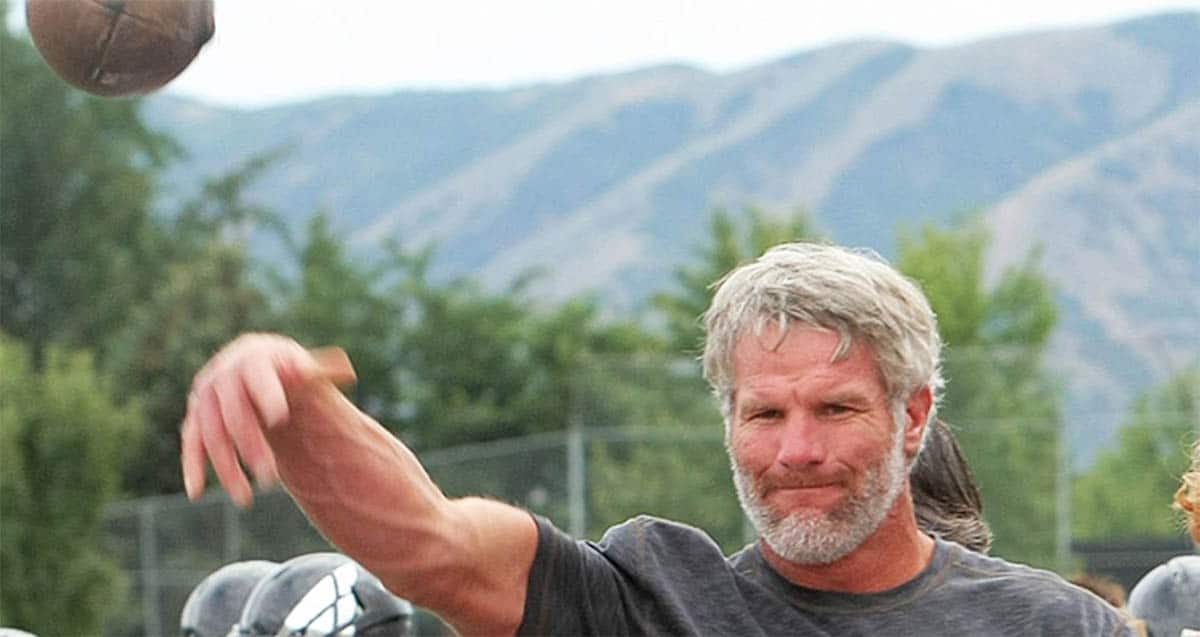 Though he is enjoying retirement now, Brett Favre had a storied career with Green Bay. For starters, he was the NFL's first $100 million man. He was also the only NFL player to be awarded MVP three times. He always said he wanted to be a Green Bay Packer for life, and he made it happen, almost. He played for them the majority of his career until he went to the Jets and then the Vikings as a free agent. During his tenure with Green Bay, he earned close to $100 million for 16 years of service. That's not bad. Now, after earning $12 million from the Jets and an equal amount from the Vikings, he would retire with career earnings of more than $124 million. And he did. Afterward he returned to his roots where he coached Oak Grove High School to their first state championship. Seems like Brett is prepping the next round of players for NFL greatness.
12. Matt Ryan, QB $149.5 million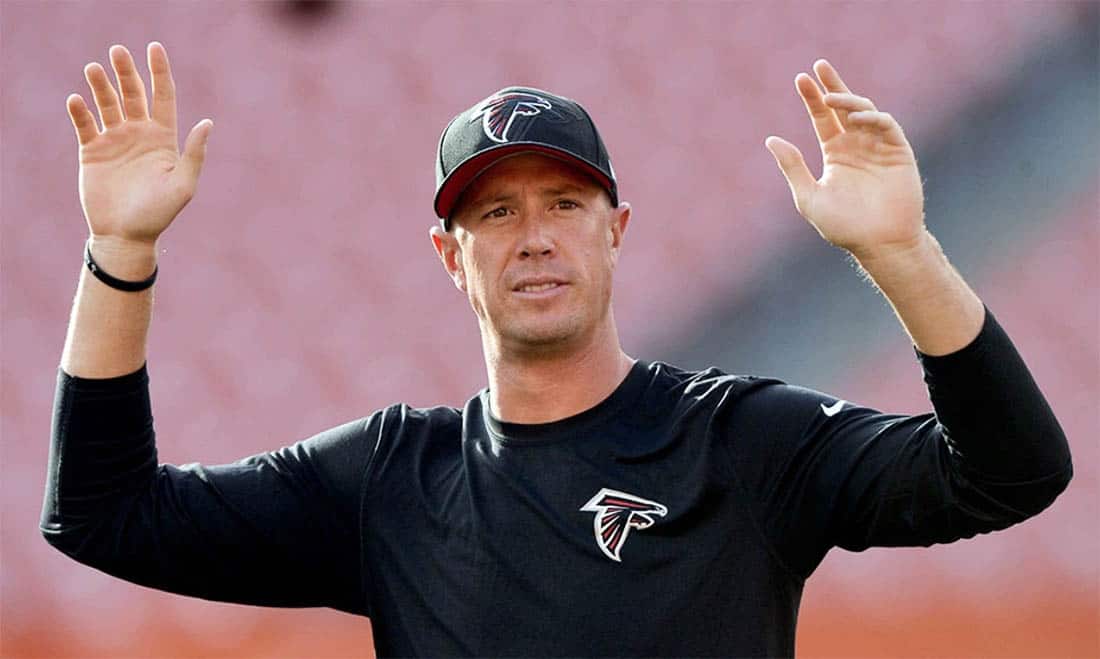 Atlanta quarterback, Matt Ryan, has a lot to be proud of with his monster contract. He has a lot to be nervous about, too. 2018 was his final contract year. The Falcons were hoping to lock him up so they made him an offer he couldn't refuse. His initial $103.8 million contract was given to him during the 2013 season. His new contract, with a base salary of $19.25 million, options and dead money, totals $113.7 million. The $21.7 million salary is the 10th highest among NFL quarterbacks across the league. Atlanta said their number one priority was keeping Ryan on board. It seems like they were able to do it. This is what it costs to keep someone who throws for 22,839 yards, throws 133 touchdowns, and has a 66.8% completion rate, tested since 2013. Atlanta made a good call. The Falcons would not be the same without "Matty Ice."
11. Larry Fitzgerald, WR $151.3 million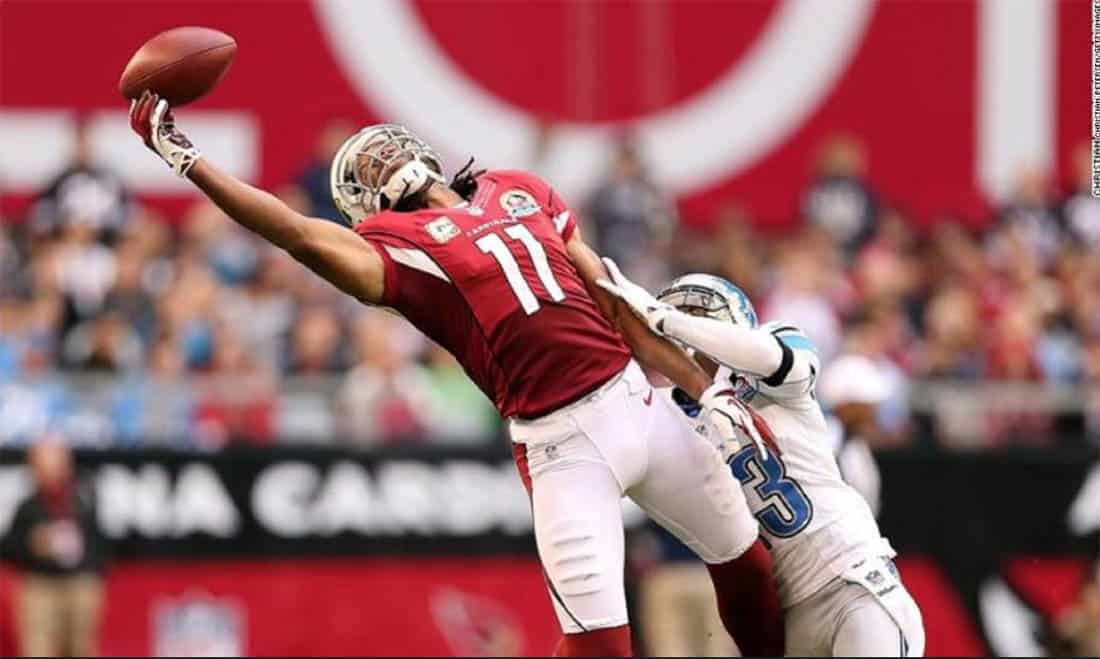 Speaking of contract extensions, Larry Fitzgerald got his for the 2018 season, and it has been decided. Fitzgerald will always play for the Cardinals. His contract was set to expire last season with potential free agency, but that idea was quickly put to rest when the wide receiver signed a one-year extension contract. It doesn't guarantee he will play, but it does guarantee you won't see him in another team's uniform. He has become the face of the franchise. Larry's $11 million salary extension is based on the fact that he is currently tied in the league for the #1 performance spot. He averages 60 receptions per nine games, 677 yards and 3 touchdowns. He's also a 10 time Pro Bowler and will probably receive his 11th this season. If he does play, there's a chance he could make NFL history. He only needs 141 catches to surpass Tony Gonzalez for second all-time catches in NFL history. He would need much more to catch #1 Jerry Rice, but there's always hope. At any rate, it's fun to watch guys like Fitzgerald play the game. They are worth the money and deliver the goods time and time again.
10. Julius Peppers, LB $159.5 million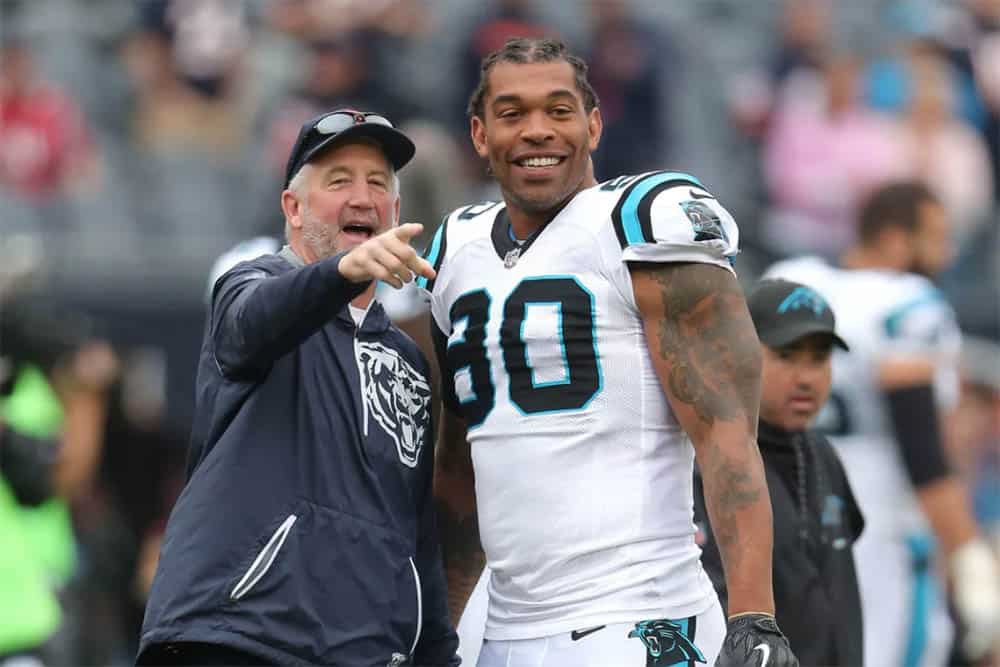 Though his career as a linebacker has made him close to $160 million, there is speculation that Julius Peppers could finish his career by cashing in with his latest one year contract. He began his professional career with the Panthers in 2002, then signed on with the Bears in 2010, moved over to Green Bay in 2014 and is rumored to retire after completing his last round, once again, with the Carolina Panthers. In total, he is ranked #5 in all-time sacks for the NFL. He could really bring it in this year according to his contract details. He will gain an additional $250,000 if he completes 7 sacks. For 9 sacks, the amount increases to $500,000, and 11 will fetch $750,000.That would be incentive enough for anybody, don't you think?
9. Matthew Stafford, QB $161.8 million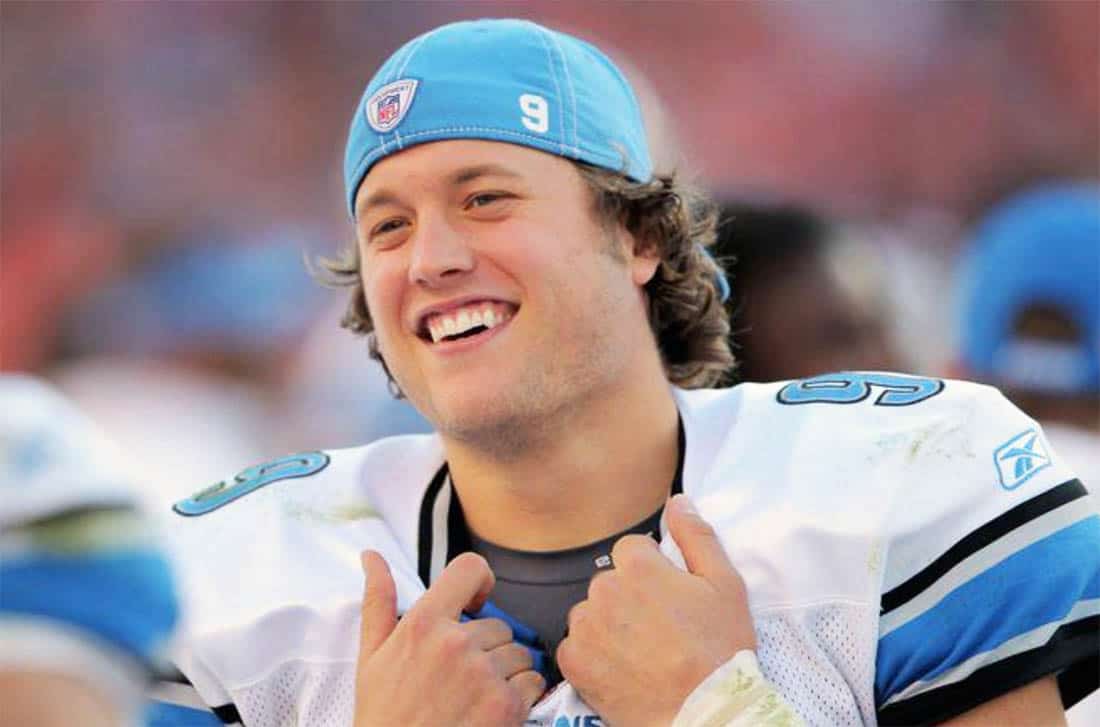 Last August everyone was buzzing about Matt Stafford. He signed a record $135 million deal with the Detroit Lions. That would mean his average salary would be more than $27 million for the life of the contract. That was a bit more than Derek Carr signed for in June ($25 million). For the time he was the highest paid player in NFL history. Of course since we have a few more left on our list, we know he won't remain in that position. Yet, it's impressive to see the kind of numbers teams throw at players to keep them on board. For Stafford, there was good reason for Detroit to sweeten the pot. He holds records for the franchise including passing- 30,303 yards, attempts- 4285, completions- 2634 and touchdowns- 187. Not to mention, he just came off his best season as a pro so his five-year extension contract is kind of a big deal. That, and he led the Lions to eight come-from-behind victories without Calvin Johnson. This makes his contract the standard by which other quarterback deals are judged. Names like Kirk Cousins, Drew Brees, Matt Ryan and Aaron Rodgers are a few who could benefit from him.
8. Ben Roethlisberger, QB $170.3 million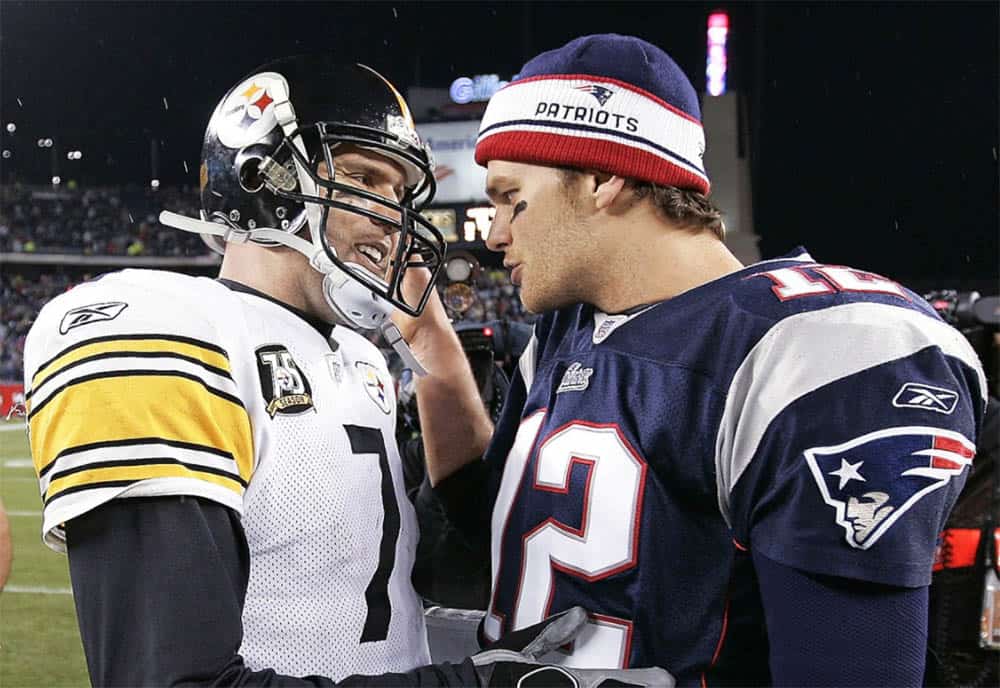 To revisit something from our last player, Ben and his contract deal set the standard for quarterbacks in 2015. His current deal ensures that he will complete his career with the Steelers, playing every game professionally with the franchise. It's worth $99 million and can escalate to a little more than 108 million. As for Ben, it's where he wants to be. He loves being a Steeler and wants to put more Lombardi trophies in the franchise showcase. Before his current deal, he signed a $102 million contract into 2008. His salary cap was $18.3 million with a base of $11.6 million. Ben's new four year $87,400,000 contract, $31 million guaranteed, includes a $31 million signing bonus and an annual salary of $21 million, almost double his current base. Quite impressive when you consider the fact Ben was in a serious motorcycle accident in 2006. He broke his jaw and nose in a crash where he was not wearing a helmet. This resulted in much more specific language for athletes in their contracts regarding reckless behavior. Ben not only learned his lesson. He made $170 million as a result.
7. Carson Palmer, QB $174.1 million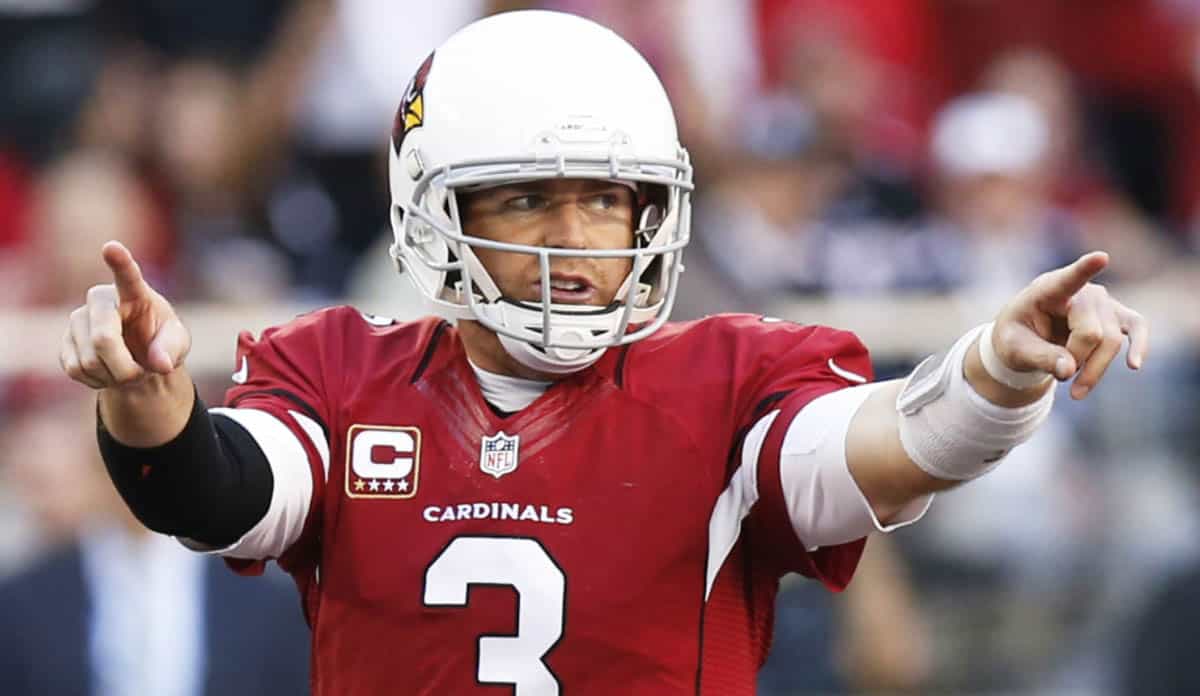 It's not all pomp and circumstance when you take big money to play for the NFL. Consider Carson Palmer, who had a near devastating career injury in 2006. It was originally thought that his injuries were much less. After a thorough assessment by his doctor, it was determined that the damage from the anterior cruciate and medial collateral ligaments also included a dislocated patella… among other damage. As such, it was doubtful whether or not he would return. The surgery involved reconstructing his Achilles tendon by replacing it with one from a 44-year-old woman previously killed by a drunk driver two years before. Palmer persevered, underwent rehab and applied himself to be fully present during the 2006 season. His determination was part vengeance. He is quoted as saying, "I hate the Steelers more than I hate UCLA." They were responsible for his injury so that's understandable. To cap off career retirement, he was given a one year deal with Arizona which fetched $24.35 million. However, we see history repeat itself again. A broken arm put him out for most of the season and the team says it's doubtful he will play again. However, true to form Carson says he feels, "pretty good," about returning. It's doubtful he will retire yet. He already tried that once in 2010 and failed miserably.
6. Philip Rivers, QB $187.9 million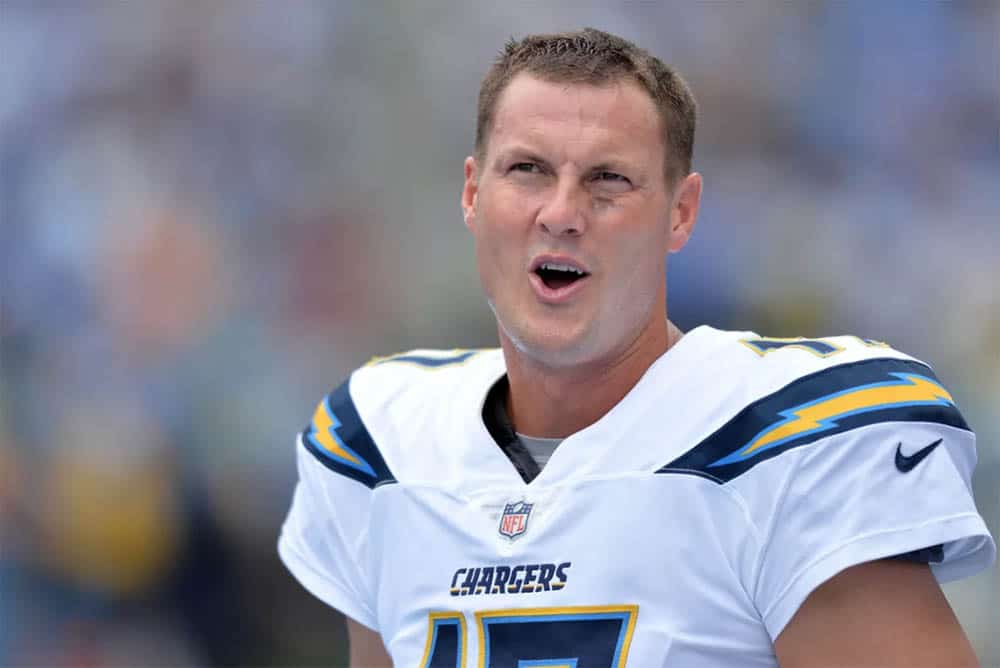 Philip is perhaps best known for his four year $83.25 million contract extension deal with San Diego. The 2015 contract included a $22.5 million signing bonus and $15 million base salary. Exclusive to the deal is a rare no-trade clause. This is particularly interesting because San Diego is the only franchise Rivers has ever played for as a pro. It seems that the Chargers are serious about keeping him on board. His ratings may justify the move. He is considered to have the ninth best all-time passing rating among NFL quarterbacks with those who have at least 1500 passing attempts. He's ranked fourth in all-time consecutive starts by a quarterback and currently serves as the active Iron Man for that NFL title. Philip was the firecracker that followed Drew Brees, taking the Chargers to a 14–2 season as a starter. He helped them win the first playoff game since '94 and eventually led them to a 2007 AFC championship game. Rivers is a seven-time pro bowl player and received the title of NFL Comeback Player of the Year for 2013. The next time you wonder what good thing can come from Alabama, remember his name. This Decatur kid has stacked up almost $190 million and doesn't have a banjo on his knee.
5. Tom Brady, QB $197.2 million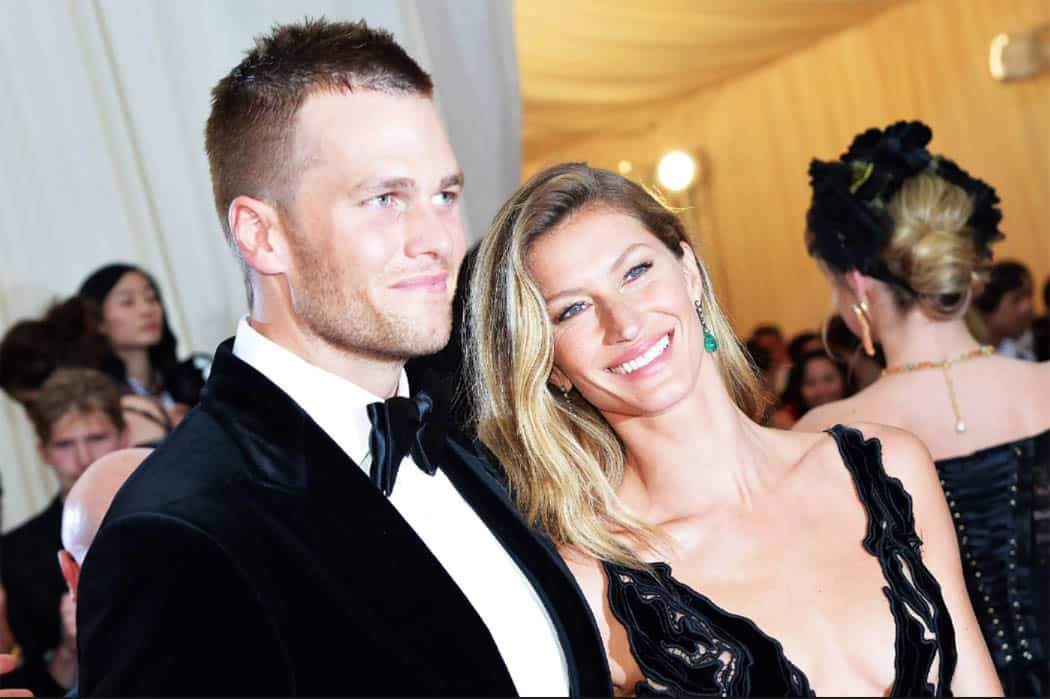 Super Bowls are a double edged sword, particularly if you're Tom Brady. Another win likely means another contract negotiation, which means pricing value against the teams pocketbook. Brady certainly has a solid reputation, and so does his off-season negotiation. Yet, the key to Brady's $200 million lifetime contract deals lie in the fact he essentially plays himself at a discount. That's right, for the past 10 years his willingness to accept lower salary fees gives the Patriots leeway to build a very competitive roster around their Hall of Famer quarterback. Salary-cap freedom is everything for team success. And it seems to be working, too. The Patriots have defied expectations and are the bane of many, because it's just not supposed to be this way. Unusual untimely injuries, salary-cap limitations and peak performance windows have given the NFL the moniker not for long. However, if you take a cue from Tom Brady you can not only beat the odds, but make a lot of money and leave a legacy behind you.
4. Drew Brees, QB $194.7 million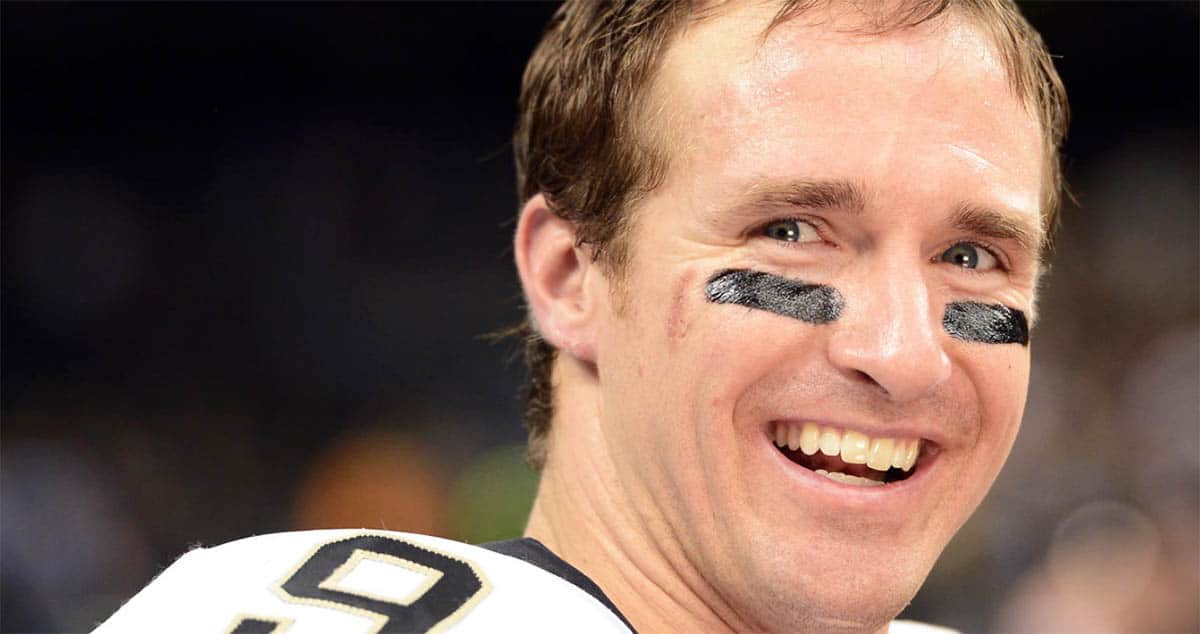 In addition to racking up monster contracts that net him almost $200 million, Drew Brees has made an impact on the NFL at large. You see, his recent grievance against the NFL surrounding his time with the Saints before he transferred has impacted the franchise tag landscape. Before his grievance, it was assumed that once a franchise tag was applied it only applied to that particular team. However, Drew was able to successfully argue that the franchise tag should stack from one team to the next. Therefore, quarterbacks like Kirk Cousins and Andrew Rodgers could potentially benefit from a 44% increase if they are traded within the next two years. This would have profound ripple effects throughout the NFL for franchise quarterbacks at large. Drew's prowess only proves one thing. When he says Who Dat? He means it! How many players do you know who have beaten the NFL at their own rules?
3. Eli Manning, QB $219.3 million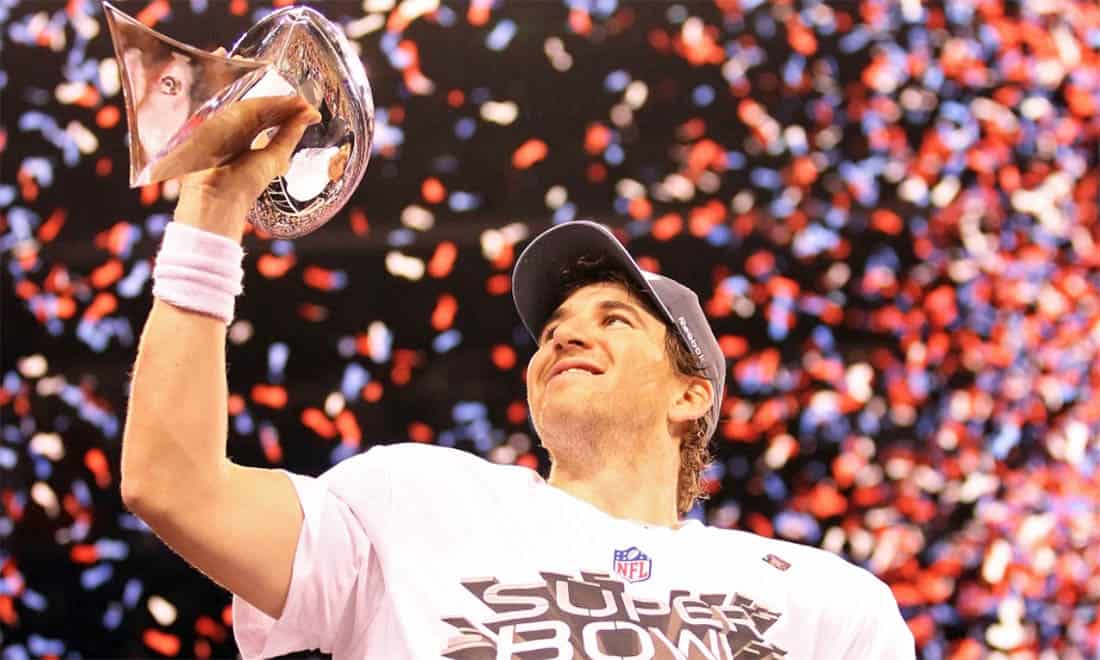 If you could score a four year deal worth $84 million you would certainly take it. If you're Eli Manning, however, that's just another successful contract negotiation. That's his latest round with the New York Giants that includes a $31 million signing bonus, $67 million guaranteed with an average annual salary of $21 million. In 2018 Eli is slated to take home a salary of $10.5 million with a roster and workout bonus kicking in another million dollars total. 2019 will see his salary increase by $1 million more. This is a far cry from the 2015 contract he was offered with a base of $5.5 million. That was still nothing to sneeze at. His yearly take-home cash was just north of $37 million. Today, he will take home more than $84 million. The next year will see it skyrocket to $101 million.
2. Peyton Manning, QB $248.7 million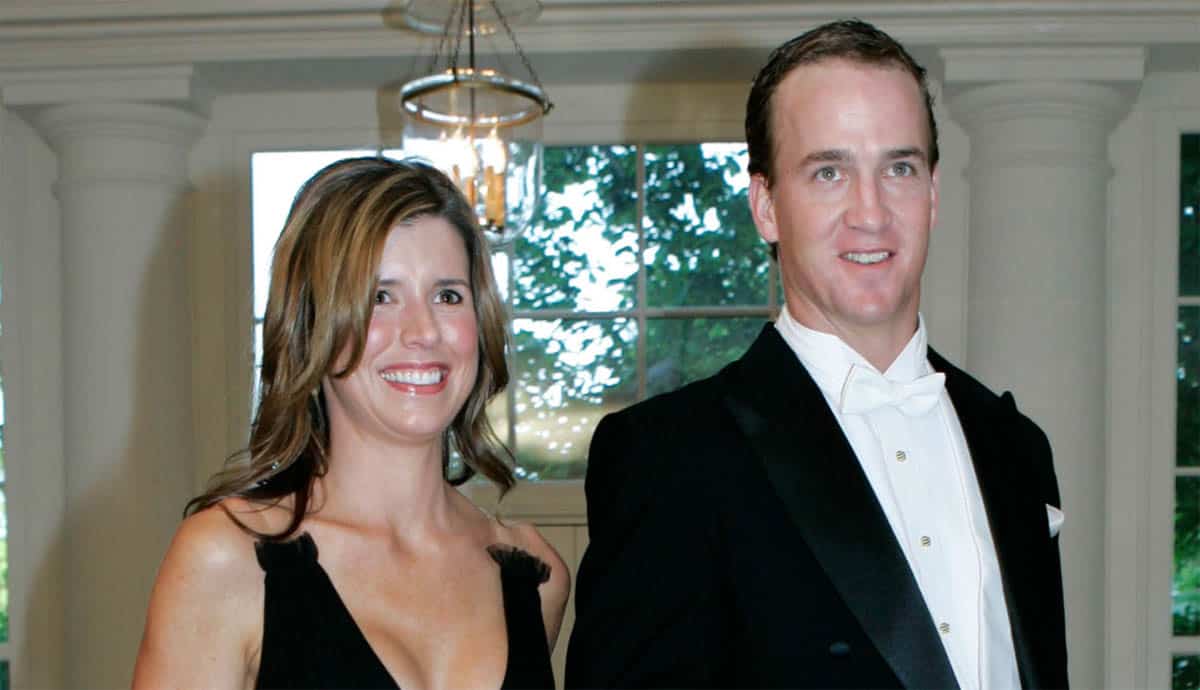 While Peyton's latest contract negotiation will earn him $248.7 million potentially, it is his career earnings that raise eyebrows. If you had to guess, what would you say he has made during his entire career? $200 million? 250 million? How about $400 million! His 2004 deal was the ultimate score. It was worth $99.2 million over seven years with a $34.5 million signing bonus. He continued to stack huge paydays after that with the Indianapolis Colts and his last four seasons with the Denver Broncos. While they forced him to take a $4 million pay cut for the 2015 season he recouped it through bonuses associated with the AFC championship and Super Bowl. So how does he make the rest of his money? He continues to make millions through his partnership with companies like Nike, Papa John's International, Nationwide, Buick, DirecTV and Fanatics. Well he may not have landed the biggest contract, he is certainly the number one top earner in the NFL hands-down.
1. Kirk Cousins, QB Potential $34 million per year deal, highest ever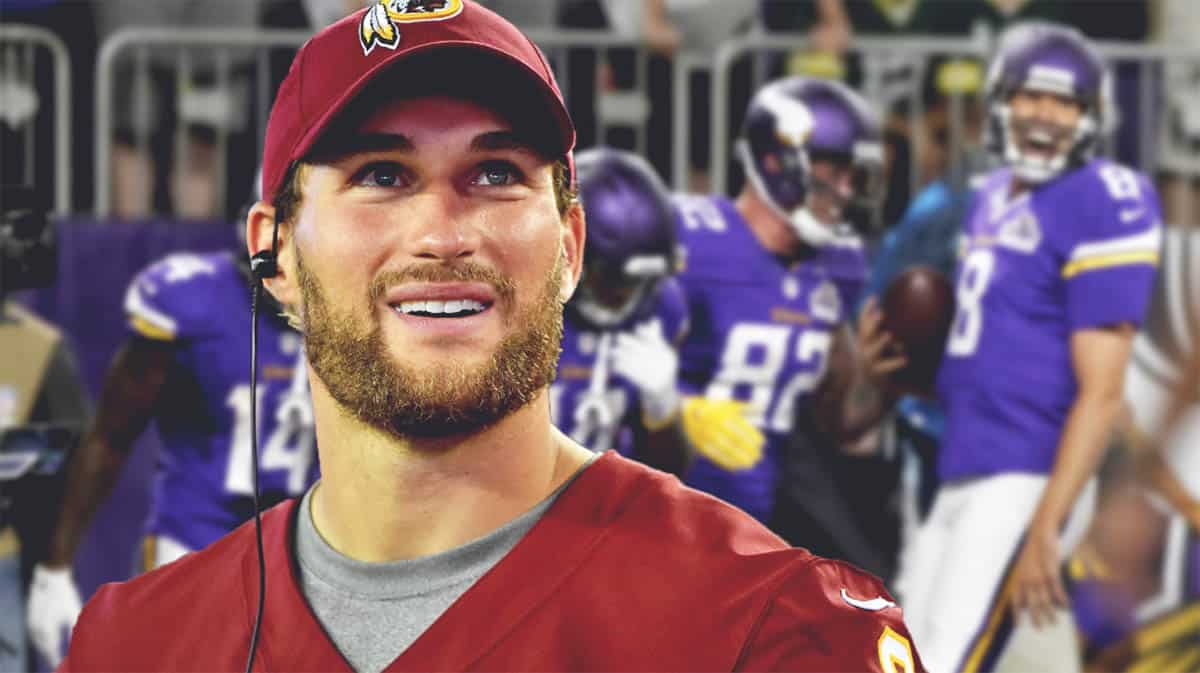 It seems like everybody is buzzing about Kirk Cousins lately. He has the potential to become the highest paid player in the NFL. Former Redskins tight end Chris Cooley (now turned sports radio host) hinted that an agent told him the Minnesota Vikings are ready to offer Cousins a three-year $91 million deal, guaranteed. Maybe it's just a bunch of spin, but there could be truth to it, considering the fact it falls in line with what the Jets are willing to pay. Projections say they are looking at $30 million per season for a total of $90 million in three years. So far, all sights are set on the Broncos, Vikings, Jets or Cardinals. Maybe a surprise team could throw a monkey wrench into the negotiations, but likely one of these four will make Cousins the highest paid player in NFL history. Of course, that's until next year when this list will change yet again.