25 Stunning Female Fitness Models and Trainers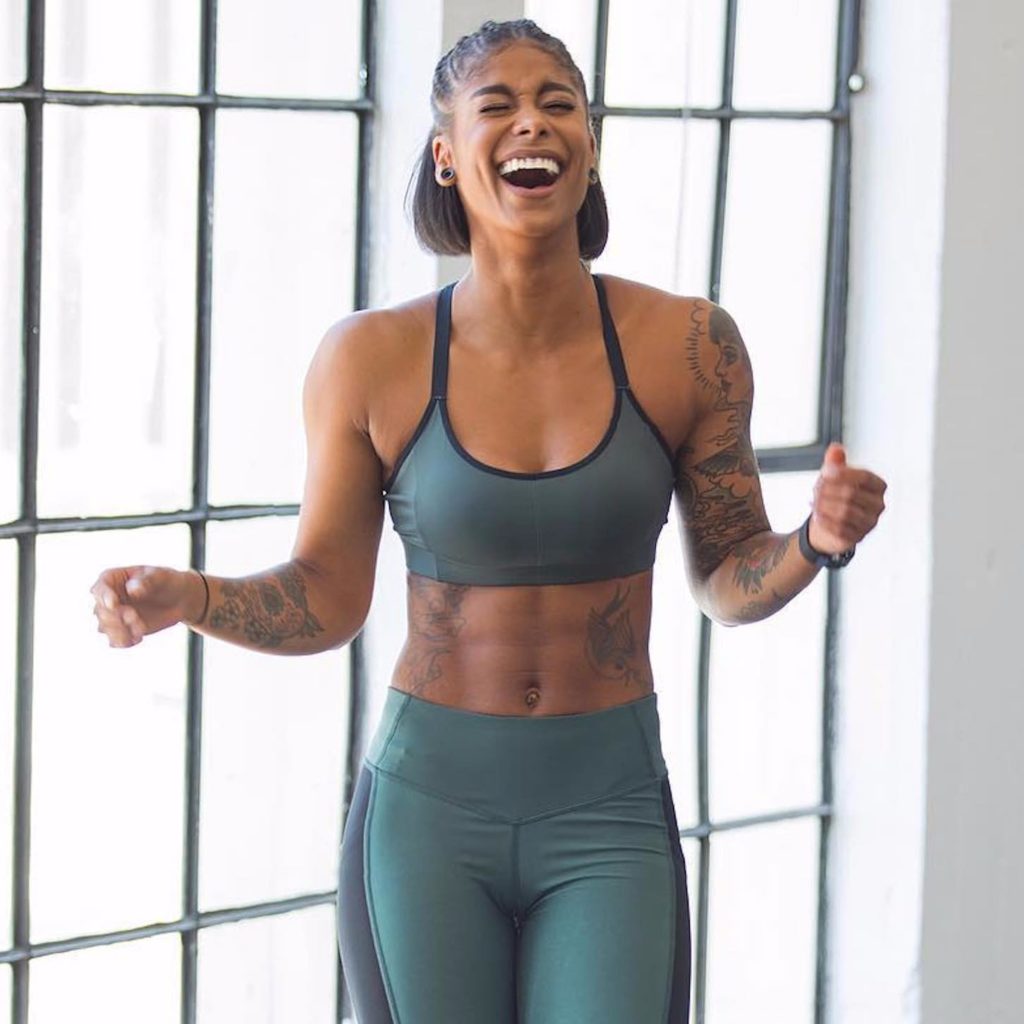 Allison Stokke
Whether you're a tried and true track and field aficionado, a fan of golf and you know about her through Rickie Fowler, or you remember her from the photo that turned her world upside down – you've probably seen or heard of Allison Stokke before. And if you haven't, well…here ya go!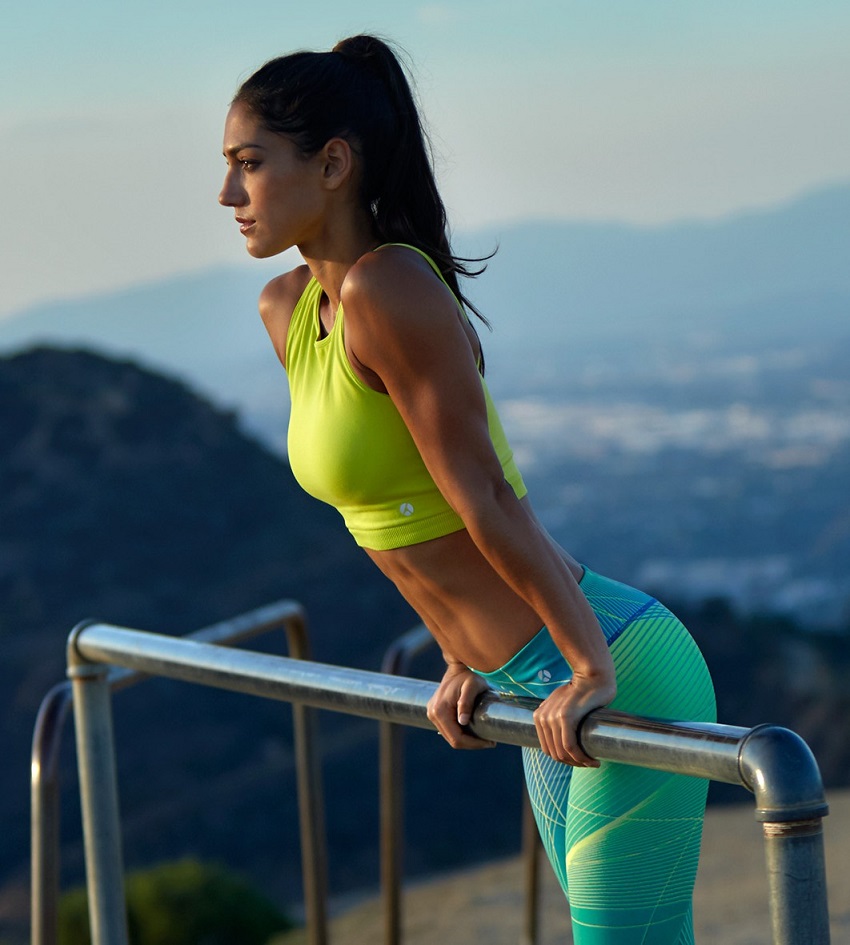 Allison Stokke Fowler is currently a fitness model and athlete for Nike, among other brands. She began her rise to fame as an All-American pole vaulter. She was an elite talent. But so are all of these women; as you're about to find out in the following photos. All of the following women are talented, professional trainers or fitness models. Enjoy!
Kayla Itsines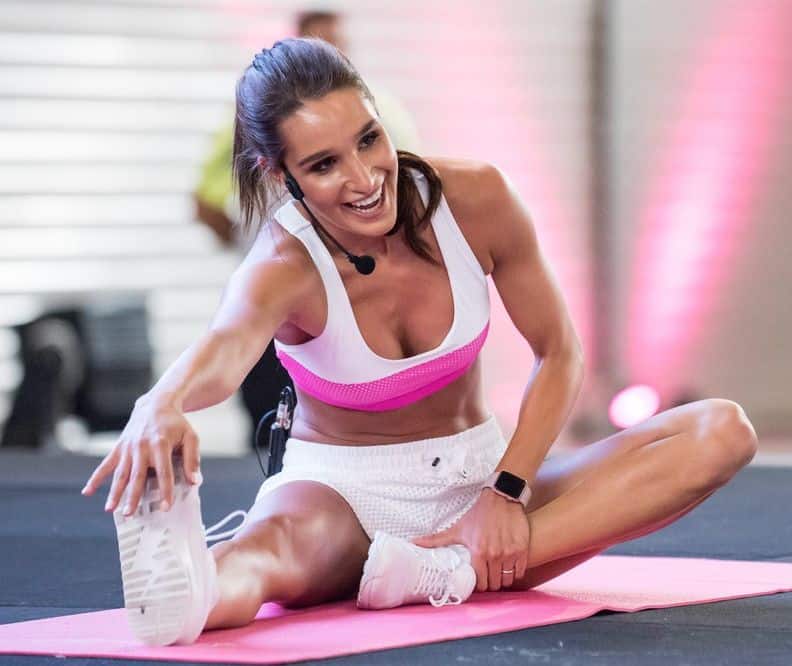 At number 24 we have a bonafide fitness mogul. Kayla Itsines is a beast of a trainer who just happens to be beautiful as well. Her site, "Sweat with Kayla" gives women everything they need to transform their bodies in 28 days, starting with BBG or Bikini Body Guide which has gained a cult like following. She has plenty of free information on our blog, but to really get the full skinny, users subscribe to her site on a monthly or quarterly subscription basis. She is known for doing tours across the US, Australia and the UK. That means no matter where you are, you should be able to bump into her if you can clear your schedule.
She has a healthy online following as well. Her robust fitness guides can be found on YouTube, Facebook and Instagram where she boasts an impressive 5.9 million followers. On that site in particular you can see before and after pictures of her clients as well as various healthy eating options and even a few pictures of her pets every now and then. Her fitness personality shows what is possible when you take an idea for promoting fitness guides and turn it into a multi-million dollar global business. Anything is possible, you just have to be willing to put in the work.
Jamie Eason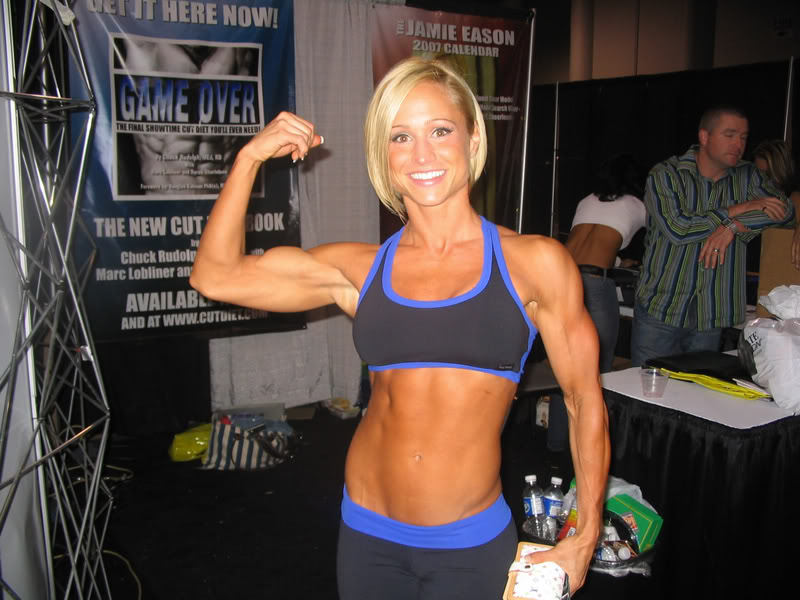 Jamie Eason might be one of the most recognizable names on our list, and for good reason. She's a legend in the fitness industry and at 40 years old, she's still going strong. A former NFL Cheerleader and winner of the World's Fittest Model competition, fitness has been on the forefront of her life for years. Eason is now the full-time spokeswoman for industry leader Bodybuilding.com and has been actively working to change the perception that women with muscles can't be feminine and that strong is beautiful.
Furthermore, she's a survivor of breast cancer, which she was diagnosed with at the young age of 22, and was diagnosed with Spina Bifida Occulta at the age of 28. Despite these hurtles, Jamie has excelled in her professional career and we expect to continue to see her active in the fitness community for years to come.
Jen Heward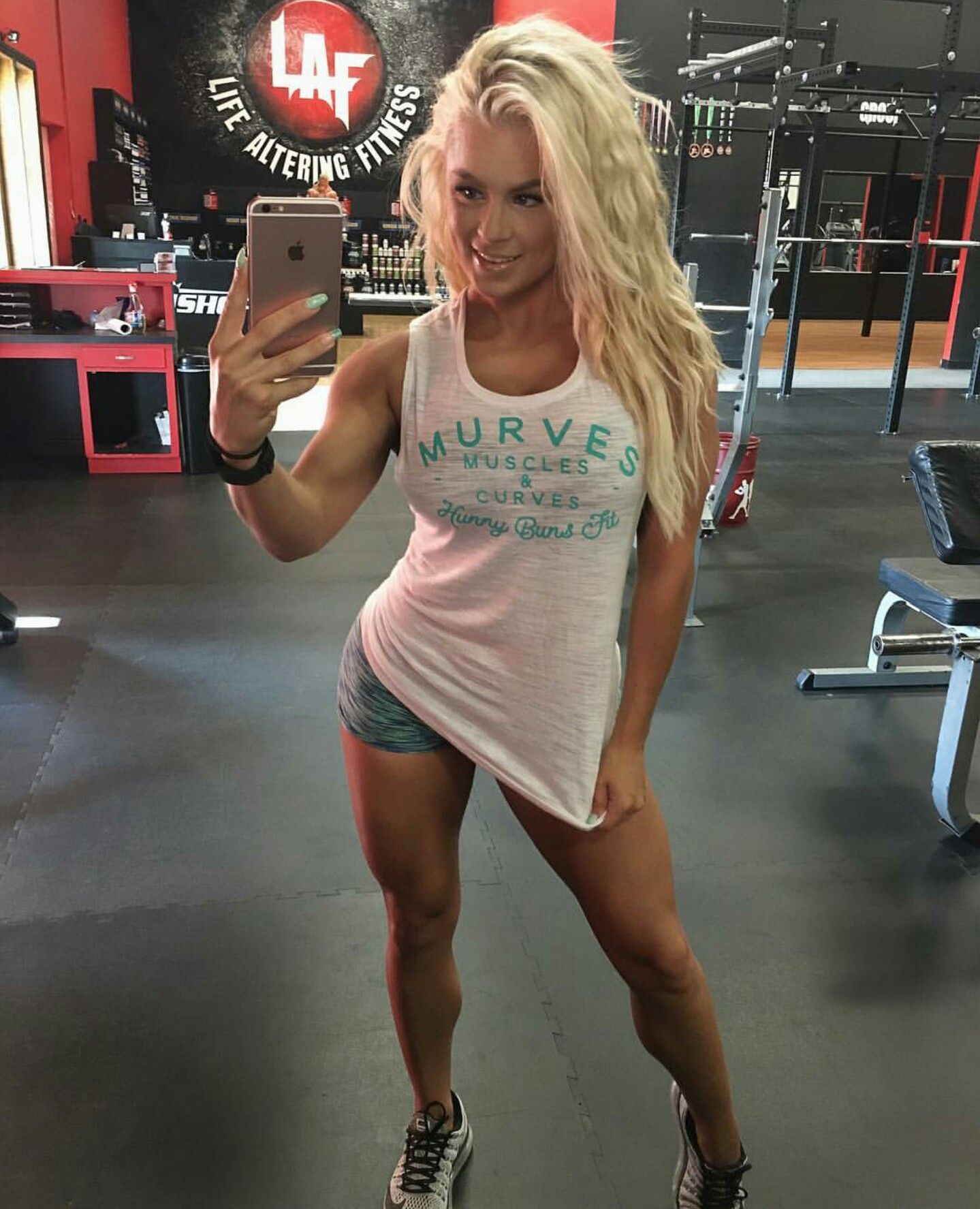 It's pretty evident just by looking at Jen Heward that she is a beast in the gym. In fact, she and her husband run their own gym in Auburn, CA called Life Altering Fitness INC. Heward has built a brand around her name, calling her guide to getting fit "Hunny Buns Fit". As a certified Sports Nutritionist, she offers up healthy lifestyle tips including recipes and work out tutorials on her own website, YouTube channel and app. For girls that want to get her look, she also sells work out attire, bathing suits and supplements. It's no surprise that Heward is so busy, though. She has built the body and look that girls envy and guys can't resist, proof that hard work pays off.
Jeanette Jenkins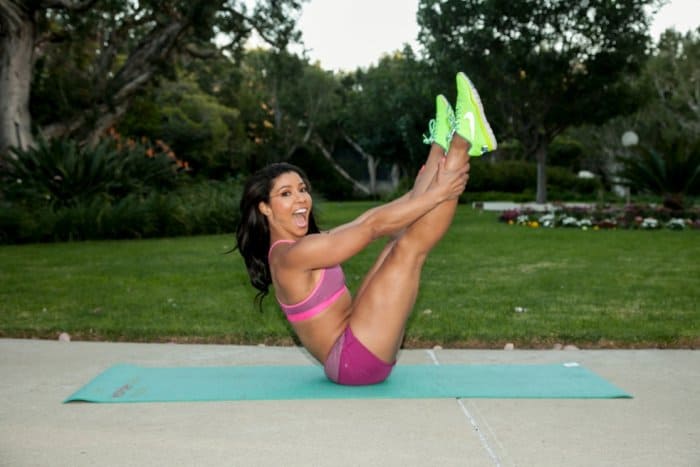 Known as "The Hollywood Trainer", Jeanette Jenkins has achieved the kind of success that fitness gurus everywhere desire to attain over the course of their careers. As the personal trainer for celebrities such as P!nk, Kelly Rowland and Alicia Keys as well as for professional athletes like Serena Williams and NBA star, Chris Bosh, it's pretty apparent that her fitness regimens are effective and tough.
Jenkins has explored nearly every avenue with her Hollywood Trainer brand including a book, DVD collection and a Virtual Online Weight Loss Club. She knows what it takes to whip people into shape and achieve results, so it's easy to see why so many have taken her lead.
Amanda Lee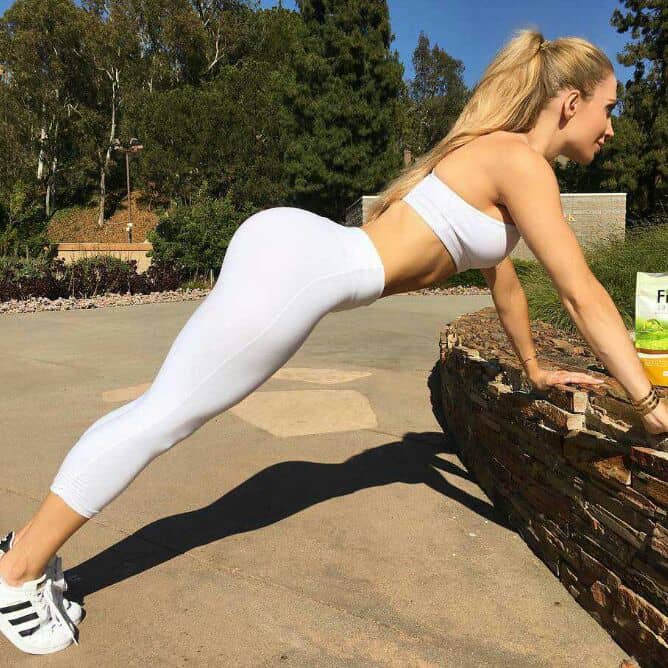 Our next fitness star is none other than Amanda Lee. If you haven't heard of her, you'll be thanking us soon. She's an LA-based personal trainer that has made huge waves on social media platforms. On Instagram alone she's amassed over 6 million followers. Take a look at her page and you'll see exactly why so many people are eager to see her posts everyday. She's widely considered to have one of the best booties on Instagram, which is quite an achievement given the sheer volume of fitness models on the social media platform. With all that fandom, it's no surprise she has built a brand around her name and has a popular website and app to help women everywhere build their derrierè's and get into the best shape of their lives.
Kaisa and Jennifer – Two Bad Bodies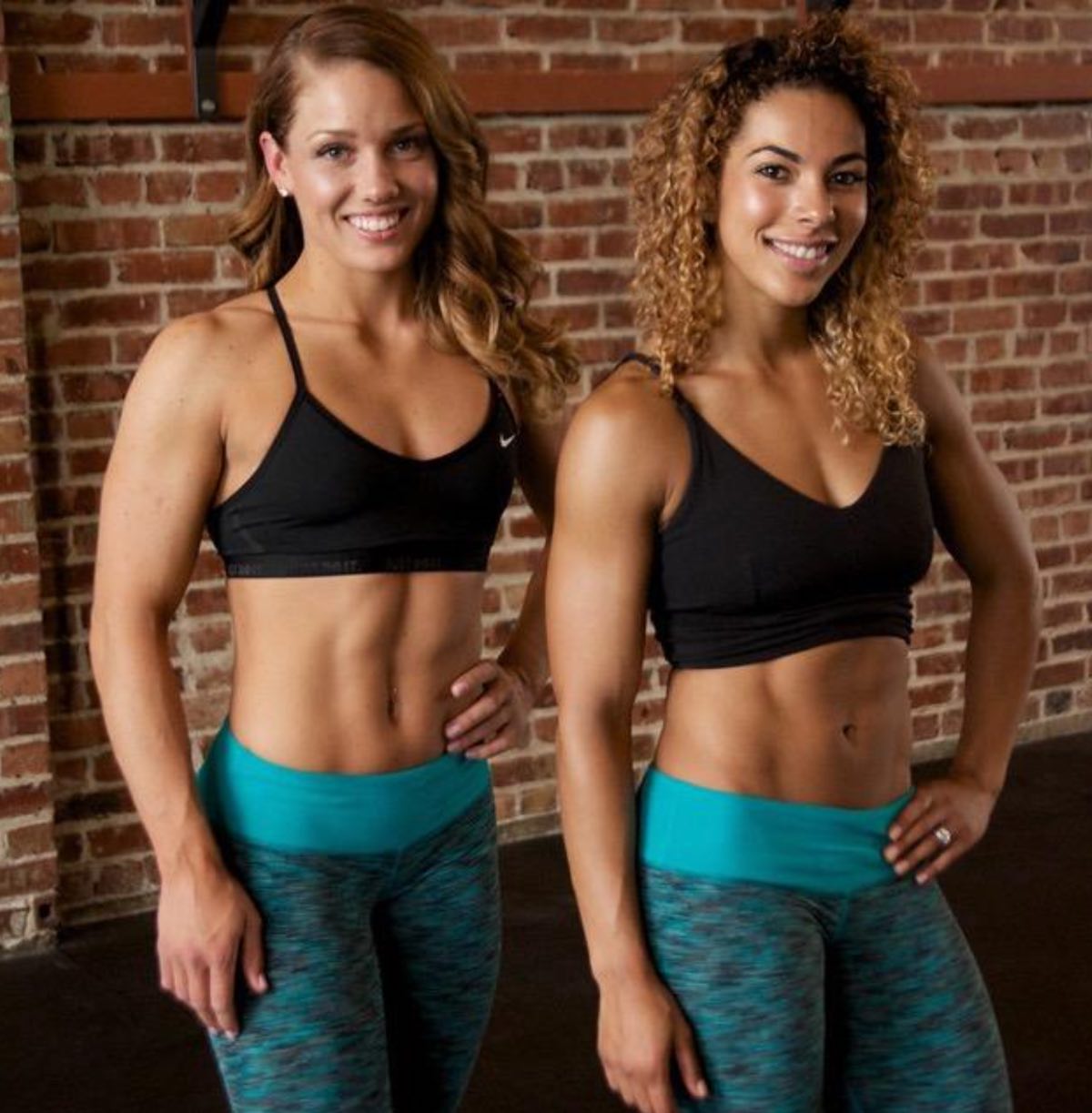 Known as Two Bad Bodies, this female workout duo packs quite a punch in the gym and in person. Beautiful in their own right as individuals, they excel as a workout team. It's what makes their Instagram account so exciting. They feature short workout videos for their 340,000+ followers. Every now and then they even post pictures of a healthy meal involving tuna or some delicious chicken dish. It's enough to make your mouth water. No, I'm not talking about the girls, but the food.
It is intersting to note that their account will soon be deactivated as they each will have their own Instagram accounts. It does not mean they are splitting up though. It's probably just a marketing move to cement more presence and help raise brand awareness. As for Kasia and Jennifer, their story begins 10 years ago. They met at the University of Washington. Both members of the track team, they decided to pursue their masters in fitness and nutrition after graduation. Since then, they have been working together, proving to the world that it is possible to turn your passion and friendship into a full-time business. They would tell you it is the most rewarding thing you can do with your life.
Cassey Ho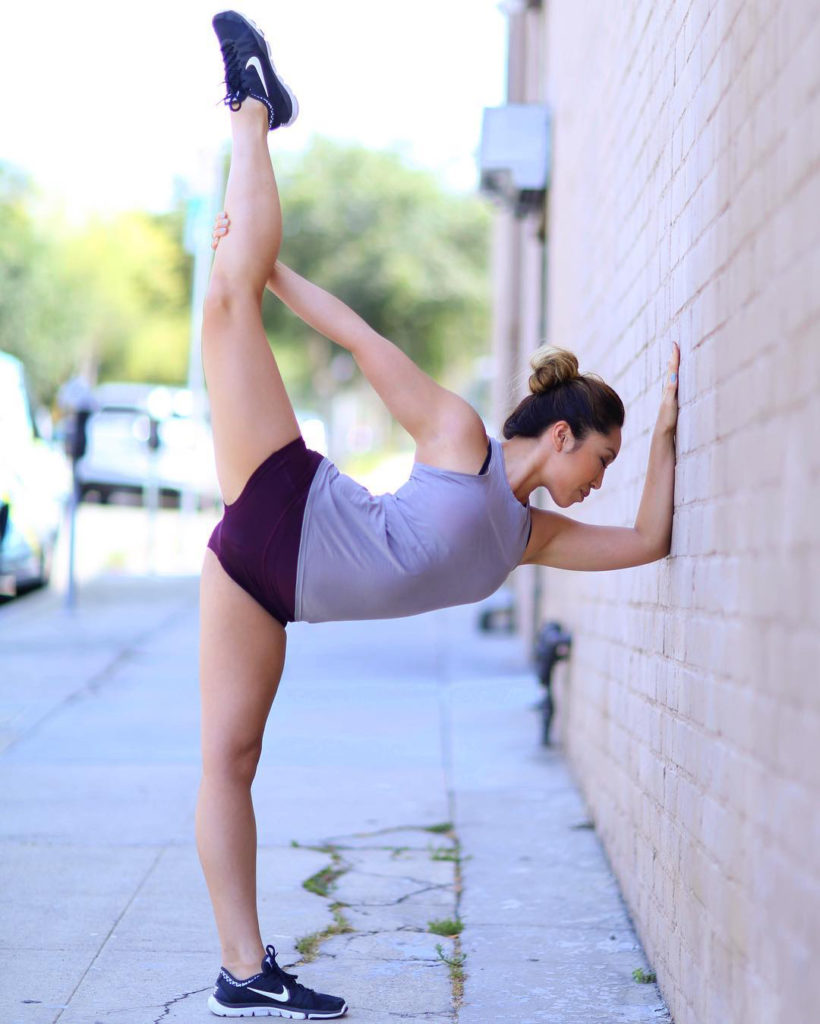 You know you're doing something right when you create a whole new buzzword in your field. Meet Cassey Ho, the creator of Blogilates. As a pilates instructor, Cassey decided to make her hobby her career after realizing her former job as a fashion buyer wasn't making her happy. Cassey's method of fitness focuses predominately on pilates with a focus on positive body image and realistic goals. In fact, she once went toe-to-toe with the shopping superstore Target after noticing they photoshopped a model of their clothing in order for her to have a "thigh gap". She wants women to realize that not all body types are the same and to be happy with yours regardless of whether it looks like many of the model's in the public eye. Her positive outlook and hugely popular YouTube channel secure her a place on our list.
Massy Arias
Our next fitness star has a story of her own. It is an emotional one to be sure. You see, Massy Arias went from being clinically depressed to a well-known social media fitness superstar. The transformation was remarkable. Of Dominican descent, she hails from Los Angeles. The 26-year-old told people magazine that she wasn't born with the typical Latin body, because she was always skinny. Yet, she was depressed. In her early 20s she had a combo involving her brother sick with cancer and her own abusive relationship. She spent several months in a dark place and eventually started losing her hair. She turned to fitness as a way to deal with the depression and what a transformation it has been.
Now she is one of the more well-known fitness stars online, garnering just under 2 million followers on Instagram. Her Facebook and Twitter pages are replete with her tips and tricks to getting and staying fit. Sometimes desperate times call for desperate measures, and Massy's story shows how positive the outcome can be. If you know people who struggle with their self worth, her story is one they should check out. They could be a completely different person in a year's time with her help.
Zuzka Light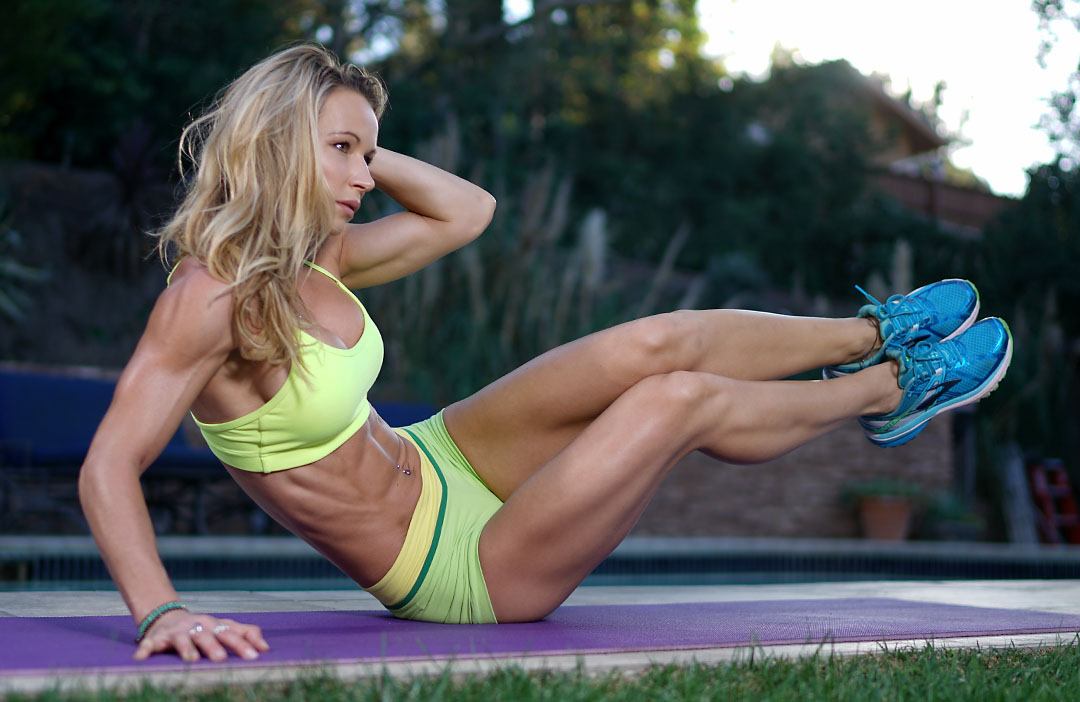 Czechoslovakia-born Zuzka Light is as chiseled as they come. Her home workouts are helping gym-shy men and women everywhere get in shape. She is passionate about getting short workouts in throughout the week to achieve goals, making the workout process much less daunting and time consuming for those that may feel intimidated at the thought of getting started. Her book,
15 Minutes to Fit
, goes more into detail about this method, and judging by her personal body results, she knows what she's talking about. Her website and YouTube channel have a multitude of resources for staying healthy, including detailed workouts and recipes. Followers of Zuzka's method even have their own name – WarriorZ.
Jessie "Babyfit" Delgado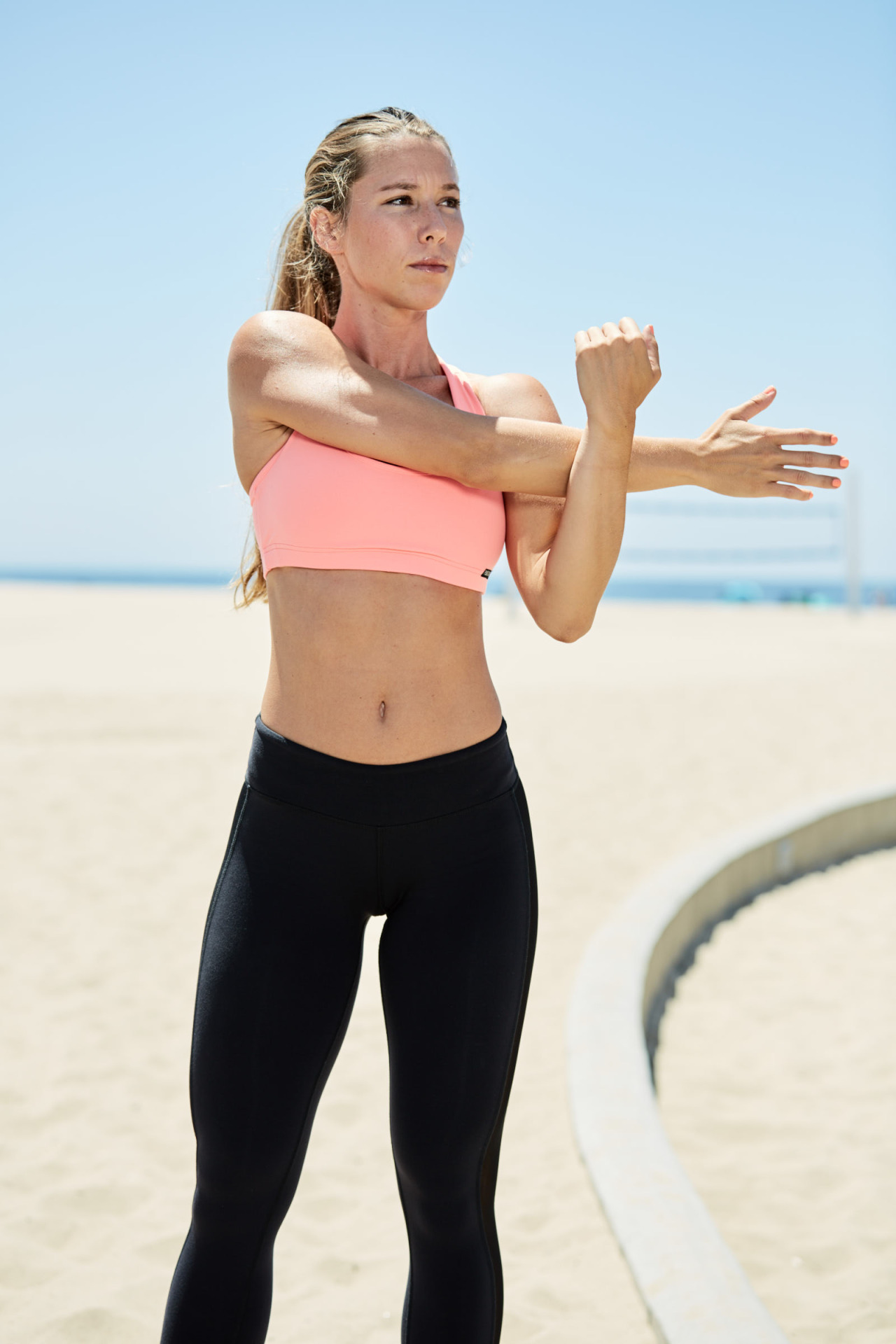 Our next beautiful fitness star is Jessie Delgado. While not a professional fitness trainer, she definitely knows her stuff in the gym and she's got a body to prove it. Delgado was born and raised in sunny San Diego, California, so being active outdoors was second nature. A self-proclaimed beach bum, she knows the importance of looking and feeling good in a bathing suit and we think she's figured out the secret seeing as she's rocking on the most impressive bodies we've ever seen.
She's gaining an impressive presence on social media with over a half a million followers on Instagram alone, and she's recently started a blog to keep those followers happy and engaged with the Babyfit name. Check out her page when you have a chance, we promise you won't regret it.
Jelena Abbou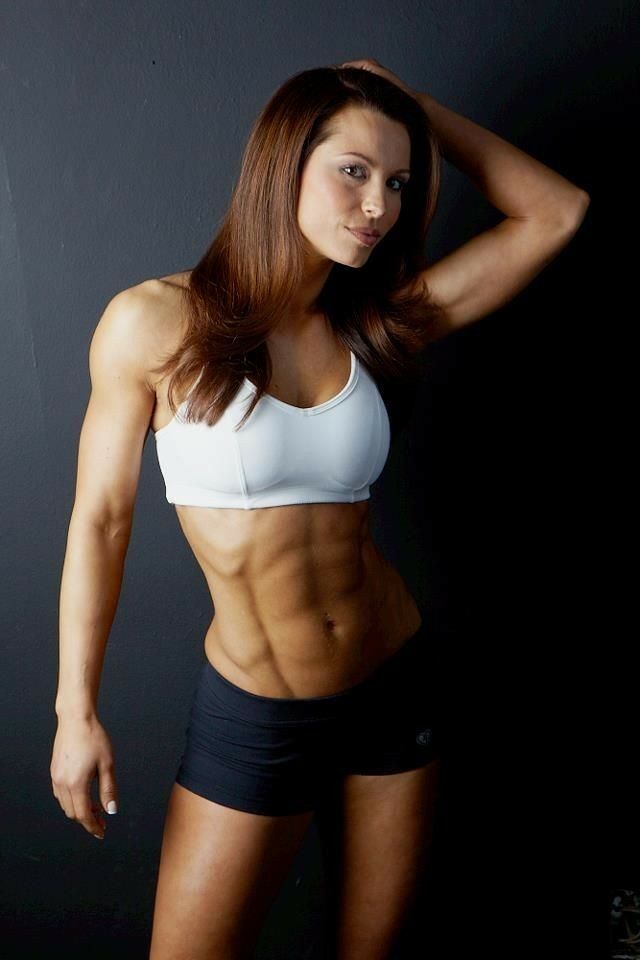 Next on our list is a well known fitness model and personal trainer by the name of Jelena Abbou. Born in Serbia, this exotic beauty has graced the covers of nearly every major fitness magazine on the market including
Oxygen, Women's Exercise, Flex,
and many more. Abbou has also competed extensively in the fitness modeling arena over the years and has a book called
Revealed…The Guide to Looking Like a Fitness Model in Less Time and More Balance
. Jelena now lives in New Jersey and continues work as a both a fitness model and respected personal trainer.
Marzia Prince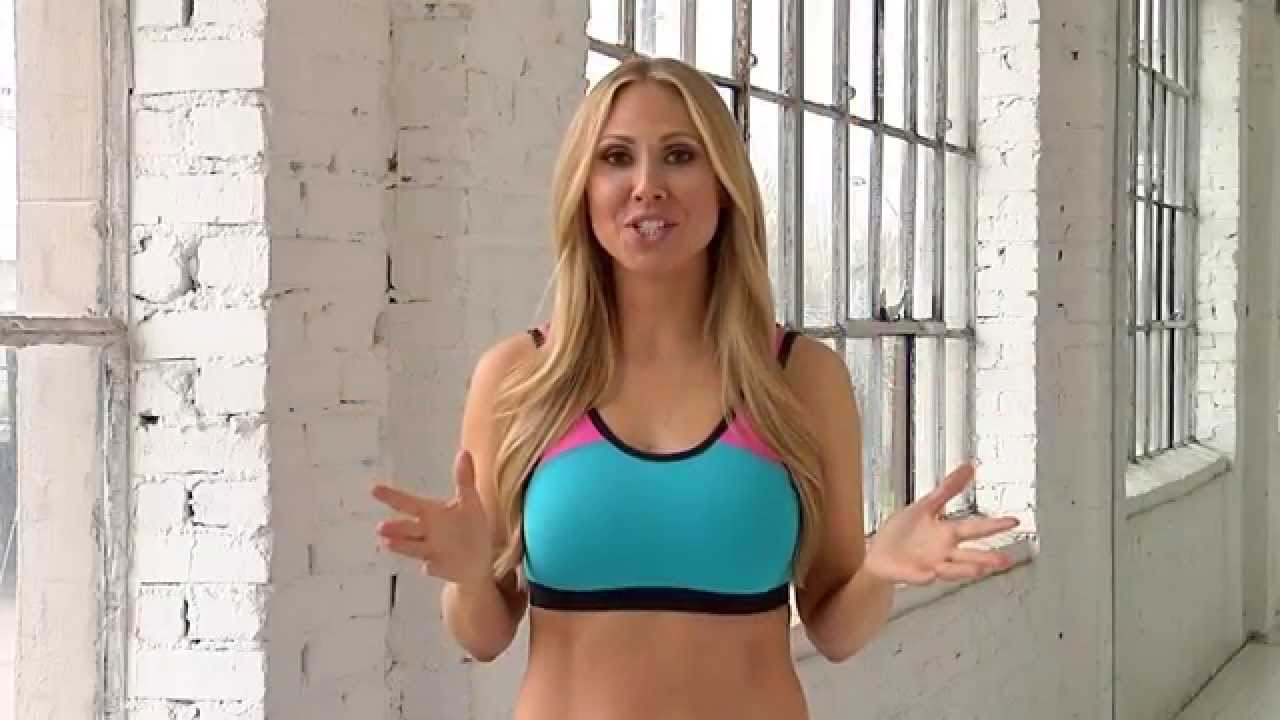 If you're familiar with professional fitness modeling, you've likely heard of our next fitness star. Marzia Prince is a blonde bombshell that's serious about fitness and health. She's a certified personal trainer and spokeswoman for supplement brand Gaspari Nutrition. Prince is passionate about the vegan/raw/vegetarian lifestyle, and often speaks about the benefits of the diet when interviewed. Furthermore, Marzia is a IFBB Pro (International Federation of Bodybuilding and Fitness) and in 2007 she won a little something called the Ms. Bikini Universe. Fit females everywhere look to Marzia for inspiration, especially considering she didn't even start her fitness modeling career until the age of 32. A quick Google search of Marzia will further explain what makes her so special. She's definitely one of the best fitness models in the business.
Nicole Winhoffer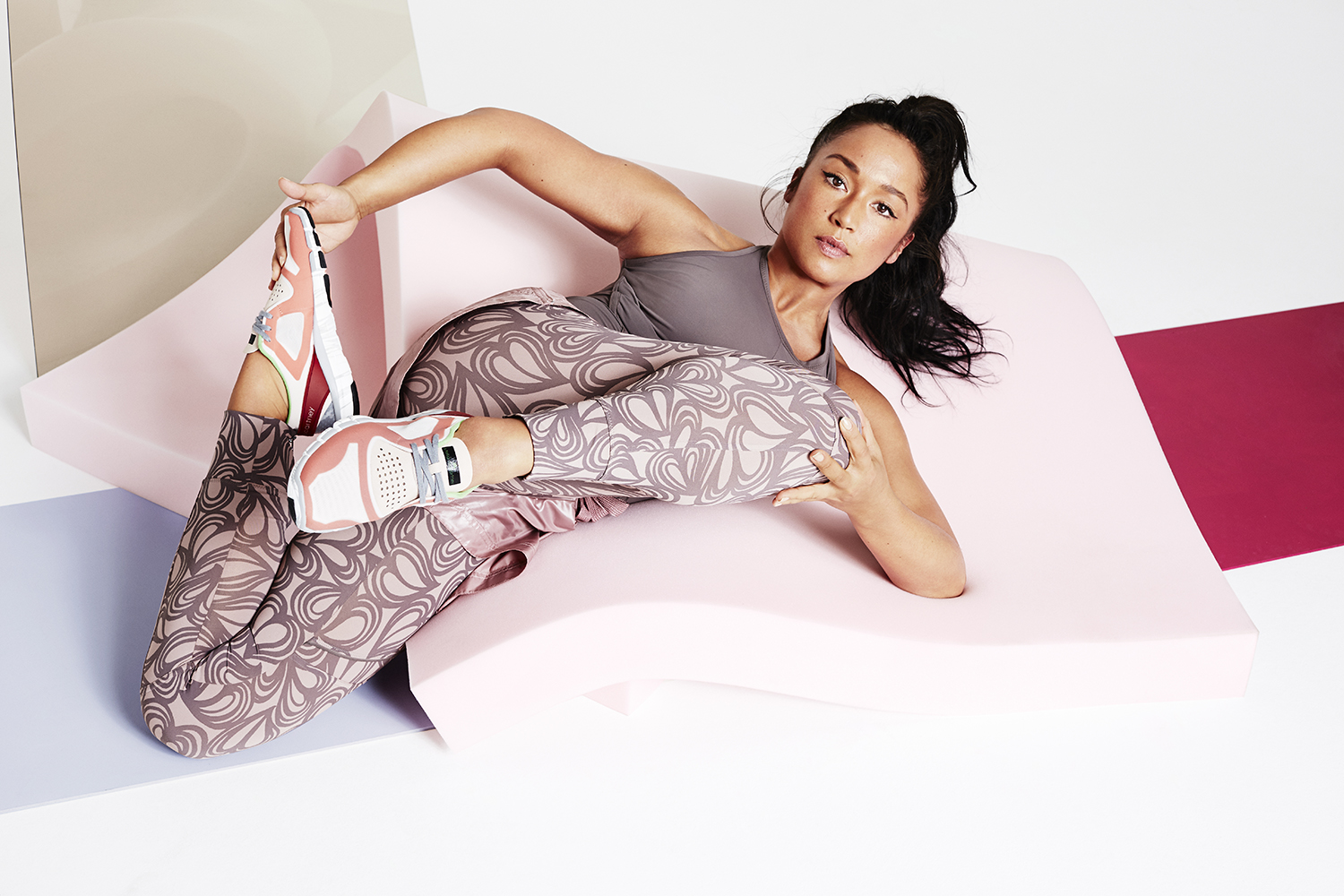 Nicole Winhoffer has created a whole new method for her fitness followers. This inventive young lady has developed what she calls The NW Method which combines a number of health and wellness disciplines into one, comprehensive lifestyle guide. Using elements of both sports science and eastern principles like acupuncture and chakras, Winhoffer has found a way to allow her fitness followers to discover their own strengths and passions. Her inventiveness has caught the attention of other creatives, including fashion designer Stella McCartney who invited her to be the only Global Ambassador for her collaboration with activewear brand, Adidas.
Christmas Abbott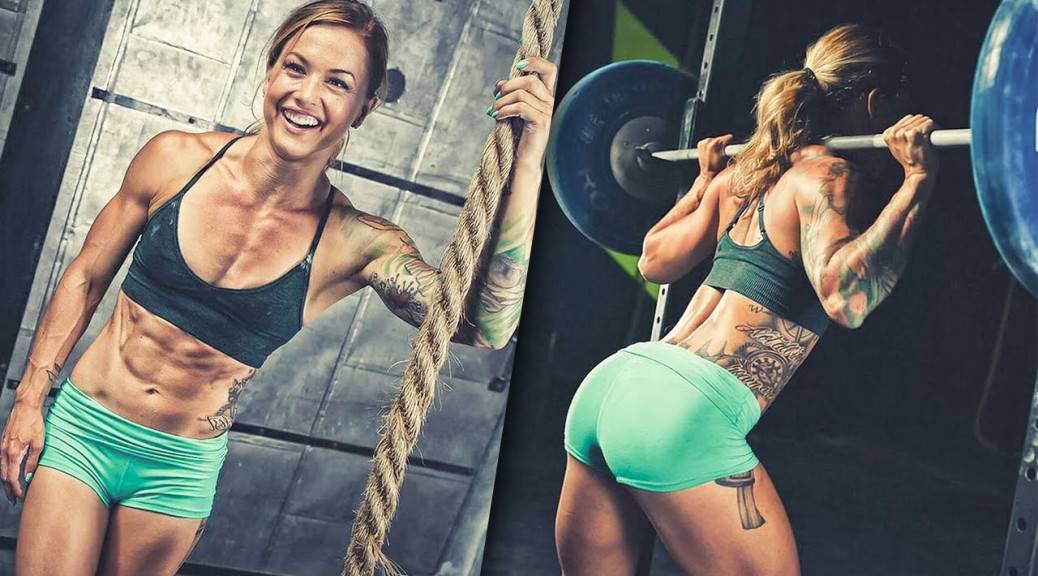 Christmas Abbott has made a name for herself in the fitness world as a hardcore, body transforming machine. She's not just a pretty face in the industry, but a certified professional athlete. With titles like Olympic Weightlifter and widely recognized Crossfit Games competitor, you know she walks the walk. Furthermore, she's created her own diet regimen turned book called
The Badass Body Diet
. It's no wonder she's graced the front of fitness magazines and served as keynote motivational speaker at events across the world. A couple of fun facts about Christmas: She's the first woman to become officially a part of a NASCAR pit crew, and Christmas is a Christmas baby. Shocked?
Alicia Marie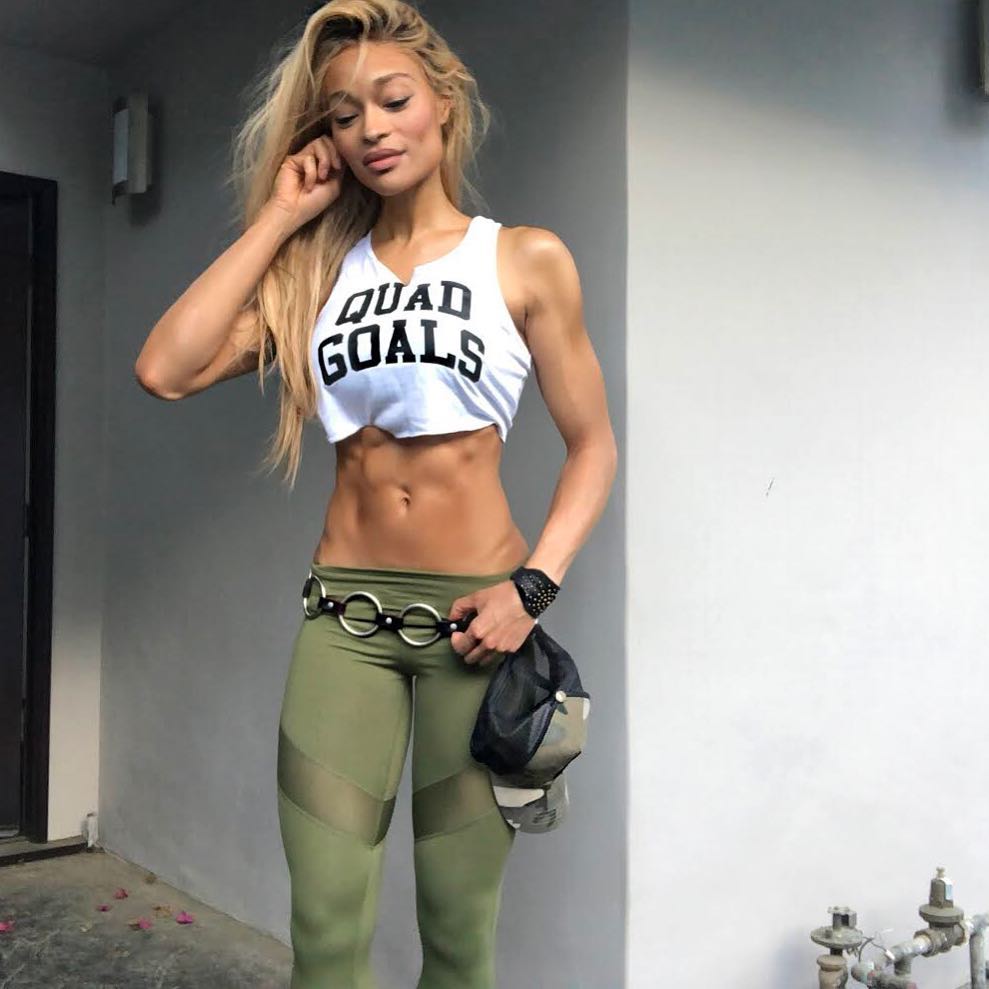 Our next beautiful fitness star is Alicia Marie. This fitness supermodel is all about the booty, and if you want one like hers, you can buy her book
The Booty Bible
. She's graced the covers of
Oxygen, Fitness RX, and The South
magazines and has been featured in many more.
Marie is also recognized for something that couldn't be farther from the fitness world – Cosplay. That's right, beautiful Alicia is a self-proclaimed fitness nerd and is a life-time lover of comic books and technology. Her cosplays are so impressive, she was featured on the front of The Huffington Post's Freaks and Geeks Special Edition in her take of DC Comic's 'Poison Ivy'. Check out her Instagram account for more photos of cosplay and fitness model awesomeness – could there be a better account?
Natalie Uhling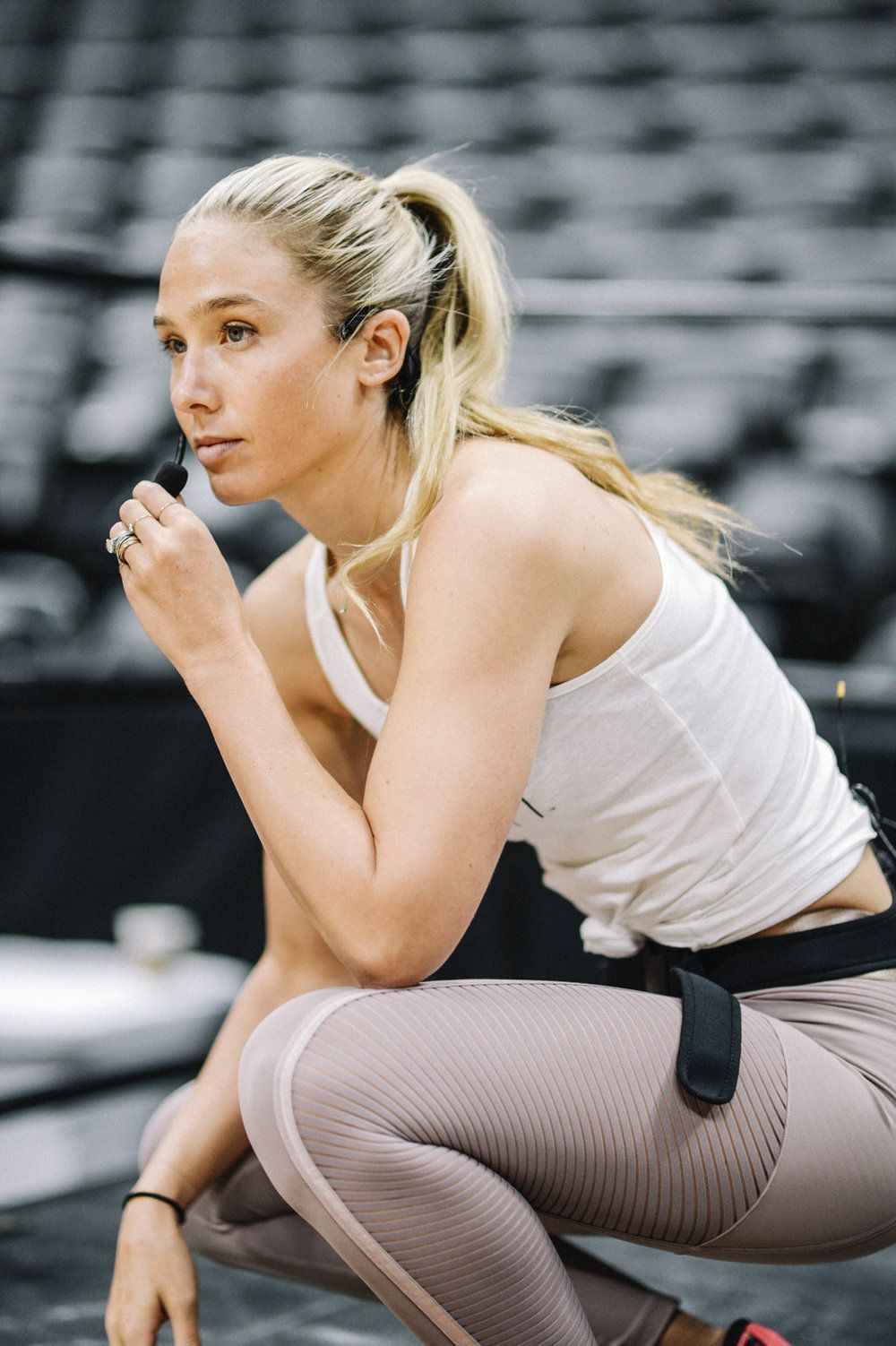 There's just something special about Natalie Uhling. Of course, she's gorgeous, but she also has an energy about her that we seem to gravitate towards. Natalie is on the rise in the fitness industry and she's accomplished plenty already. She's currently the face of Under Armour Women (athletic clothing brand) and has developed her own work out method that has caught the attention of many. Professional athletes like Sloane Stephens (tennis pro) and Olympic Soccer Gold Medalist Kelley O'Hara subscribe to Uhling's NUFit Method. This unique workout incorporates two of Uhling's favorite exercises: Kickboxing and Dance. It sounds like Uhling could be the next big thing in fitness!
Amanda Bisk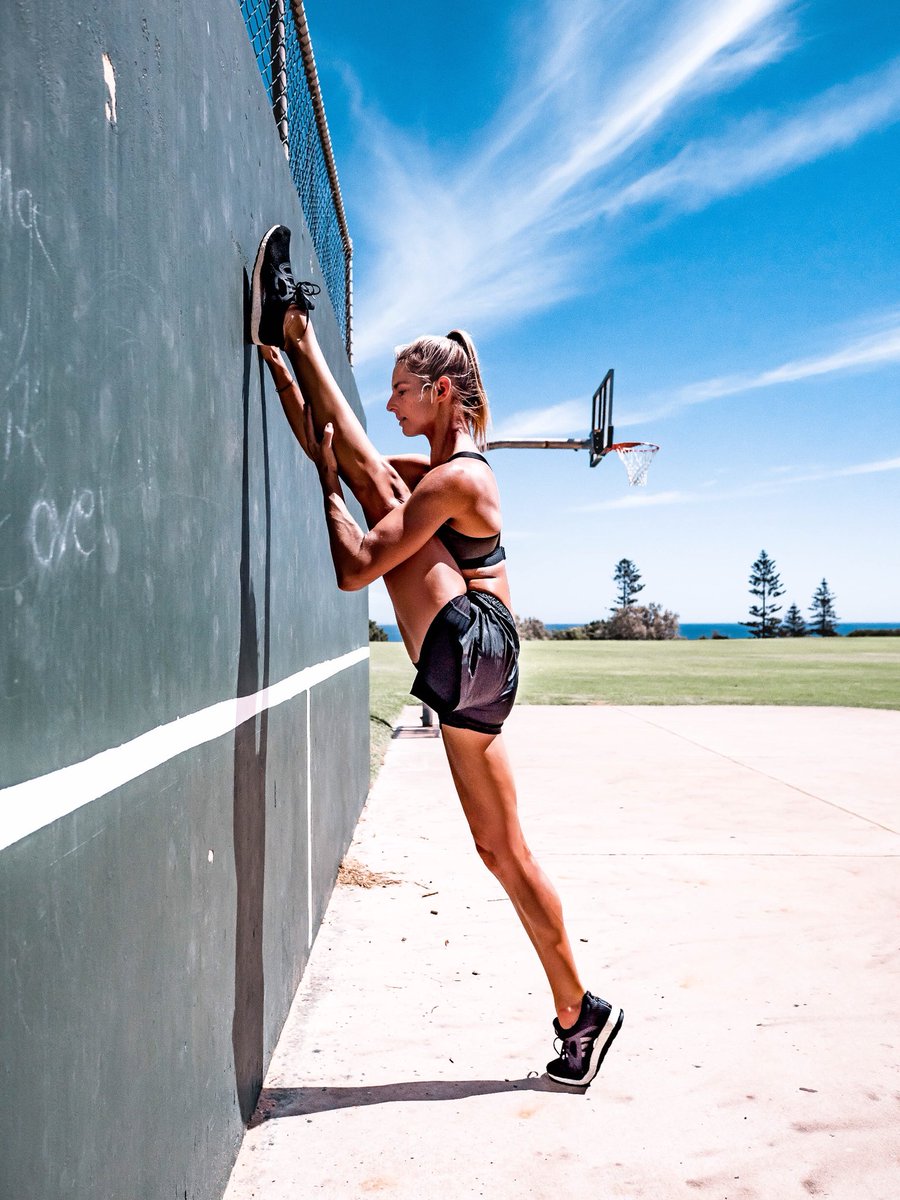 Most of our fitness stars were athletes at some point in their lives, but our next guru is our only former pole vaulter! Australian Amanda Bisk was an Australian Olympic hopeful before she was forced to quit due to an ongoing health issue. Fast-forward five years, and she's now as active as ever, minus the pole, and leading over 600,000 followers on Instagram to a healthier, more fit lifestyle. Bisk incorporates a variety of disciplines including yoga and HIIT (high intensity interval training) and develops easy to follow workouts for her subscribers. You don't want to miss her photos on Instagram. She's got yoga poses you didn't even know were possible.
7. Anna Victoria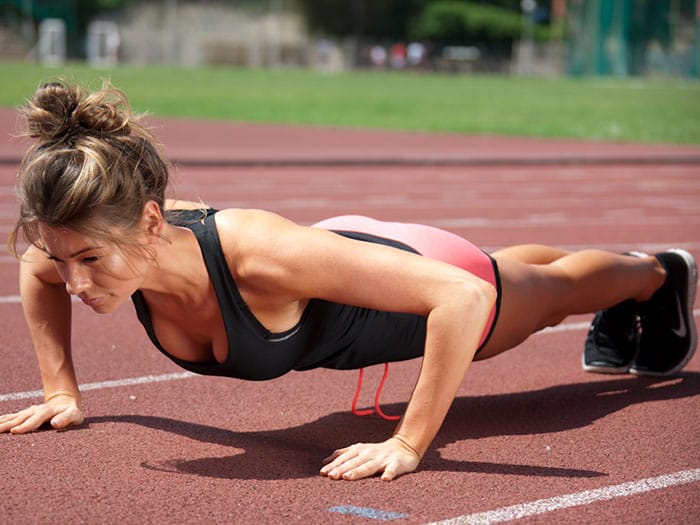 Anna is known for her online guides for staying fit. She has several different eating plans and fitness workout routines on her site. In fact, that is what she is known for. She believes people can be transformed if they follow the right routine. She has plenty of them to offer too. She loves the results that her clients get from her 12 week fitness programs. She's been featuring
Glamour, Allure, Shape
and
Cosmopolitan
magazines.
On her site you can find various success stories from those who have taken her courses. Her Instagram and social media pages are replete with photos and videos of various workouts you can do at home. Oh yeah, she has just over 1 million followers on Instagram too, so she is no light weight, that's for sure. To find out more and get a little more in-depth view of her programs head over to her YouTube channel. The videos are longer and quite helpful if you are looking to tone and sculpt your physique. They dovetail nicely with the routine structures featured on her website. Hey, we all need a little motivation in life so why not use a beautiful fitness model as our carrot?


6. Karen and Katrina
 – Tone It Up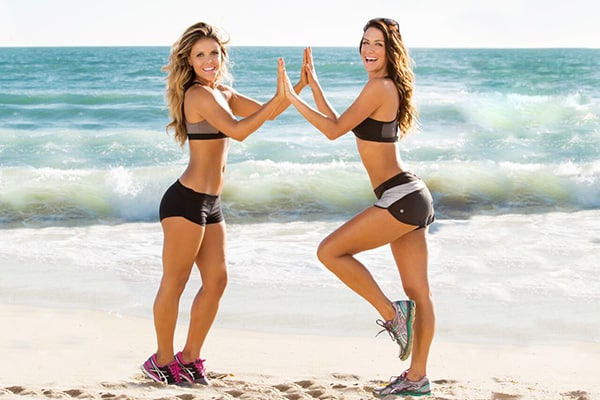 These two are known as the Tone It Up girls. They founded the company in fact. It's a place where women of all ages can come together in community to work together and achieve common goals. The encouragement and safety of their workout community is why most women choose their work out programs. These two have achieved national fame status being featured in publications such as
Shape, People, Women's Health
and
Cosmopolitan
to name a few.
Forbes
even did a feature story on them detailing exactly how the two turned their fitness passion into a multi-million dollar empire. It seems that just like working out, a lot of perseverance and consistency are required if you want to be a millionaire. Who knew, right?
Check them out across social media and you'll see that they have tons of followers, particularly on Instagram (659K). Not bad for a couple of friends who decided to pitch their workouts to reality TV circuits. That's right. It's how they got their start. The show followed the two around by day at their jobs, then featured their workouts as part of the content. We would say it payed off. They would say it payed off royally!
Izabel Goulart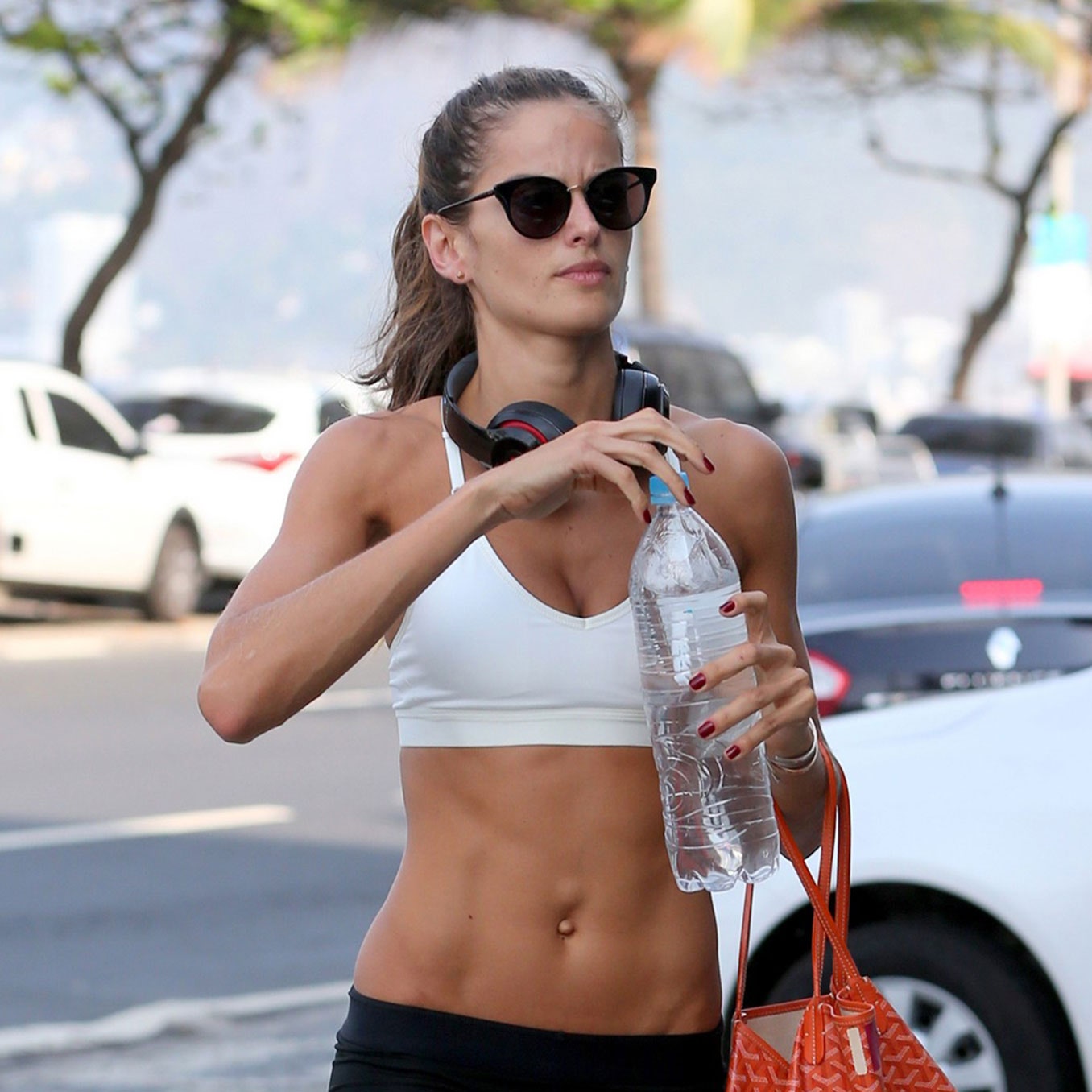 Our next fitness phenom happens to be a model. In fact, she happens to be a Victoria's Secret model who has also done extensive work with Armani Exchange. That's right, I'm talking about none other than Izabel Goulart. Not a bad pedigree eh? Her Instagram boasts an impressive 3.2 million followers and her Facebook imagery is full of stunning images of the beautiful fitness model. That's right, she turned to fitness modeling after a successful traditional modeling career. As of 2016, she began a campaign with arguably one of the most recognizable athletic companies in the business: Nike.
She also has her own workout method called "Body By Iza" consisting of plyometric workouts using everything from pilates machines to TRX bands. All you have to do is take a good look at her seriously toned body and the results speak for themselves! If you want those kind of results, it might be worth looking her up on social media and mimicking her routines! You can also find her in the Victoria Secret fashion show, which she's been rocking for the past 12 years!

Base Body Babes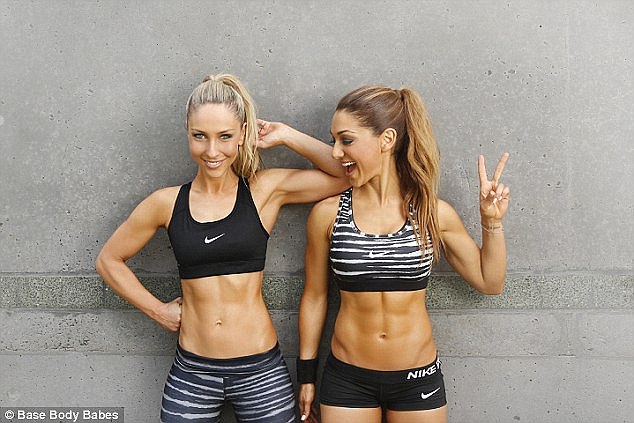 So what do you do when you need a little bit of extra encouragement getting in shape? Simple. Turn to the base body babes for all the motivation you need. On their website, they give you tips to help keep you in shape. Yet it is the sisters Felicia and Diana, behind the magic, that are the heart of the business. That's right, Base Body is run by two sisters who have experimented with just about every type of food and popular training fat in existence. They have taken their knowledge and trial and error, mashing them together to come up with a comprehensive program involving strength and circuit style resistance training.
They even sell their own workout gear too! They can train you individually, in a group, boot camp style or even online. They have really taken the time to make sure every individual has access to their resources. For kicks, head over to their social media pages, particularly Instagram. And you will see they have amassed quite a following. They have crossed the 600,000 follower market and are well on their way to one million. Not bad for a pair of Australian sisters who wanted to share their passion for fitness.


Misty Copeland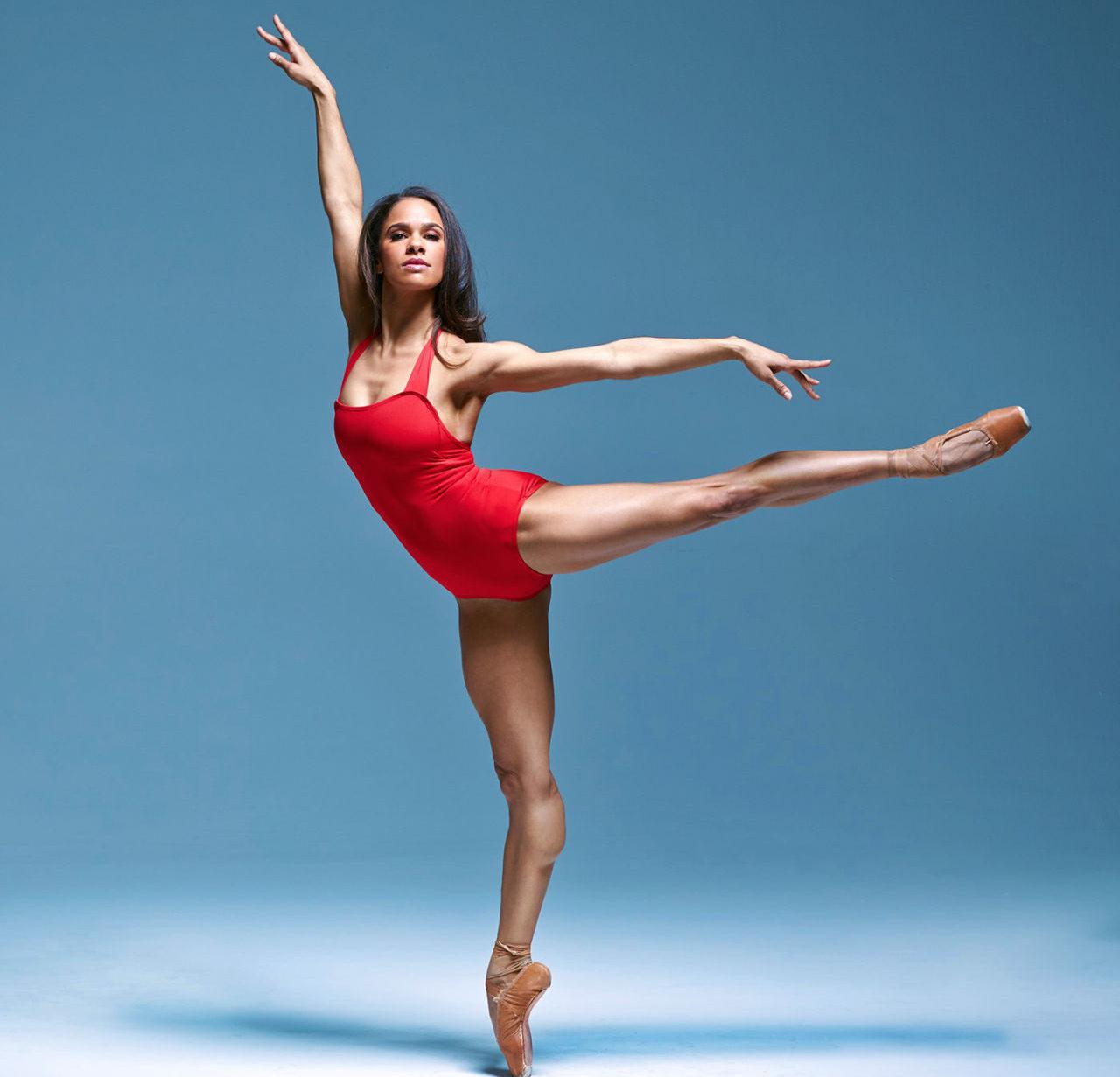 There are many ways to get fit. So far, we have seen individuals involved with traditional style workouts and outdoor activities. Well, let's throw ballet into the mix because that's what our next gorgeous fitness personality does. Misty Copeland has made her mark as the first African-American female principal dancer to work with the prestigious American Ballet Theatre. The work is grueling, but then again so is she. She wakes up extremely early when on tour, to squeeze in a pre performance workout.
At night, she can often be found performing a post workout to condition her muscles for the next performance. Never want to take a day off to rest on her laurels, Misty constantly works to push the envelope and make sure she exceeds her own expectations. You can find her on Facebook and Instagram where her followers ring into the tune of 1.2 million. Her Facebook feed is full of impossible poses only a limber fitness enthusiast can perform. That's pretty impressive for anyone, yet when you are a world-renowned ballet dancer, I guess it should be expected. Good job Misty, we look forward to many more performances from you.
Emily Skye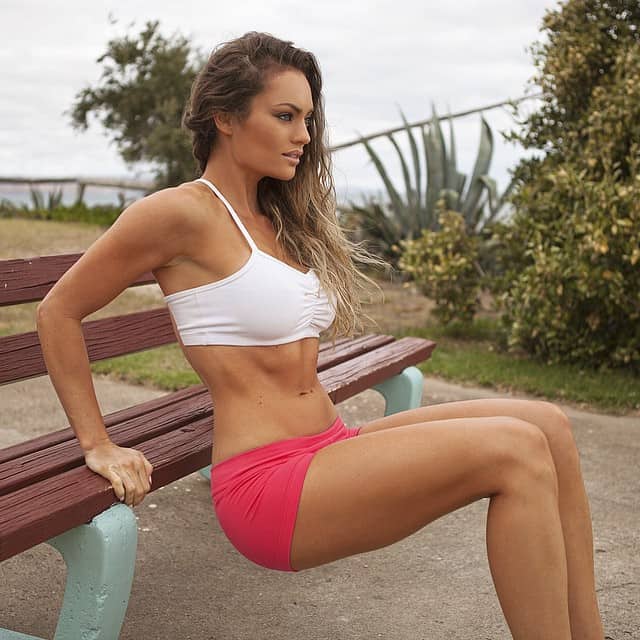 Here is another fitness model who happens to have followed the same track as our previous Brazilian beauty mentioned earlier. Emily Skye Anderson happens to be a catwalk model who turned herself into a fitness model. Her website those various programs that promote healthy living.From New South Wales, Australia, she has always had an interest in fashion and fitness. That, coupled with her curiosity for makeup and photography started her modeling career. Her first gig? An ad for Aero Chocolate in 2006. It was plastered all over Australia on various billboards and public transportation vehicles like buses and such. Since then, she has progressed to a portfolio containing various ad venues and TV show appearances. She has even appeared in a music video or two. Yet, after 11 years she decided to branch out into fitness modeling.
Her own brand is known as "Emily Skye 30 Days 2 Shred." She partnered with Steve Evans to launch the brand. You might know him as the husband of the famous fitness queen Ashy Bines. It's not always roses and tulips in the biz as she eventually had to sue him for allegedly using the start up money to promote his other businesses rather than hers. However, that seemed not to slow her down at all. She has since gone on to launch her on the website and has quite an impressive following on social media. Check out her Instagram page and you will see that she has almost 2 million followers. Not bad for a beautiful model who decided to try her hand at marketing her own workouts and other fitness programs.

Jen Selter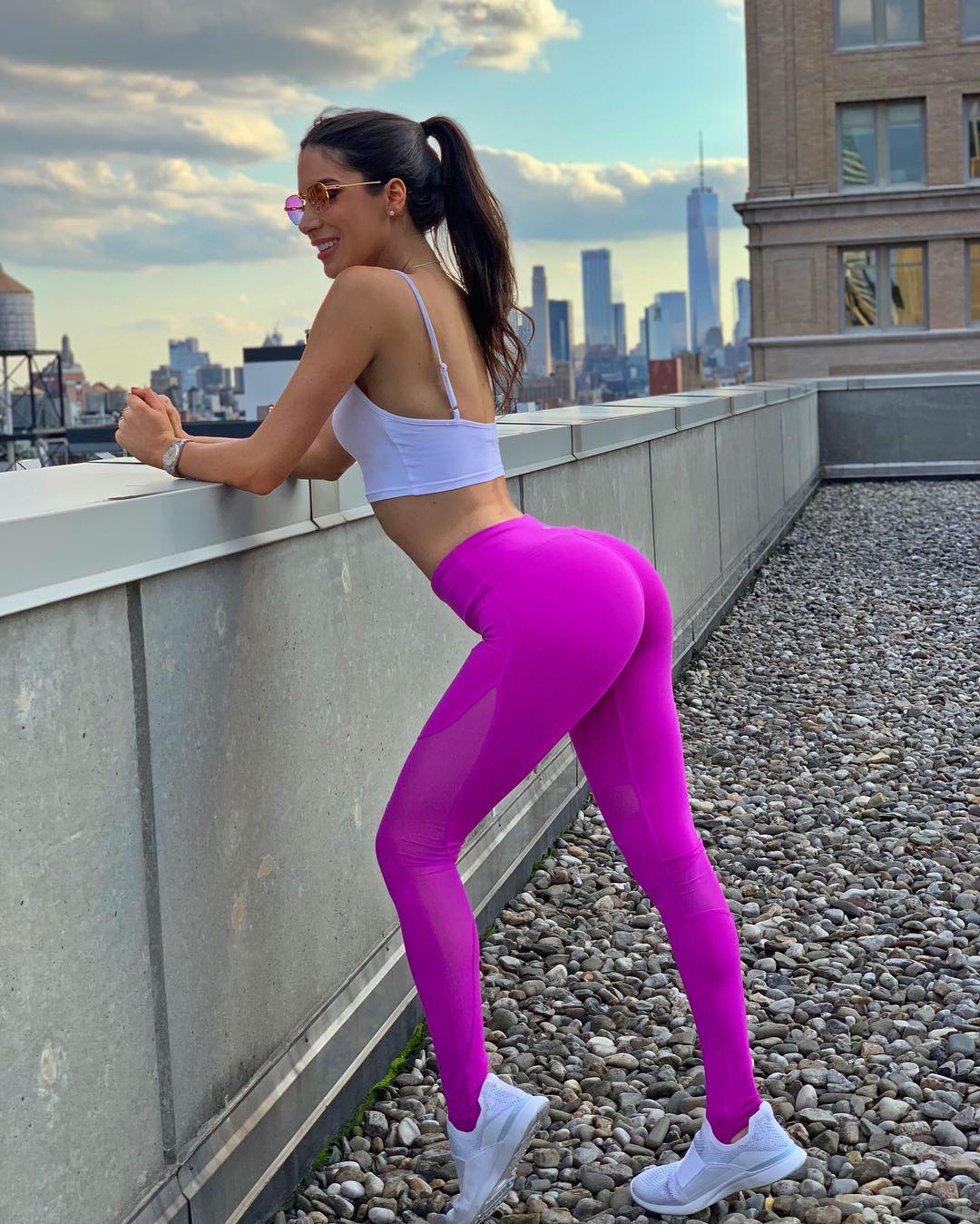 Jen Selter is a hugely popular fitness coach and nutritionist that has found much of her fame through Instagram. She has just over 10.3 million followers on the social media platform, and runs her own website as well. She's known for her 30 day challenge, but what she's most famous for is her perfectly sculpted booty. Jen is widely considered to have the best rear-end on Instagram, and if you've been paying attention to this list, that's quite an achievement. Take a good look at her and you will see what I mean.
Yep, if you are serious about getting fit, and looking for a beautiful fitness guru to motivate you, Jen is the perfect solution. Across her various social media accounts she encourages others to achieve their fitness goals. She's got quite a list of celebrity friends who have also been inspired by her personal results and has been featured in publications such as Vanity Fair, Maxim, Muscle and Fitness, and Elle. She has even made guest appearances on top television shows such as Access Hollywood and The View. Who knows what will come next for her. I guess we will just have to keep following her to find out!