[VIDEO] Man Reunites With 'Dinosaur-Looking' Bird After 17 Years
A young shoebill stork was rescued with injuries after a fire destroyed its habitat in Uganda. The stork made a big impression on a 10-year-old boy from the U.K. who came from a family of zookeepers. After 17 years, the pair have finally reunited, and their bond is truly remarkable, it's something that must be seen to be believed.
At the age of 27, Cameron Whitnall has already made a name for himself as a passionate conservationist, skilled wildlife photographer, and charismatic TV host. As a dedicated member of his family's charitable organizations in southern England, namely Paradise Wildlife Park and The Big Cat Sanctuary, he has devoted himself to the cause of protecting endangered species. Among the many animals he has encountered throughout his career, the shoebill stork holds a special place in his heart as one of his personal favorites.
When Cameron was just 10 years old, he had his first encounter with a shoebill stork named Sushi while working with his family. That chance encounter left an indelible impression on him and sparked a lifelong obsession with these majestic birds. Cameron was completely blown away by the sight of Sushi, and he couldn't believe his eyes. Until that moment, he had never seen or even heard of a shoebill stork.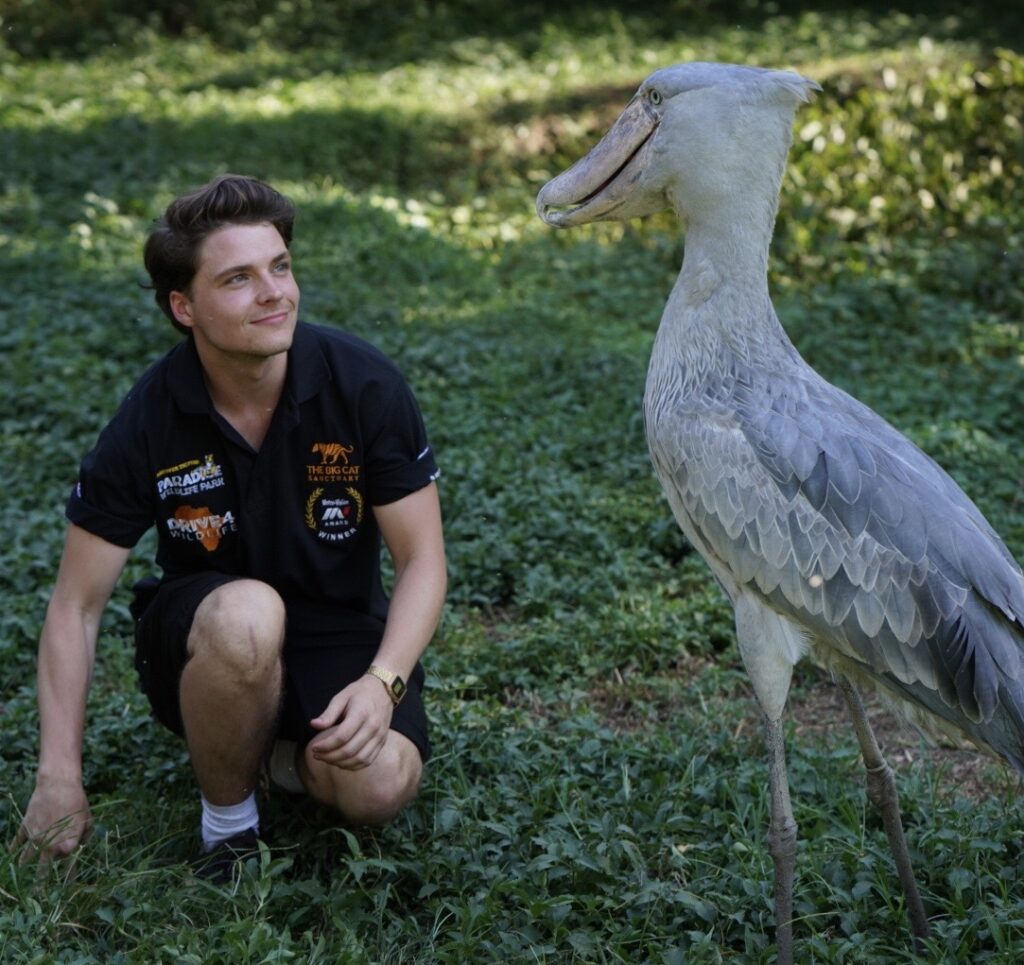 Shoebill storks are truly remarkable creatures, with their prehistoric appearance and commanding presence. These majestic birds can stand up to 5 feet tall and have a wingspan of over 8 feet, making them one of the largest bird species in the world.
Their most striking feature is their large, shoe-like bill, which can grow up to 9 inches in length and is perfectly adapted for catching fish and other prey in the shallow waters of their African wetland habitats. With their regal posture and piercing gaze, it's no wonder that shoebill storks have captured the imaginations of bird lovers and wildlife enthusiasts around the world.
Sushi now resides at the Uganda Wildlife Education Conservation Center (UWECC), where she lives a comfortable life as part of their breeding program and rehabilitation facility. Due to the injuries she sustained, she is unable to fly freely. However, her presence at the center has brought much-needed attention to her species, and many have been captivated by her remarkable beauty and majesty.
Cameron Whitnall and his family are among those who have been enamored by the shoebill stork, and they have formed a partnership with UWECC through their family's zoos. This partnership has led them to visit Sushi twice, in 2018 and 2019, rekindling Cameron's affection for this awe-inspiring bird.
Cameron feels so connected with Sushi that he even got a shoebill stork tattoo of on his leg. Cameron mentions the feeling he gets from the shoebill is special and one of the experiences that he will never forget in his entire life.
Shoebill storks are known to be aggressive. At one meter high they must be approached with caution. However, Cameron Whitnall shares a unique way to gain the approval of these majestic birds through a bowing ritual. The storks use a "bowing match" to greet humans, followed by a beak "clap" that sounds like a machine gun. According to Whitnall, as long as you copy the stork's movements exactly during this greeting, you'll be safe from any aggression.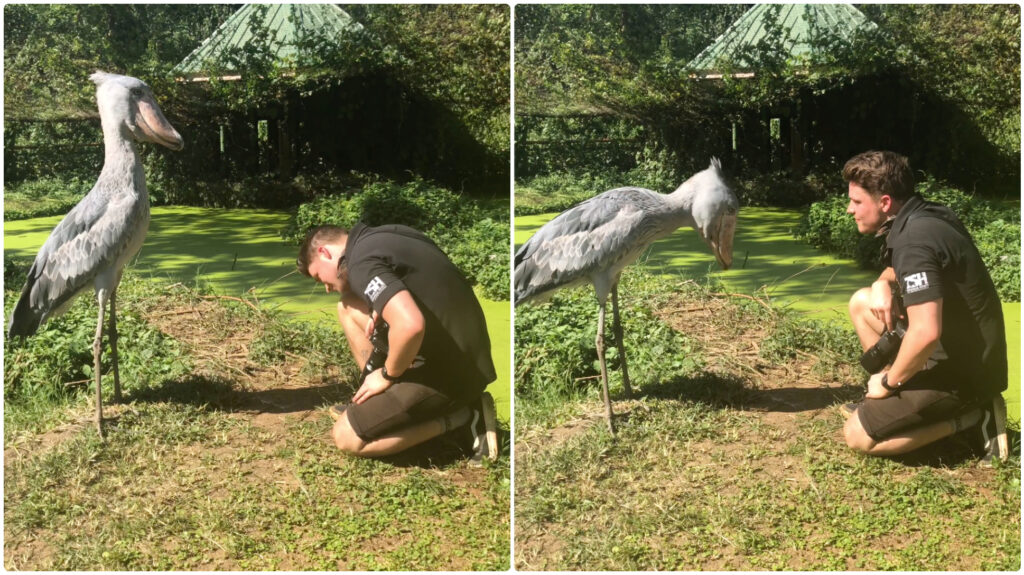 The shoebill stork, also known as the whale-headed stork, is a prehistoric-looking bird found in the wetlands of East Africa, particularly in Uganda, South Sudan, and Zambia. It is one of the largest storks in the world, standing about four feet tall and weighing up to 15 pounds. It has a distinctive, long, and sharp beak that resembles a shoe, which it uses to catch its prey, mainly fish, frogs, and small reptiles.
Despite its formidable appearance, the shoebill stork is a shy and elusive bird that is not easy to spot in the wild. It is known for its unusual behavior, such as standing still for long periods, which gives the impression that it is a statue. This behavior, combined with its unique appearance, has earned the shoebill stork a reputation as one of the world's most mysterious and enigmatic birds.
The shoebill stork is also a critically endangered species, with only about 5,000 individuals remaining in the wild. The main threat to its survival is habitat loss due to human activities, such as agriculture, logging, and dam construction. The shoebill stork is also hunted for its meat and feathers, which are used for traditional medicine and cultural purposes.
Despite the challenges it faces, there are efforts underway to conserve the shoebill stork and its habitat. Conservation organizations, such as the Shoebill Stork Project and the Uganda Wildlife Education Centre, are working to raise awareness about the shoebill stork and its conservation needs. They are also conducting research on the bird's behavior, biology, and ecology, which will help inform conservation strategies and management plans.
The shoebill stork is a fascinating and unique bird that is both mysterious and endangered. Its unusual appearance, behavior, and status as a critically endangered species make it a subject of great interest to bird enthusiasts and conservationists alike. As efforts to conserve this amazing bird continue, we can hope that future generations will have the opportunity to see and appreciate the beauty and majesty of the shoebill stork in the wild.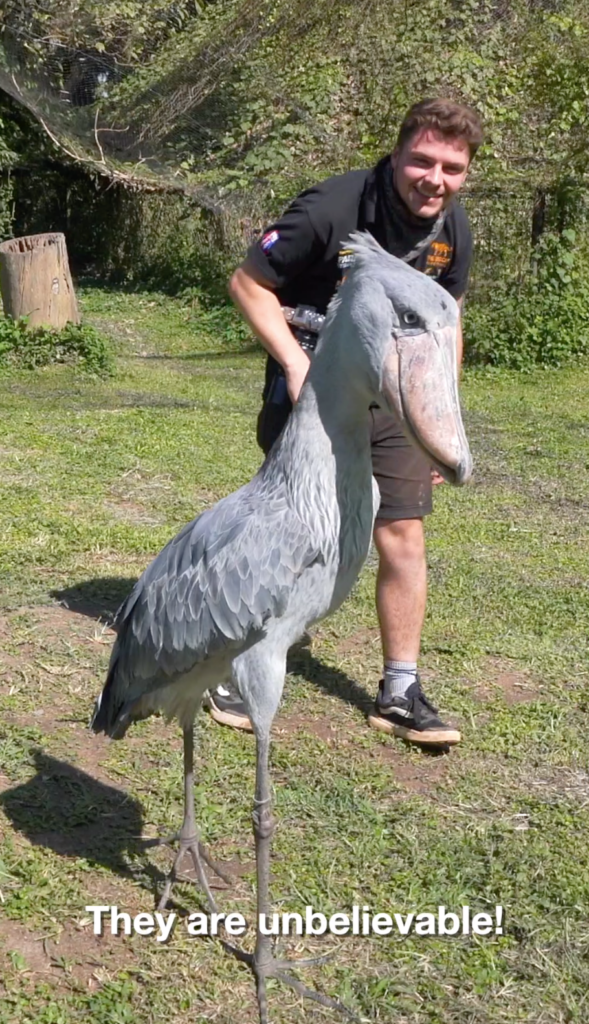 Here are some interesting facts about the shoebill stork:
The shoebill stork is one of the largest birds in the world, standing at a height of up to 5 feet tall and having a wingspan of up to 9 feet.
The shoebill stork is also one of the heaviest birds, weighing up to 15 pounds.
Shoebill storks are solitary birds, preferring to spend most of their time alone or in pairs, except during the breeding season when they come together to mate.
The shoebill stork is a patient hunter, often standing motionless for hours in the water, waiting for prey to come within range of its massive bill. Their diet consists of mainly fish, but they also feed on reptiles, amphibians, and small mammals.
Shoebill storks have a unique way of communicating with each other through a "clapping" sound made by their bills. This sound can be heard up to a mile away.
The shoebill stork has a lifespan of up to 35 years in captivity, but their lifespan in the wild is currently unknown.
The shoebill stork is listed as a vulnerable species, with a population estimated to be between 5,000 and 8,000 individuals. The main threats to their survival are habitat loss, hunting, and human disturbance.
The shoebill stork was first described by European explorers in the 19th century, but the local people in Africa have long known about the bird and have their own legends and stories about it.
The shoebill stork's bill is not only massive but also very strong, with the ability to crush prey and defend itself against predators such as crocodiles.
The shoebill stork has a slow reproductive rate, with females laying only one egg per year. The incubation period for the egg is approximately 30 days, and the chicks remain with their parents for up to three months before leaving the nest.
The shoebill stork's bill is not only used for hunting but also for courtship displays. During the breeding season, males will engage in a bill-fencing display, where they clack their bills together to assert dominance and attract females.
The shoebill stork is also known for its distinct vocalizations, which include a deep, booming call that can be heard from a distance.
Shoebill storks have been known to engage in allopreening, where individuals preen each other's feathers as a form of social bonding.
The shoebill stork's breeding success is highly dependent on the availability of nesting sites, which are often in short supply due to habitat loss and human disturbance.
The shoebill stork is a popular bird among birdwatchers and nature enthusiasts, with many traveling to Africa to catch a glimpse of these majestic creatures in the wild.