50 High Quality Cosplay Costumes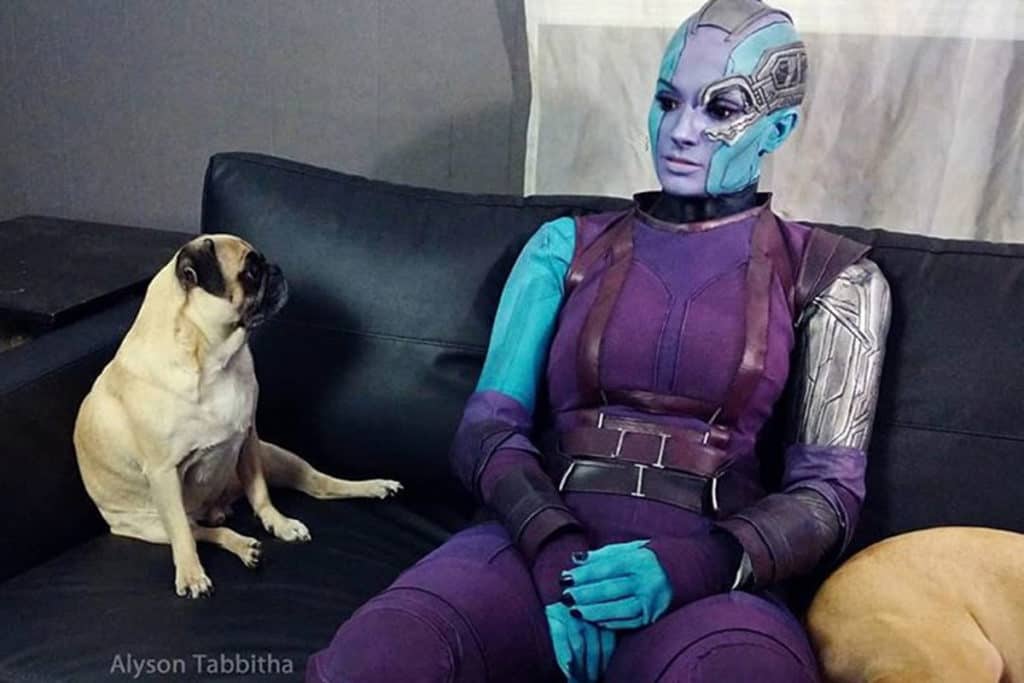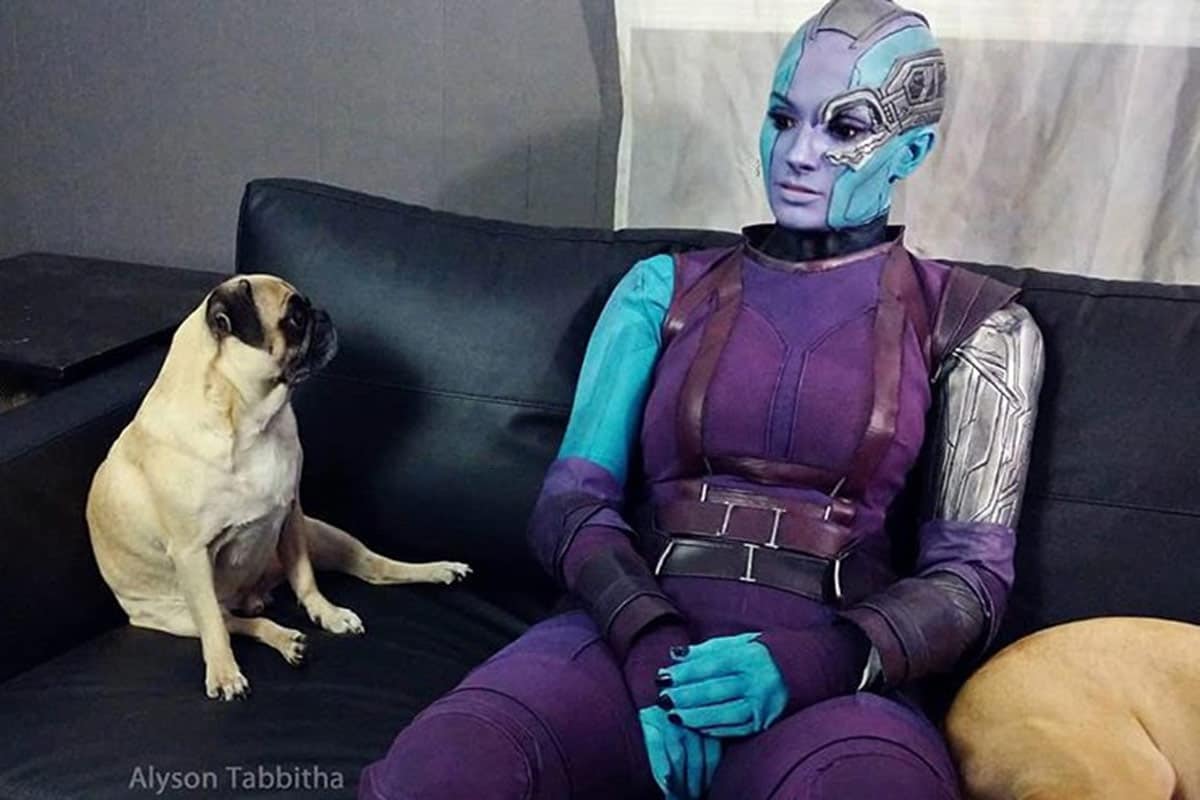 Cosplay! What a good time, it is one of the singular events where everyone there seems to be in a judgement-free mind frame. The comic-centered massive production that is a yearly event has begun to be known for its outlandish costumes. And beyond outlandish, they have begun to garner attention for how amazing they are getting. In this list you'll see some excellently-put-together outfits.
We've got awesome images of regular people all of a sudden becoming superheroes, animated movie stars, world-class musicians, the undead, comic book legends, movie icons, and so much others.
Officially, cosplay means: It is a word that has it's root in costume play. It is both a noun and a verb. Cosplay can mean the actual costume, as well as the action of wearing it. Contrary to popular belief, many cosplayers (well over 98%) do not believe they are the characters they are "cosplaying" as. Cosplays are typically worn to anime conventions. So…there you have it. With all of this in mind, get lost in these awesome outfits and enjoy the ride!
Continue scrolling to keep reading.
Click the button below to view this article in quickview.
50. Leeloo: The Fifth Element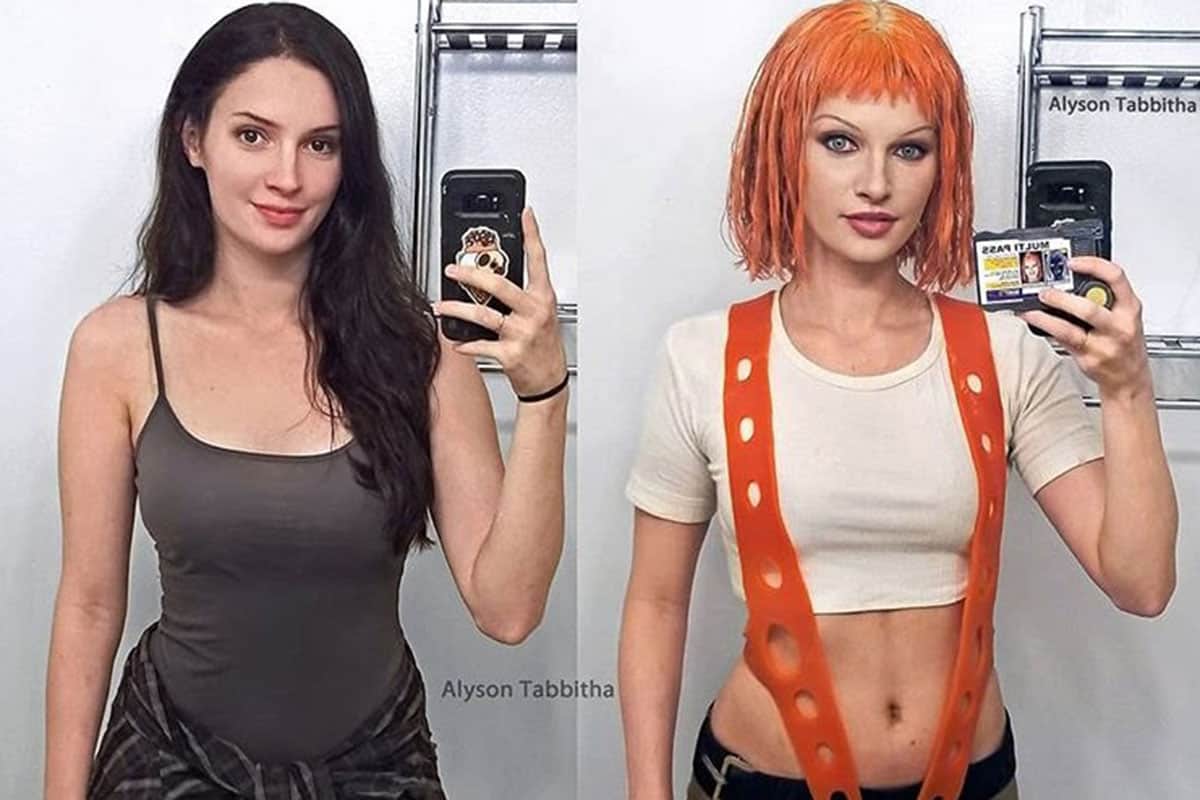 Alyson Tabbitha is well known on social media for her creative approach at taking unique characters and bringing them to life outside the screen. Here she masterfully recreates the character Leeloo from the Sci-Fi Action film, The Fifth Element. Milla Jovovich would be proud to see the work Alyson did for this cosplay.
49. Edward Scissorhands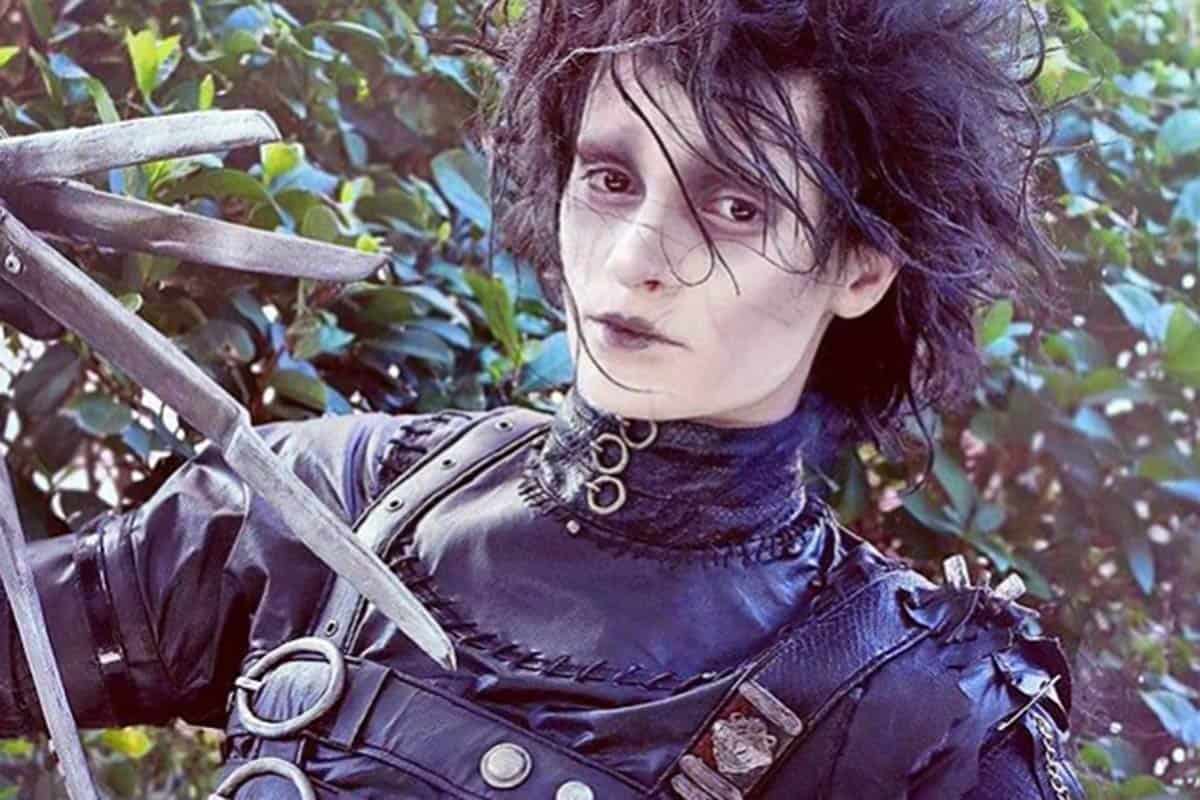 The character of Edward Scissorhands was introduced to us by Tim Burton and was played by the legendary actor Johnny Depp. The character was unique due to him having scissor blades instead of hands, hence the name "Edward Scissorhands". Alyson Tabbitha decided to undertake this cosplay, and she killed it. The make-up, the outfit, even the blades for hands, Alyson nailed this cosplay.
48. Rogue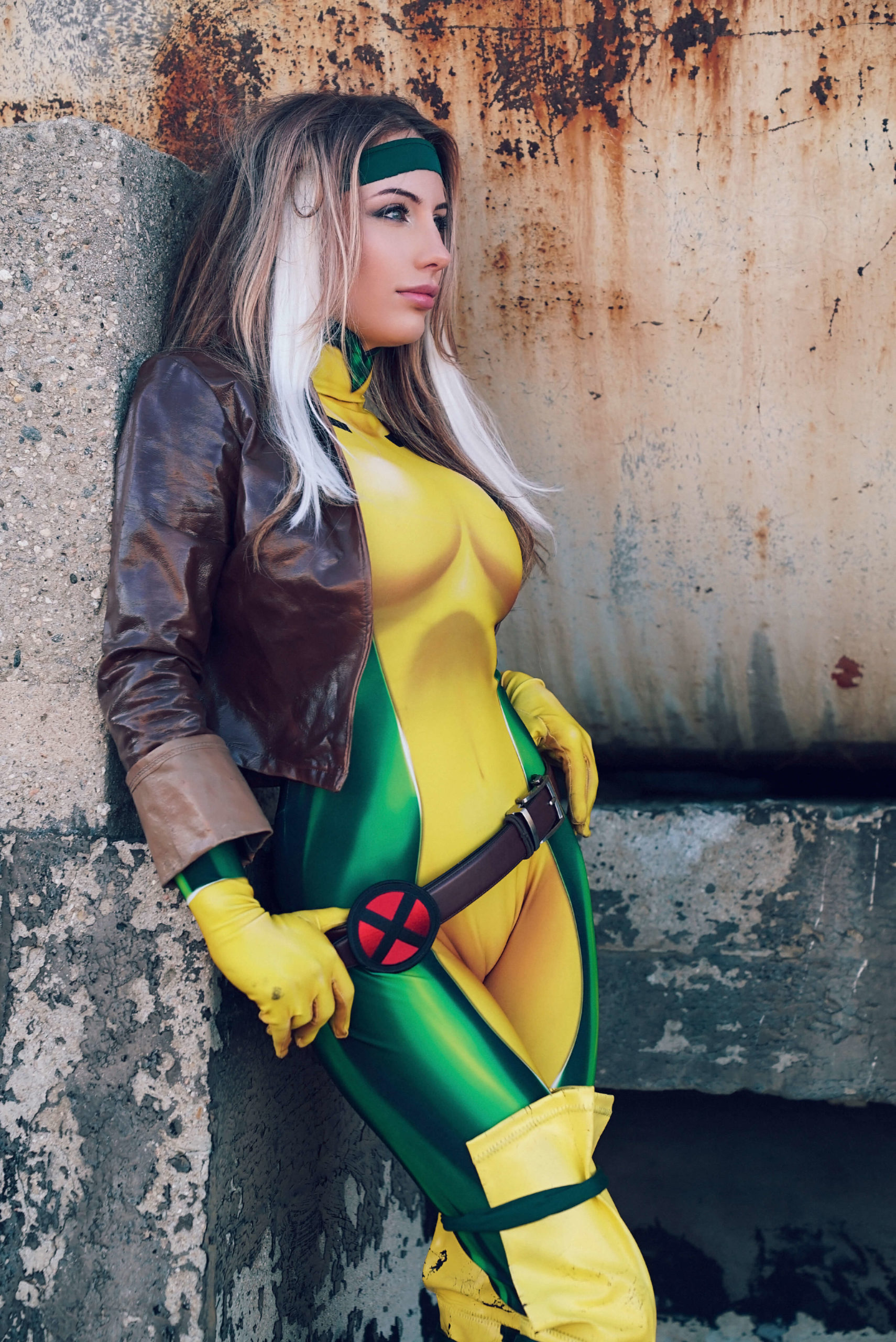 Wow, incredible cosplay artist Liz Katz really nailed it with Rogue! She's so popular there are copy cat and fan accounts. That should tell you the kind of amazing cosplay she is known for. She's available for modeling and will kick your tail at video games. It's all there in her profile description. She's gone Rogue for sure.
47. Tomb Raider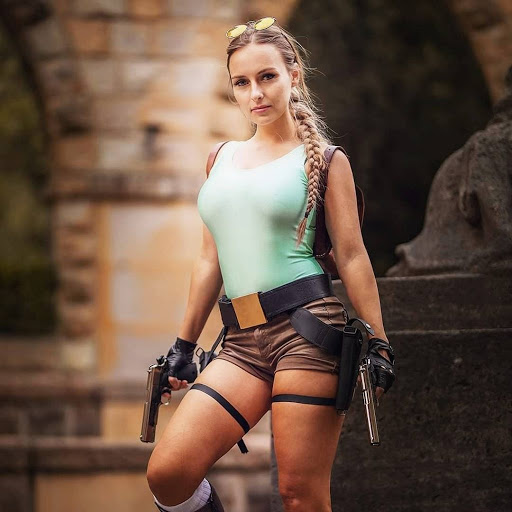 Whether you're a fan of video games or not, you're probably a fan of this Laura Croft cosplay costume by. Laura Croft is the star of the hit gaming franchise Tomb Raider. She's basically a female version of Indian Jones but she can climb almost anything and she's probably not afraid of snakes.
46. Hulk Hogan and Macho Man Randy Savage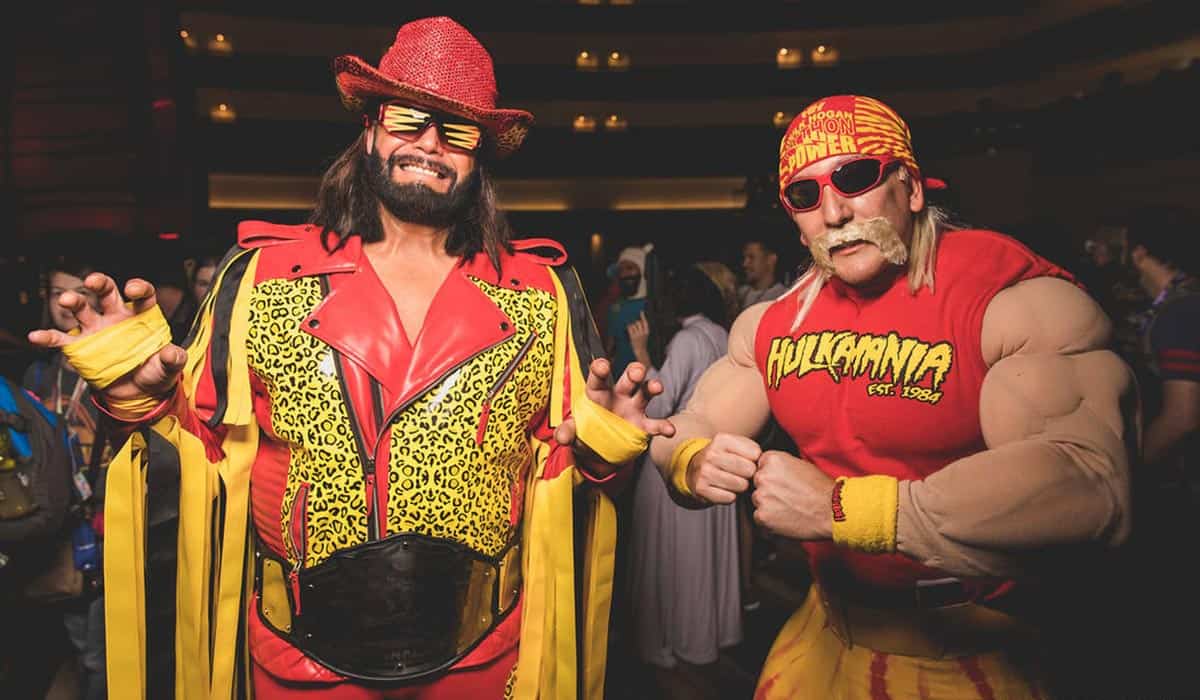 The Macho Man Randy Savage and Hulk Hogan were insanely popular Pro Wrestlers from the WWF back in the 80s and 90s. They both captivated the fans in and out of the ring. Macho Man and the Hulkster would be proud of these for pulling off the cosplay.
45. Lethal Beauty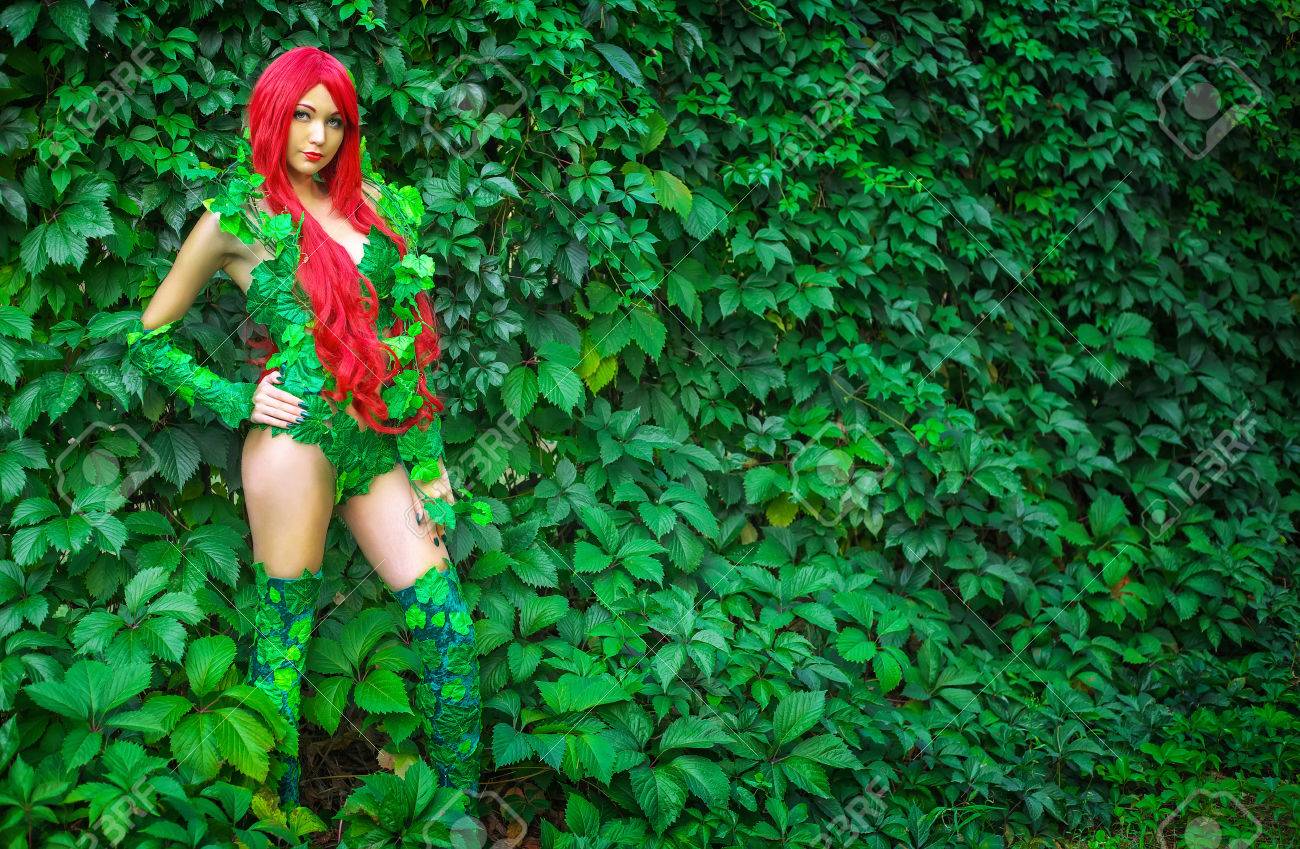 This is probably our favorite cosplay of Lethal Beauty ever! She nailed it with this outfit.
44. Ash Ketchum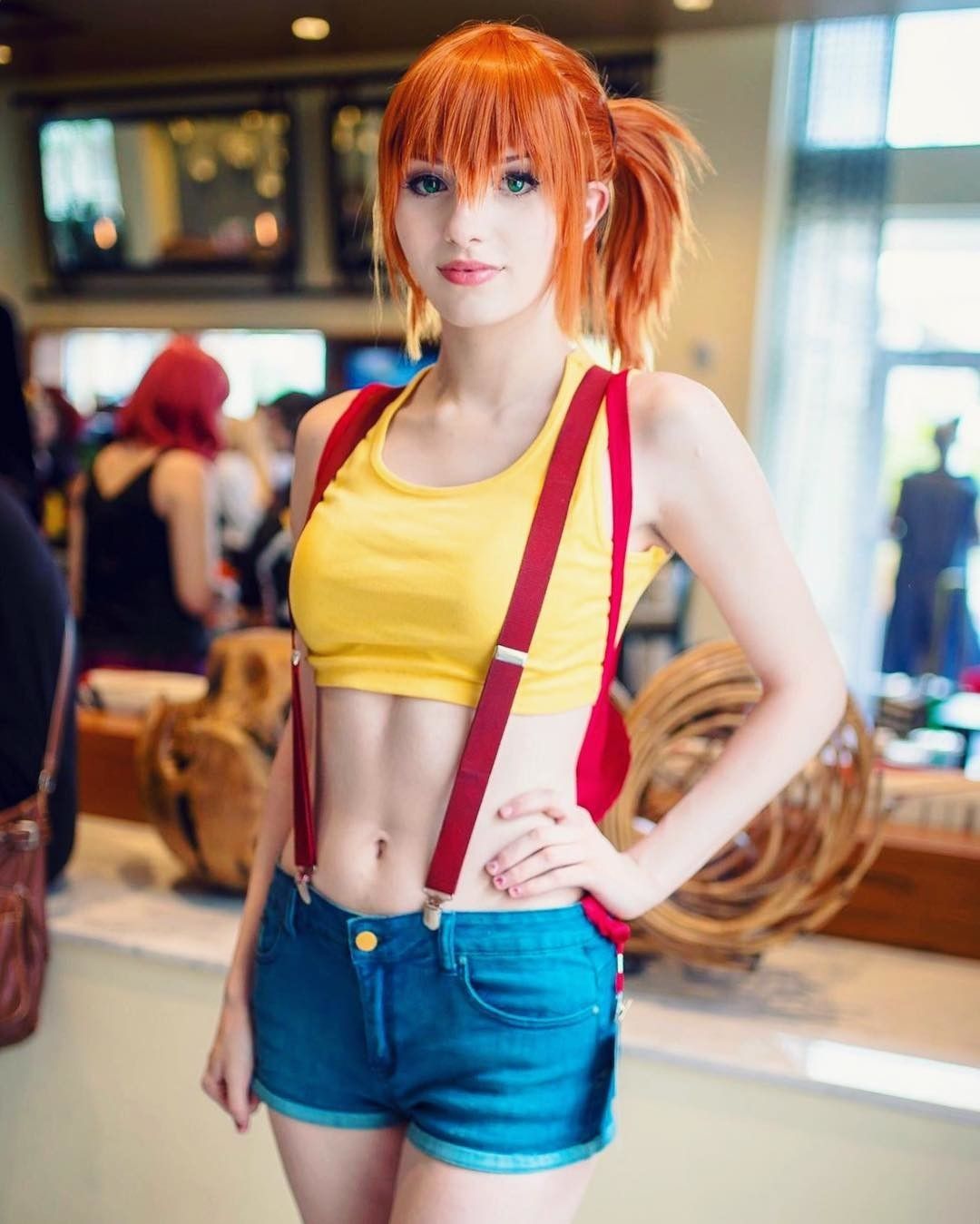 Gotta catch 'em all!
43. CatWoman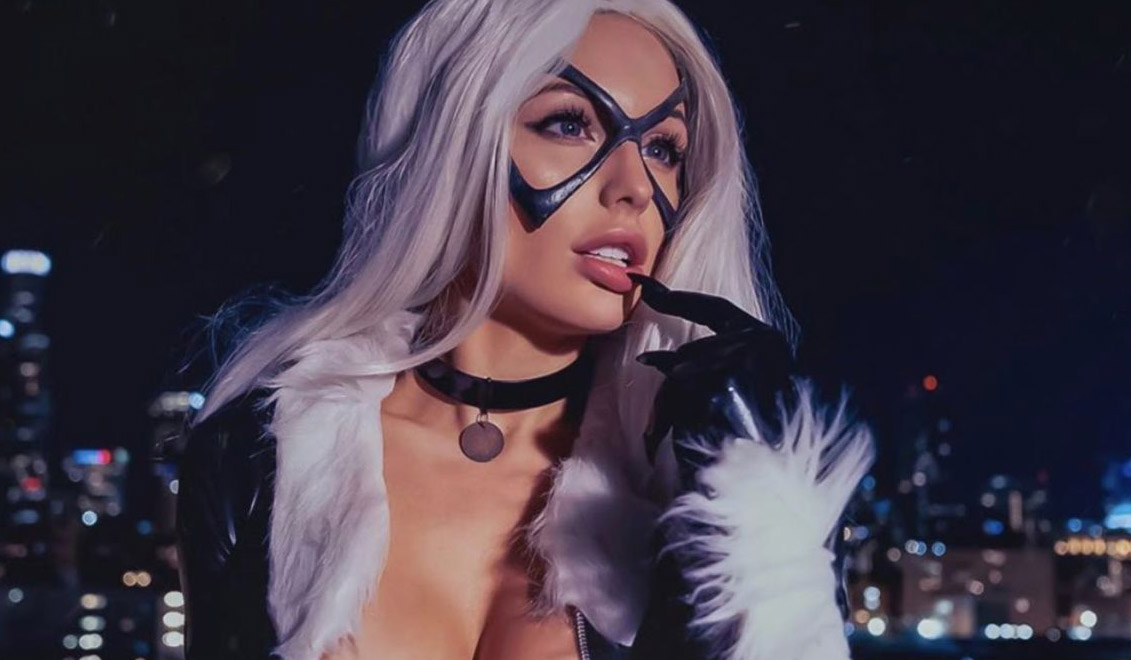 What's you opinion on this super-original take on Cat Woman? We saw this at the NYC Comic Con and absolutely had to share it with you. Enjoy! Batman's worst enemy up next…
42. The Joker: Batman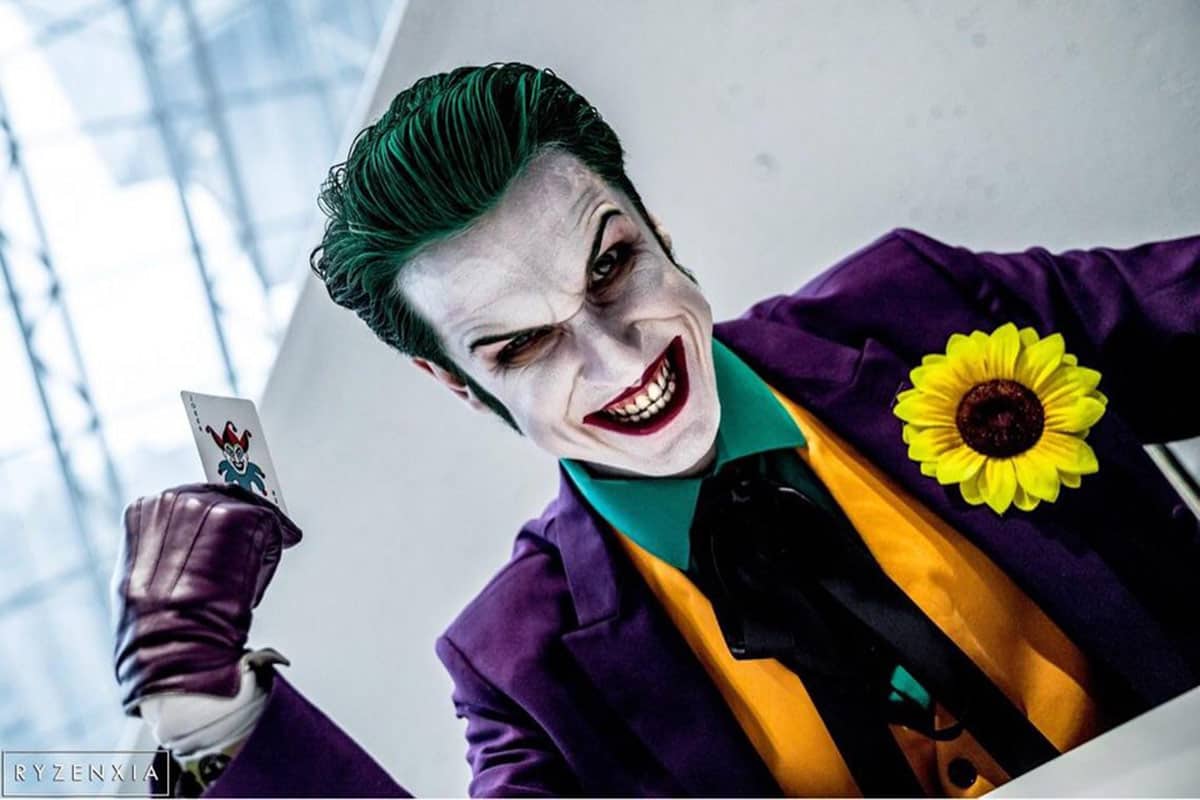 It's not every day you see a classic Joker Cosplay. Typically, most people opt for the newer Heath Ledger Joker complete with black smudges and mispainted red lips. However, when you know how to buy the right costume from Party City, get the correct hair dye and apply makeup like an expert… you get the Joker that looks like he literally jumped off the page of a classic the Batman comic book.
41. Batgirl: Batman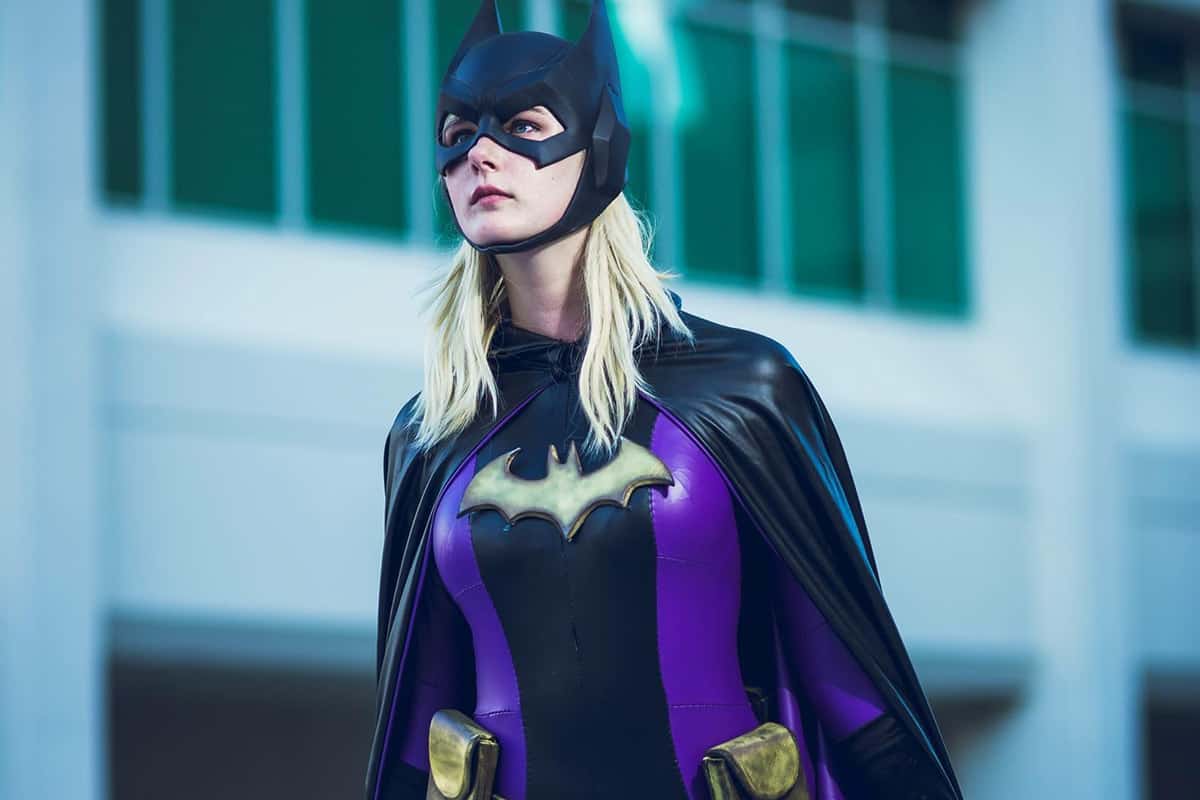 The hardest part about making any sort of Batman or Batgirl costume seems to be the cowl. To her credit, this cosplayer fabricated most of the costume herself. She did have a bit of help making the belt, but that's it. As for the cowl, she purchased it from a store on Etsy. If that's your thing, now you know where to go to source professional quality Batman masks.
40. Spidergirl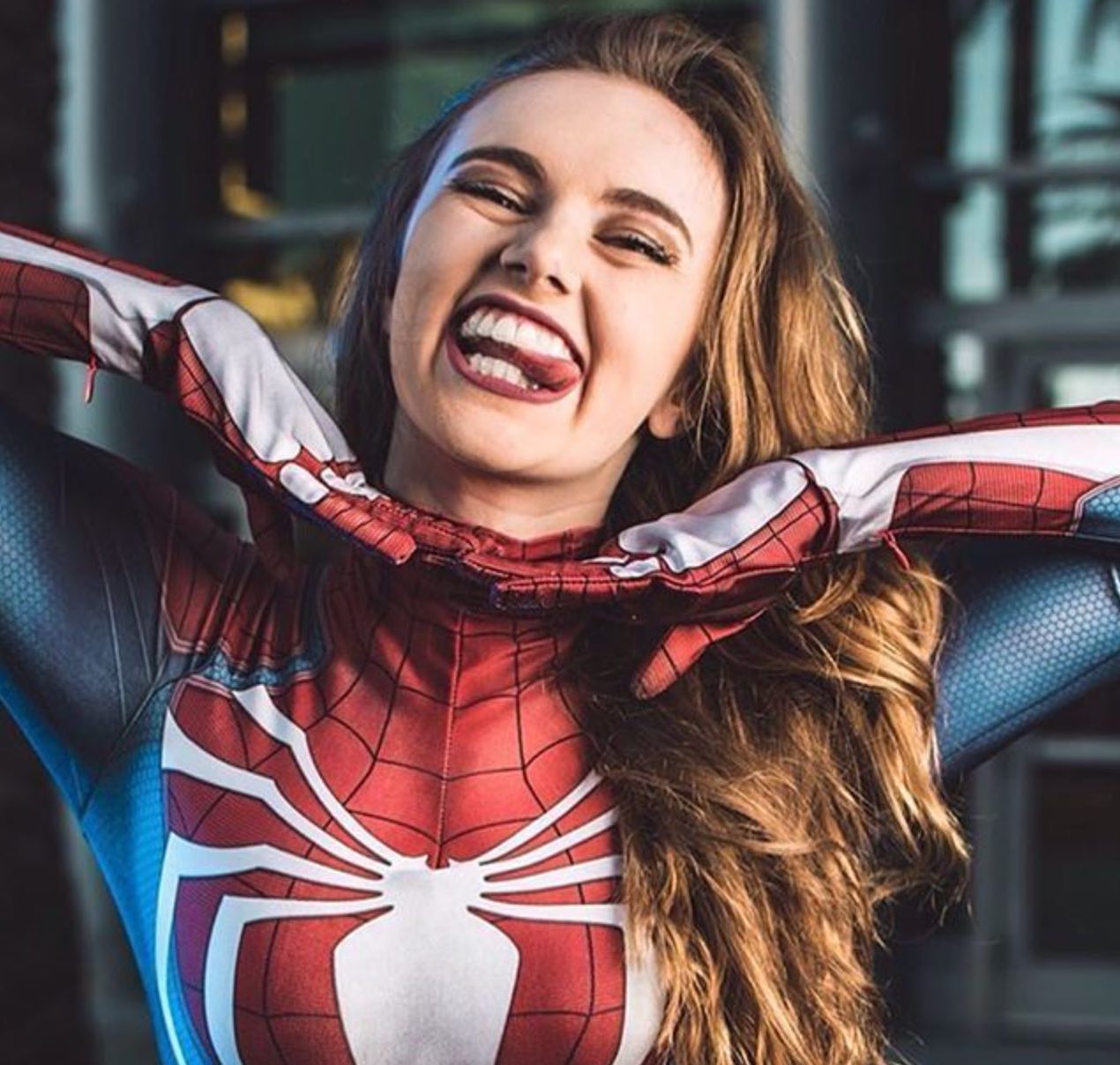 39. Lara Croft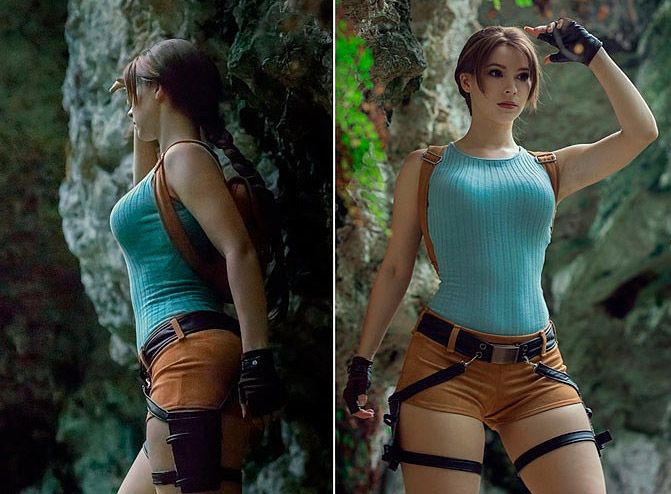 Whether you're a fan of video games or not, you're probably a fan of this Laura Croft cosplay costume by Enji Night. Laura Croft is the star of the hit gaming franchise Tomb Raider. She's basically a female version of Indian Jones but she can climb almost anything and she's probably not afraid of snakes.
38. Maleficent: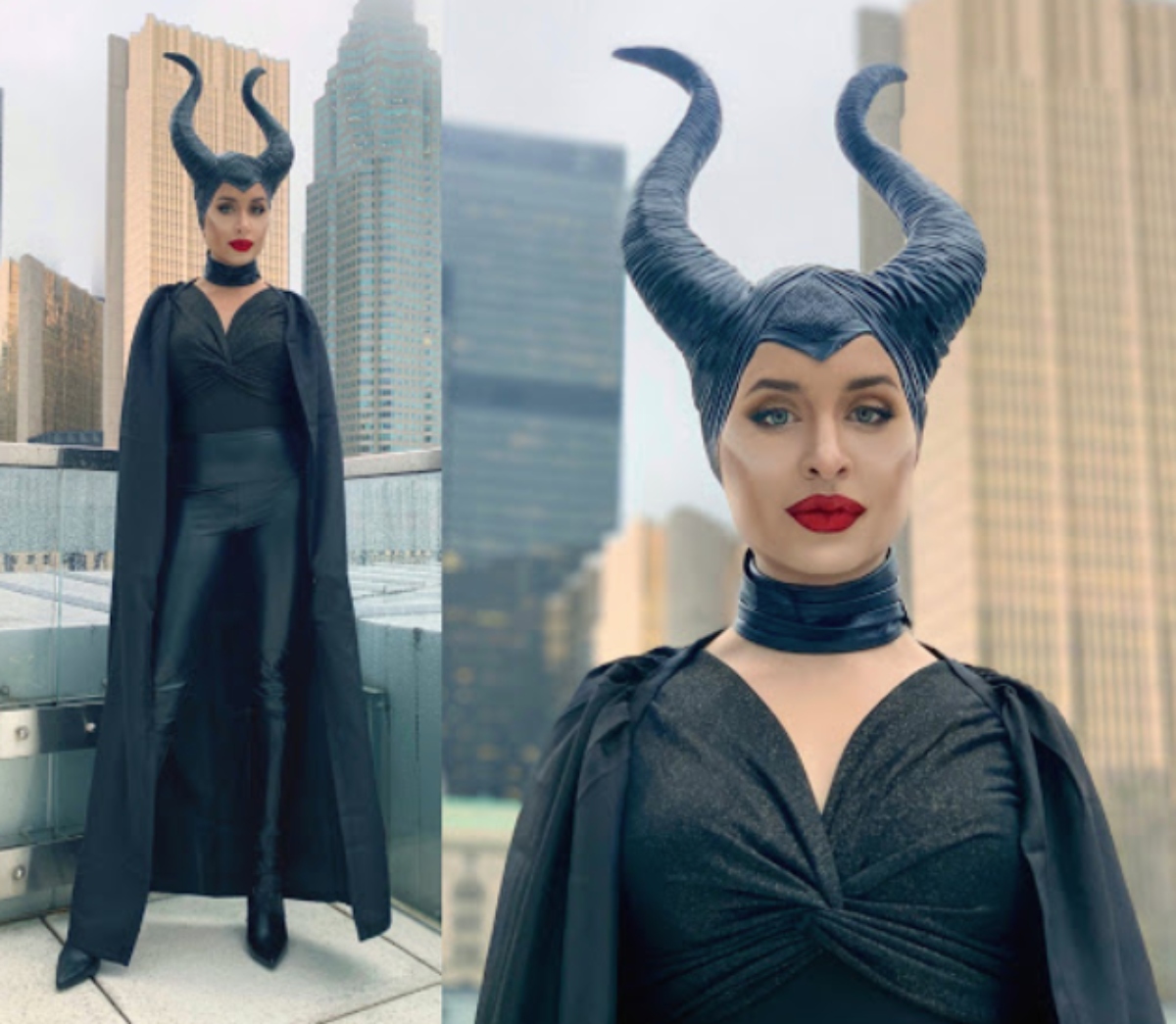 The character of Maleficent first debuted in the 1959 animated film, Sleeping Beauty. The character was reintroduced to the masses again in the 2014 live-action film Maleficent played by Angelina Jolie. Alyson Tabbitha once again nails the cosplay. The green eyes and deep red lipstick really bring this character to life.
37. Nebula: Guardians of the Galaxy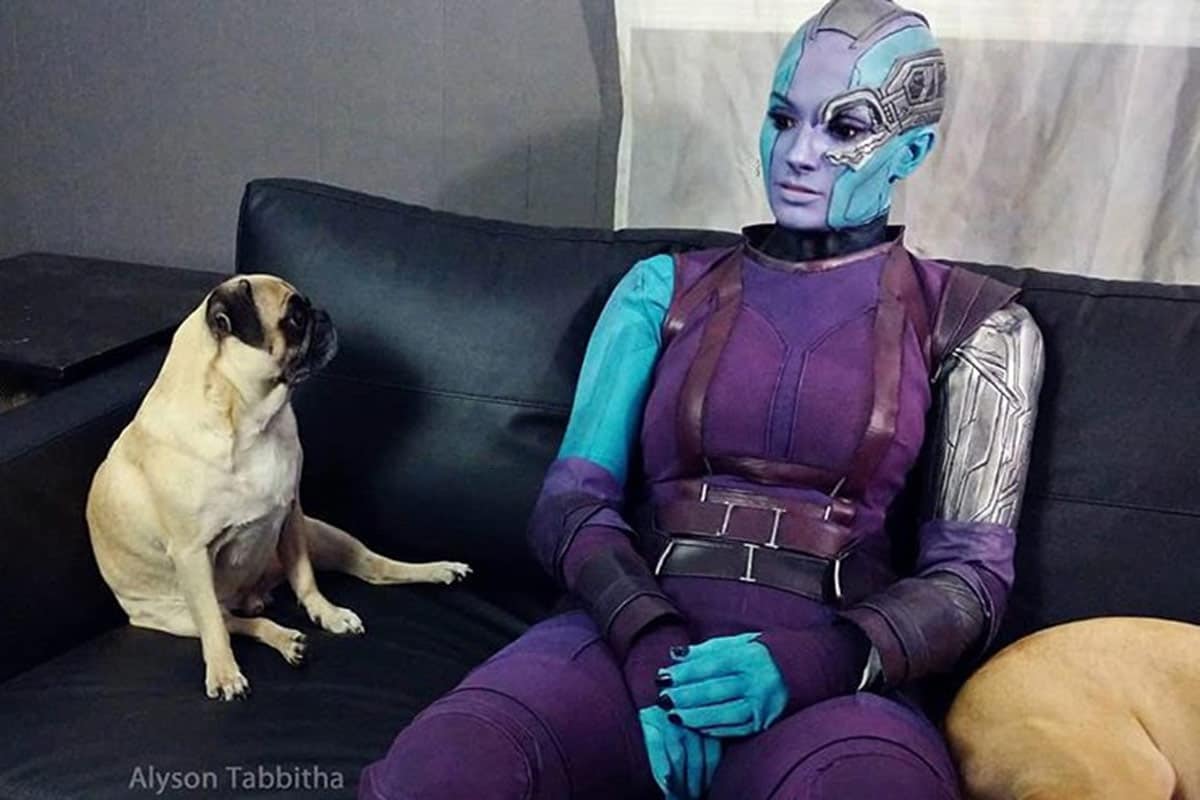 Nebula has been a prominent character in the Marvel Universe from the comics and movies. Nebula was most recently featured heavily in the Marvel Films Guardians of the Galaxy, Avengers: Infinity War, and Avengers: Endgame. Alyson Tabbitha decided to undertake pulling off this cosplay and we think she killed it. The attention to detail is amazing really bringing this character off the screen.
36. Daenerys Targaryen: Game of Thrones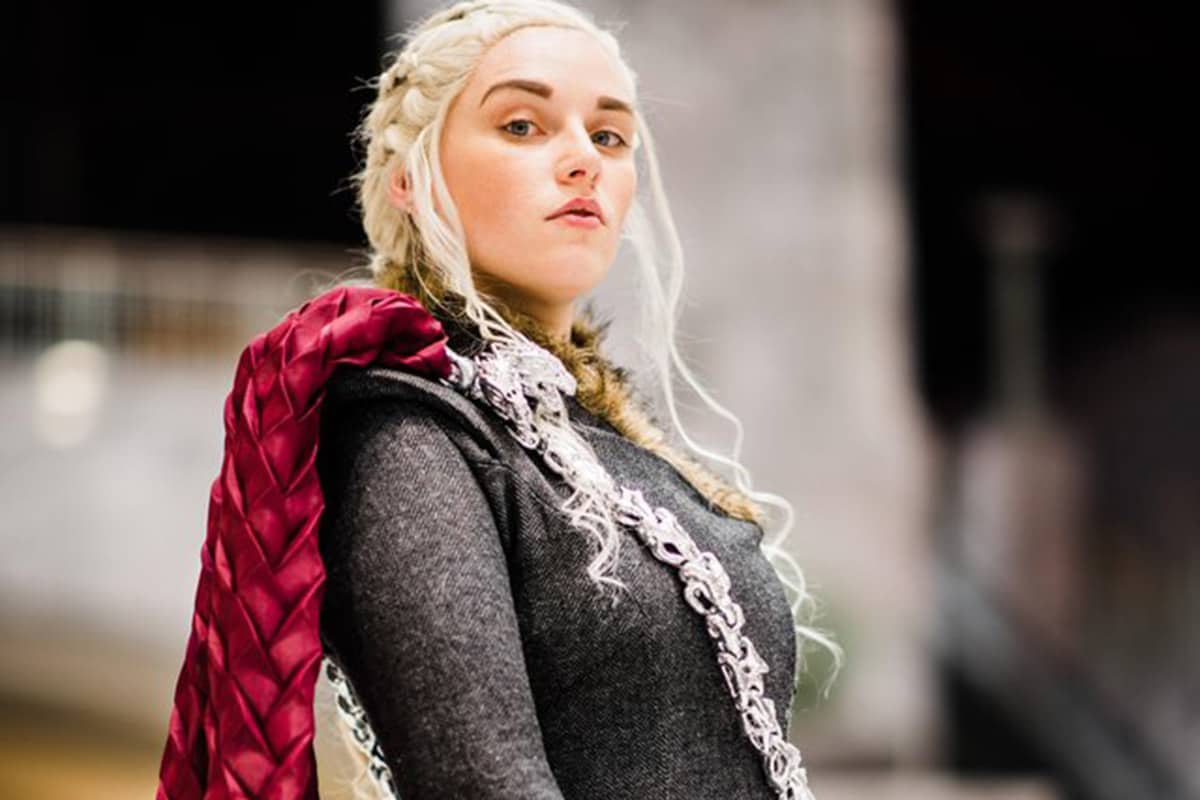 She looks spot on to the popular Game of Thrones character, Daenerys Targaryen. Emilia Clarke would have to do a double take after seeing how identical this cosplayer and her look.
35. Catwoman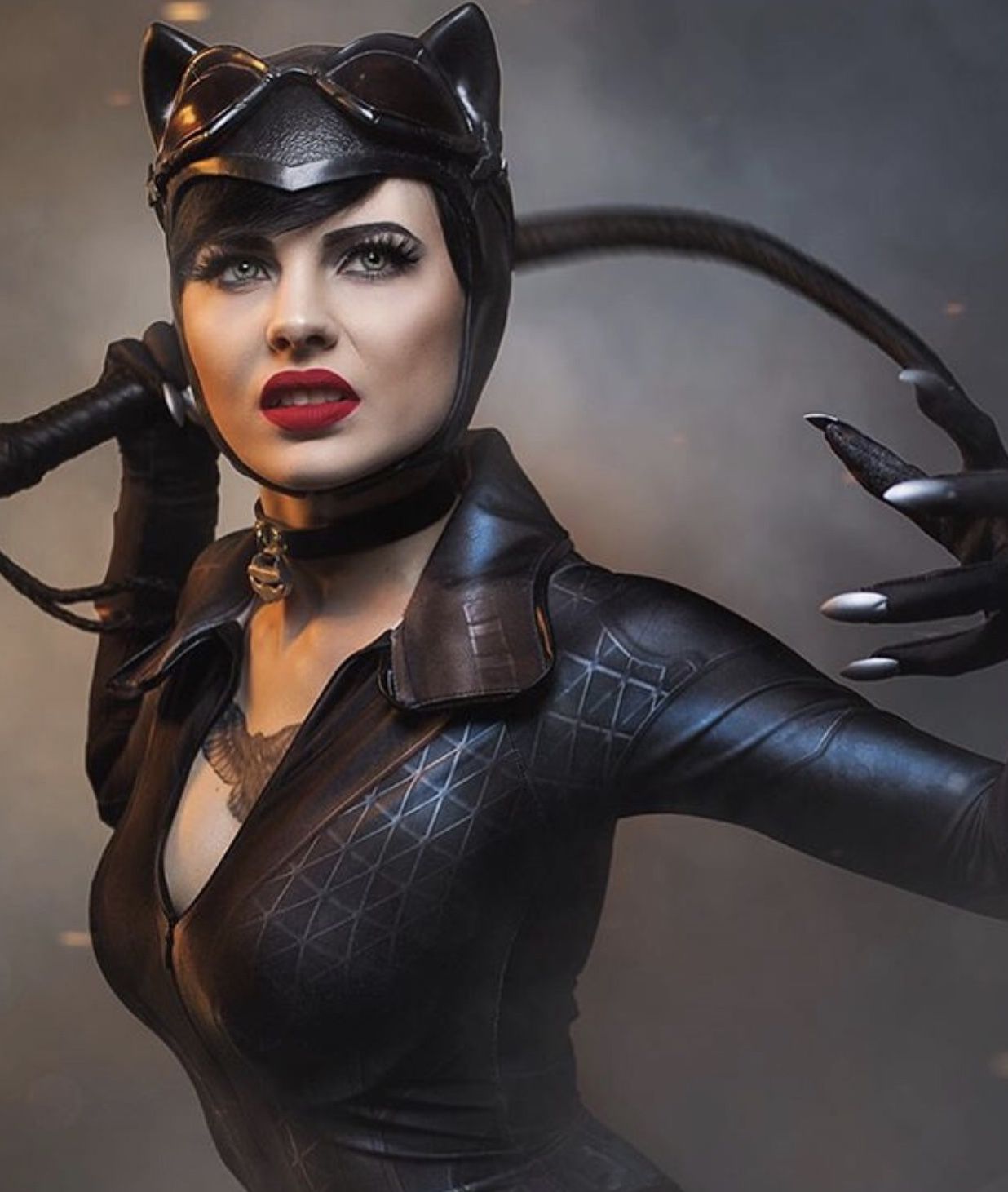 What's not to love about this cosplay, it's Catwoman! She is a legend in superhero circles and whenever the famed image of Catwoman appears at a cosplay event – we're happy campers. This outfit is well produced and fitted perfectly. Tip of the cap to this artist.
34. Daphne: Scooby-Doo, Where Are You!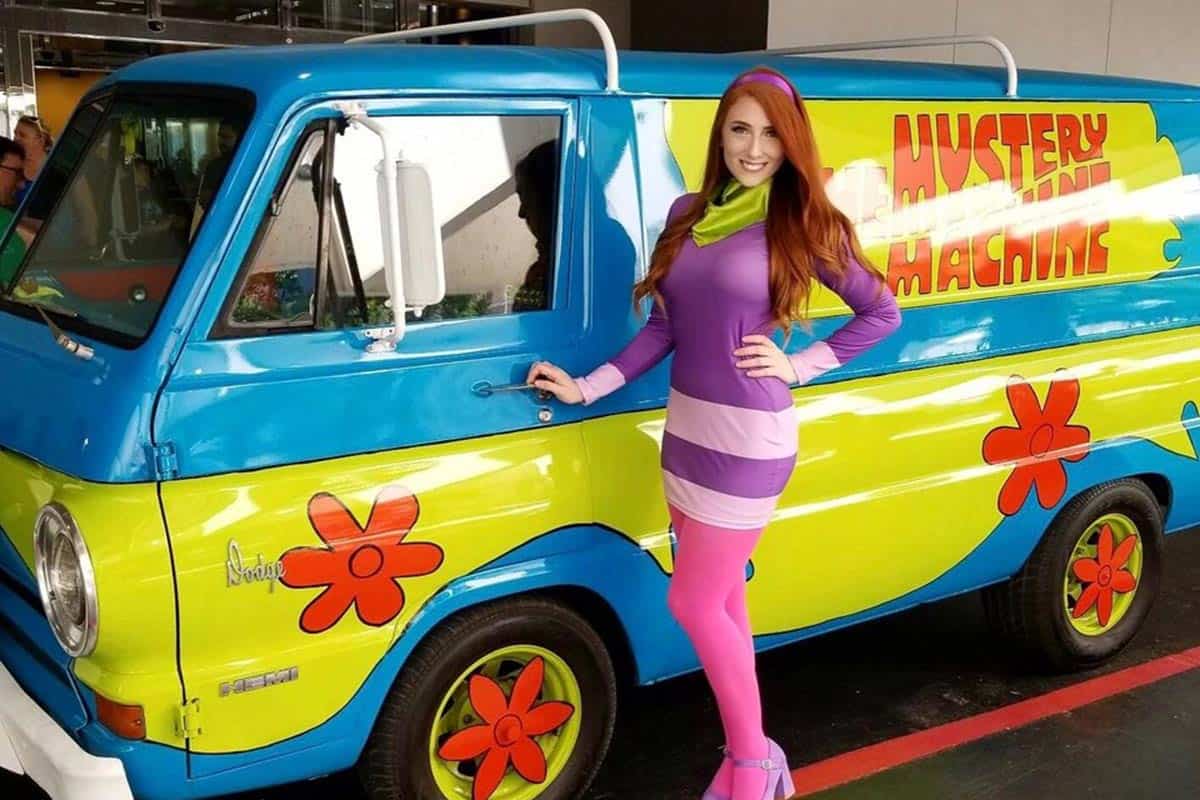 Daphne looks amazing right down to her shoes! The dress and scarf are spot on. As for the van, well it's not hers. She found it at Dragon Con while walking around. It looks to be an old Dodge A100 complete with a Hemi! As long as Daphne gets in, we'll go anywhere!
33. Steampunk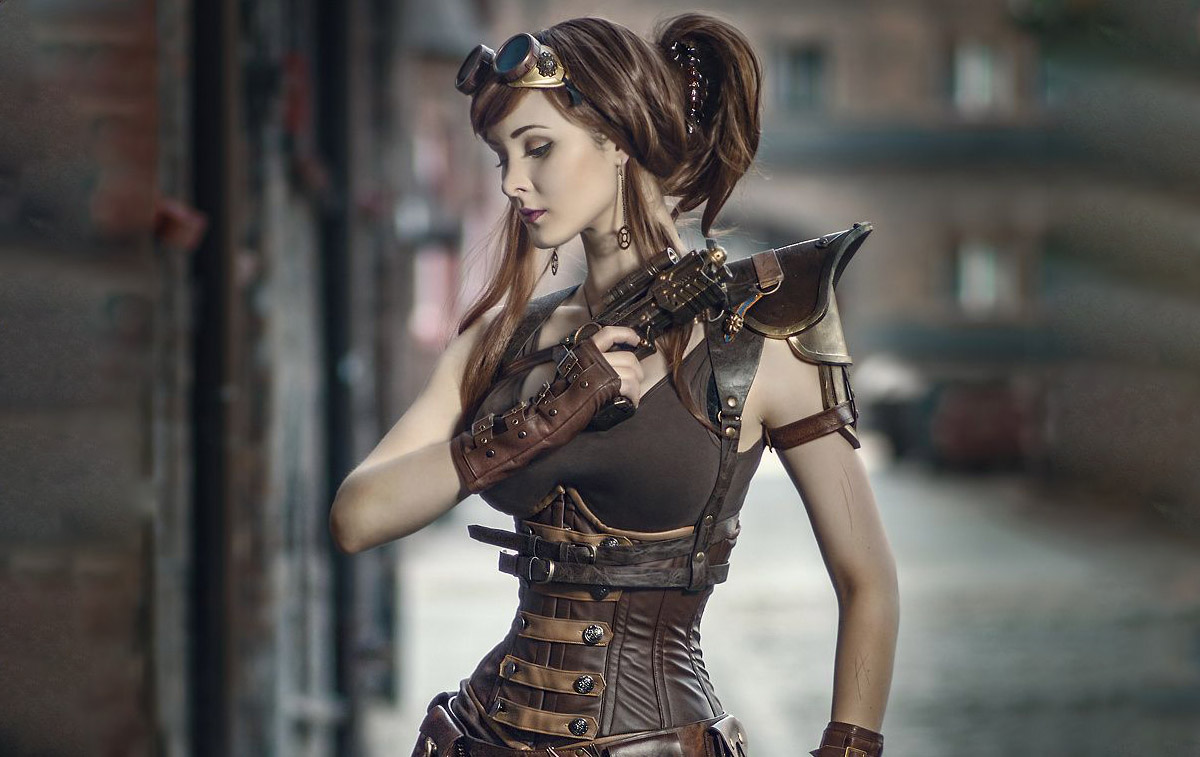 Here's a quality steampunk cosplay. Technology featured in the steampunk universe is generally just as advanced as that of the modern world, but it uses steam as its energy source rather than electricity, gas or oil.
32. Maui: Moana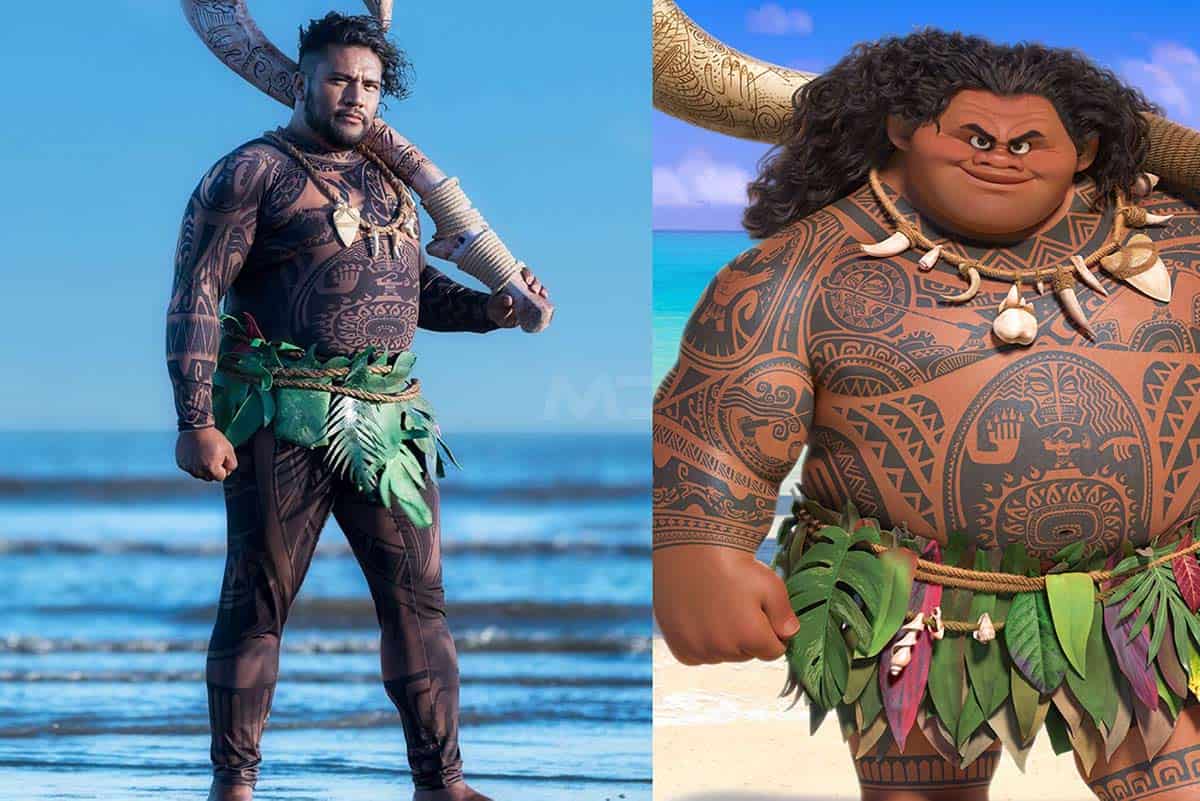 Okay, so this guy is not fat enough to be Maui and much better looking with his trendy hair do. However, the scrimshaw club and ink put this costume over the top. So how much time did it take to ink those henna tattoos? None. Look close. It's a bodysuit!
31. Sgt. Slaughter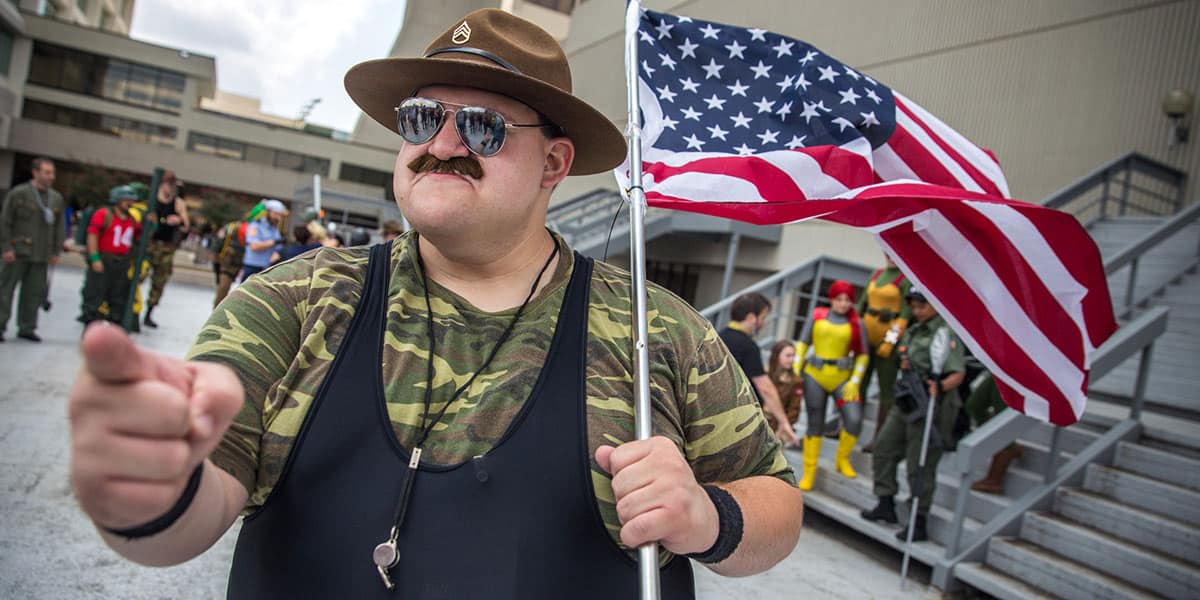 Isn't it always better when cosplay participants look the part too? Take Sgt. Slaughter here. Sure, he could stand to lose a few pounds, but overall, he really does look the part. Just hope he doesn't blow that whistle at you. With sunglasses and a mustache like that, you will be doing more than a standard drop and give me ten.
30. Logan/Wolverine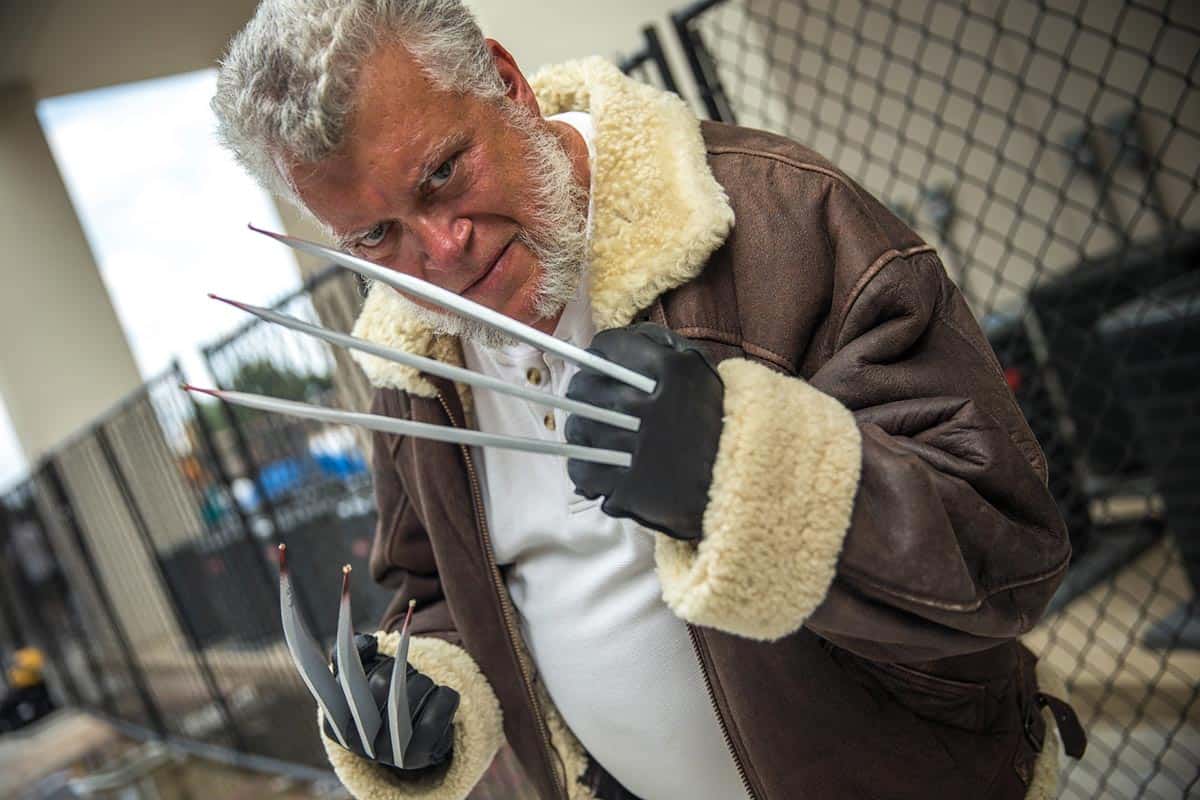 Logan looks a little gray around the edges and is of questionable decent, but hey, that just falls in line with his character! The beard looks amazing and the claws are the proverbial icing on the cosplay cake. He looks ready to shred, Bub. We would dial back the fur part of the jacket a bit if it were us. Please don't tell him we said that!
29. Rocky Balboa and Ivan Drago: Rocky IV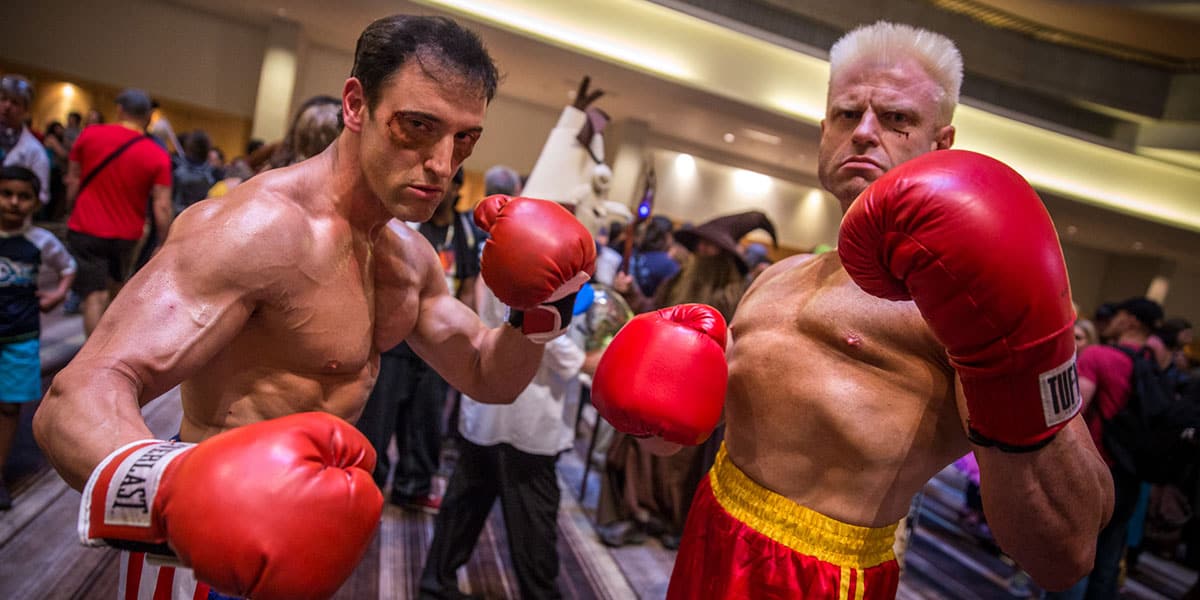 A couple of pairs of boxing shorts, some gloves and eye make up are all that's necessary to transform these two Comic-Con cosplayers into Rocky Balboa and Ivan Drago. Well that, and hours upon hours in the gym. Yeah, come to think of it, if you have a beer gut, these types of cosplay costumes may not be for you. Peter from Family Guy might be a better costume idea!
28. Freddy Krueger: Nightmare on Elm Street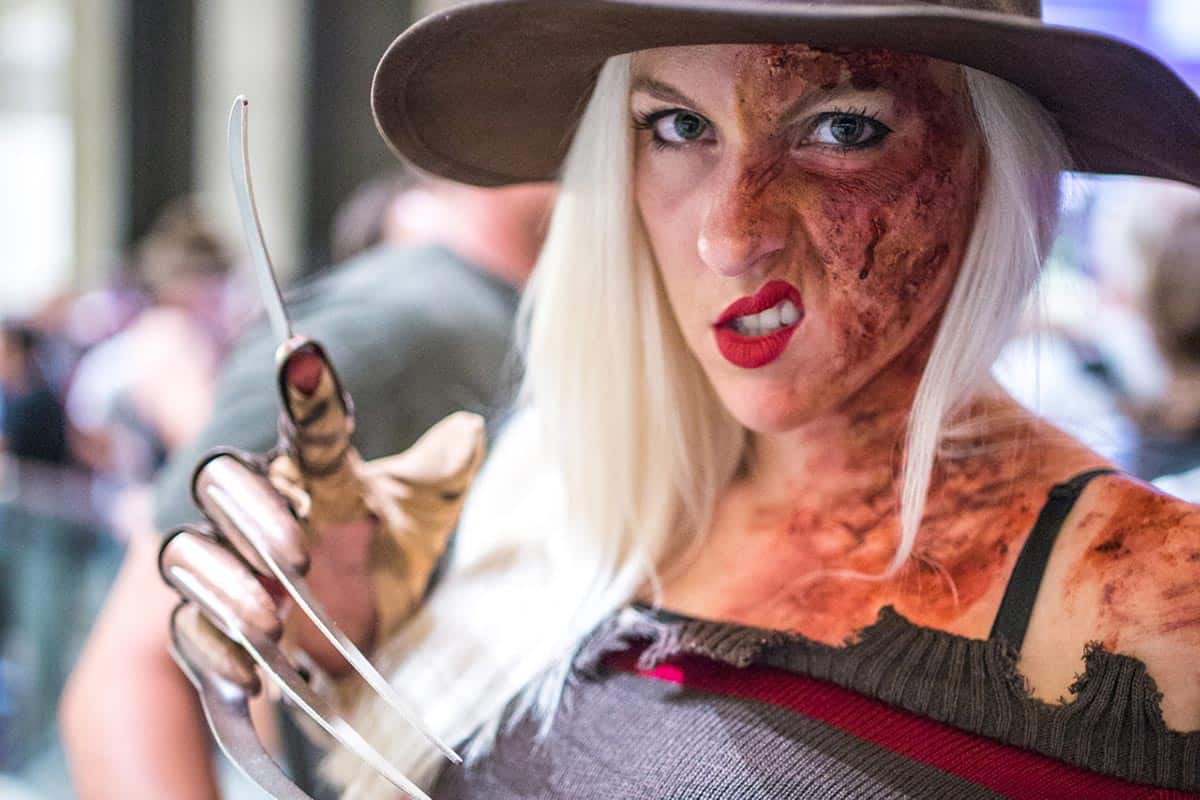 Be honest, you would be tempted to fall asleep if Freddy Kruger looked like this. Nothing against Robert Englund, but a hot blonde sporting fake latex burns and claws are better than the meat face we are accustomed too. Shows what you miss when you skip Comic-Con!
27. Captain Marvel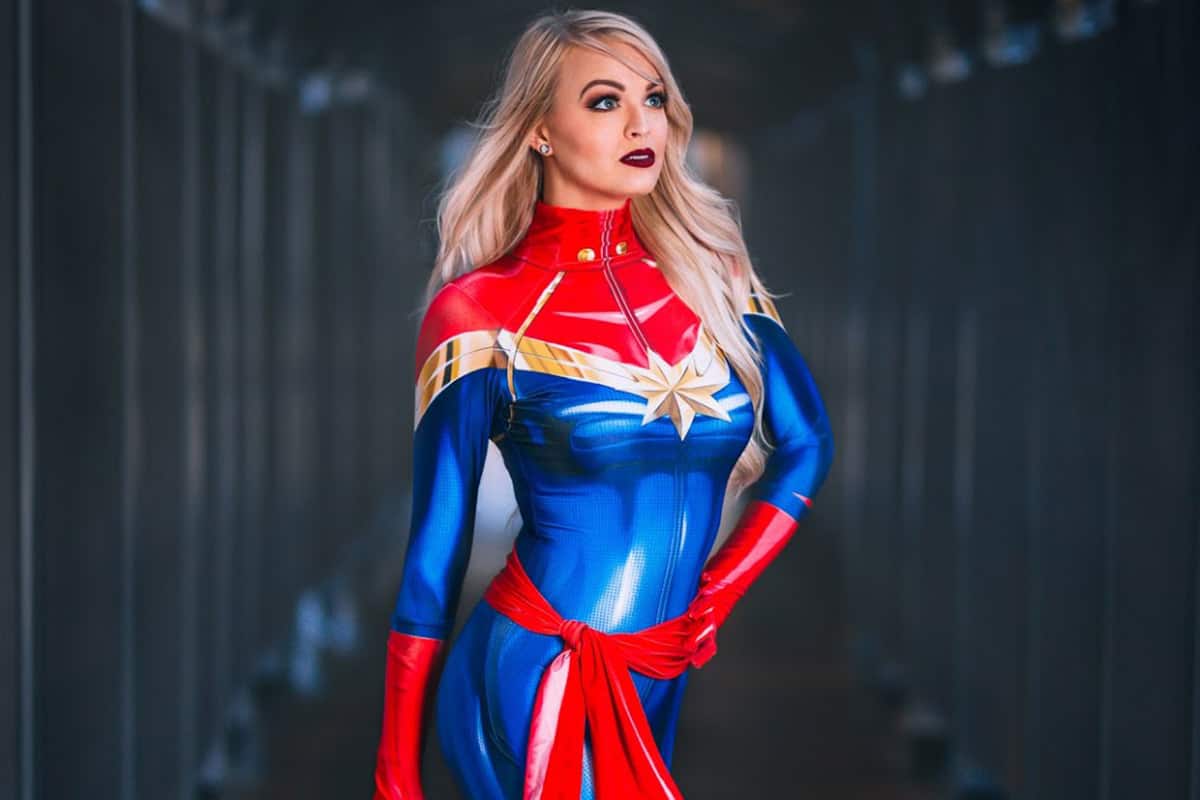 This handmade cosplay Captain Marvel is the bomb! Costumes like this are popular in Boston for one reason… no props! Seems like transit police get involved every year during the Boston Comic Con because of all the fake weapons people carry around. Not Captain Marvel though. She is just marvelous!
26. RoboCop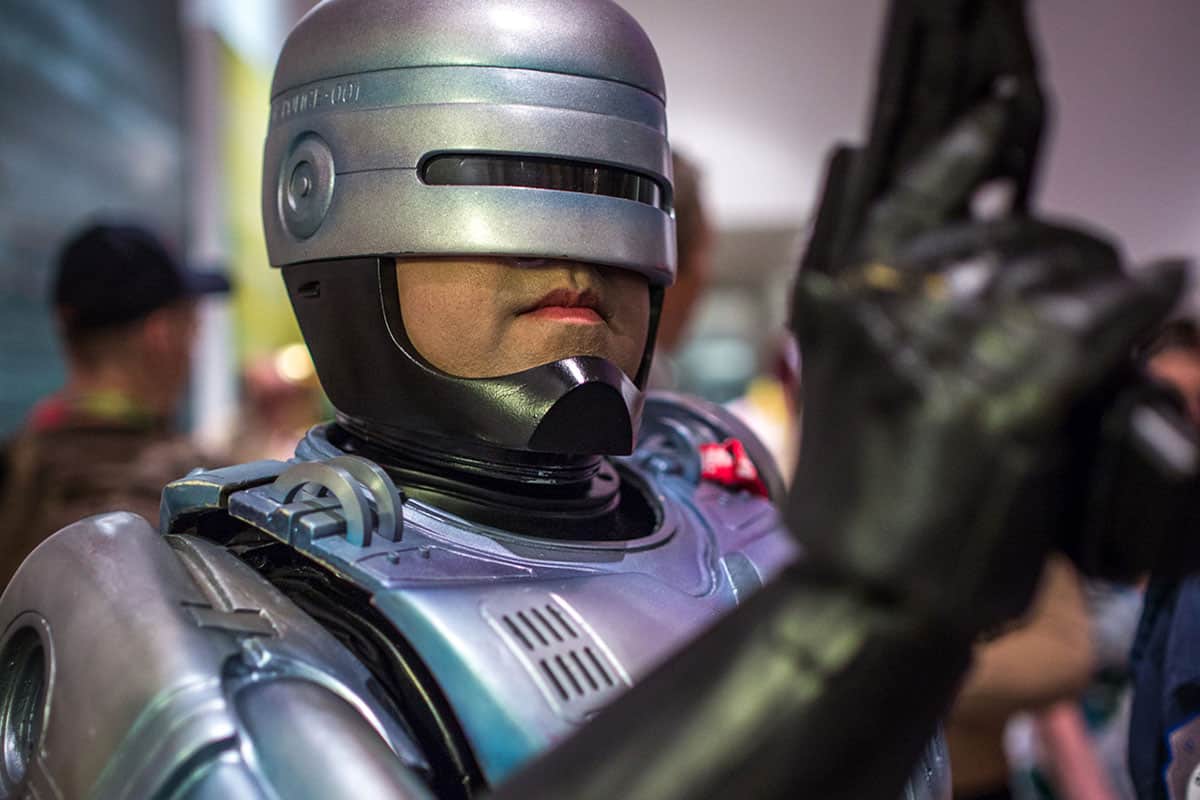 Sure, this guy is a bit chubbier than the real movie Robocop, but his costume is the bee's knees! Plastic, foam, paint and superior molding skills make this one a showstopper. Who wouldn't want to get arrested by this guy after all?
25. Captain America: Avengers: Infinity War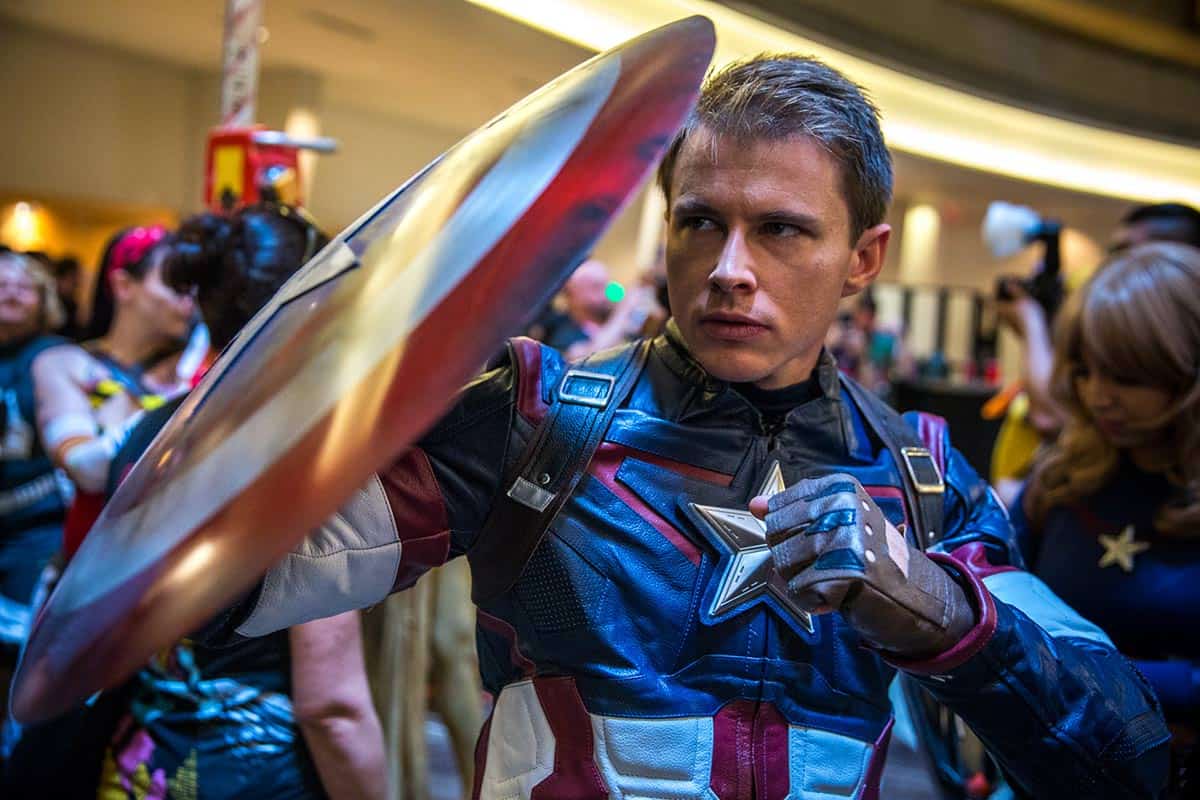 True, this suit was custom made by white sheep leather. they create all sorts of Captain America costumes for cosplayers who want to dress as Captain America throughout any of his movie appearances. They also make a host of other marvel character cosplay costumes, but you still have to grow your own beard. This guy looks out of sight.
24. Jon Snow: Game of Thrones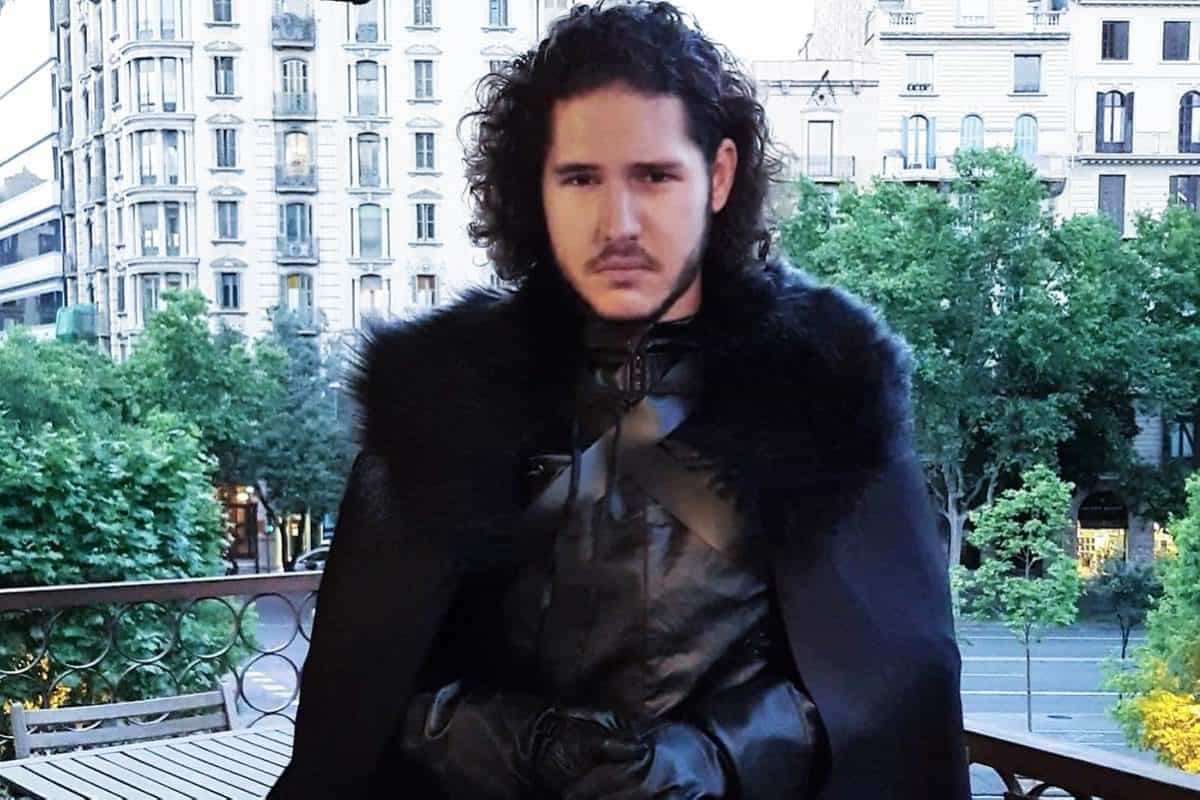 From a distance, you might confuse this guy for Kit Harrington in costume as Jon Snow. This cosplay works well mainly because the cosplayer resembles the character of Jon Snow. They should consider using him as a double if they need one for Jon Snow.
23. Legolas: Lord of the Rings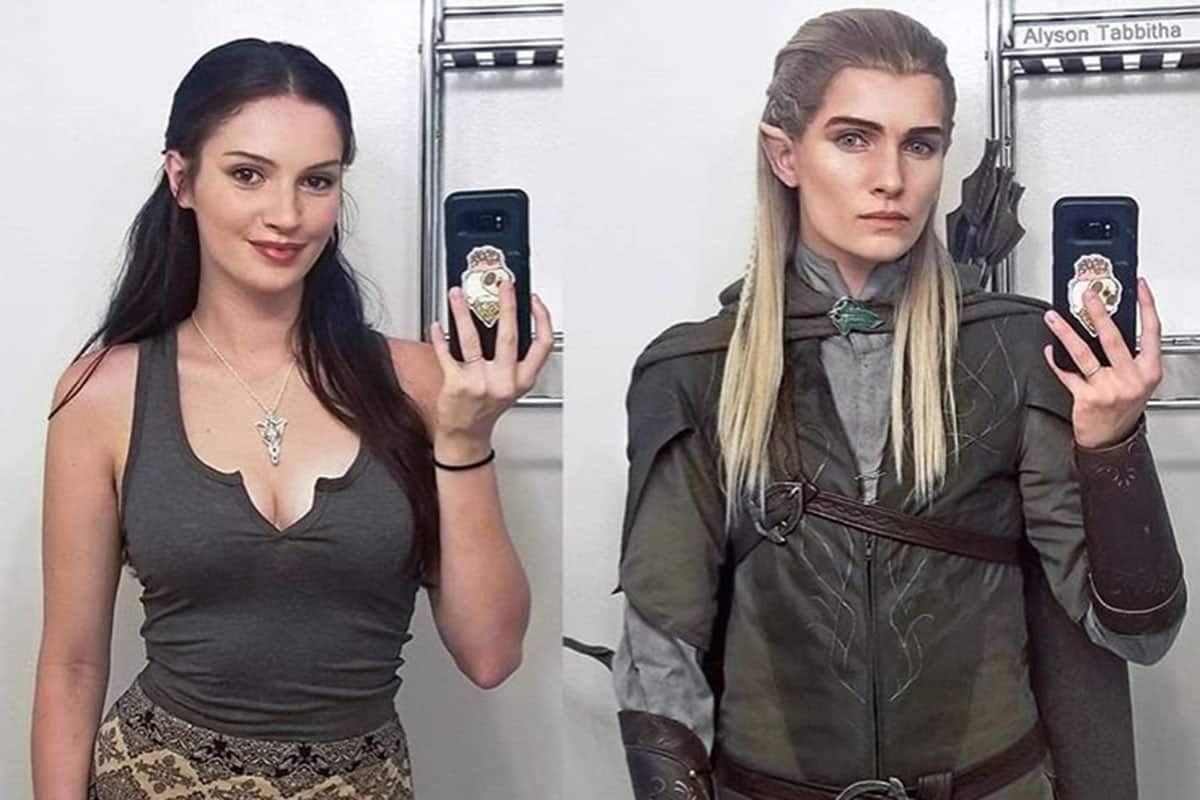 Legolas was a memorable character from the Lord of the Rings series. Alyson Tabbitha completely transformed herself into the character for this cosplay. If you hadn't seen her prior to the transformation you wouldn't even recognizer. Amazing work!
22. Spiderman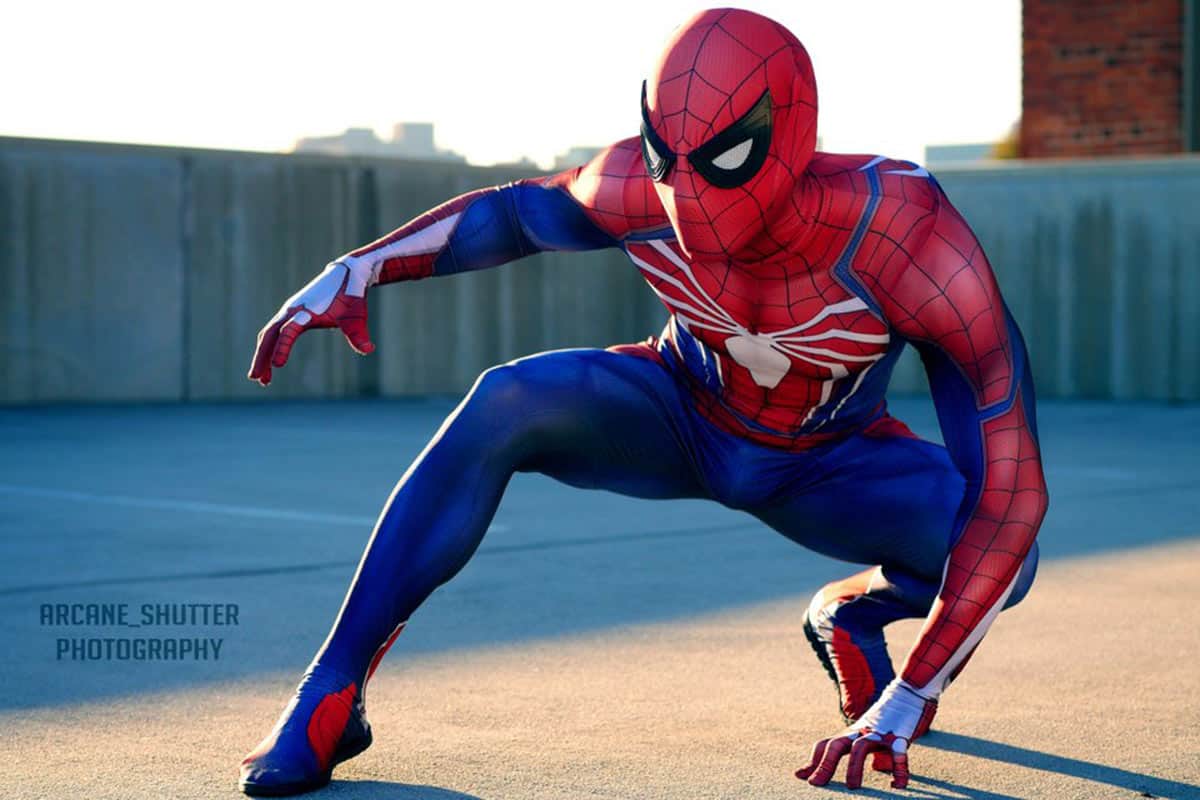 Who doesn't love this Web Slinger? This is the Amazing Spiderman. Although it's mostly costume, the key to pulling this cosplay off is being in good physical shape to fill out the costume. This cosplayer nailed it.
21. Lieutenant Commander Data: Star Trek: The Next Generation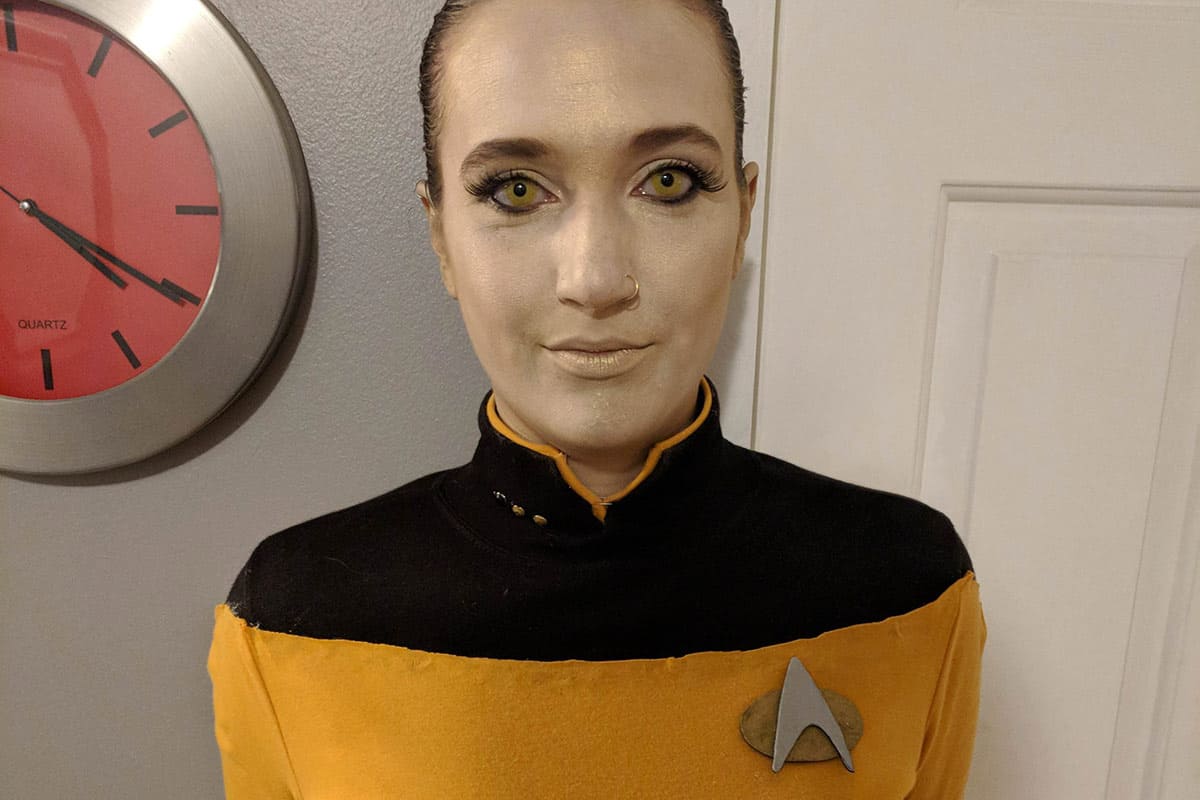 Did Data wear a nose ring? Nope. he also didn't sport a costume made of felt, hot glue and wood cut out medallions, but hey, who's keeping score? Data would if he could. However, we will say the fake eyelashes and colored contacts elevate this costume to a decided level of epic hotness. We are fans.
20. Sub Zero: Mortal Kombat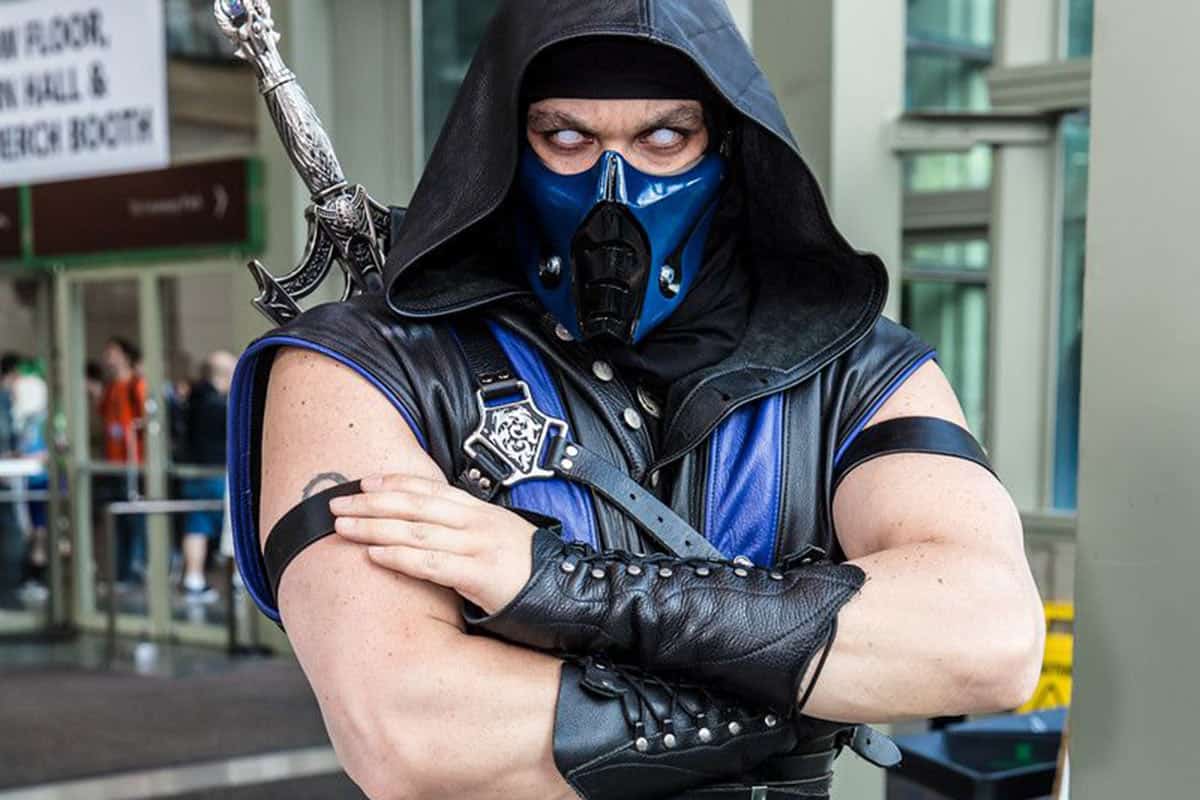 He is one of the original characters from the Mortal Kombat video game series known for freezing his opponents, it's Sub-Zero. Sub Zero was introduced with the game back in 1992. The amount of detail this cosplayer put in to pull this off deserves applause. The outfit, the sword, the face mask, and the white eyes, you have to appreciate this level of cosplay.
19. Rogue: X-Men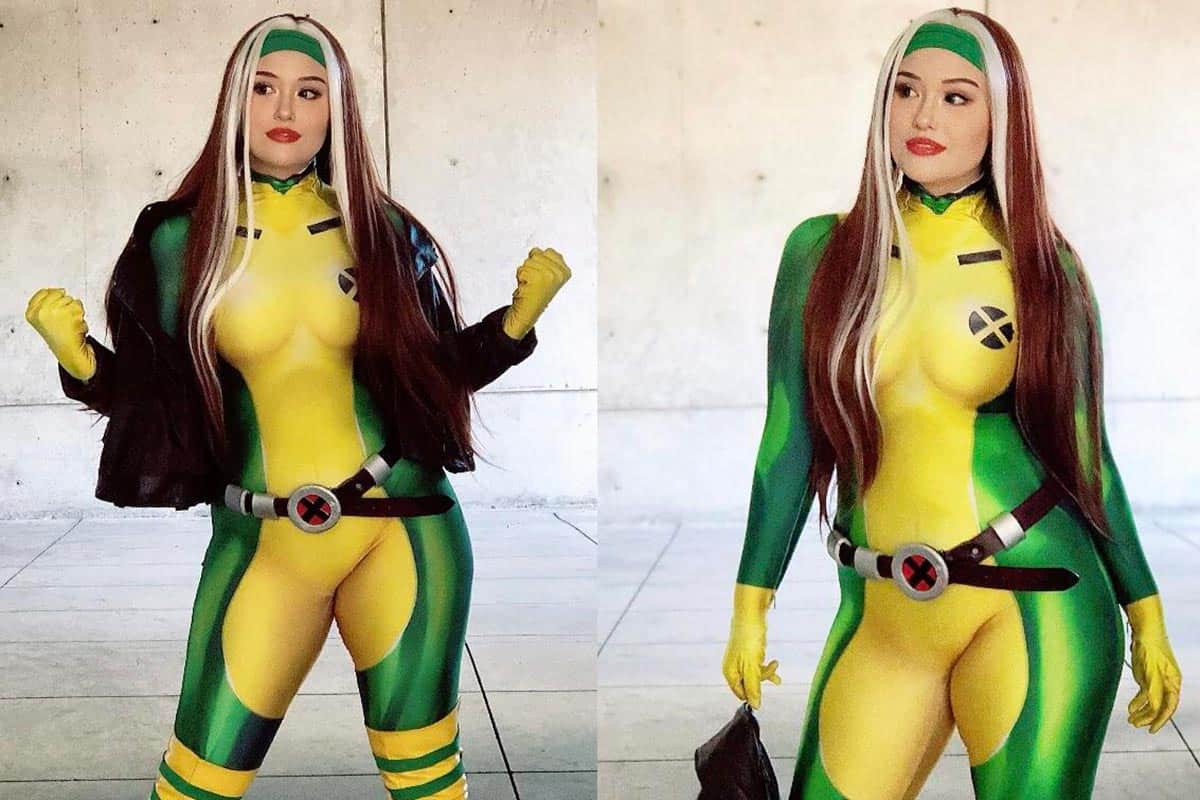 Wait, is that cosplayer Jess Nigri as Rogue? No, but she is every bit as hot and amazing. She did not make the bodysuit but did make all of the other accessories (including the jacket). Reportedly, she looked long and hard for a bodysuit with the right muscle shading. You may need to look long and hard to see if she made the right choice.
18. Android 16 and Future Trunks: Dragon Ball Z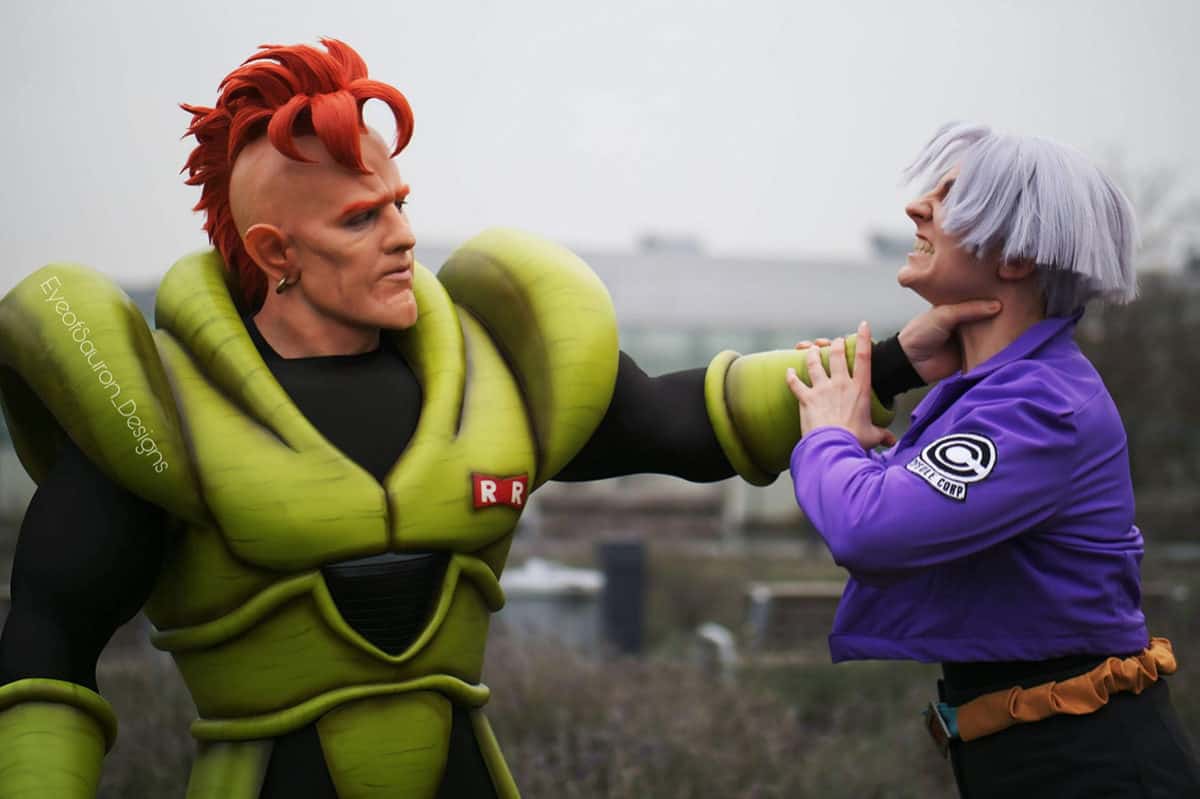 This amazing cosplay outfit was a collaborative work. the suit wearer made the foam muscles and body armor, a friend helped with prosthetic makeup, another friend made the wig and yet another friend applied the paint detailing. The end result is one of the most badass cosplay costumes on the planet!
17. Debbie Thornberry: The Wild Thornberrys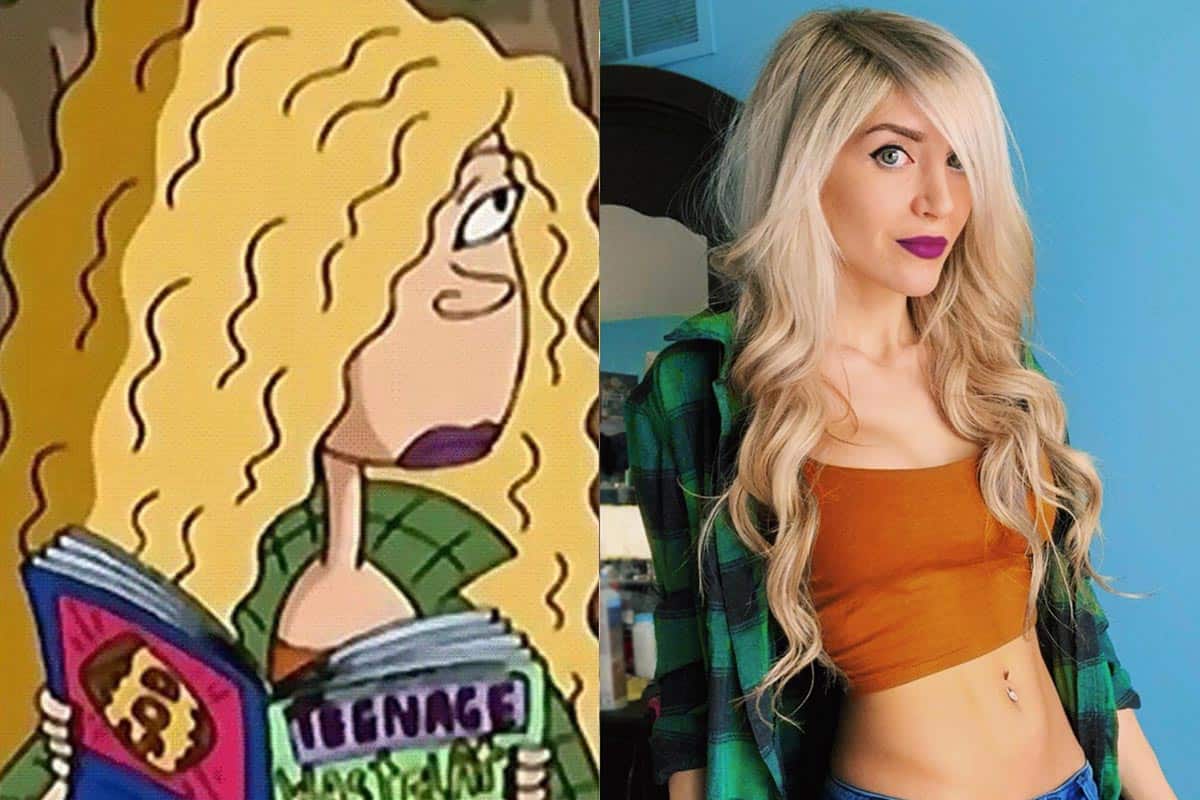 In another episode of who wore it better, we have Debbie Thornberry versus reddit user lisamancinerh. If you vote for the cartoon Thornberry you will receive a lifetime ban from our site. Lisa looks amazing, complete with purple lips and belly piercing.
16. Batman and Superman: Batman Vs. Superman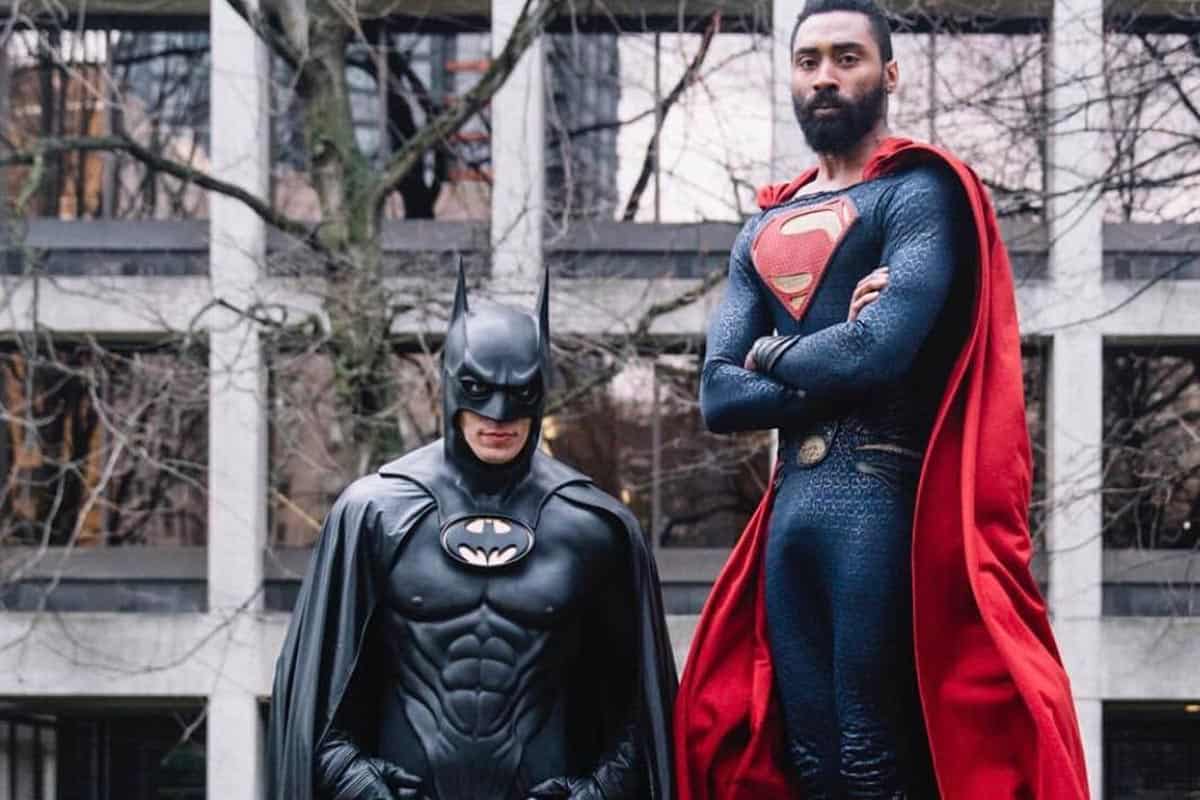 So yeah, maybe Batman looks like he might be constipated in this photo. That's okay, the real talk of the town is the Superman cosplayer. he is known for taking pictures that look like he is floating in mid-air. He uses a self-timed camera and tries to look as natural as possible during the middle of the jump so the pictures look authentic.
15. Padmé Amidala: Star Wars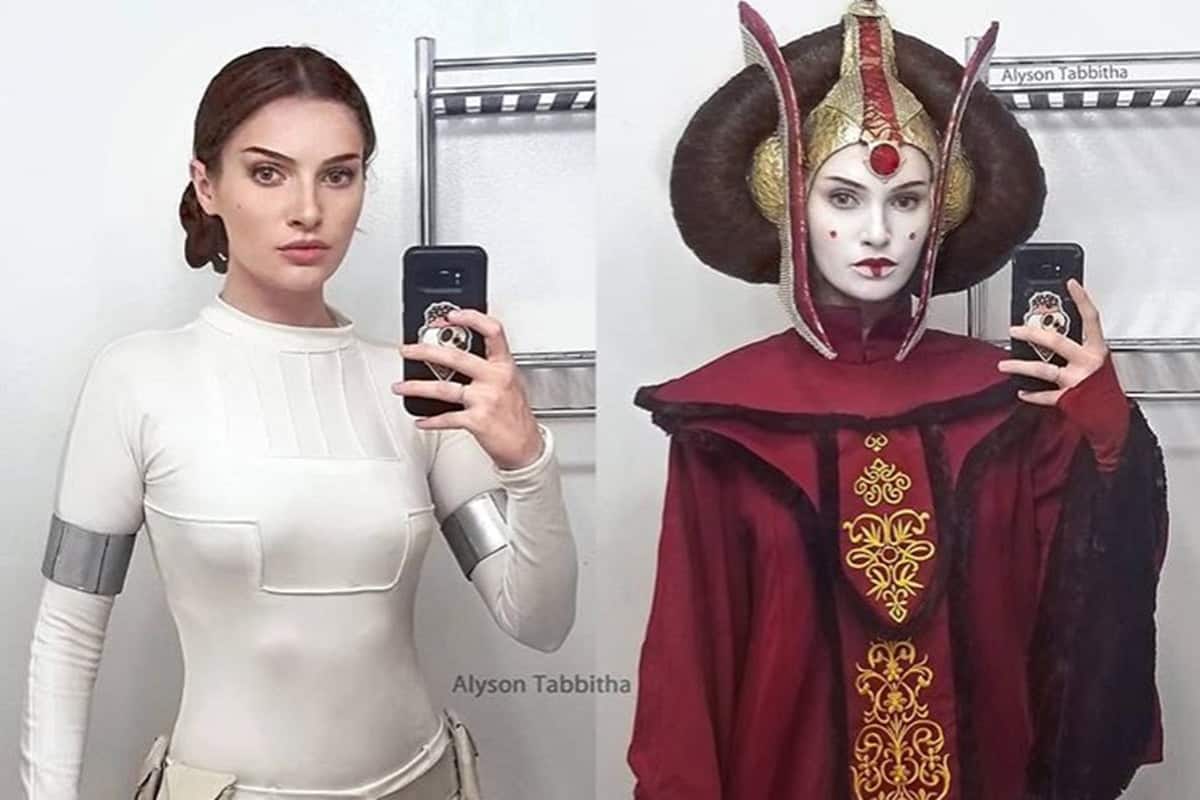 Natalie Portman would be proud of the work Alyson Tabbitha put to pulling off the Padmé Amidala from the Star Wars series. The make-up and costume bring this Queen of the planet Naboo to life.
14. Thor: Thor: Ragnarok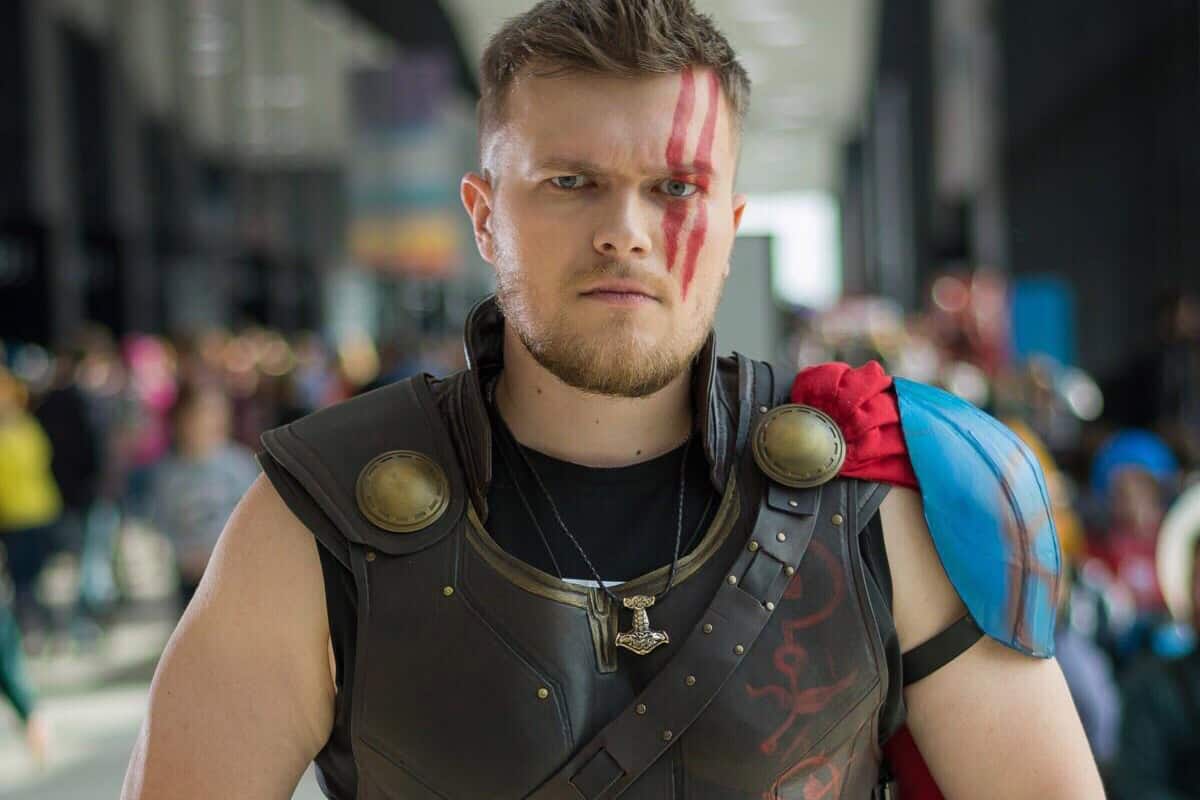 You think you can do leather work until you spy a cosplay costume like this. This little gem was actually designed by a father and son team. They hand cut all of the leather pieces and embossed or patterned, each section to create this stunning Thor look alike.
13. Popeye: Popeye the Sailor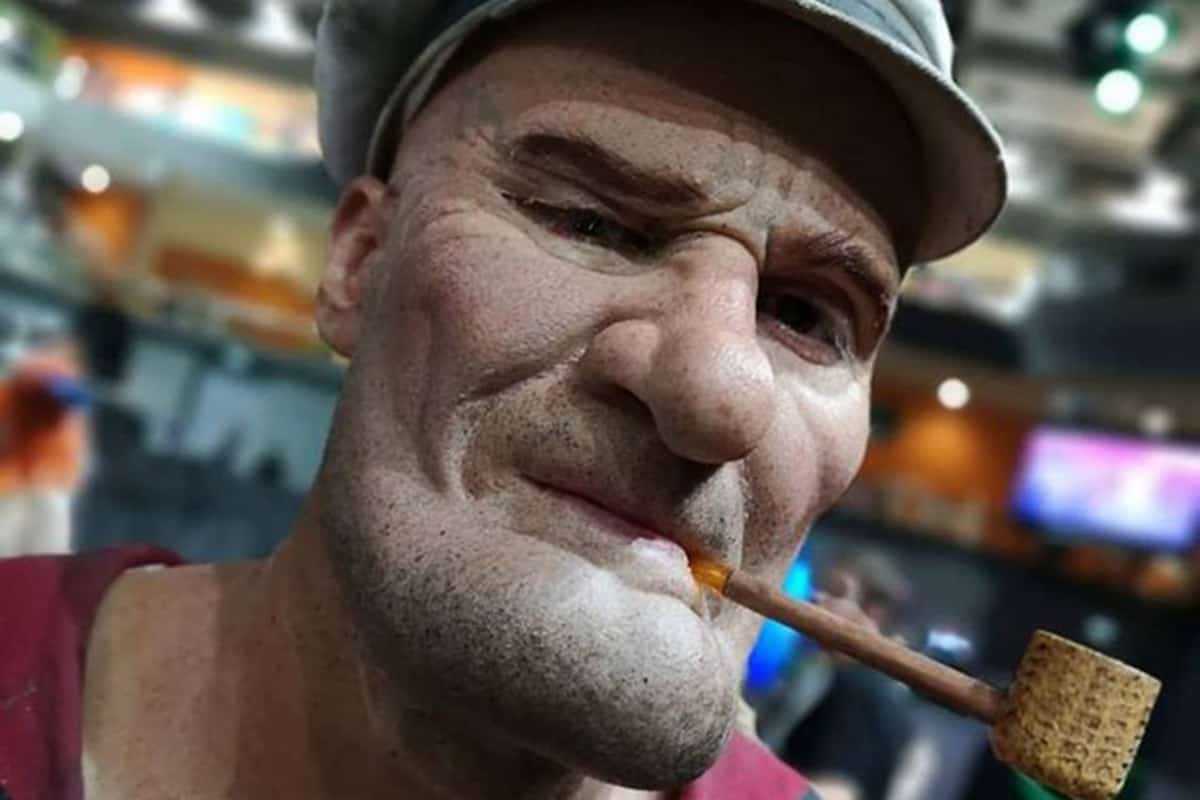 There's more to Popeye than meets the eye. However, you have to know how to apply latex and fake prosthetic parts in order to pull it off. The denim chin (Jay Leno) would be jealous of this guy's jawline. Nobody would be jealous of that bulbous prosthetic nose though. Overall, this guy nailed it. Give him a can of spinach!
12. Hela: Thor: Ragnarok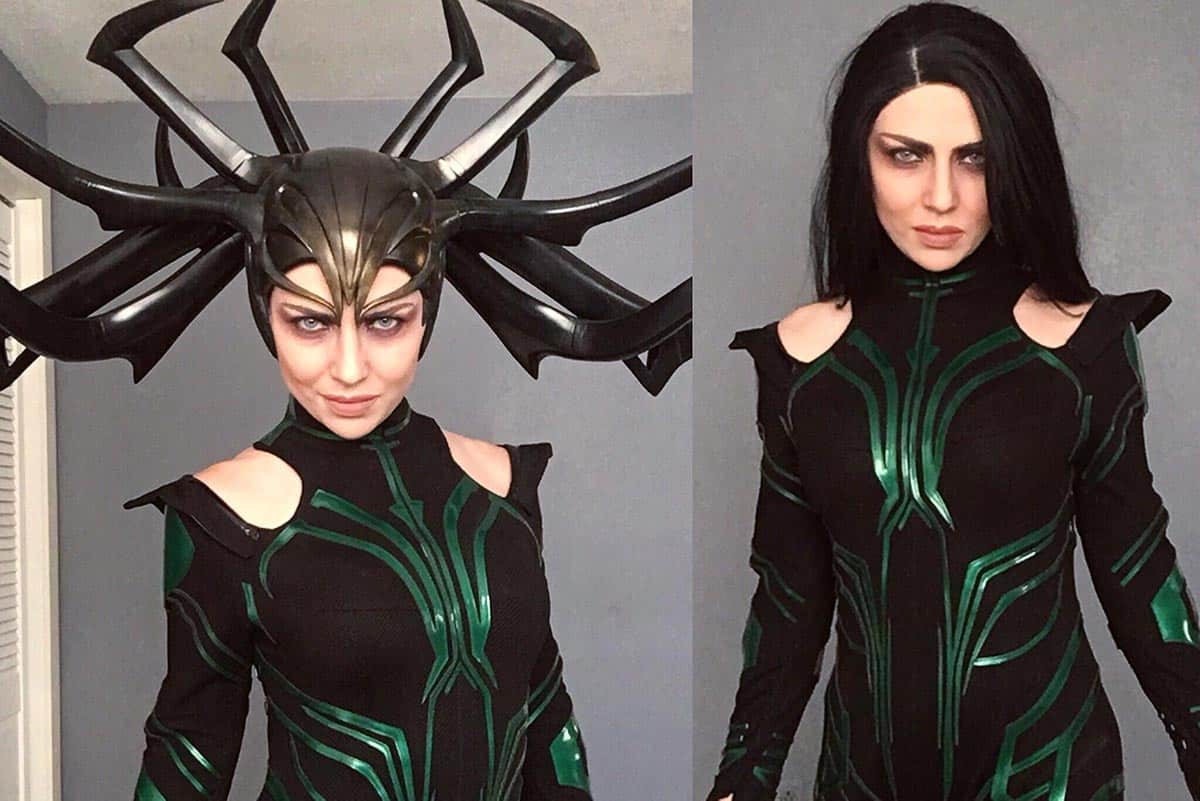 What we know about this costume. First, the body suit was made by a professional cosplay company to fit her like a glove (and it does). Second, she looks a lot like Blanchett and is every bit as gorgeous Finally, the helmet is a secret. She hasn't told anyone how, or where, she got it!
11. David Bowie: Aladdin Sane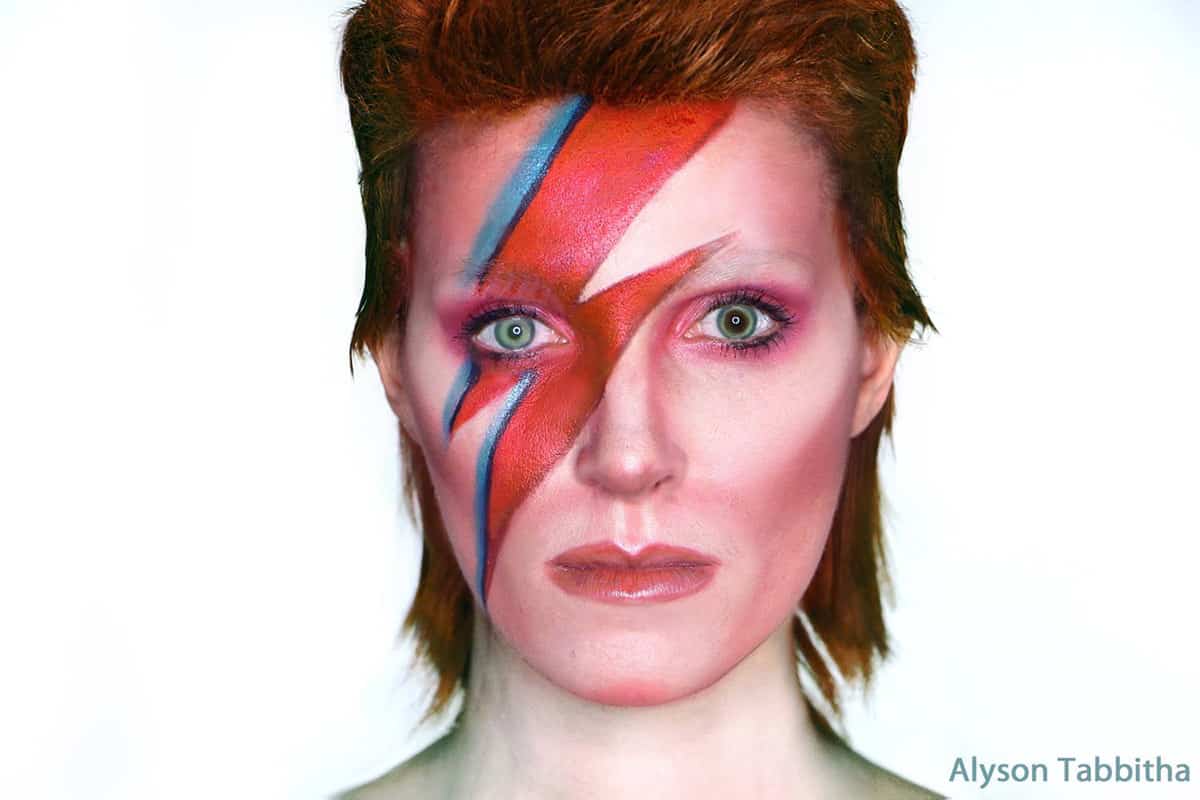 It amazes me the creativity cosplayers put into their craft. Alyson Tabbitha decided to stray away from TV and film characters and chose to cosplay the cover art for David Bowie's 6th studio album, Alladin Sane. You can see the detail she put into her make-up to resemble Bowie. Absolutely amazing!
10. Alfredo Linguini: Ratatouille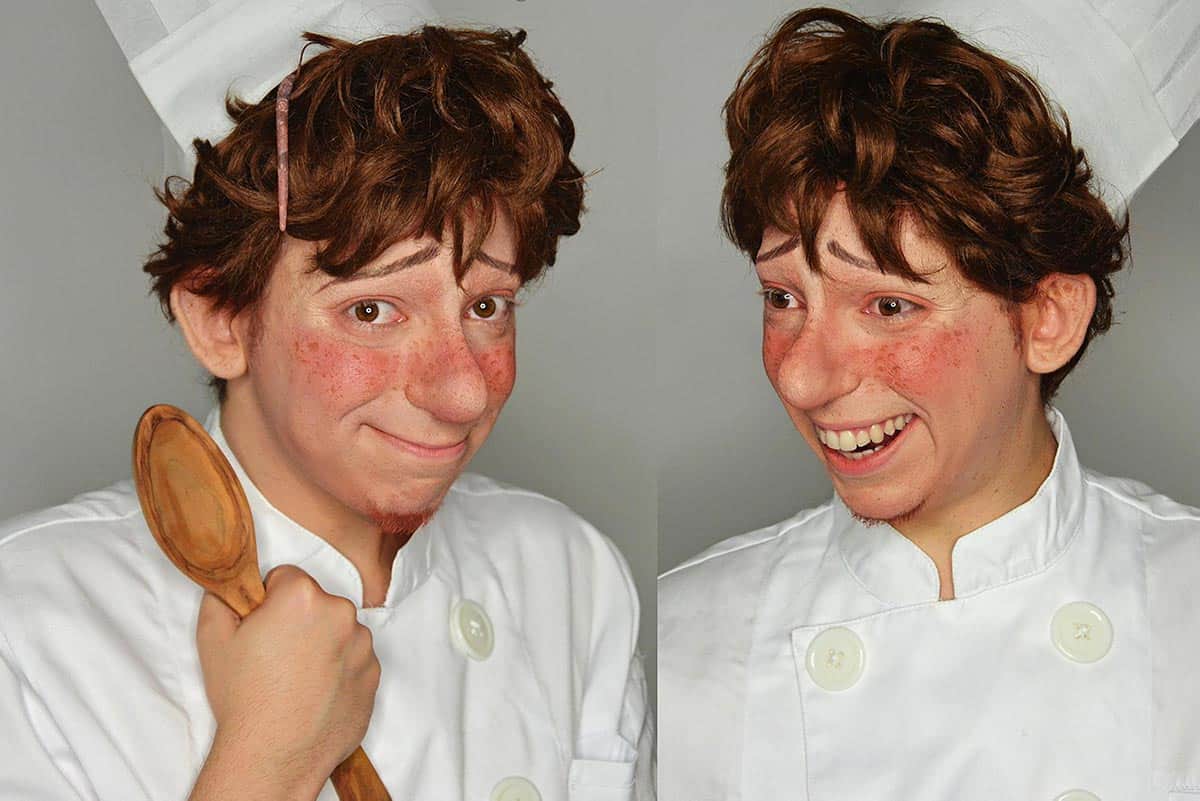 This is what we think Ed Sheeran's kid brother would come up with if he did cosplay. This kid pulls off an amazing Linguini from Disney's Ratatouille movie. The best part? The only prosthetic on his face is the nose. He made it entirely from gelatin. Amazing.
9. Green Lantern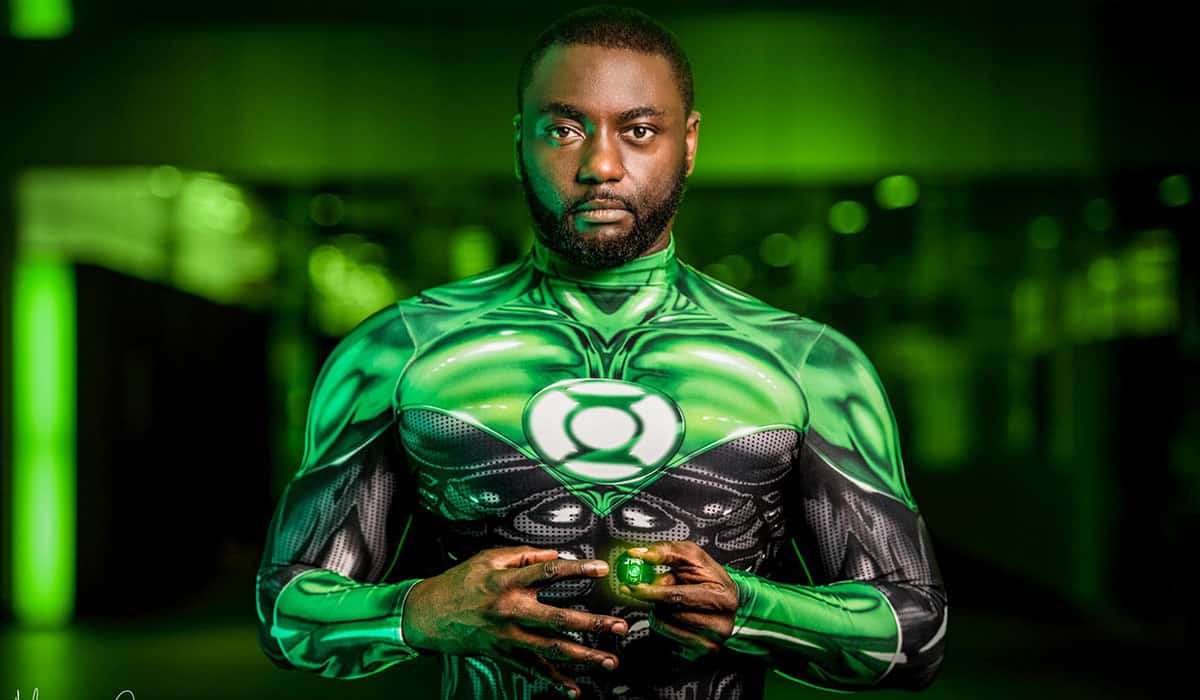 This was an impressive cosplay of the Green Lantern from the D.C. Universe. This specifically looks like John Stewart Green Lantern. His physique fills out the suit plus he has the ring to match.
8. Wonder Woman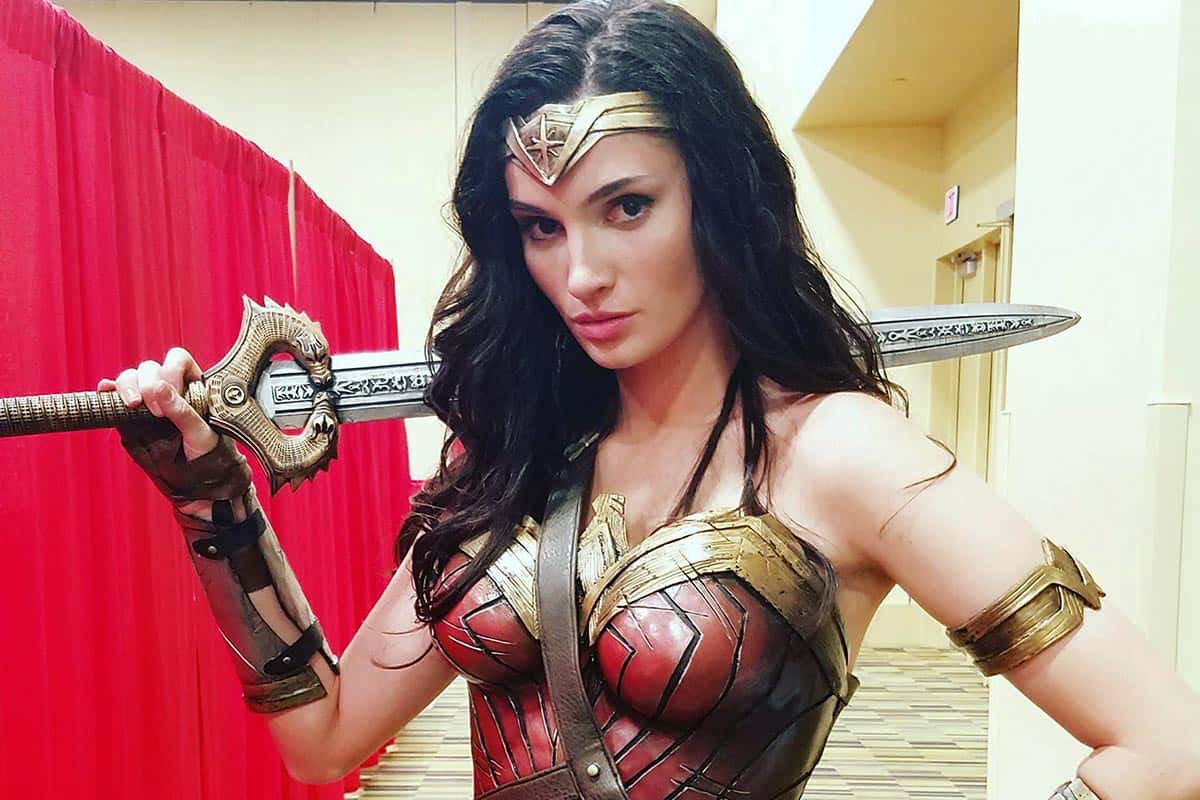 Alyson Tabbitha has pulled off numerous cosplays on this list but you have to love her as Wonder Woman. The costume, the sword, even the headpiece. Amazing work Alyson!
7. Captain America: Captain America The First Avenger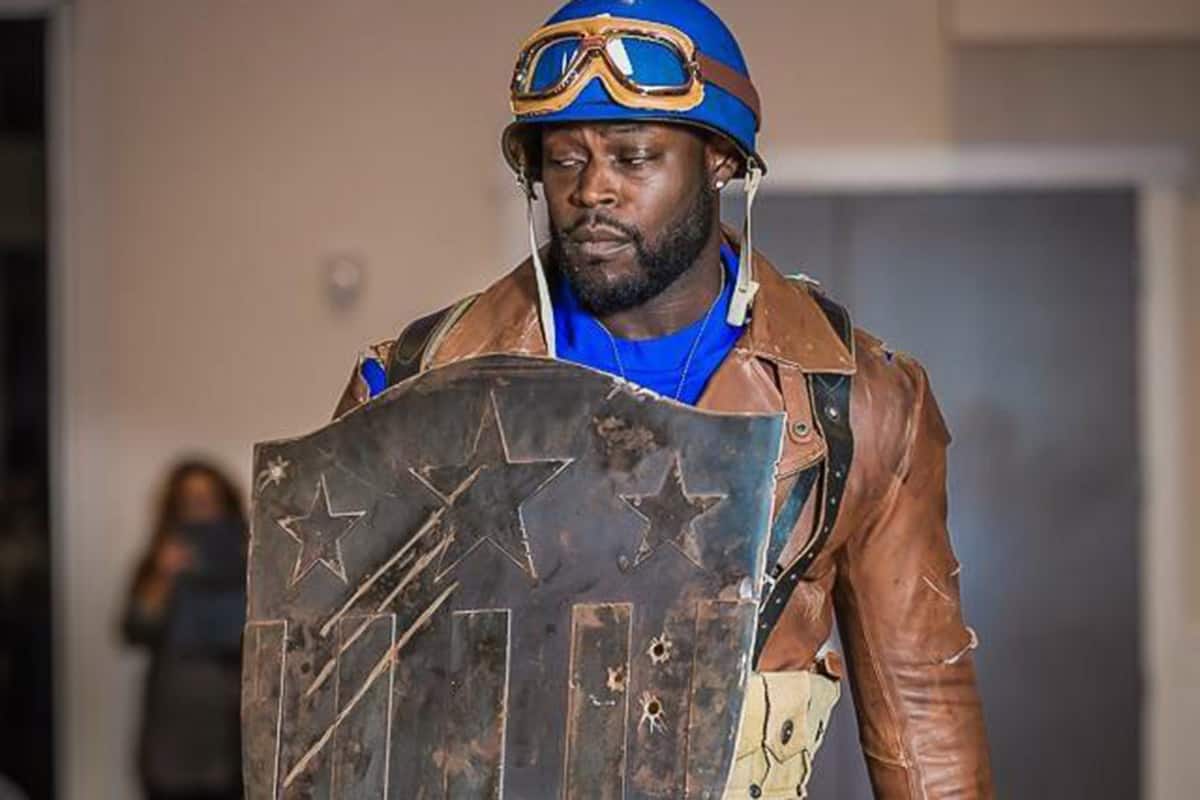 Every bit of this costume was made by the person wearing the suit. The jacket was distressed, the shield was crafted and beat up, even his pants were custom made. Overall, this guy ranks in the top one percent for homemade cosplay suits of awesomeness. If you disagree, well, you'll have to take it up with Cap.
6. Harley Quinn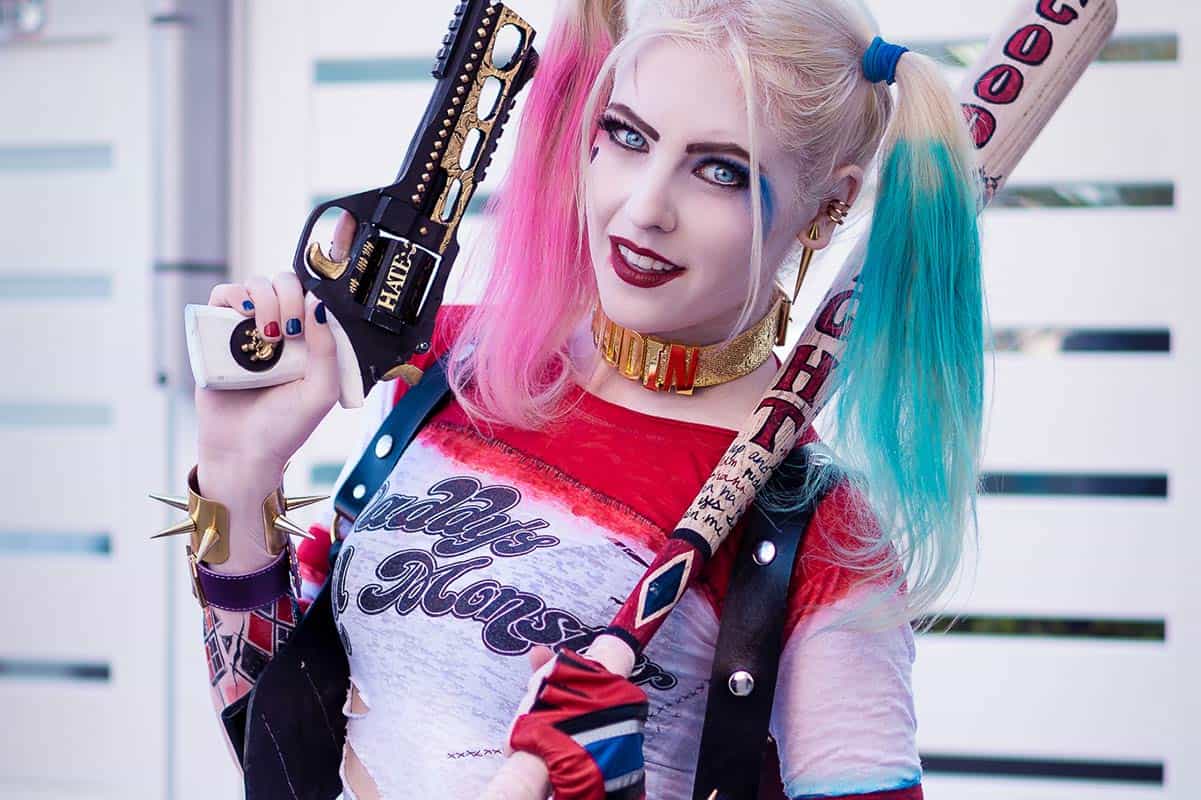 In the summer of 2016, D.C. Entertainment and Warner Bros. released the hit film Suicide Squad. The team featured Dr. Harleen Quinzel aka Harley Quinn. The film lead too many cosplaying the character including this cosplayer. From the costume, the hair, the make-up, and the weapons she nailed this cosplay.
5. Walter White: Breaking Bad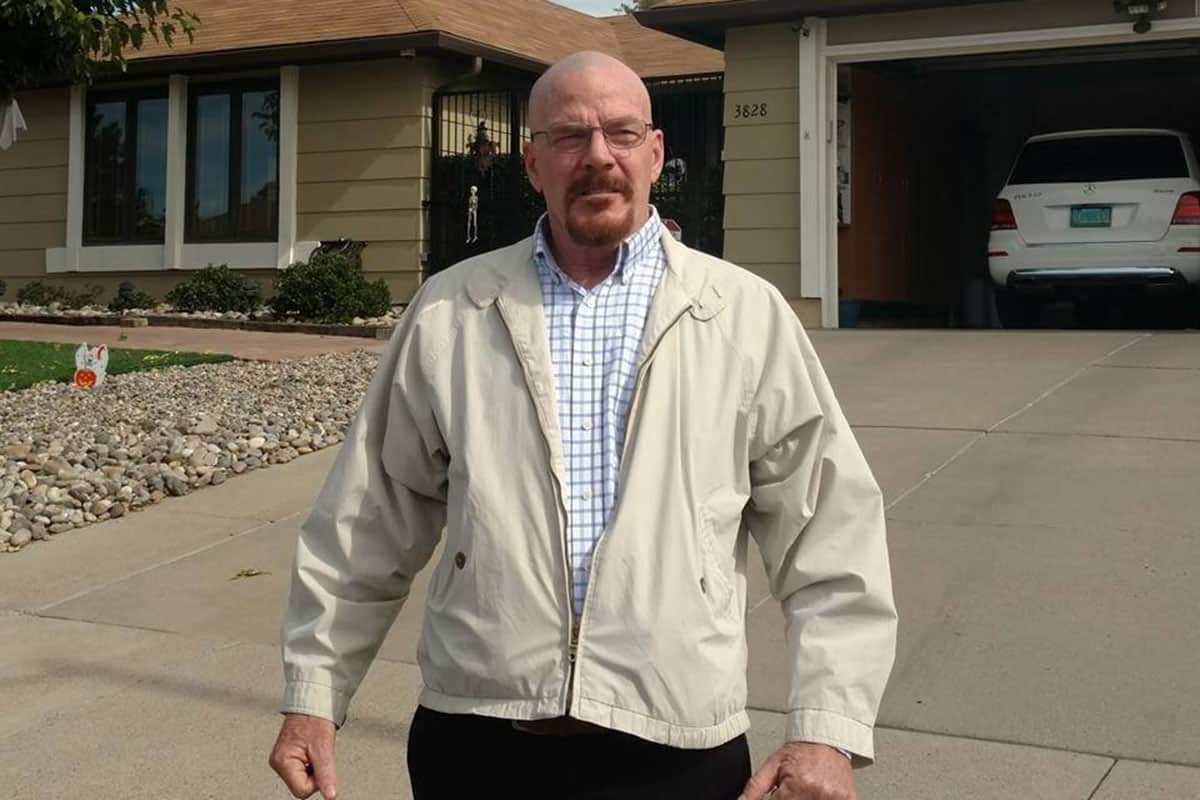 Is this really Walter White or a cosplay phenom. the latter is the correct answer. the more you look at the photo the more you begin to notice subtle things. For instance, there is an extra gate and the garage positioning is a bit off. As for the cosplayer though, yeah, he could be cast as the real deal for sure. the resemblance is striking.
4. Reinhardt: Overwatch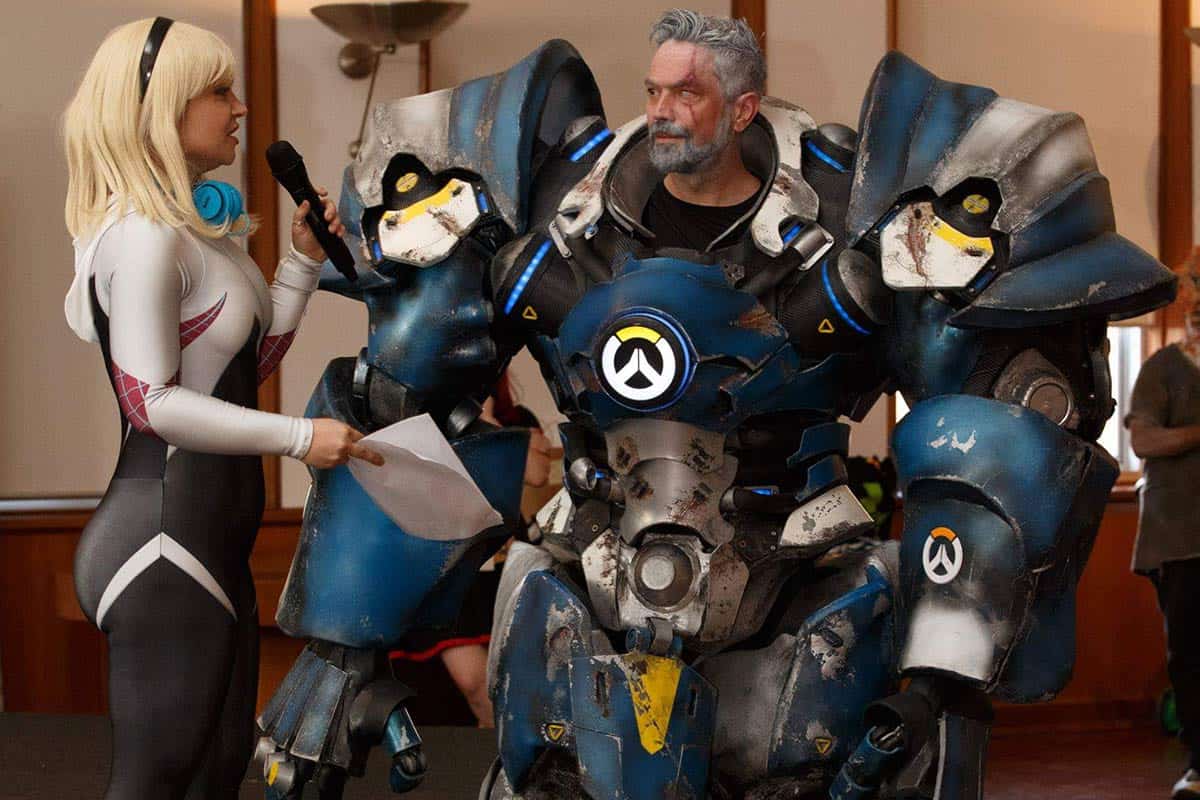 So some people have a mid-life crisis and dress as Reinhardt from Overwatch so they can get interviewed by hot blondes at Comic Cons. What's the big deal? At almost 7 feet tall, the entire outfit is made of foam, over a PVC frame. There are more than 150 LED controls and a working jet pack on the back. Nice!
3. Mojo Jojo: Power Puff Girls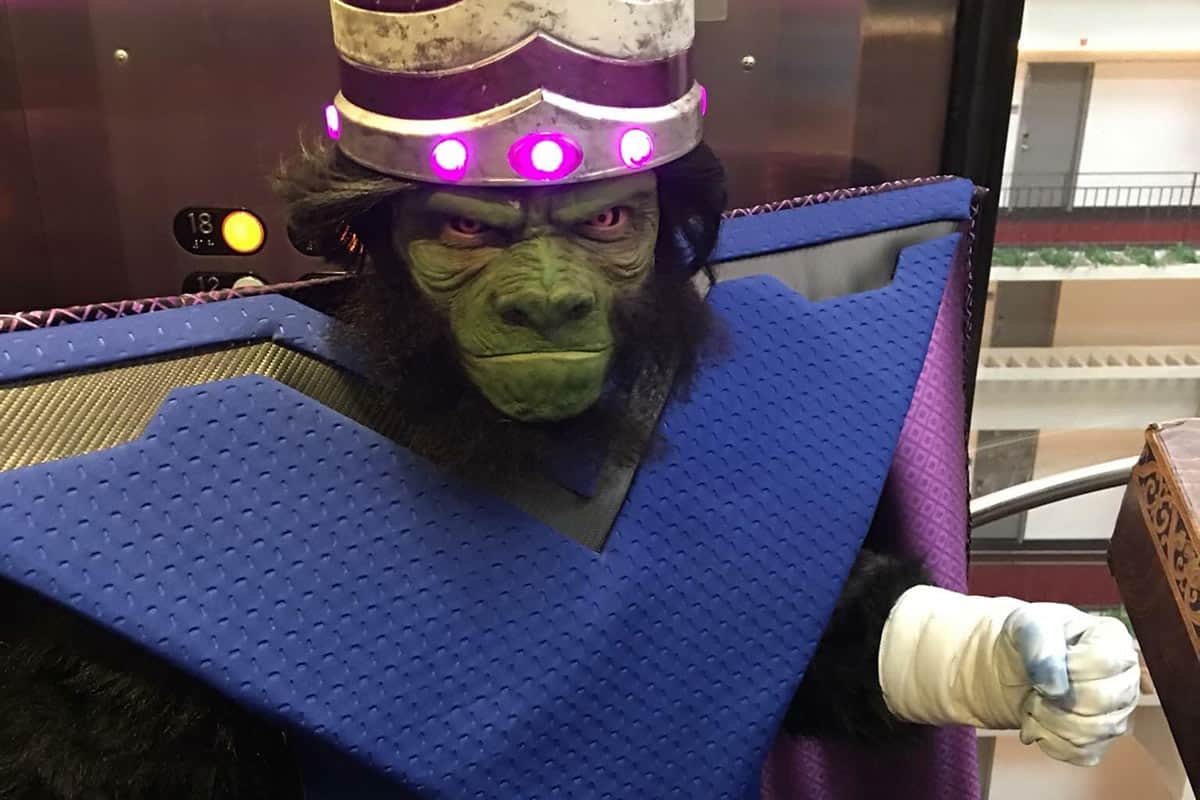 Don't monkey around with this cosplayer. While he admits most of his costumes have been easy, this was his first attempt at something more intricate. He is most proud of the helmet (which he 3D printed), and even nabbed a shot with Power Puff girl Tara Strong at the convention! Score!
2. Sweeney Todd: The Demon Barber of Fleet Street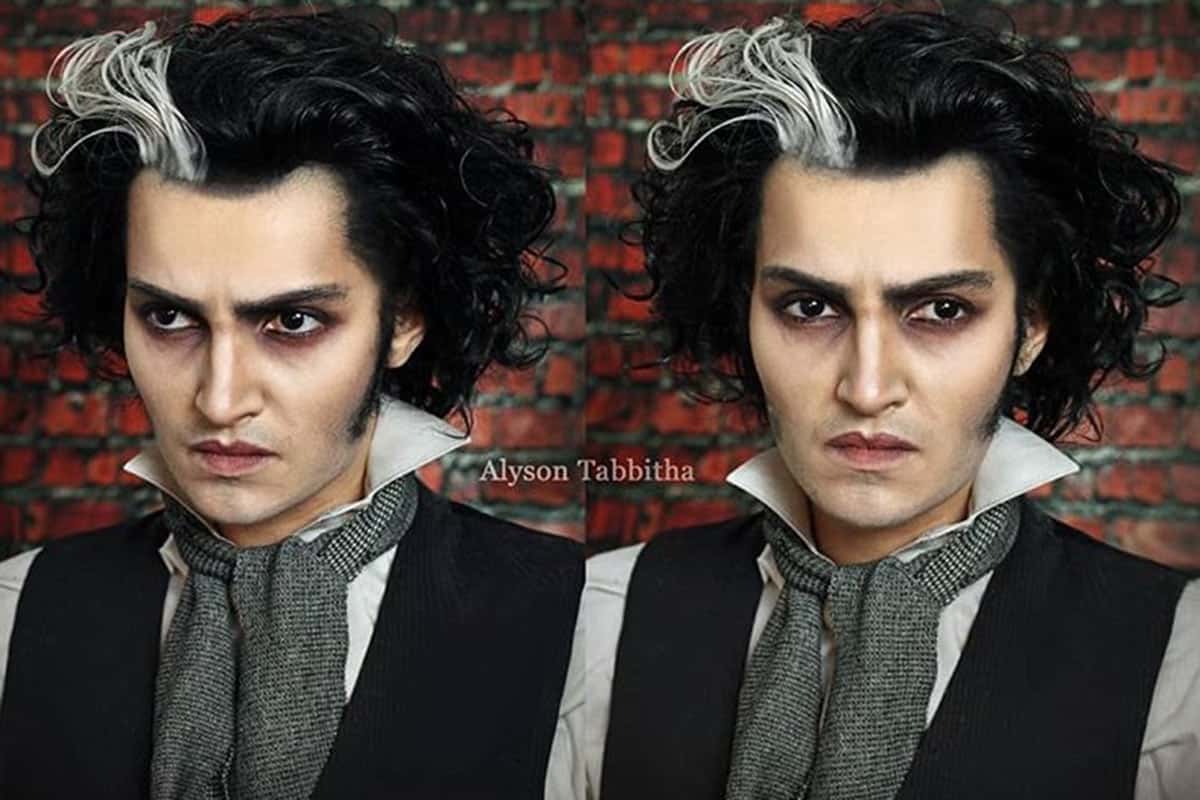 Alyson Tabbitha has done well cosplaying female and male characters and she's done it again. You would recognize this character as Sweeney Todd who was a Johnny Depp character. Alyson nailed this character form the outfit, the make-up, and the hair.
1. Lara Croft: Tomb Raider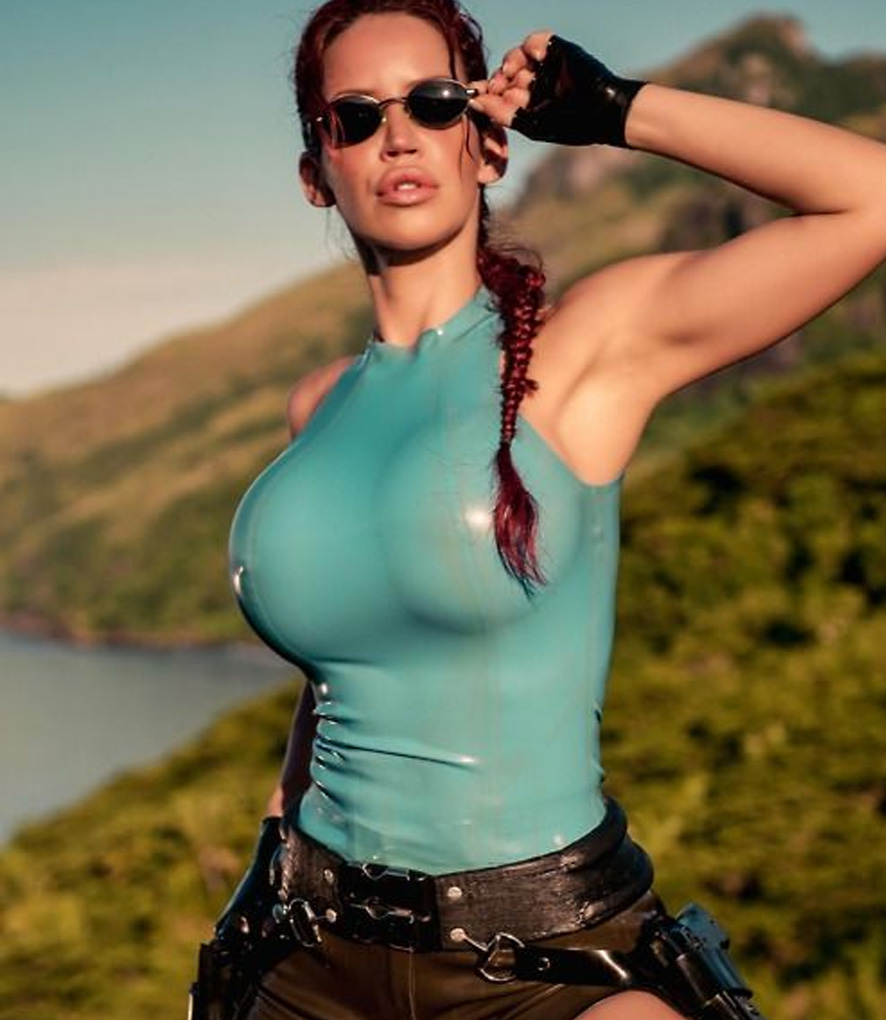 Lara Croft can show up in our kitchen anytime. What could be better than an omelette made by the Tomb Raider heroine herself? Seriously, this costume is beyond good, even though it's simple. We say she knocked it out of the park.