Best College Football Teams Ever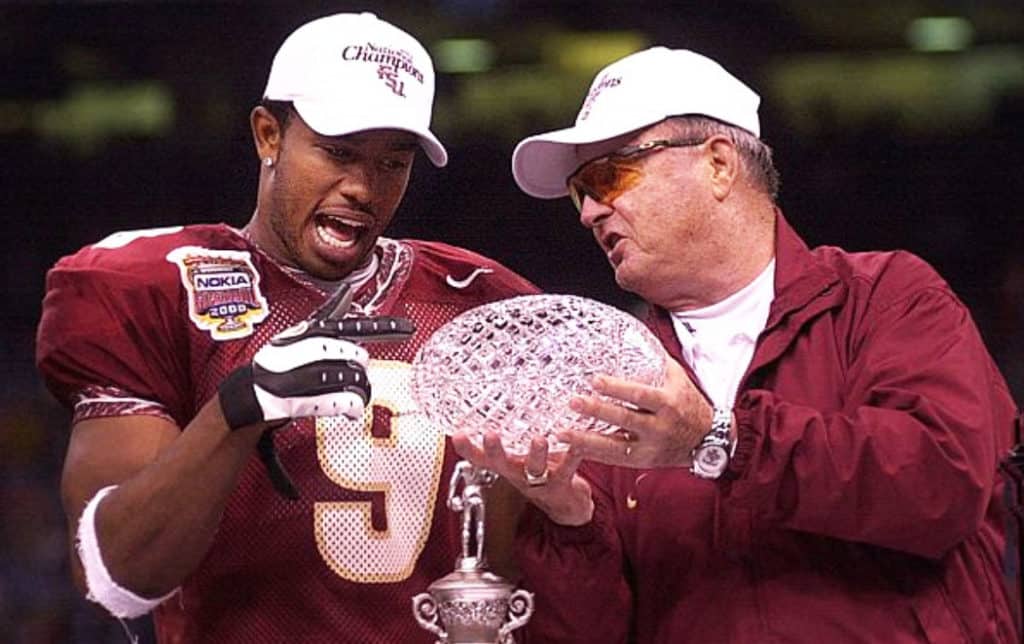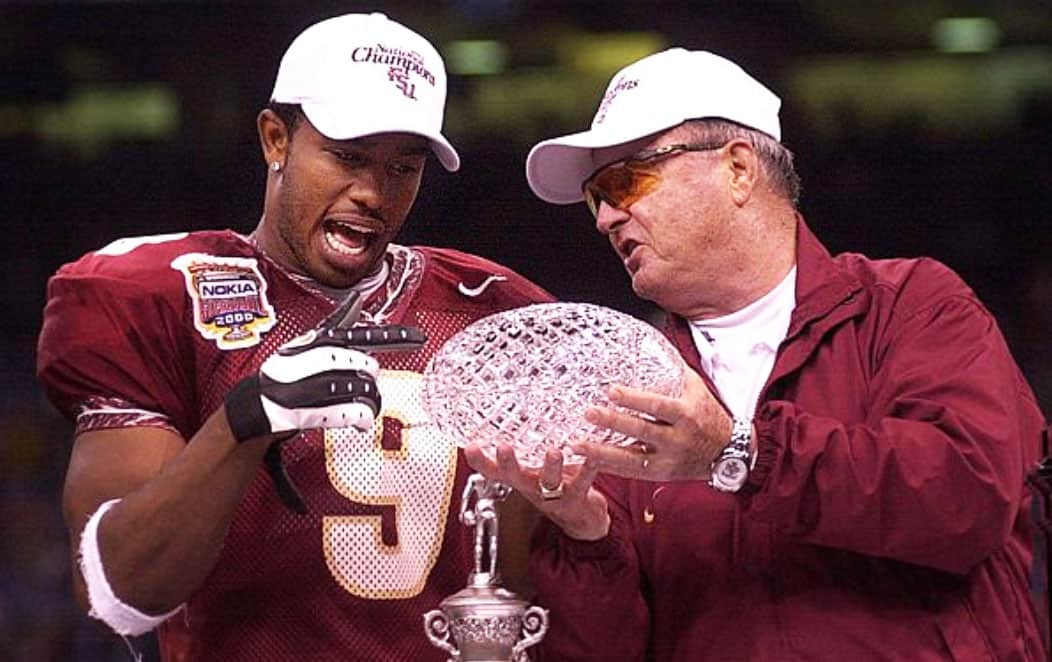 1995 Nebraska Football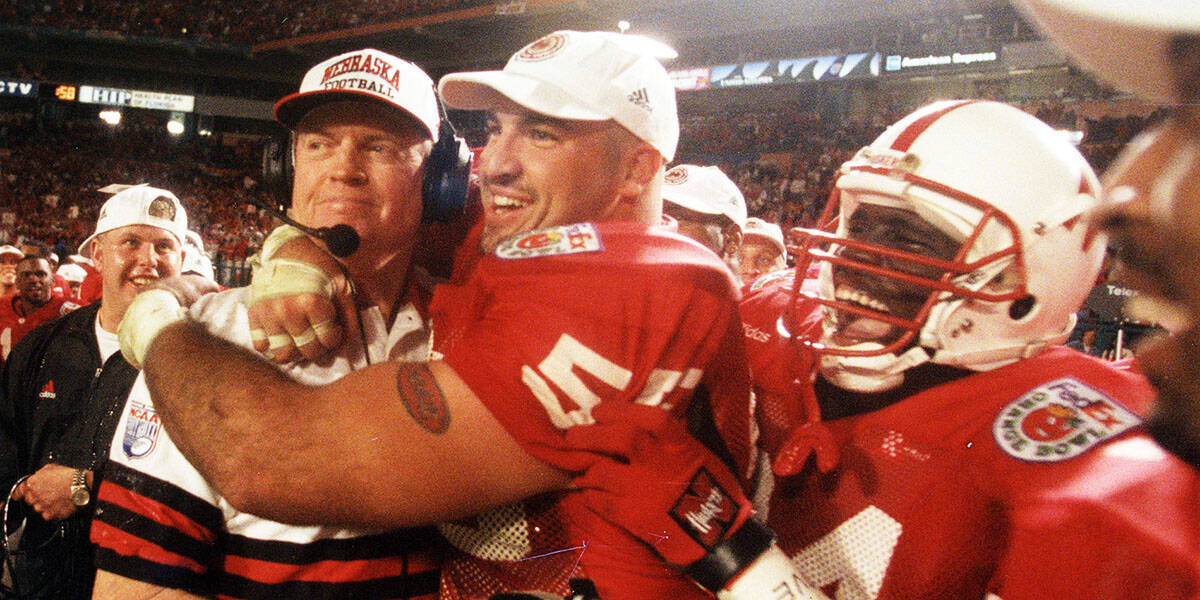 Tom Osborne coached this team to greatness. Here is the team by the numbers. In all, the Nebraska Cornhuskers scored a whopping 638 points, just over 53 points per game. Even more impressive? The team was able to keep their opposition to 14.5 points per game for a total of 174 throughout the season. Their average victory margin was just under 37 points per game. Washington State was their toughest competition that season with a 14 point spread separating the two. Many people regard this particular Cornhuskers team to be the greatest team of all time. On the heels of their 1995 big eight conference championship, an expansion caused the league to form the Big 12 conference. Yet, the Cornhuskers proved their might and prowess again by defending their title against Florida in the Fiesta Bowl. The final score of that game? 62–24. Keep in mind, the Cornhuskers were still gushing over their success from the previous year when Tommy Frazier and Brooke Behringer led the team to its first National Championship in more than 20 years. 1995 saw an overhaul and improvement in nearly every part of the team. The rushing offense and powerful defense allowed the Cornhuskers to snag a second title, the second win of a three-year streak.
1945 Army Football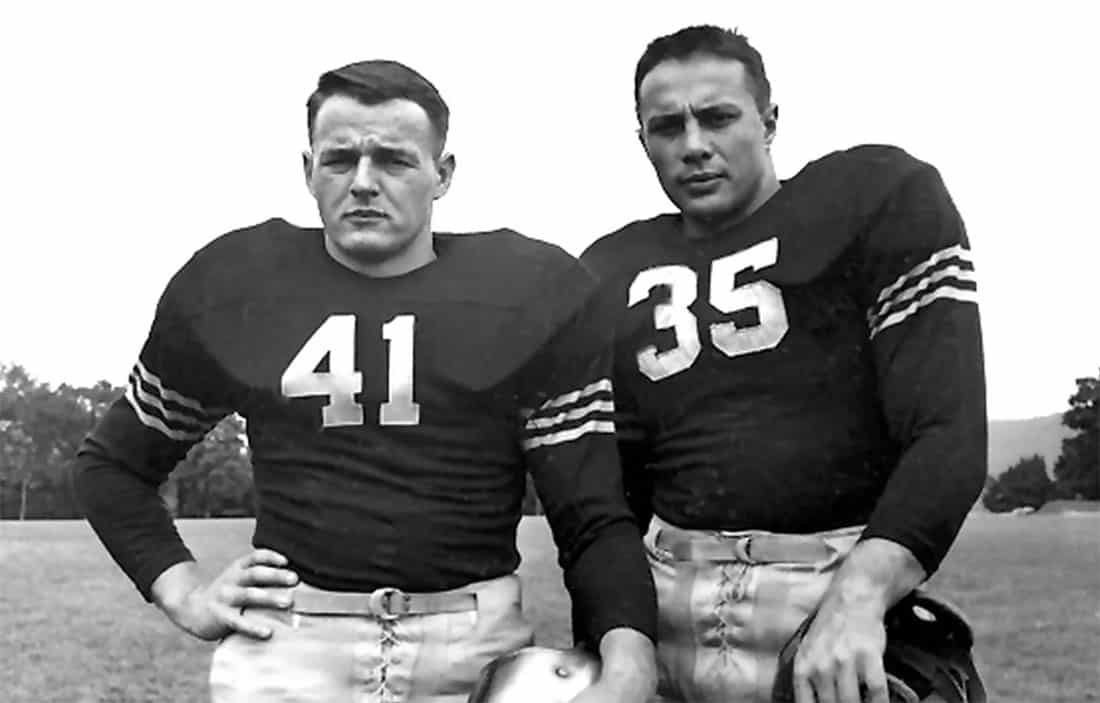 Fresh off the heels of their 1944 national title, the 1945 Army team was a beast. Here's why. World War II created loose academic transfer rules. This essentially meant service academies could recruit players from other universities to stack an All-Star team. Since Blaik (former Dartmouth man turned famous West Point head coach) was known for milking any advantage he could find, the 1945 team was stacked. Names like Shorty McWilliams (halfback), Bobby Dobbs (fullback), and Joe Steffi (guard), were a few of the more notable names along with Arnold Tucker (quarterback). Beyond that, each skill position was stacked at least three deep with star athletes, and the defensive line was nothing short of incredible. Here you would find names like Captain John Green, and Herschel Fuson. Star athletes like these would see the Army to a killer season with an average point spread of 45-6. The 1946 team would see the end of Army's run, mostly in part to star athletes transferring back to their original schools due to tightening wartime regulations. Yet, 1945 will always be remembered as Army's banner year.
1924 Notre Dame Football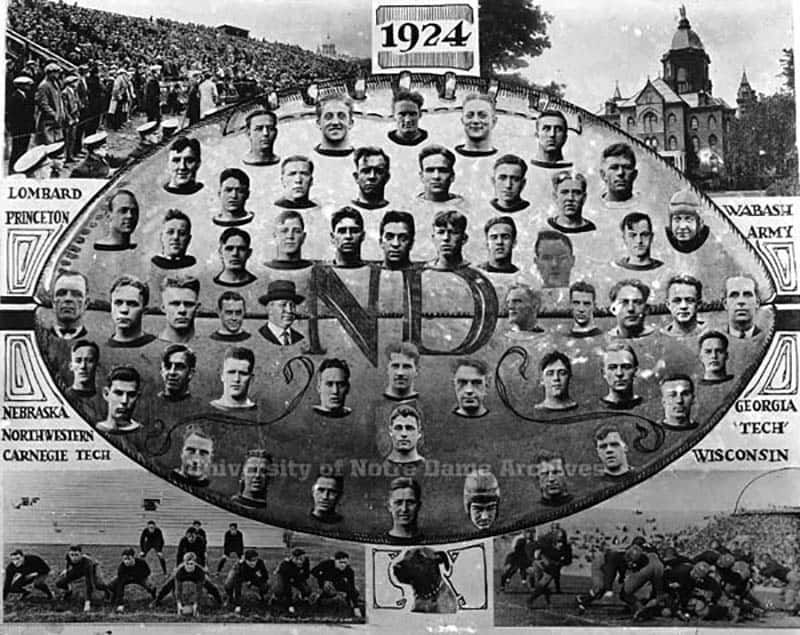 The backstory for this team is incredible. For years school officials had scoffed at the idea of a football program for the university because of its religious roots. The idea was a football program would tarnish the reputation of the school. However, Father John O' Hara (the number 3 man in charge at Notre Dame) thought football could be used to draw positive attention to the school. He made his case, citing his time in South America where religion and sports intermingled together rather well. His pitch won officials over and 1924 saw Notre Dame having their first shot at a National Title (The Rose Bowl). Though Stanford arguably had the best player, Ernie Nevers, the Fighting Irish had the Four Horsemen… Harry Stuhldreher, Don Miller, Jim Crowley, and Elmer Layden. Stanford put up a great fight, but it was their turnovers that won the game for the Irish. A total of 17 in all, the Irish received a fighting chance and proved their namesake. Final score, 27-10.
47. 2001 Miami Football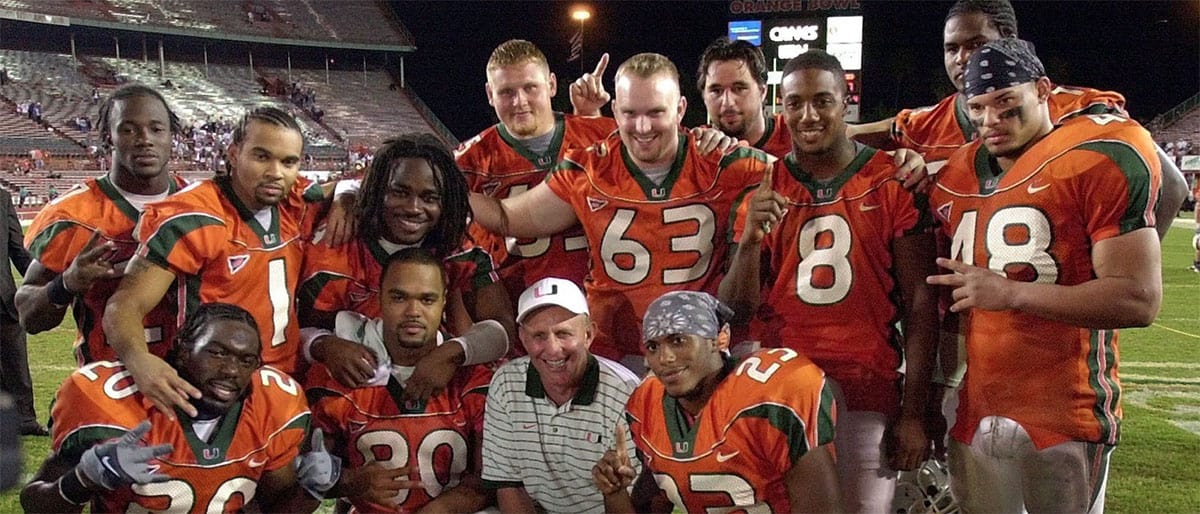 People often wax heavy about the Seminoles when it comes to Florida Football teams. However, for the complete BCS package, look to the 2001 Hurricanes. Rarely challenged, they crushed Nebraska with a 37-14 win in the Rose Bowl. Some believe it is the greatest college football team ever for the following reasons. They ended the season with a 512-117 win over opponents. Those are big numbers. Even better, Miami scored the biggest two game victory margin of any ranked team with their consecutive wins over Syracuse and Washington. And while Larry Coker had no Heisman Trophy Winners on his team, he did produce 38 total draft picks and coach 17 future first rounders. Some would argue that seasons are longer now, and they would be correct. Yet, for BCS era domination, the 2001 Hurricanes earn their spot on our list. Their beginning 33-7 win over Penn State, stopping the Noles 54 home game streak and scoring an offense rank of 65 when the next closest teams held a 48… that team was one of the best to ever play the game. Season length is a non-issue.
46. 1972 Southern California Football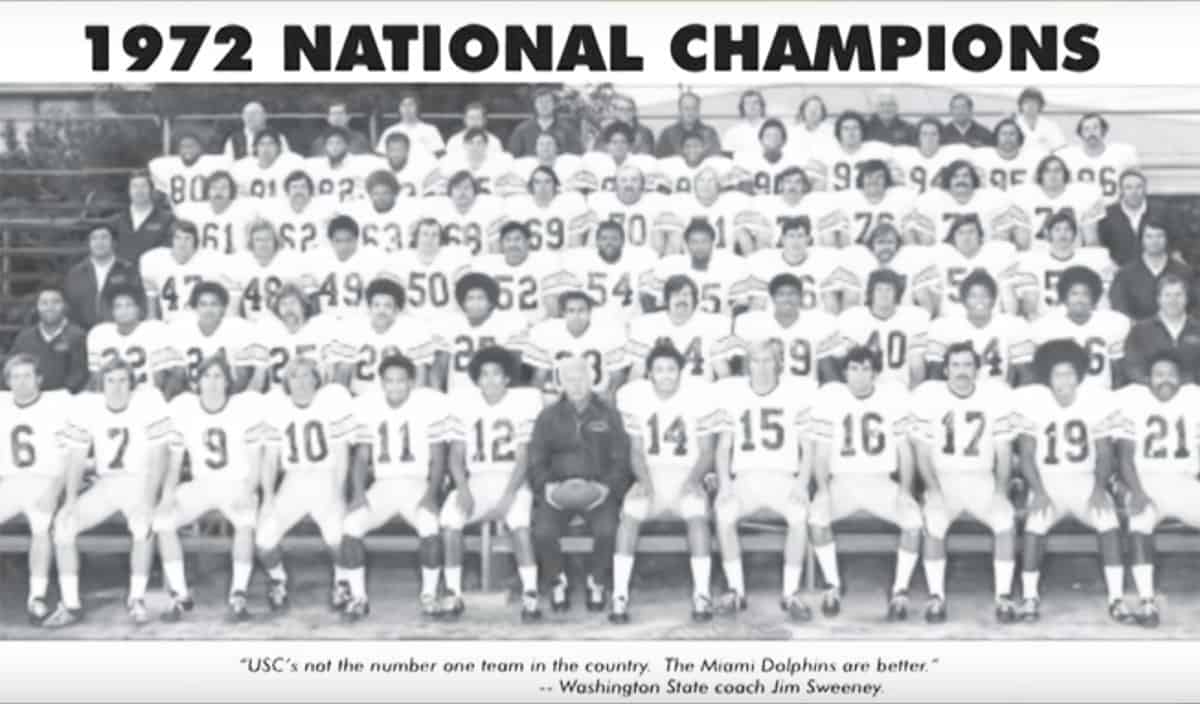 Legendary coach John McKay led the 1972 USC Trojans to victory over Ohio State when they met at the Rose Bowl. Ohio State was the Big 10 Co-Champion and USC held the Pac-8 title. The Trojans finished the season with an impressive 12-0 record, defeating USC 42-17 in the Rose Bowl. This found McKay in a unique position as the first coach to win the MacArthur Bowl three times. The 1972 team also contained 5 hall of famers. They were Anthony Davis (RB), Sam Cunningham (FB), Lynn Swann (WR), Richard Wood (LB), Charles Young (TE). And some would say the trophy was just as impressive. Made of 400 ounces of pure silver, it was commissioned by Tiffany & Co., made to honor NFF founder General MacArthur, took eight months to produce, and held his favorite quote, "There is no substitute for victory."
45. 2005 Texas Football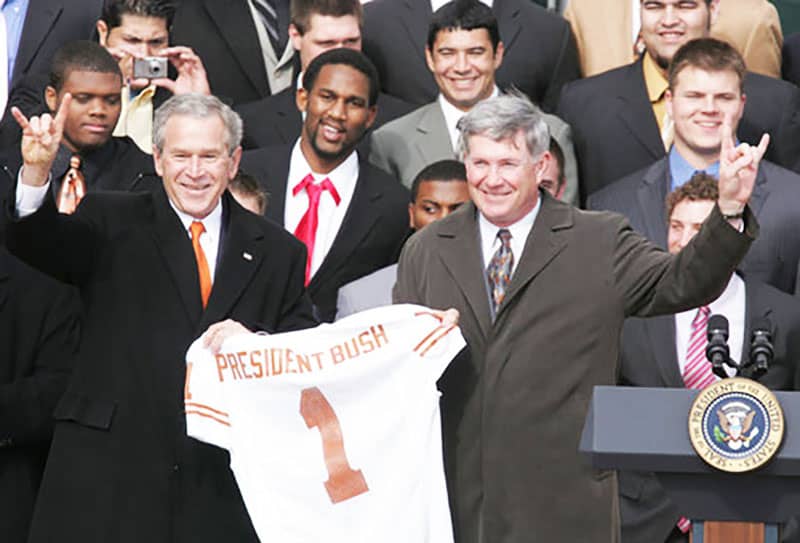 The Texas win in the 2005 BCS national championship game with Texas pulling 41 points to lead the Trojans 38 is still a special legendary game. Not only were these two football programs some of the greatest across the nation, they produced a lot of talent for the NFL. How much exactly? Well, try 35 players from the University of Southern California and 27 from Texas. That's 62 total players who made an appearance in one NFL regular-season game, while seven coaches from the two teams moved up into the NFL as professionals themselves. So who are the names you might recognize? Well, how about Vince Young, the quarterback for Texas. His engineering helped pull it through in the end. Also, Brian Orakpo, on all-America 2008 was selected by the Washington Redskins for the 2009 season. He ended his rookie season with 11 sacks. And of course, who could forget future Trans player Ahmard Hall. He was the fullback for Texas during that ever so famous game. No wonder scouts continuously look at both of these teams for NFL recruitment.
44. 1979 Alabama Football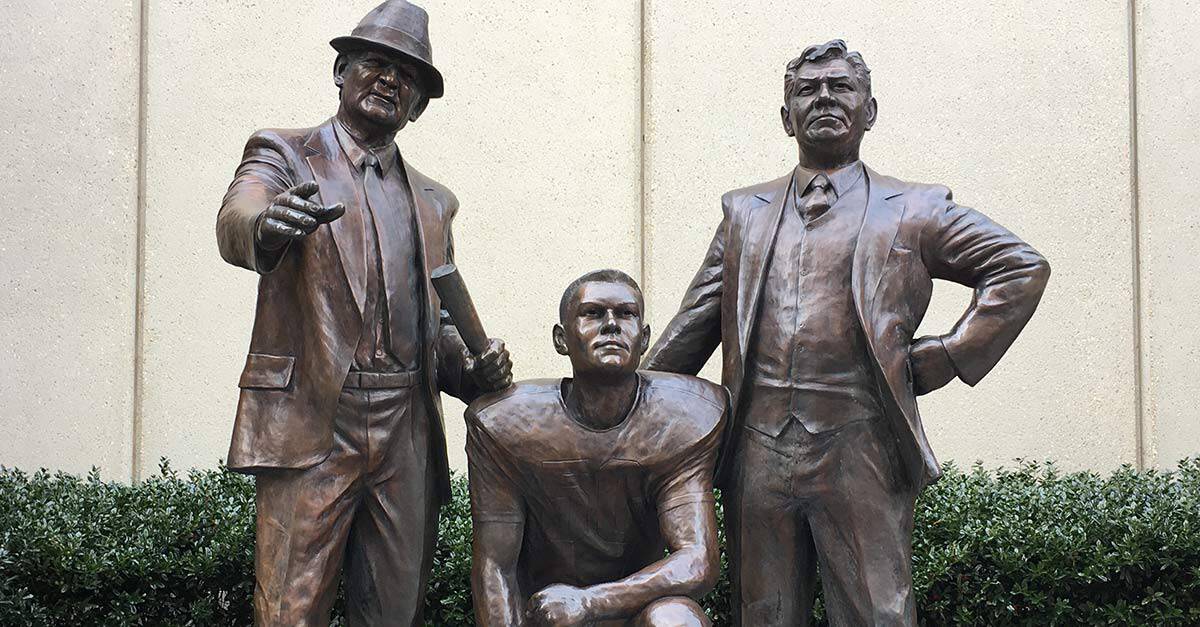 This Alabama team was one of Bear Bryant's last teams he coached. The Crimson Tide finished 12-0 and beat the Arkansas Razorbacks 24-9 in the Sugar Bowl. Alabama won five shutouts and won seven of 12 games by three touchdowns or more. Alabama ranked first in scoring defense, second in total and passing defense and fifth in rushing defense.
43. 1956 Oklahoma Football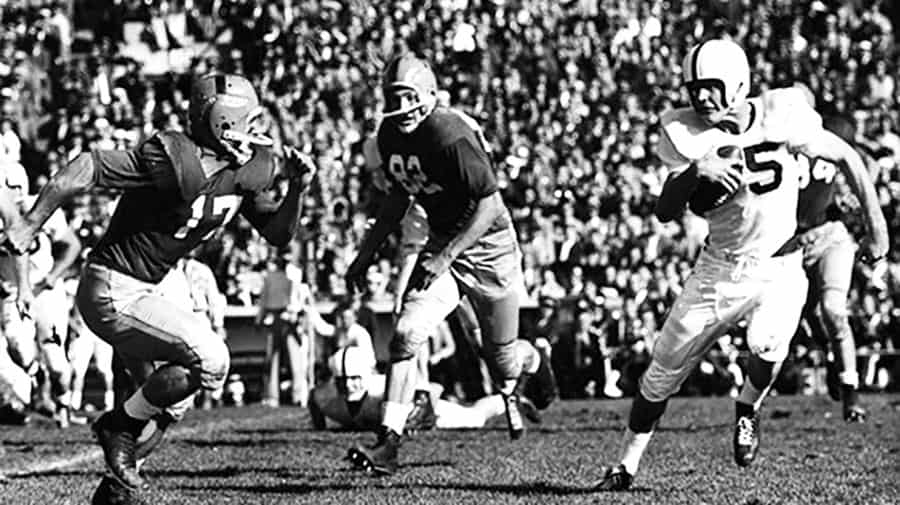 The 1956 Oklahoma Sooners versus Notre Dame game was one for the record books. The Sooners beat the Fighting Irish, and it was notable. Why? Well, this was the only time they had beaten them, and they did it rather handily. The final score was 40–0. However, true to form the Irish came back the next year to reclaim the honor they lost in South Bend. That game stunned the Oklahoma Sooners with a 7-0 Loss in Norman. It also ended the Sooners 47 game winning streak. So think of it as a double whammy of sorts. A few things about this game if you want to watch the rerun. For one, you will have to pay attention. There are no announcers in the video, so you really have to be on your game when you watch it. It requires concentration. Second, you might want to find a colorized version to help you distinguish the players easier. You would probably be able to tell anyway, but this just adds to the classic appeal of the footage. You will notice a few modern interviews spliced into the gameplay. There are some who speculate that Notre Dame taking the field may have been what caused the massive defeat for the Fighting Irish. You see, they ran right through the Sooner's warm-up without so much as a thought. Coach Wilkinson was very upset and quarterback Jay O'Neal said, "The team responded accordingly."
42. 1974 Oklahoma Football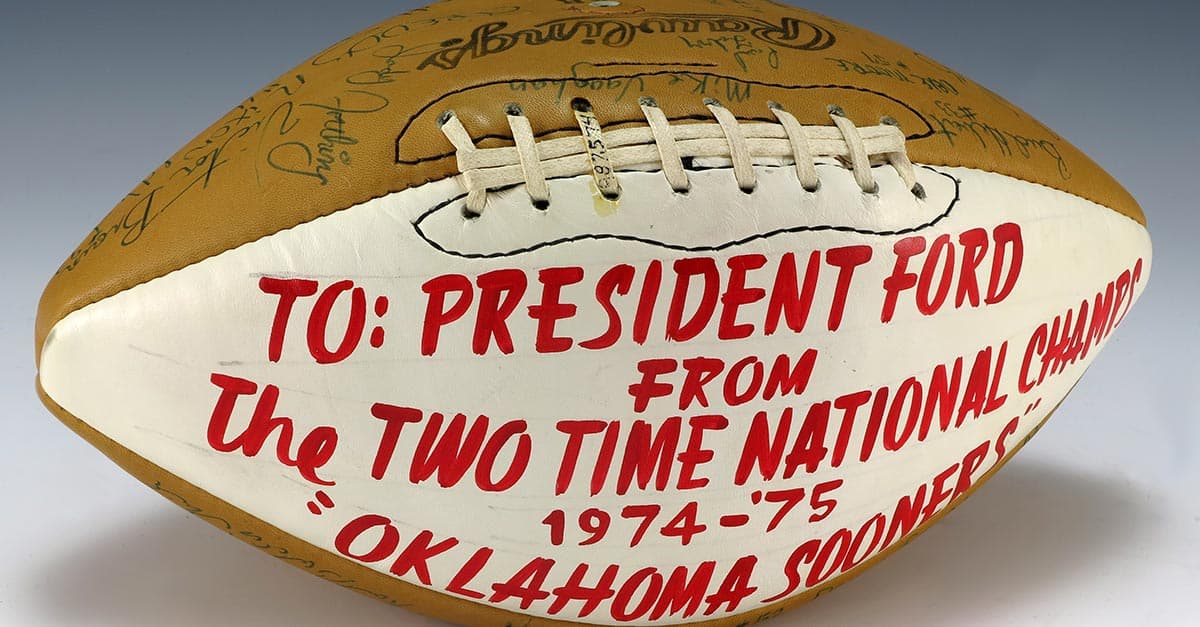 Barry Switzer won his first national championship in his second year as head coach of the 1974 Oklahoma Sooners. The Sooners record was 11-0 with a season with NCAA Violations preventing them from playing on television or a bowl game. The Sooners led the nation in scoring offense and allowed only 8.4 points per game.
41. 1968 Ohio State Football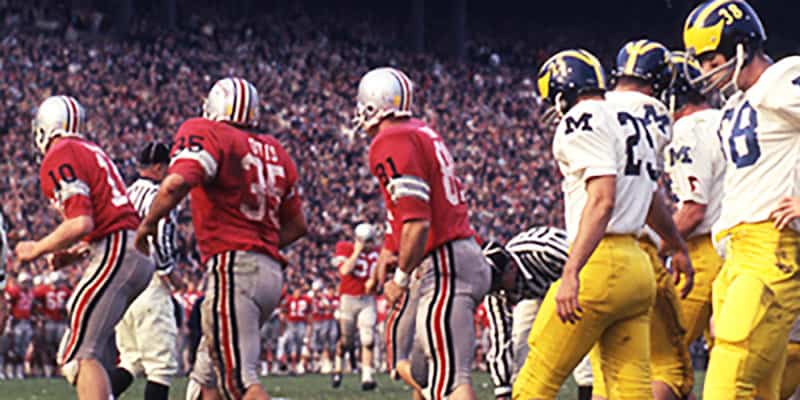 Perhaps the most remarkable aspect about the 1968 Ohio State football team is that they put numbers up that blow your mind. They were beating teams they were not supposed to be beat. They handily completed their 10–0 record for the 1968 season with a win over Southern California at the Rose Bowl, 27–16. The team was led by an incredible sophomore class including Rex Kern, quarterback, Jack Tatom, defensive back and Jim Stillwagon, defensive lineman. To put the numbers in perspective, consider this. The squad led by Coach Hayes averaged 32 points per game with 440 yards. By contrast, their defense only allowed 15 points per game with gains of 292 yards. 11 individuals who played for the team would earn all America honors throughout their career and six would be drafted in the first round NFL 1969 or 1971 drafts. Talk about a good team. Wow.
40. 1931 USC Football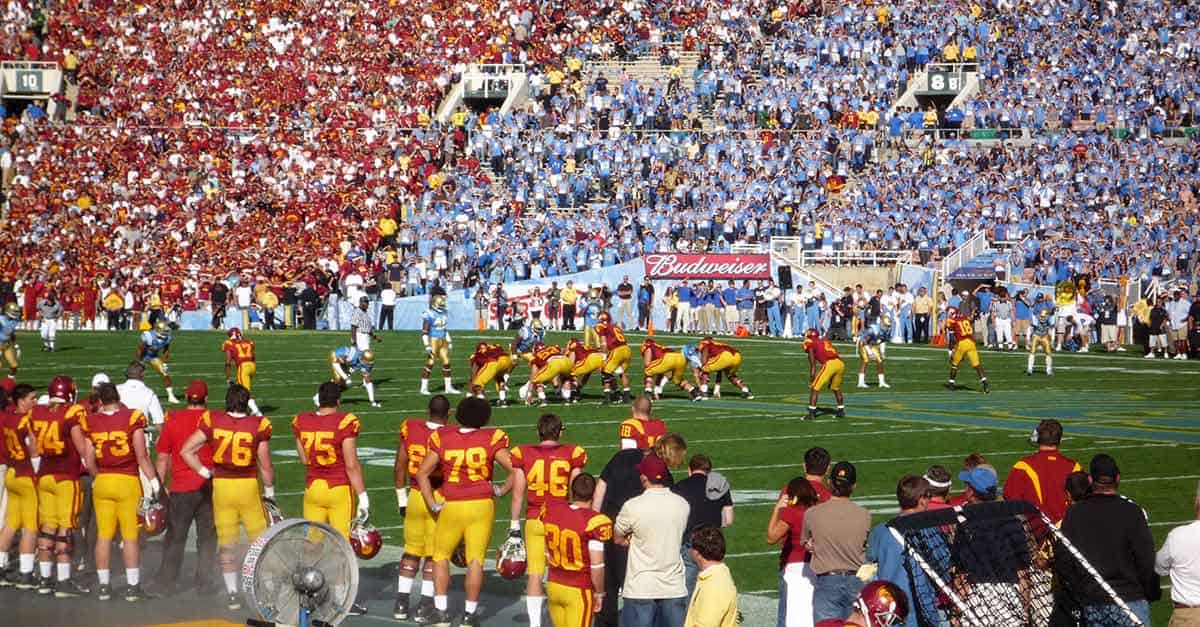 The 1931 USC Trojan football program went 10-1 by Coach Howard Jones. USC started the season losing 13-7 to Saint Mary's. They ended up going on a tear the rest of the way, putting up six shutouts, including a 60-0 win over the Georgia Bulldogs. Gus Shaver and John Baker earned consensus All-American honors, and USC won the 1931 national title.
39. 1902 Michigan Football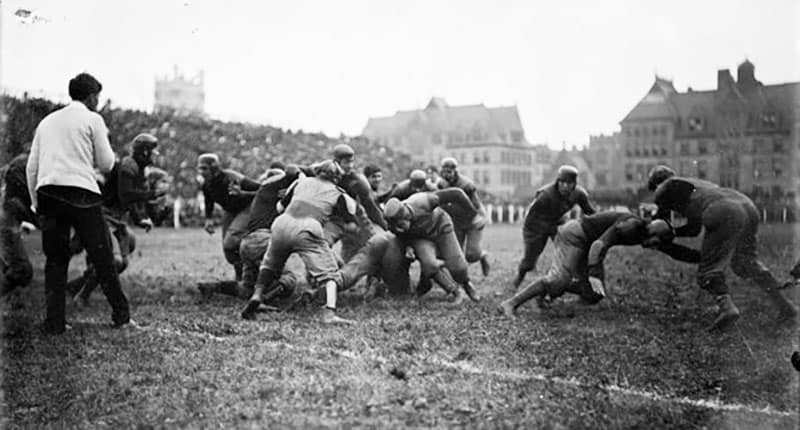 During the early 1900s, many writers still had eyes for the east as far as national championships were concerned. Yale was regarded among many to be the best, so it's no surprise that most rank them as number one with Harvard being number two, Army number three and Michigan number four. However, a closer analysis reveals that Michigan may actually lay claim to the number one position. Prior to the 1902 national championship win, Michigan played far too many secondary teams in their conference. With 1902 everything changed. Michigan played tough teams Chicago, Wisconsin, and Minnesota. Plus, while Yale had an impressive point spread per game, Michigan was equally if not more impressive since they were playing tougher teams. For instance, Yale defeated their opponents by an average score of 35–2, while Michigan held a solid average of 82–1 (many of their opponents scored no points). So impressive was the 1902 team that they were recognized as national champions by ranking and reporting agencies such as the Helms Athletic Foundation, the National Championship Foundation and regarded as co-national champions by athlete and ranking historian Parke H. Davis.
38. 1973 Michigan Football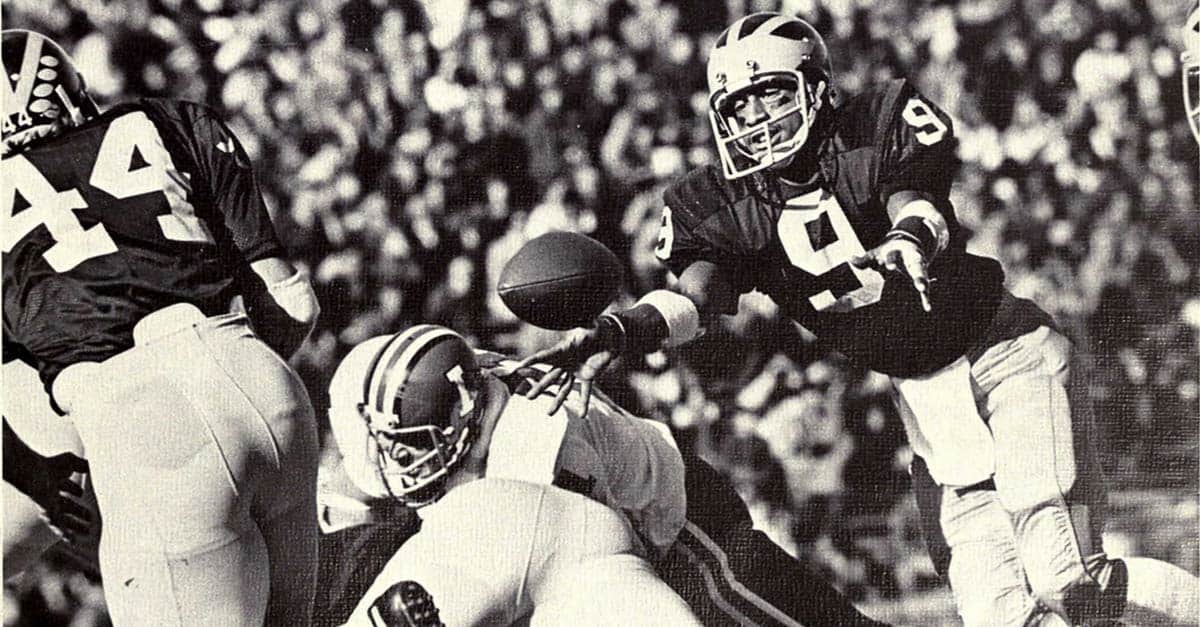 The 10-0-1 1973 Michigan Wolverines, coached by Bo Schembechler, finished sixth in the AP poll, and they didn't play in a bowl game because the Big Ten didn't allow teams to play in any bowls aside from the Rose Bowl until 1975. The Wolverines didn't make it to the Rose Bowl despite going unbeaten and tying #1 Ohio State 10-10. Since both the Wolverines and the Buckeyes both had the same record there was a vote among Big Ten athletic directors for the Rose Bowl. They decided on the Buckeyes because Michigan QB Dennis Franklin broke his collarbone and Michigan was forced to stay home for the holidays.
37. 2011 Alabama Football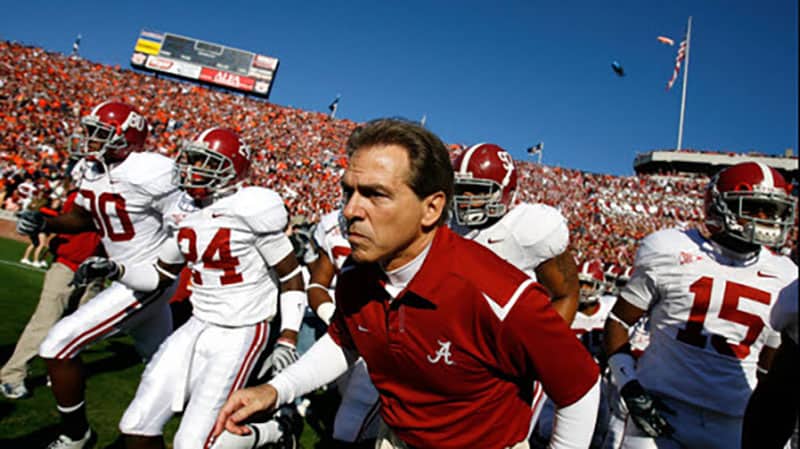 Remember the time Alabama beat top-ranked LSU to secure yet another national title? The year was 2011 and the final score was 21–0. What makes this team so special? Arguably, they had one of the greatest defenses ever in college football history. It was so great that you can measure it in quarter centuries. That's right, this was the first defense to be seen in 26 years that led the entire nation in passing, scoring and rushing defense. The multiple touchdowns that were surrendered occurred in just three games and there was only one team to score more than 20 points against the Tide that season. Jay Barker and his team were a beast to contend with. If you didn't know any better, the defense could be mistaken for an NFL team. In fact, a few of the players were chosen as NFL draft picks during the first round – Dont'a Hightower and Courtney Upshaw to name two. Yet, even with historical facts clearly laid on the table, this may not have been the most dominant defense of all time. When you compare coaching greats like Nick Saban and Paul Bear Bryant, it gets tricky. Bear was the golden standard of the 70s who put Alabama on the map. Years later, after a dry run with sparse victories, Saban seems to be the coach that will return them to their former glory. So far, it's working.
36. 1917 Minnesota Football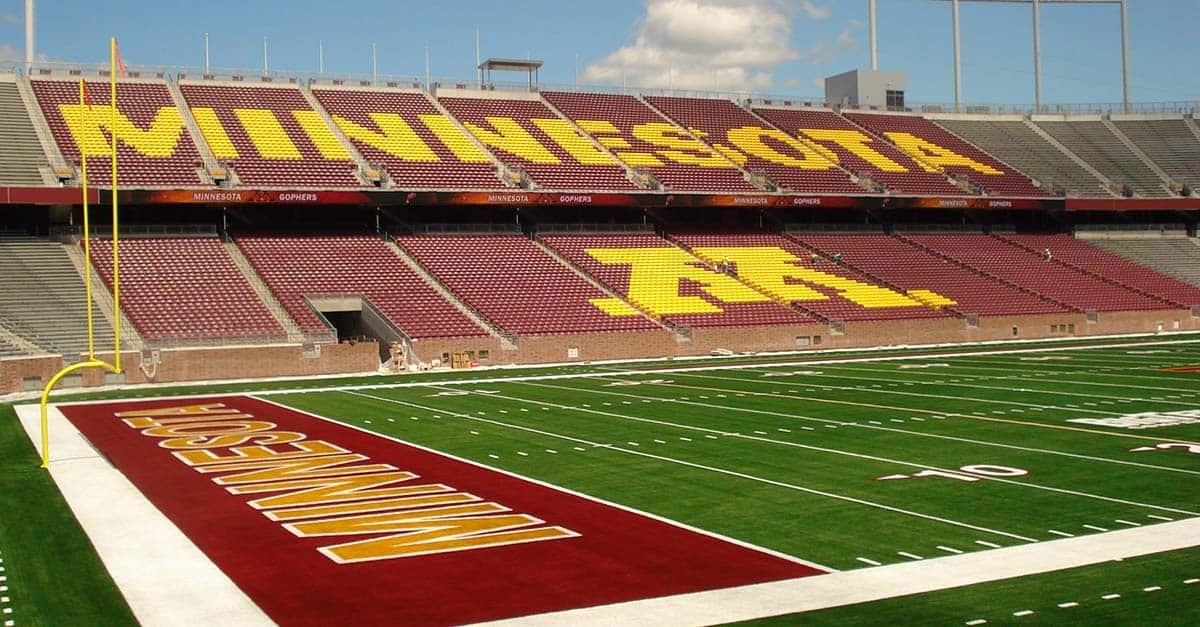 The 1917 Minnesota Gophers, coached by Henry Williams, went 4-1 this season. Due to a shortened schedule during World War 1, the Gophers shut out Chicago 33-0, they beat Illinois 27-6, beat Indiana 33-9, and beat South Dakota 64-0. Georgia Tech won the 1917 title, but due to a shortened schedule, we never saw the possibilities of this team.
35. 1916 Minnesota Football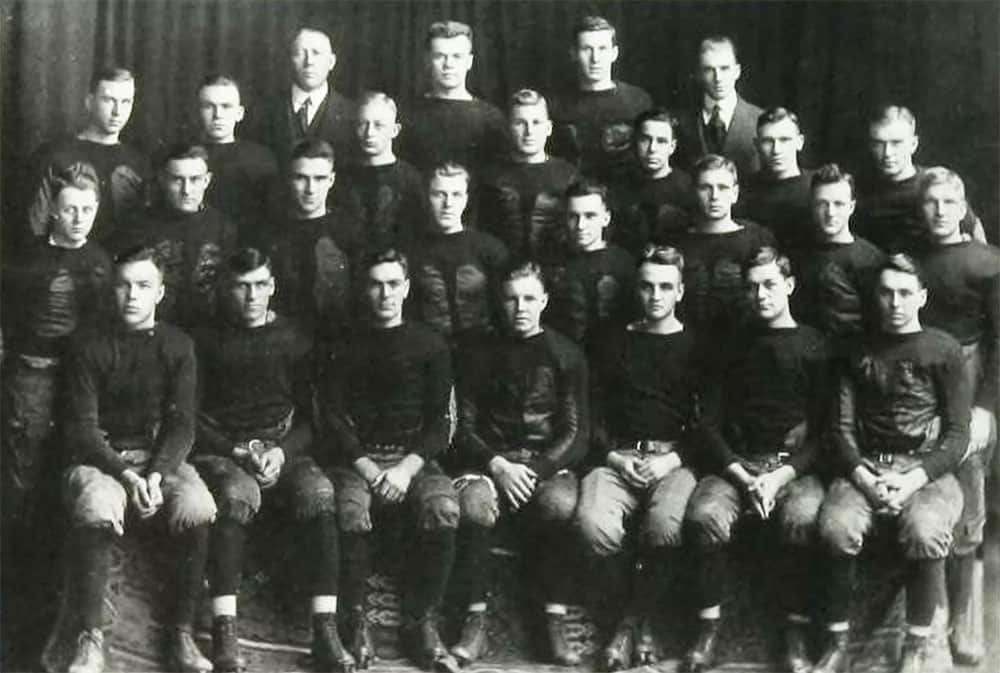 Even the greatest can be fooled. Just ask the players on the 1916 Minnesota Gophers football team. Many of the players won Big Ten honors that year, including Bernie Bierman who won the comparative Big Ten academic medal, as well, for his grades. As for the team, their seven-game season produced average point spreads of 56.5–2.3. However, one game would ultimately tarnish a perfect season for the Gophers. On November 4, Minnesota played an Illinois team with a new head coach, Bob Zuppke. He successfully fooled the team by lining all players on the offensive line and shuffling them right before the ball snapped. The resulting 14 points given up by the defense equaled half the total points scored against Minnesota the entire season. For years, people will talk about what could have happened or should have happened or "if only" when referring to the 1916 Gophers. However, many of them are admired for their service in the war. It seems that their prowess on the field translated well into wartime effort. Many of them went overseas and two were wounded in battle coming home as decorated veterans. Albert Baston (quarterback) was one of the two. He came home a decorated Marine captain. This was a team full of players who impacted football and our nation.
34. 1940 Michigan Football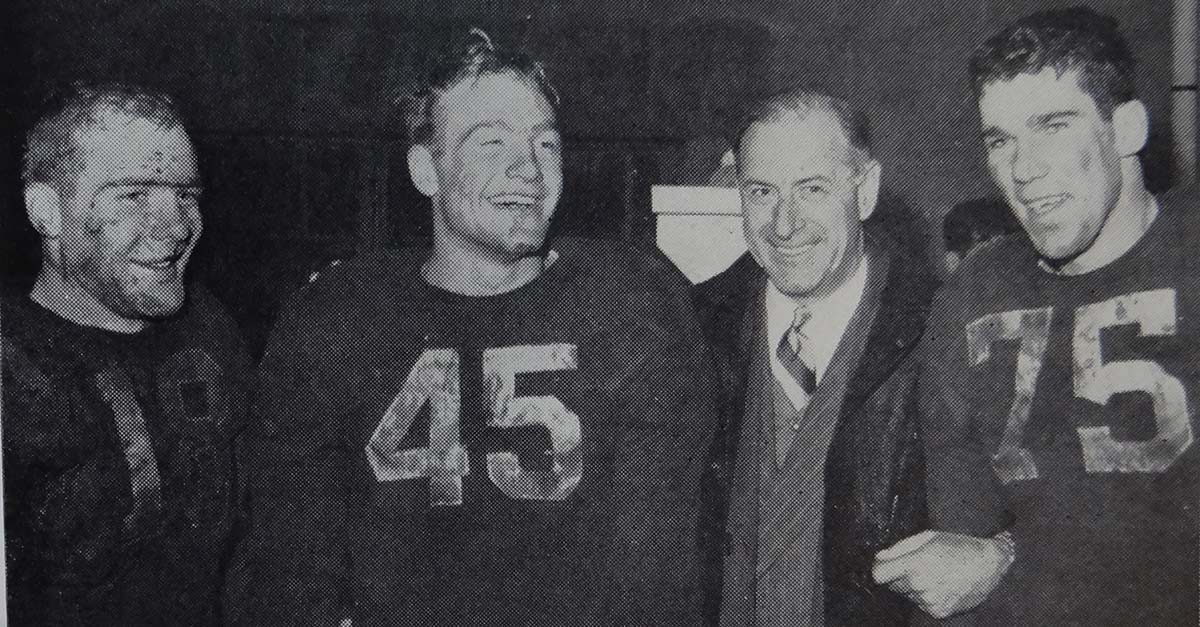 The 7-1 1940 Michigan Wolverines, coached by Fritz Crisler, allowed 4.3 points per game. The Wolverines didn't make it to play for the championship, but they still put up five shutouts.
33. 1917 Georgia Tech Football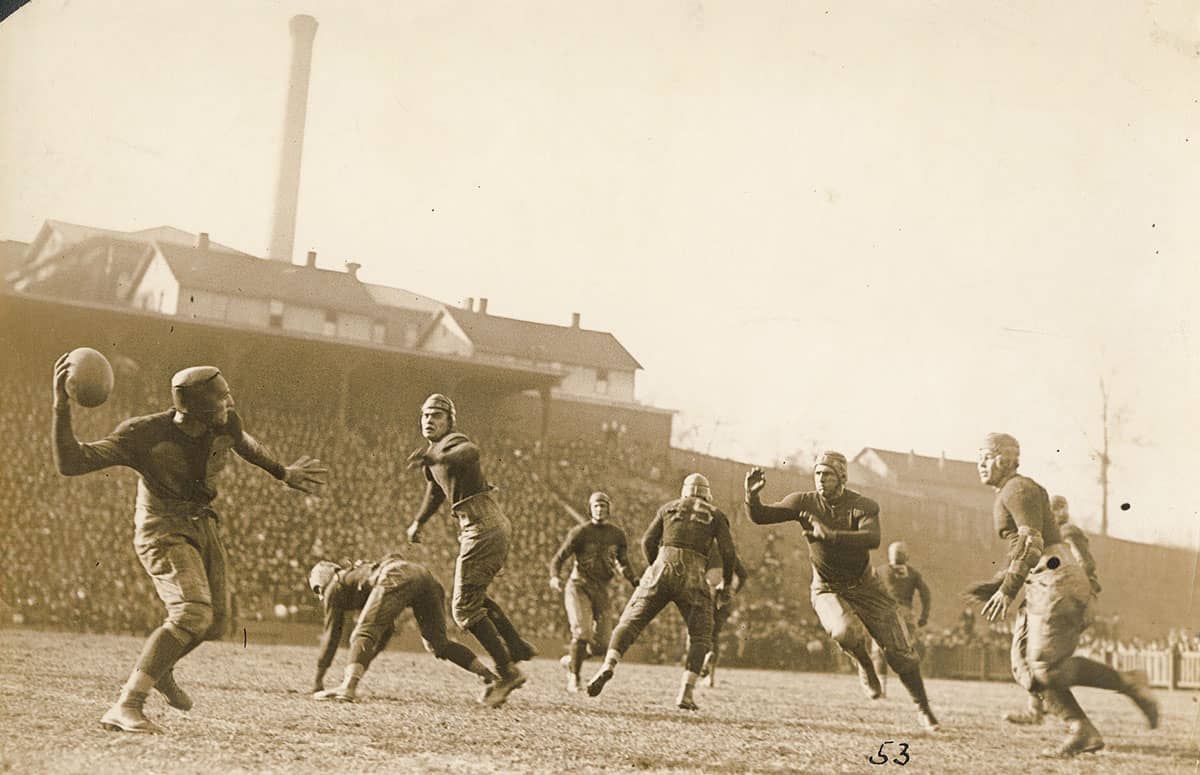 It is rumored that sportswriters are responsible for giving the 1917 Georgia Tech football team the name golden tornado. This is because their 9–0 record involved smashing every opponent to the tune of four 91–17. However, their biggest win was 41–0 over Penn State (9-2) which Pittsburgh (10-0) beat 14-6. Quite a spread there. Even further, they are widely regarded as the 1917 national champion still today. Computer programs and ranking systems consistently put them as the unanimous option for that year. Part of the success of the team had to do with the incredible backfield. Halfback Everett Strupper, fullback Judy Harlan, halfback Joe Guyon and Albert Hill (quarterback) were the pillars that greased the movements of the machine known today as the golden tornado.  They always have the potential to be a major contender.
32. 1970 Texas Football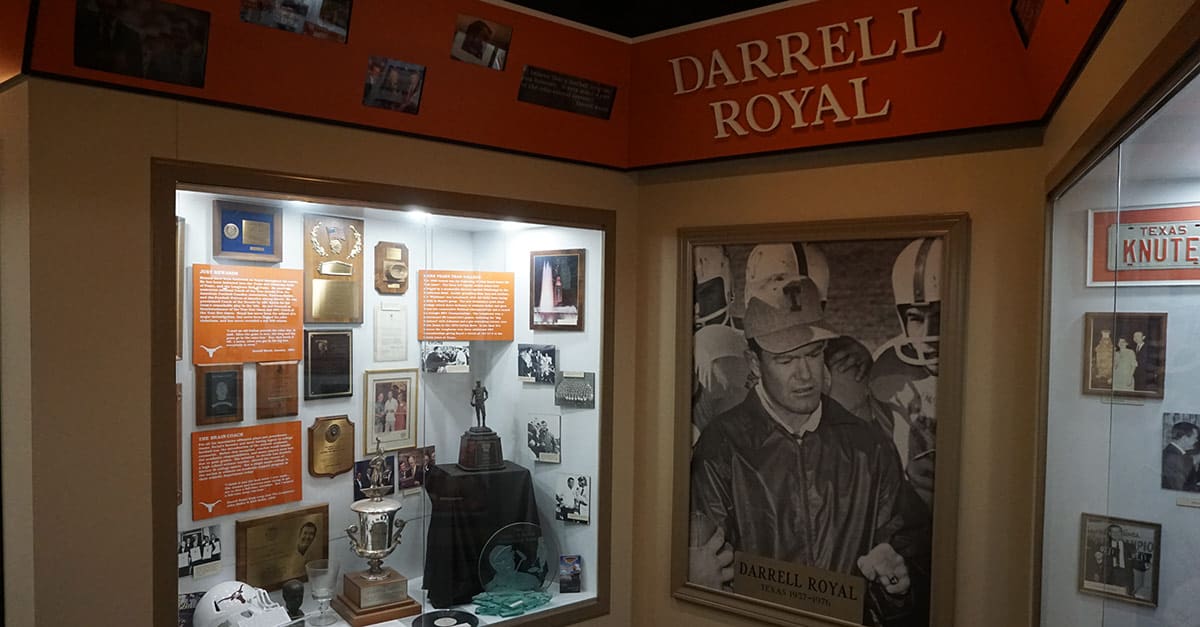 The 1970 Texas Longhorns coached by Darrell Royal, went 10-1. The rode off the momentum of a 30-game winning streak into the Cotton Bowl versus the Notre Dame Fighting Irish. They would go on to lose that game.
31. 1963 Navy Football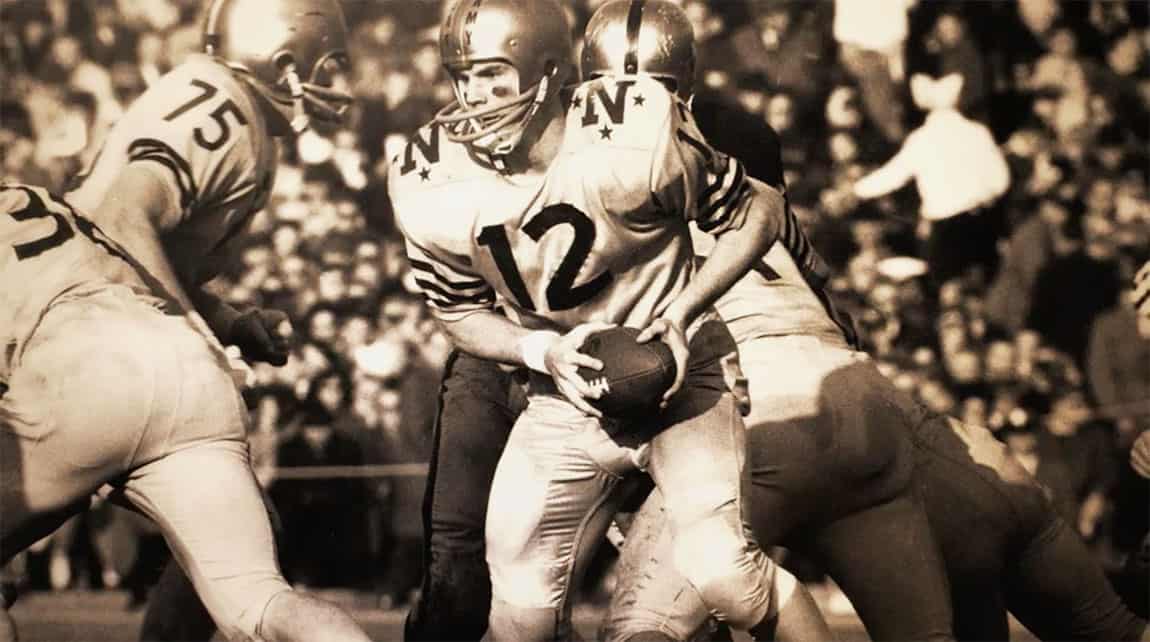 In Coach Wayne Hardin's 5th year he coached one of the best teams to ever play the game. The 1963 Navy team finished with a record of 9–2. They lost to Texas in the Cotton Bowl, but are still regarded as one of the best teams ever for a few reasons. For one, their quarterback Roger Staubach was both a Heisman Trophy winner and Maxwell Award winner during the regular season where Navy ended 9–1 with a ranking of two nationwide. That same year Navy also defeated their rival, Notre Dame, during the annual classic game (ironically this would be their last win against fighting Irish until 2007). Perhaps most notable, there was talk of canceling the classic Army-Navy game due to the assassination of President Kennedy, but Jacquelyn, his widow, was insistent the game should be played. The result was Navy beat Army 21–15. This team is regarded as one of the best in the school's 135-year history due to the number of politicians, lawyers and war heroes it contained as well as one of the most celebrated football players of all time.
30. 1947 Notre Dame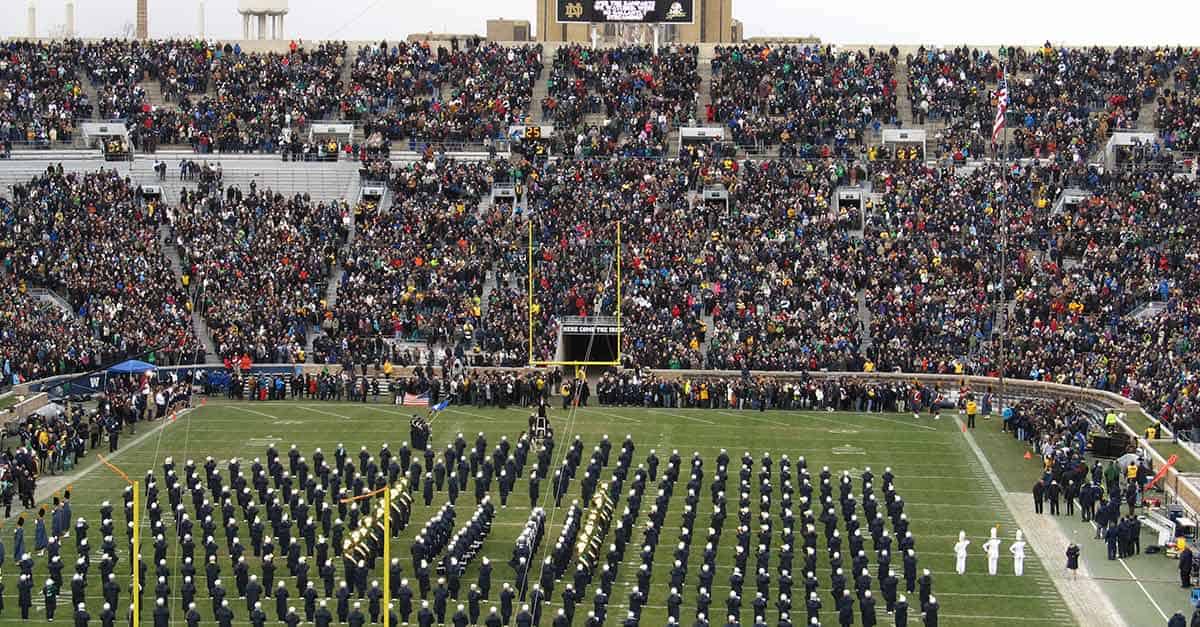 The 9-0 Frank Leahy coached 1947 Notre Dame, won the National Championship. They won impressive wins over the Army and USC teams with their Heisman winning QB Johnny Lujack.
29. 1996 Florida Football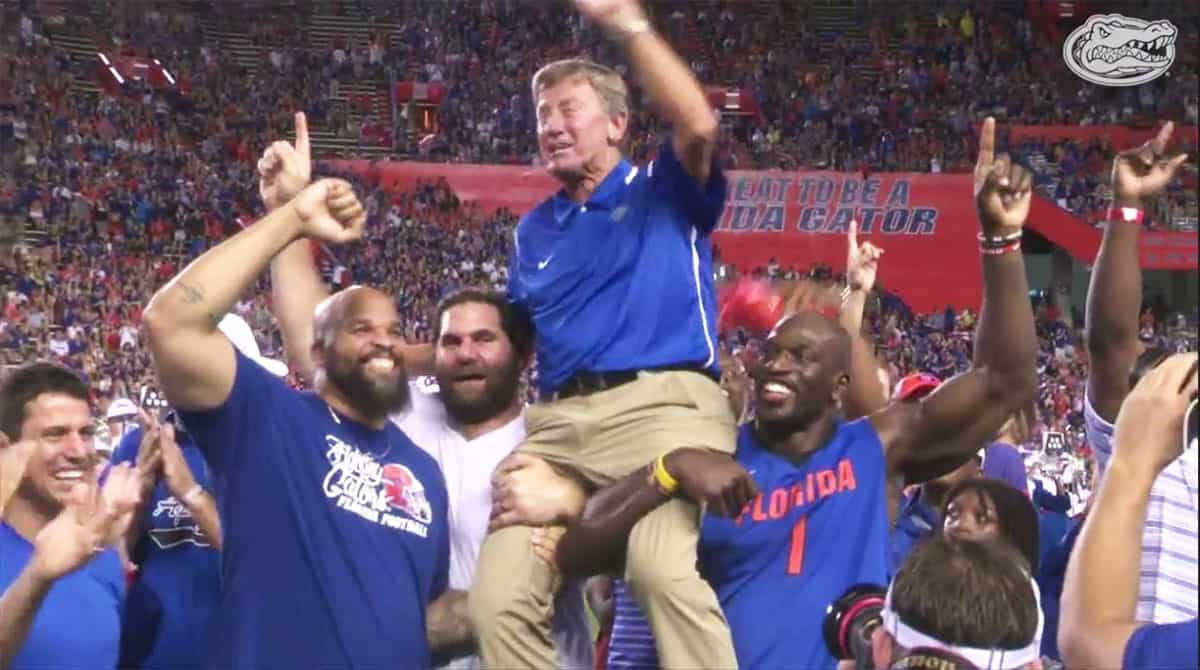 This year saw the Florida Gators with one of their best football seasons in history. With a 52–20 victory over rival Florida State, on January 2 they took the Sugar Bowl to claim consensus over the 1996 national championship title. Even more impressive, Florida became one of only three teams in the history of the NCAA to carry a national championship title the same season they faced one of the toughest conference schedules. Their offense averaged a whopping 46.6 points per game (still known as one of the best ranks in SEC history). Their average for that particular season was 46.8–15.8. Try finding another team with a 31 point average victory margin and get back to us. And while you are at it, recognize why this team is so highly regarded. Their 32 point victory margin over FSU is the highest point difference over a number one ranked bowl team in college football history.
28. 1948 Michigan Football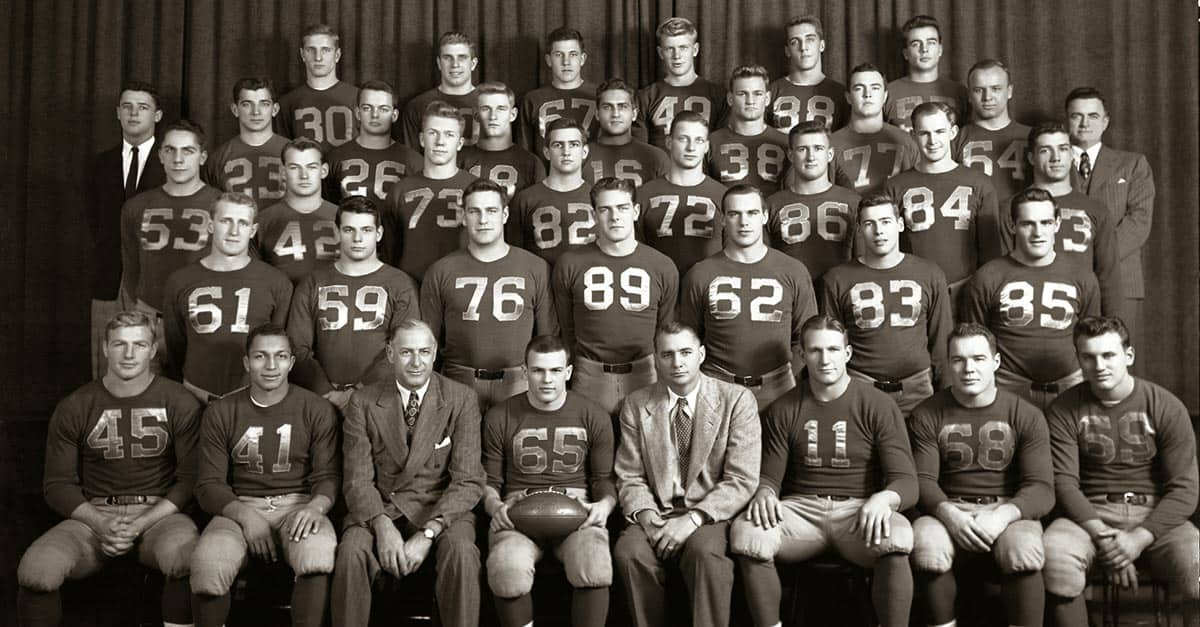 Bennie Oosterbaan coached the 1948 Michigan Wolverines that went 9-0 and won the championship. The Wolverines recorded five shutouts that year.
27. 1976 Pittsburgh Football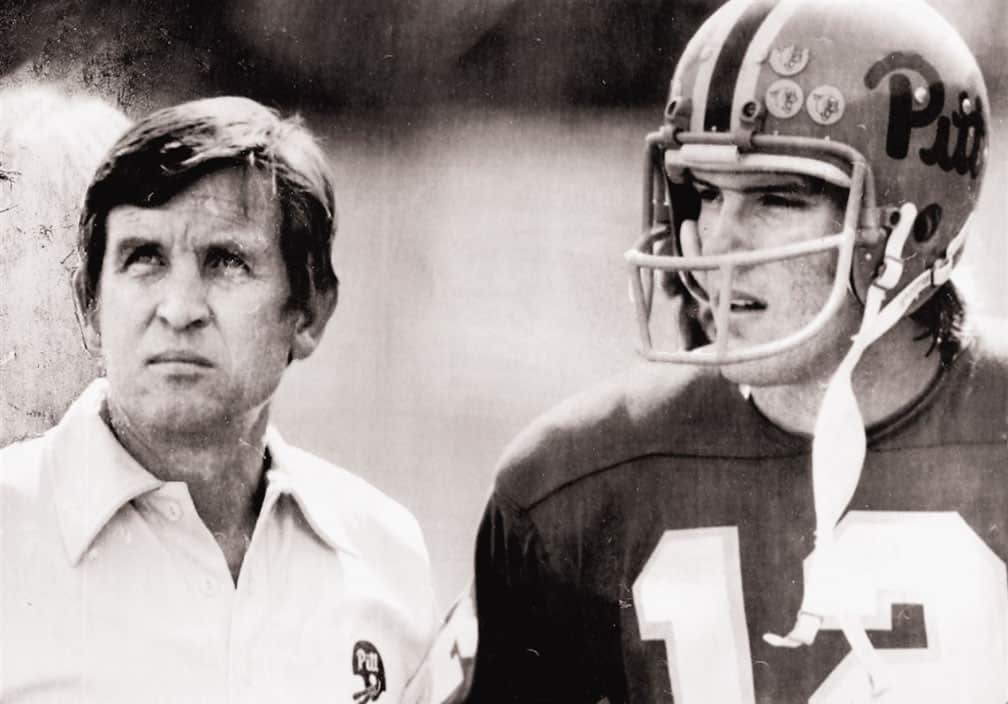 This is the year that put the Pittsburgh Panthers on the map. They were four seasons out from a horrible 1–10 record when they took the 1976 National Championship by storm with an impressive 12–0 season. This included slaughtering Georgia during the Sugar Bowl with a final score of 27–3. Coach John Majors, arguably one of the best to ever coach the team, and Tony Dorsett, Heisman Trophy winner for the year, helped the Panthers earn the title as one of the greatest college football teams ever. Foreshadowing the season was the opener against Notre Dame where Dorsett ran a 61-yard touchdown on the first scrimmage play. The final score was 31-10, and Dorsett was an immediate Heisman contender. Even more impressive, despite the loss of both quarterbacks to injuries (hence why Dorsett was crucial), the Panthers never skipped a beat. They started with a 4–0 run and continued until they ultimately clinched the national title.
26. 1947 Texas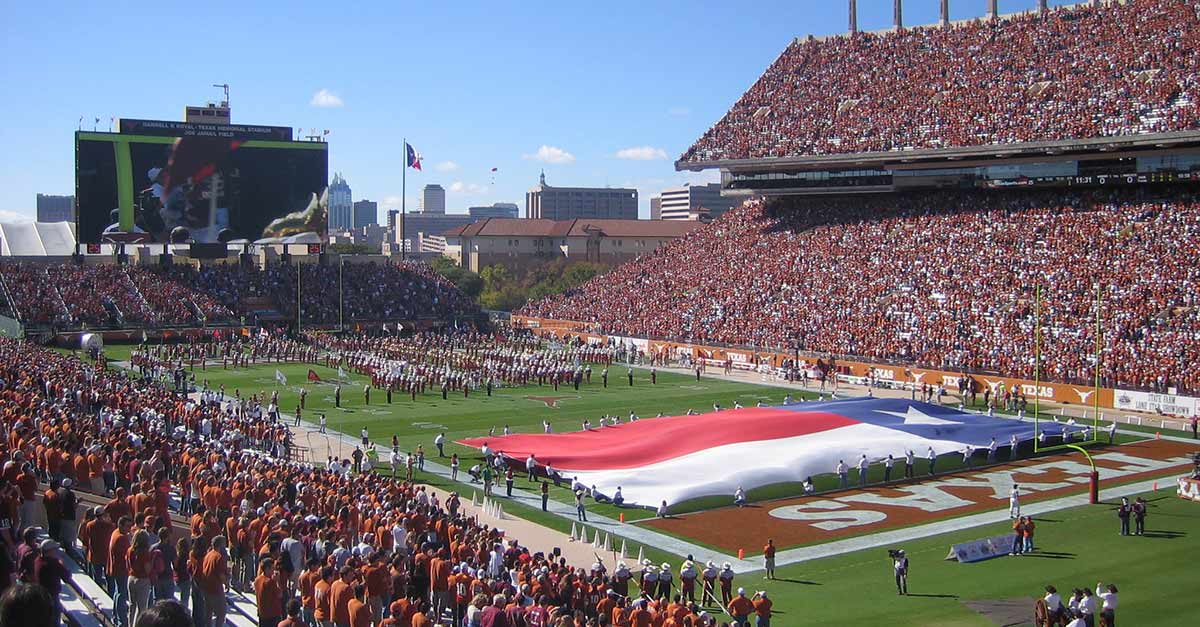 The 1947 Texas Longhorns, coached by Blair Cherry, went 10-1. With All-American QB Bobby Layne, Texas was untouchable winning the Sugar Bowl 27-7 vs. Alabama.
25. 1999 Florida State Football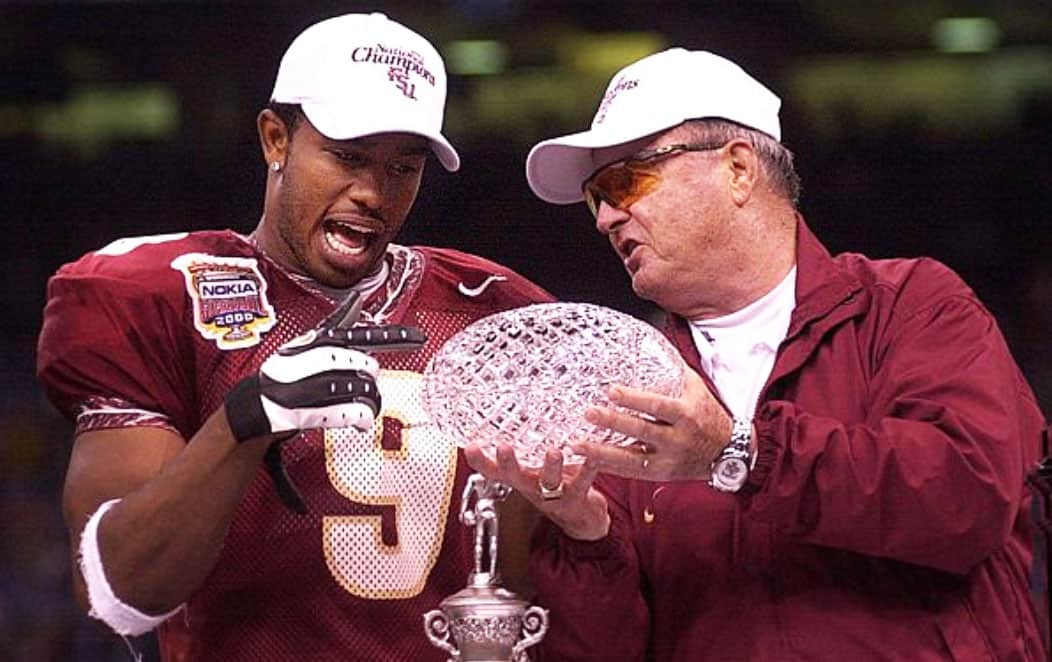 If you are anyone who follows Florida or South Carolina college football, the 1999 Florida State Seminole college football team is notable for a few reasons. They ended the season 12–0 to clinch the National Championship. That's undisputed. However, even more, interesting was the Belt game matchup between Florida State and Clemson. This would be the first time that a father-son rivalry made its appearance on a college football scene. Coach Bobby Bowden coached the Seminoles, while his son, Tommy Bowden, was the brand new Clemson coach. Winning this game was significant for Bobby Bowden. It would be his 300th coaching victory. And while his son fought honestly and hard to put his name on the map and fill his father's shoes, he came up short. Florida State won the Belt game, and coaching history was made. It should come as no surprise. They were the first team to consistently hold a number 1 rank throughout the entire season.
24. 1945 Navy Football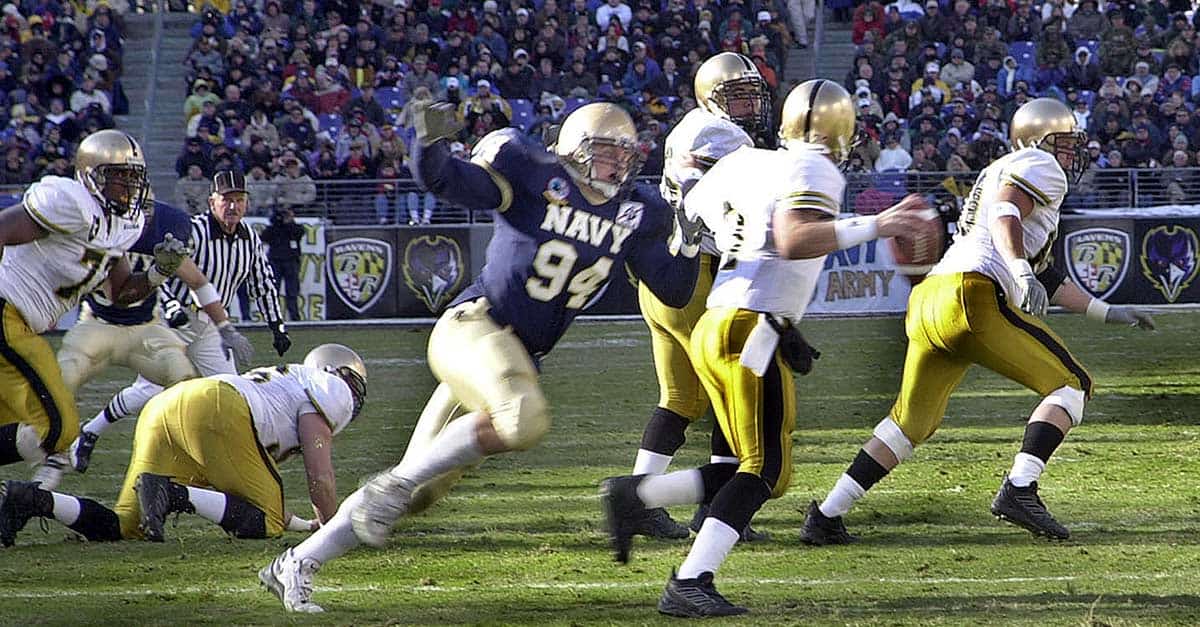 The 7-1-1 1945 Navy Midshipmen coached by Oscar Hagberg beat every team except the Army Black Knights and the Notre Dame Fighting Irish. They tied the then-#2 Notre Dame 6-6.
23. 1938 TCU Football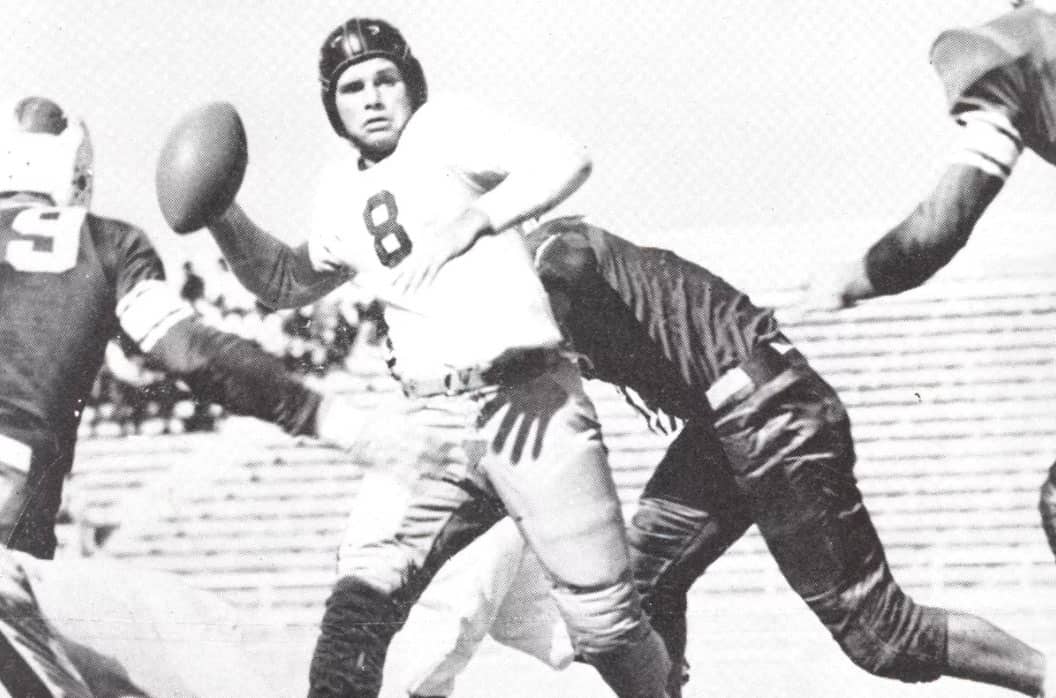 This was an unexpected win for sure. After losing their quarterback, Slinging Sammy Baugh, TCU had a less than impressive 1937 season. Their final record for 1937 was 4-4-2. Part of the reason was due to their undersized quarterback, Davey O'Brien. Coach Dutch Meyer noticed problems with Davey's style, so he tweaked the offense to be less pass happy. That change, coupled with one of the best defensive lines in the country, produced devastating effects. The line would open up keyholes for the running game, and some would argue O'Brien threw the ball better than Davey. He led the team through the entire season unscathed. Only one game ended with a span of single digits between TCU and the opposing team. The AP report for the season describes O'Brien as having a "devastating aerial attack," and Connie (fullback), as having a, "powerful display of ball carrying." Not bad for a Christian team with horned frogs as their mascot.
22. 1930 Notre Dame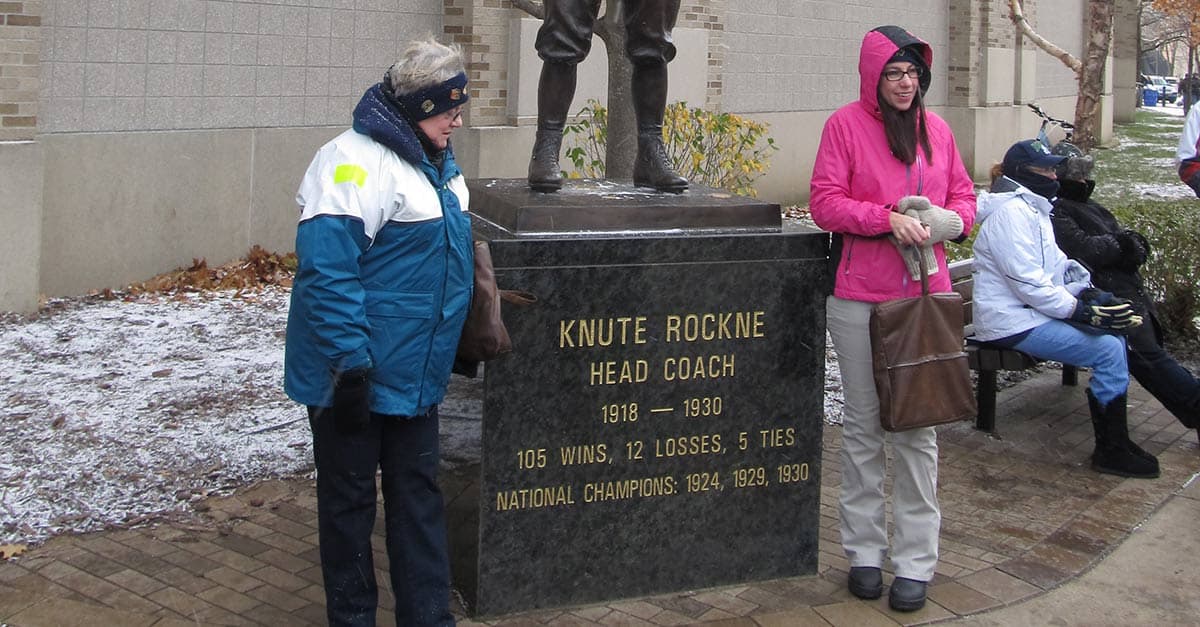 Knute Rockne coached the 10-0 1930 Notre Dame to a National Championship.
21. 1957 Auburn Football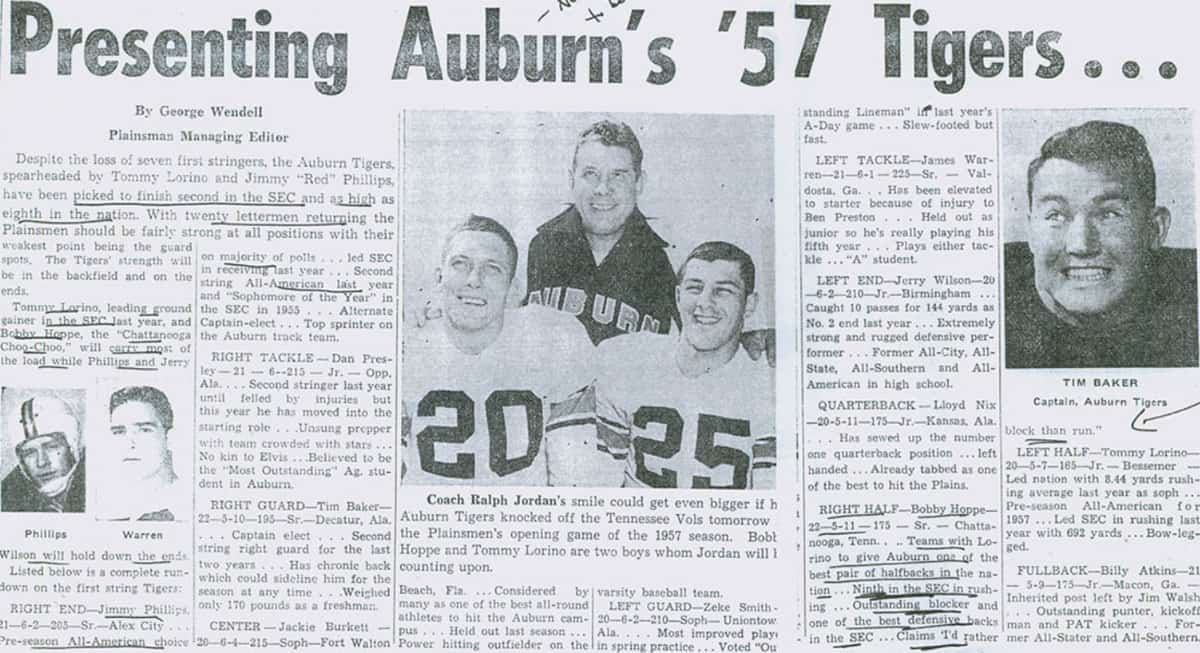 Remember that time Auburn won the AP trophy and was regarded as the best team of 1957? Yeah, so do they. That trophy currently resides in the halls of the University of Alabama, perhaps due to some sort of universal order at work. How soon we forget that coveted national championship trophies are a more recent invention. Championships were decided by AP Polls rather than gridiron matchups. To give perspective, the 1957 Auburn team achieved top rank without one televised game. Former quarterback Lloyd Nix recalls the only time a national championship title was mentioned came right before they played Alabama. Coach Jordan told the team if they beat Bama, they might have a shot at a national title. Part of their success was all about the defense. The 1957 Auburn defense was described as the best in the nation, while their offense was characterized as "lumbering." It seemed to work out well in the end for a team that started the season unranked.
20. 1971 Oklahoma Football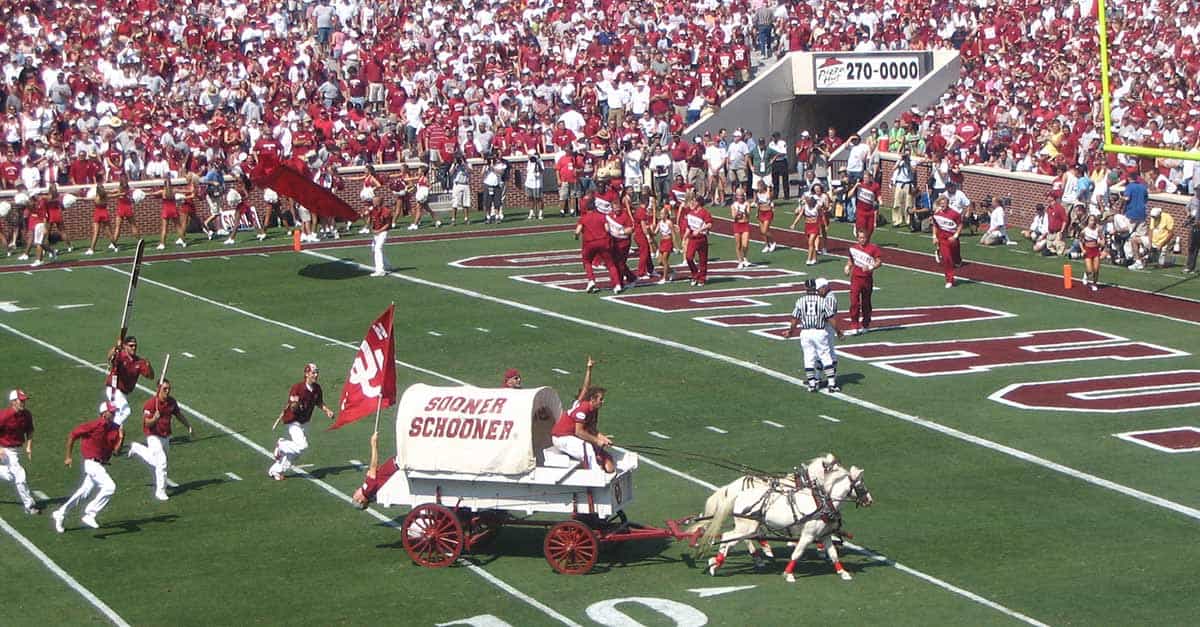 The 1971 Oklahoma Sooners, coached by Chuck Fairbanks, went 11-1 coming up short in the national title game. Before that loss, they beat #3 Texas 48-27, #6 Colorado 45-17 and #17 USC 33-20. They scored 44.9 points per game and averaged 472.4 rushing yards
19. 1977 Penn State Football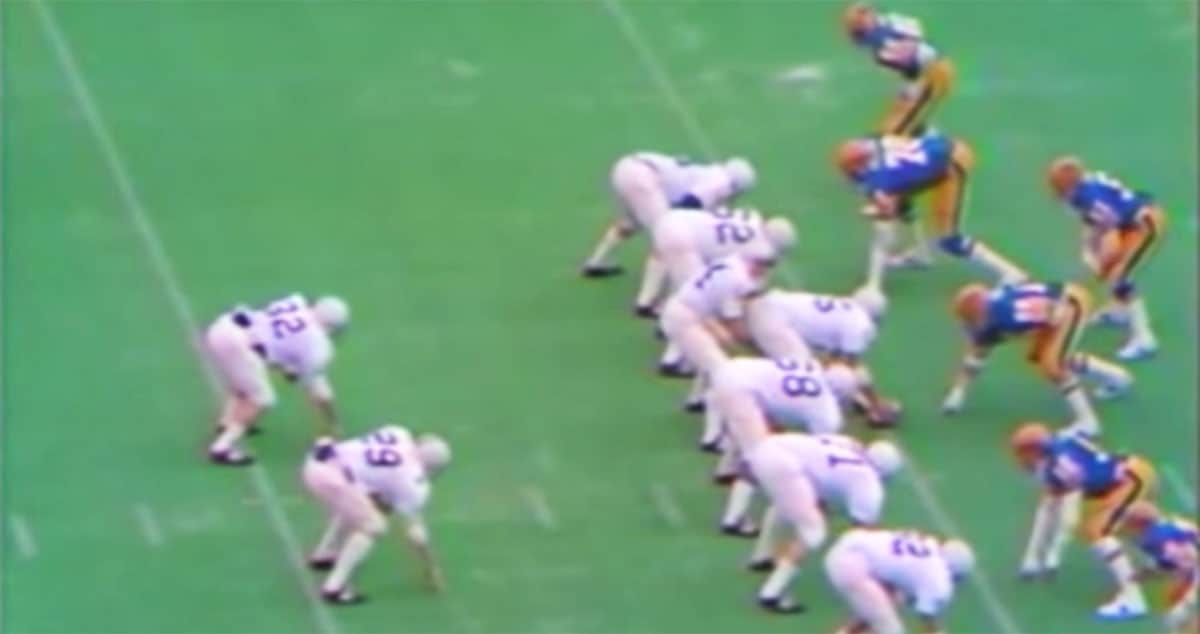 More than three decades ago, the Penn State Nittany Lions marched on the field into hostile territory. This team would perform one of the largest upsets in school history, but it was not necessarily determined by who they beat. Teams beat teams every day. This game was all about how they won. Upon starting the game, the Lions found themselves trailing the Panthers 14–0 during the first quarter. The final score, however, tells a different story. They ended up clinching the game 48–14. The upset even surprised Dan Marino (since the Panthers were his team after all). Even players for Penn State have quipped you would never see such an event like that again. Statements like that came from former linebacker Chet Parlavecchio. After those first 14 points were on the board at the end of the first quarter, Chet decided to turn things around by knocking the Panthers receiver 5 yards out of bounds. Once he came up, it looked like just a late hit to those in the stands. However, Chet says he always knew what he was doing. He was mentally turning the game into a rally, and it worked. They crushed the Panthers, their archrival, and even better, on the birthday of opposing Coach Jackie Sherrill. Players can even remember the band playing Happy Birthday to him as the Nittany Lions were hammering them into the ground. Come back teams like that don't come around every day. They are the stuff of legend.
18. 1973 Ohio State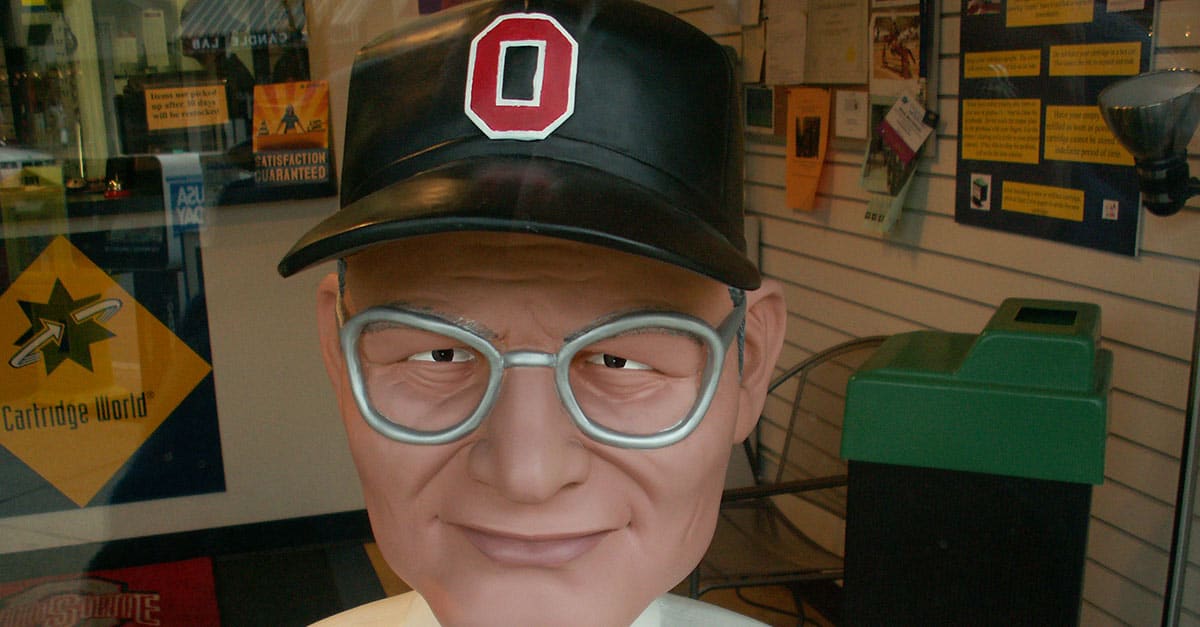 The 10-0-1 1973 Ohio State Buckeyes coached by Woody Hayes won the Rose Bowl, but came up short in the national title. They blew out everyone in the season until they played the Michigan Wolverines.
17. 1961 Ole Miss Football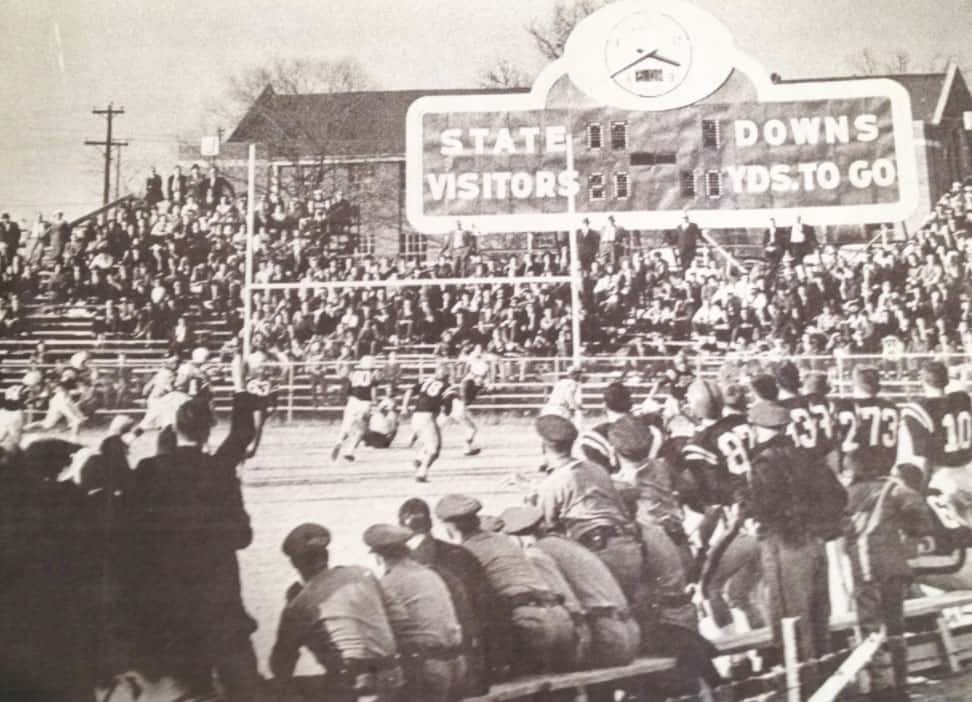 What's impressive about the 1961 Ole Miss football team is not their record. They finished 7-2 for the season after bringing home back-to-back national championship titles the previous two years. No, it's their talent. Games like their matchup against Tennessee on November 19th. The game took place at Crump Stadium on a cold Saturday afternoon that was described as overcast and dreary. There were plenty of people. Overflow stadium estimates top more than 32,000 and vouch for the anticipation of the game. Players like their kicker Wes Sullivan, and running back Billy Ray Adams were known for making things happen under pressure. Mix in passes by quarterback Doug Gilmour to wide receiver Louis Guy, with extra placekicks for measure by Wes, and you have the recipe for fantastic football on your hands. In the end, it would be the passing game by Elmore that would clinch the win. That game he completed 9 of 16 throws on average. It didn't hurt that Guy was an exceptional receiver either. All the Tennessee coach could say after the game was the typical, "We played against a great team but they have many fine players and are really tough." It's college teams like this that make the sports fun to watch, regardless of national titles. This team by Ole Miss is certainly one for the record books.
16. 1944 Ohio State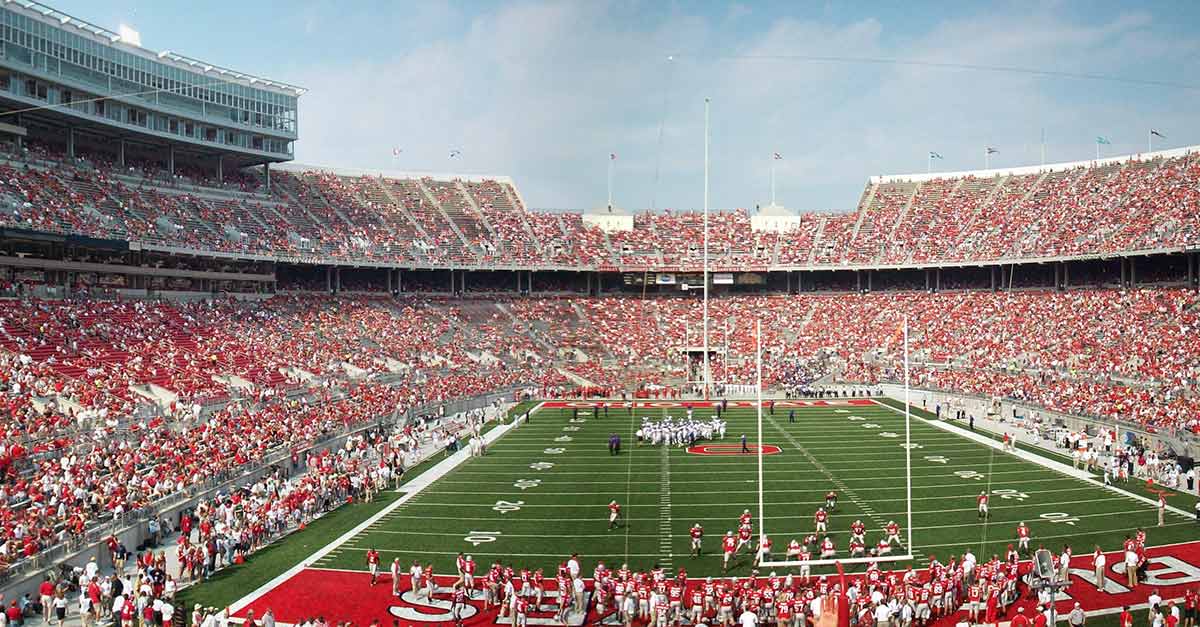 Carroll Widdoes coached the 9-0 1944 Ohio State Buckeyes. They beat ranked teams from Wisconsin, Great Lakes, Navy, Indiana, and Michigan. The Army won a consensus national championship so the '44 Buckeyes ended up going unrecognized. The Quarterback Les Horvath won the Heisman over Army's Glenn Davis and Doc Blanchard.
15. 1965 UCLA Football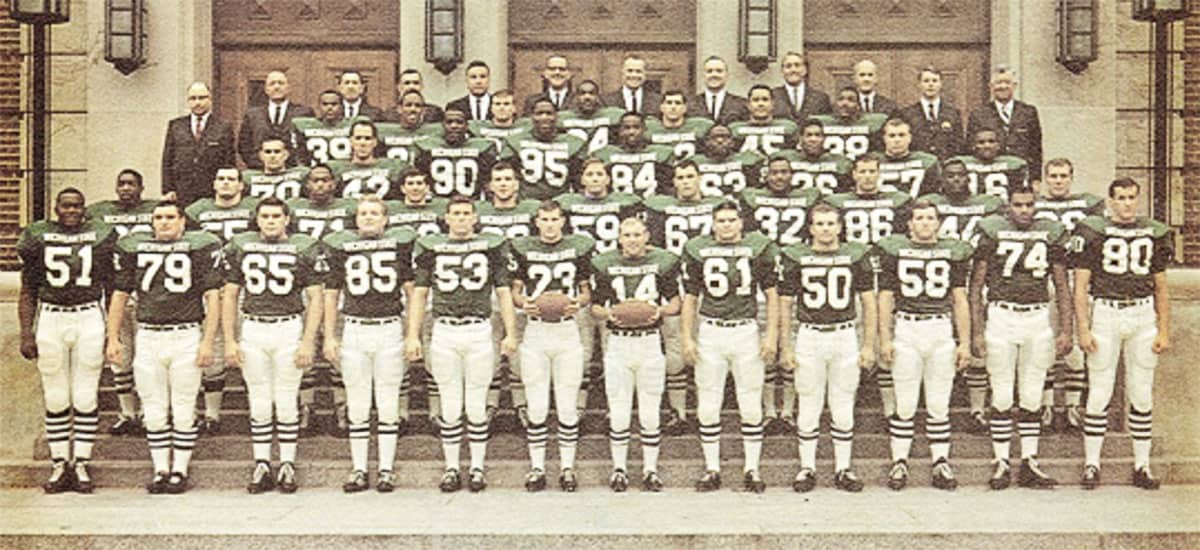 The UCLA Bruins from 1965 have found their way on many top college team lists. According to their coach, Tommy Prothro, this was one of his top 50 teams to ever play the game. This particular season was tough because they had to get past a three-game losing streak. The only problem was USC. If they could beat them when they were almost assuredly guaranteed to rematch Michigan State in the Rose Bowl. The game was really a matchup between not yet crowned Heisman winner Mike Garrett of the Trojans and future Heisman trophy winner Gary Beaven of the Bruins. There was athletic star power in this game, and drama would follow, too. And while they did remain victorious over the Trojans, part of the blame can be shouldered by the Trojans themselves. You can't fumble five times and expect that not to make a difference in a game. Anyway, the next trip found the Bruins playing Tennessee in Prothro's hometown, and they lost. The score was 37–34, which made for a very frustrated Bruins coach. However, UCLA did get to rematch Michigan in the Rose Bowl and beat them literally at the last second. They ran a two-point conversion to seal the deal. So while the 1965 season could have been described as two stallions, UCLA and USC running towards a national title, only the Bruins would run like Sea Biscuit to win the race.
14. 1947 Michigan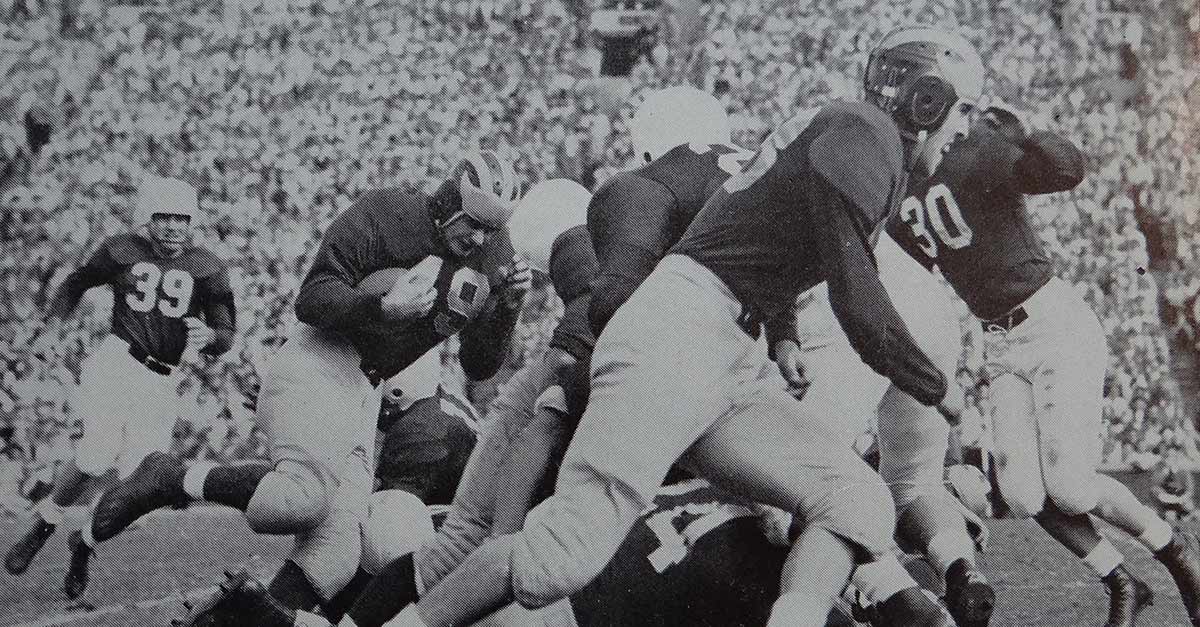 The 1947 Michigan Wolverines, coached by Fritz Crisler, went 10-0 but was denied a national championship. Crisler is credited with the specialization, of the two-platoon system that split up offensive and defensive players.
13. 2011 LSU Football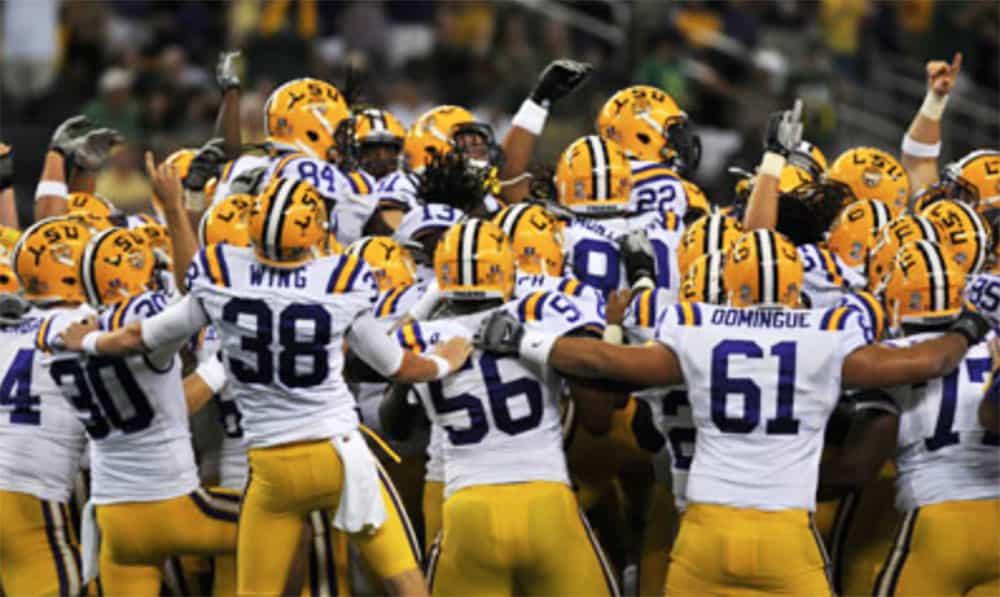 Some years are legendary because the teams are legendary. That was the case in 2011 with LSU. On November 5, they played Alabama on their home-field. Bill Pendry, recently retired Alabama offensive line coach, served as offensive coordinator for the Buffalo Bills, Kansas City Chiefs, Houston Texans and Carolina Panthers before shifting to college. He quipped that there were probably 20 out of the 22 defensive starters that would be playing in the NFL the following season. Hence the reason nobody would score a touchdown that fateful night in Alabama. To his credit, he was right, but he just did not realize how right he really was. 28 of the defensive players in that game, 14 per side, got drafted to the NFL, including 10 first round picks. LSU pulled that game out 9–6 in overtime. Part of it was probably bittersweet since their coach now coached the Alabama team, but most of it was pure talent. This game was a classic logo game, where neither team moves the ball much past the logo at midfield. Of course, Alabama would come back to challenge LSU again and take the BCS national championship title, but this LSU team will go down as one of the most draft pick producing teams ever to play one season.
12. 1946 Army Football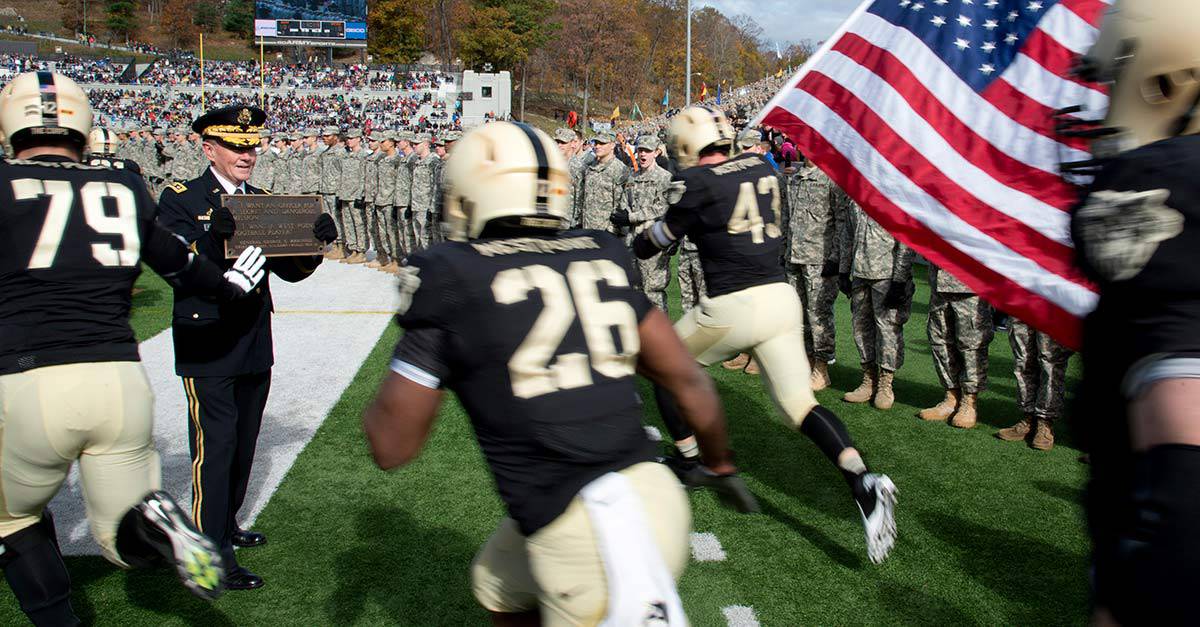 The 9-0-1 1946 Army Black Knights coached by Red Blaik won every game until a 0-0 draw versus Notre Dame.
11. 1953 Maryland Football


The thing about Maryland's 1953 team is you must be familiar with their 1952 venture to fully understand the experience. Coach Jim Tatum's Terrapins were considered to be a scourge among college football. In fact, they won four of their previous five games in 1950, swept all of their games in 51, and did the same to the first seven opponents in 1952. However, that all came crashing down when they posted a 21–14 loss to Mississippi, which was then followed with a 27–7 loss to the Crimson Tide. With 1953 came a renewed sense of revenge. Stan Jones, the All-America tackle, said that they couldn't wait for the season to start. He further states they were miserable over the previous season because they really felt they were the best team in the country. The first eight games of the season saw them steamrolling all of their opponents, despite the fact they ranked ninth in preseason rankings. All nerves were on edge when they once again played Mississippi, then ranked number two just behind Notre Dame. They slaughtered them 38–0 and went on to complete their season with no ranked losses, despite a loss to Oklahoma in the Orange Bowl (it didn't count against them). Some would say the Orange Bowl would be the only game Coach Tatum didn't play well, yet everyone agrees 1953 definitely belonged to the Terps.
10. 1971 Nebraska Football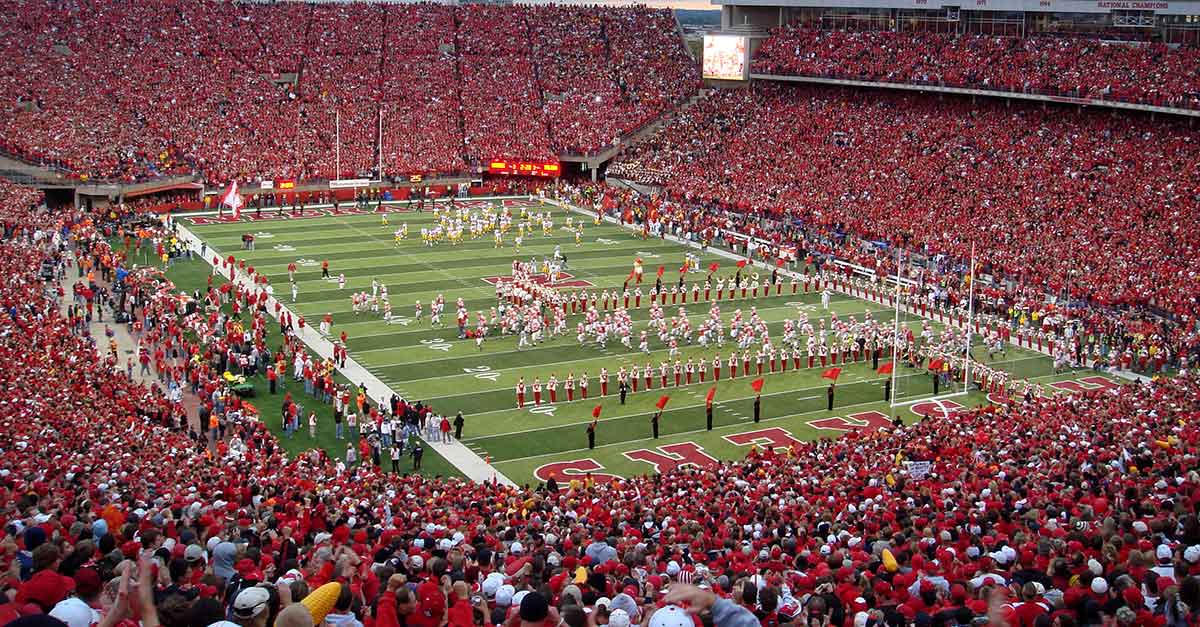 Bob Devaney coached the 13-0 1971 Nebraska Cornhuskers. The Cornhuskers were loaded, with the 1972 Heisman winner Johnny Rodgers and the Outland Trophy winner Larry Jacobson. They held 10 opponents to a touchdown or less.
9. 1960 Iowa Football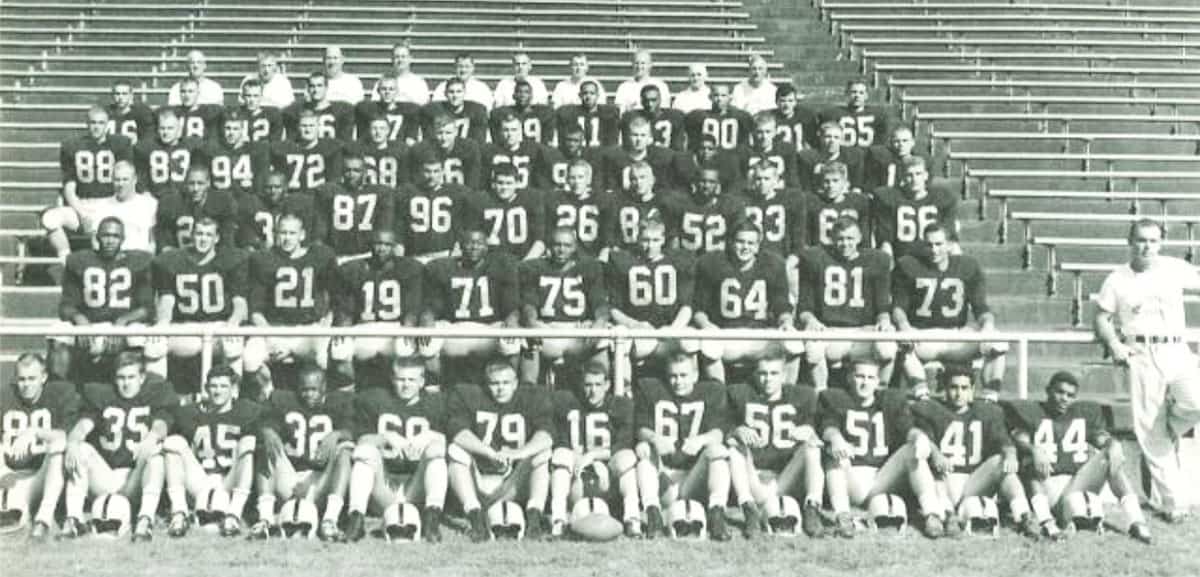 This could be a tale of sour grapes, except it's a little deeper than that. The 1960 Iowa football story is one of denied recognition, despite phenomenal success. You see, in 1960 there were only 9 bowl games, as opposed to 11 the following year, compared to the some 39 in existence today. Iowa had a phenomenal year. Their record was 8–1, almost perfect. However, they only got as far as a conference co-championship with Minnesota. Due to their 27–10 loss on November 5, Minnesota got the invite to Pasadena instead of Iowa. There was no bid option or consolation bowl bid to speak of, despite their incredible season. No Buffalo Wild Wings Bowl, Citrus Bowl, Outback Bowl or University Holiday Bowl. To add even more insult to injury, this is the highest ranked football team in Hawkeye history that has the distinction of being denied a postseason award. It just goes to show you that today things are done much differently with the bowl championship series. In the 60s you could have a phenomenal year and still remain home while other less capable teams went off to their bowl rivals.
8. 1944 Army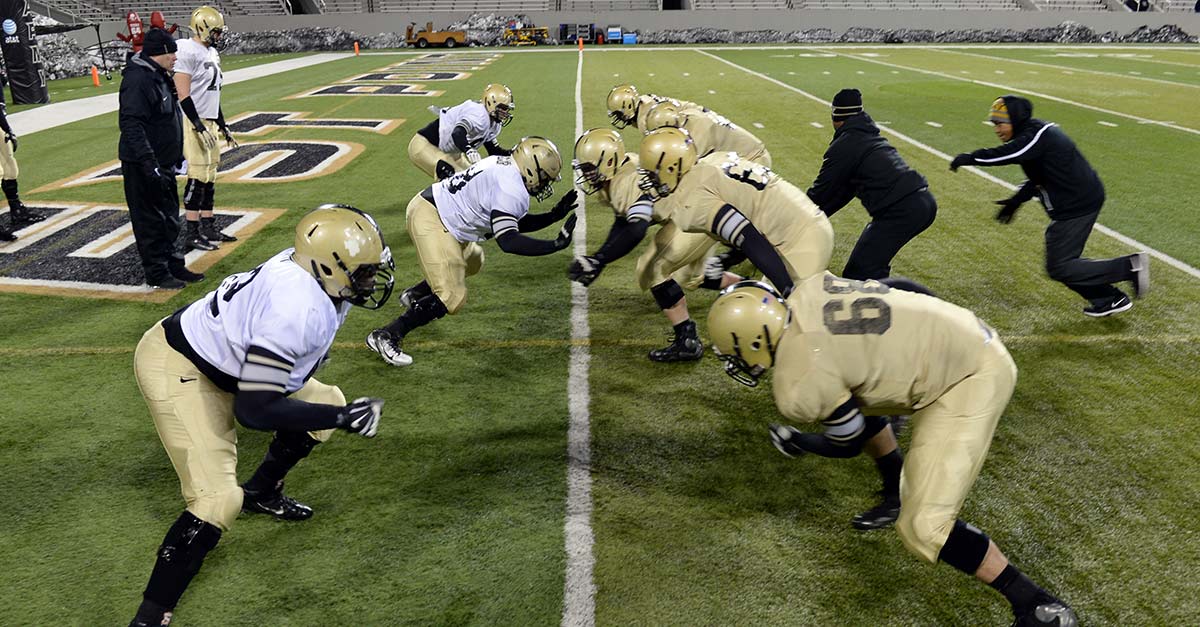 The 1944 Army Black Knights, coached by Red Blaik, went 9-0 with the debuting running backs Glenn Davis and Doc Blanchard. They beat the #5 team Notre Dame 59-0, Villanova 83-0, Pittsburgh 69-7, and Navy 23-7.
7. 1991 Washington Football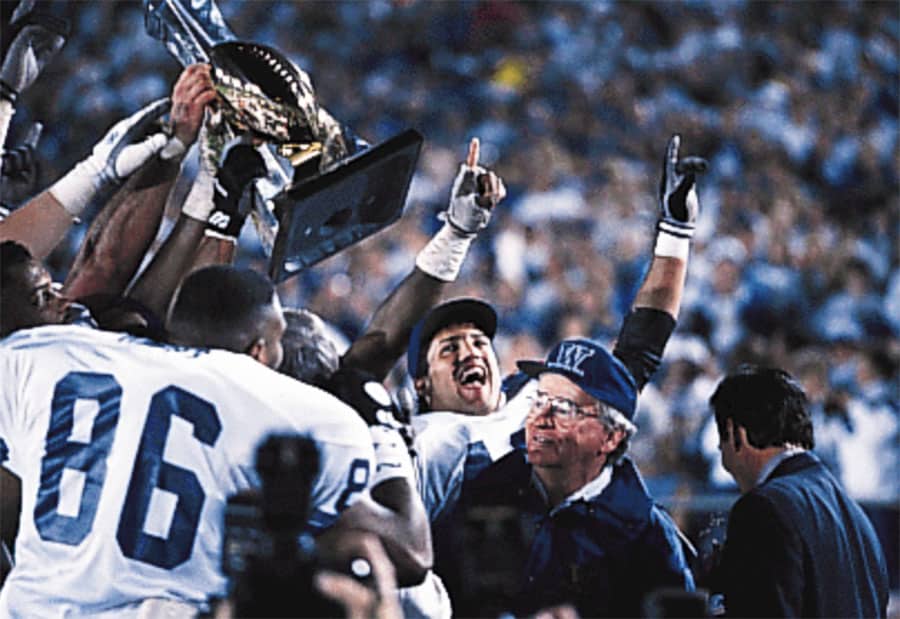 The Huskies always need to remain a part of the conversation when discussing greatest college football teams ever, particularly their 1991 team. This was the year that head coach Don James finally got the Huskies back to national prominence. It took five years but was well worth it. However, all was not lollipops and roses. Their quarterback, Mark Brunell, suffered a knee injury that put him out for the season, so the second stringer, Hobert, rotated forward. This usually spells disaster for college football teams, but not for the Huskies. They steamrolled through the competition, 495 points versus 115 points for their opponents. You might remember Mario Bailey as one of the star players, though the entire team was really deep. He scored 17 times while other comparable players only scored 13. It's arguable that the University of Washington had the best offense and defense in the country during the 1991 season. Why? In total 25 players became draft picks for the NFL. Even though they ended up splitting the title with Miami, the numbers prove that Washington was superior. It's the difference between being awesome, if you are Miami, and phenomenal if you're Washington.
6. 1943 Notre Dame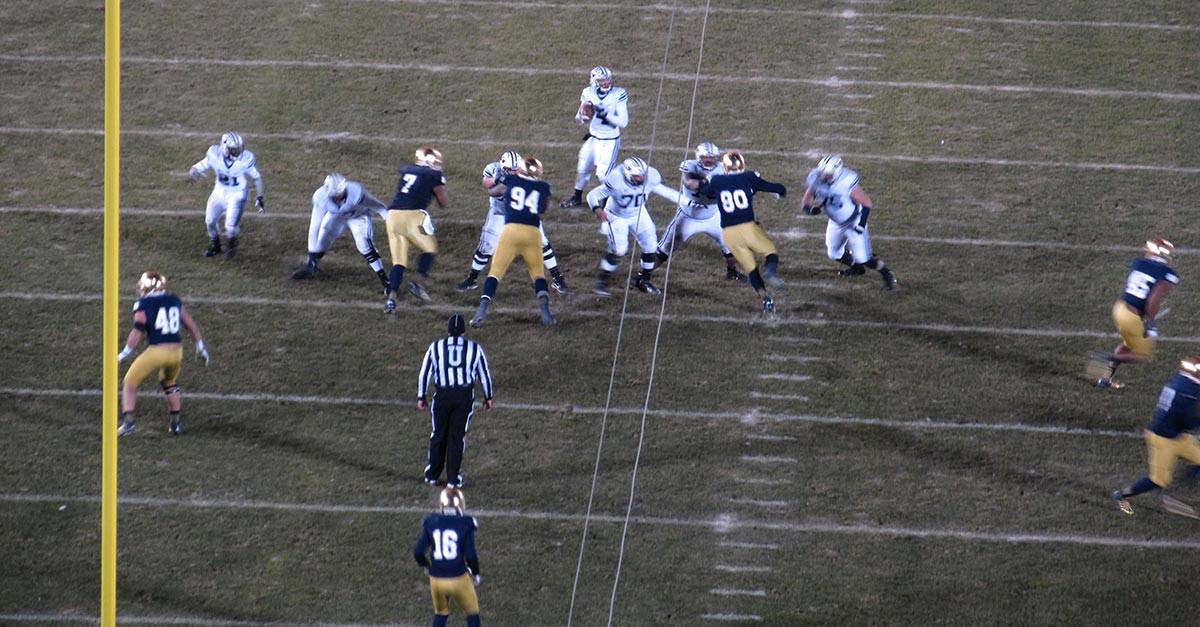 The 9-1 1943 Notre Dame Fighting Irish coached by Frank Leahy, is labeled the greatest college football team of all time for how well they played with the 9th ranked the toughest schedule in college football history. The one lost was 19-14 against the Navy Midshipmen coached by legendary NFL coach Paul Brown.
5. 1909 Arkansas Football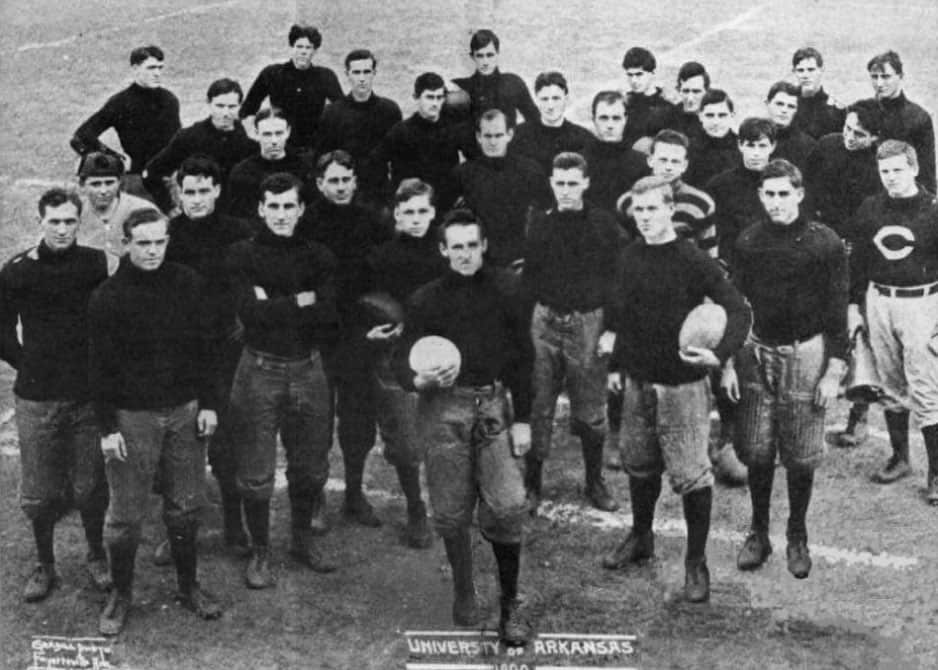 So you have to dig way back for this one, but in 1909 the Arkansas Razorbacks were unbeaten the entire season. The team, coached by Hugo Bezdek, outscored all seven opponents by a total of 186-18, including four shutouts and three games with only six points scored by the opposite team. They were a dominating force. 1954 would see another impressive year where they would land the Southwest Conference championship title. They ended up ranked number 10 overall in the AP Poll that season. A little-known fact about this season is the game with Ole Miss counted as a conference game for the SEC simply because Ole Miss didn't have enough SEC opponents already scheduled for the year. Here is another fact. Since joining the SEC conference in the 90s, the Razorbacks haven't even landed a conference title. Yet walk backward from the 50s to 1909 and Arkansas was a true beast. See what we did there?
4. 1988 West Virginia Football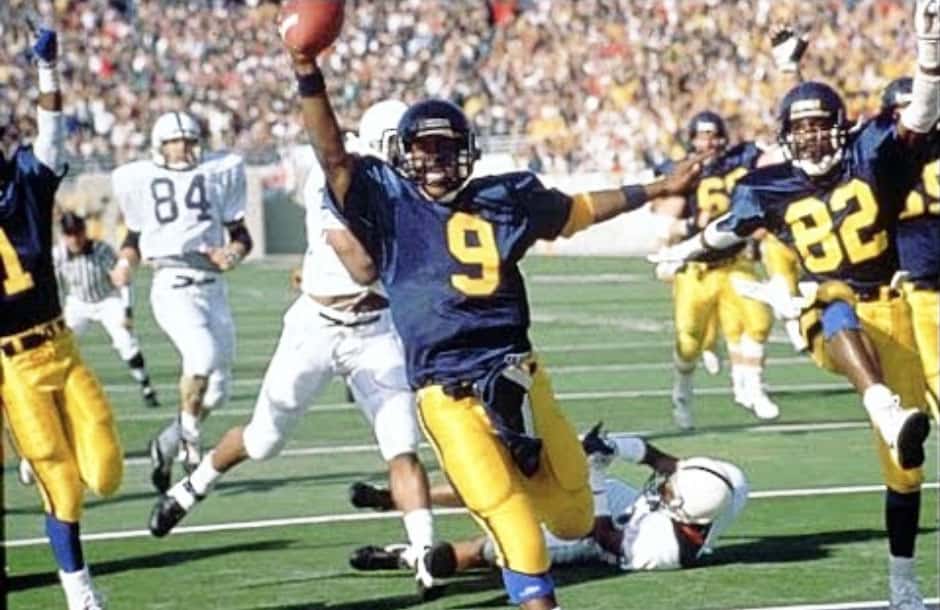 The West Virginia Mountaineers may not have any national championships under their belt, but look closely and you will see plenty of conference titles. However, the 1988 team seems to haunt West Virginia for the most part. Here's why. The Mountaineers went unbeaten during regular-season games, to enter a national championship showdown against Notre Dame. Yet, the Fiesta Bowl was only on its third play when quarterback Major Harris separated his shoulder. The Fighting Irish ended up winning the Fiesta Bowl 34–21. That entire experience has left many fans in Morgantown wishing, wanting and wondering for just over two decades, "What if?" The same thing would happen in 2007 when West Virginia was slated to become national champions again with their number one ranking as they entered the backyard brawl. However, Pat White was injured and Pittsburgh defeated the Mountaineers 13–9. This loss knocked them out of BCS bowl potential. Even at that, they were ranked sixth place overall by the AP Poll, which is the third all-time best in school history.
3. 1959 Syracuse Football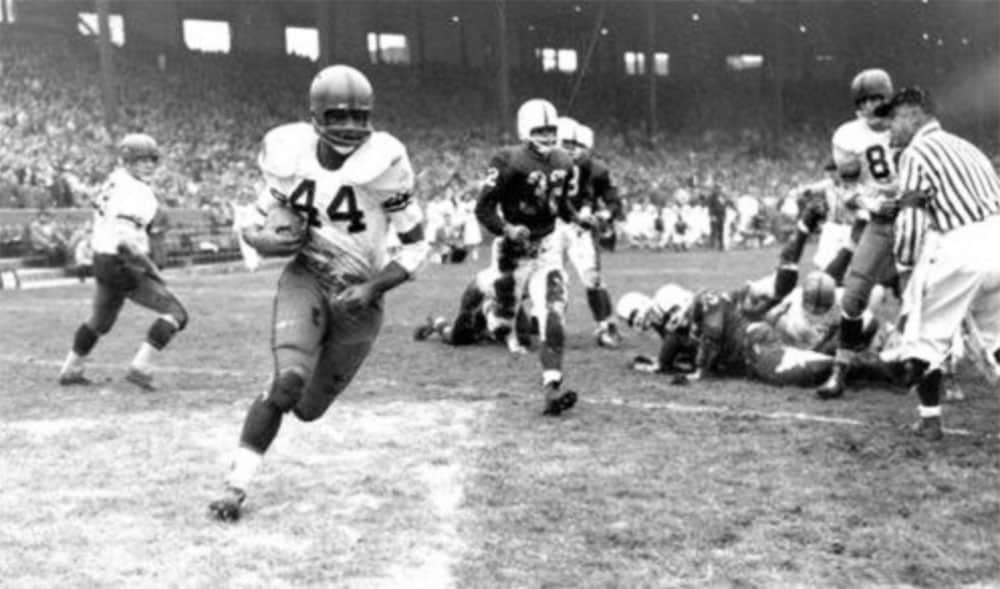 So the curious case of the 1959 national title leaves us with a peculiar pick, the Syracuse Orange Men. Not exactly known as a college football powerhouse, why do they make this list, particularly when their star player Jim Brown graduated two years earlier? When Jim left he gave Syracuse their greatest gift, Ernie Davis. And it seems that all Ernie Davis existed to do was smash Jim's records to ultimately win the 1961 Heisman trophy. With Davis at the helm, the Orangemen would go 26–5 for three seasons and ultimately clinch the 1959 national title after playing the 1960 Cotton Bowl. They had the best defense in the country, but it came at a great expense. Remember, racial tensions were high in the 60s and many of the Syracuse players had to endure discrimination purported by the white Texas football team players… in the Cotton Bowl of all places. However, they would emerge victoriously, and Ernie Davis would become a legend and put Syracuse on the map. Tragically, he would pass away in 1963 after a battle with leukemia.
2. 1965 Michigan State Football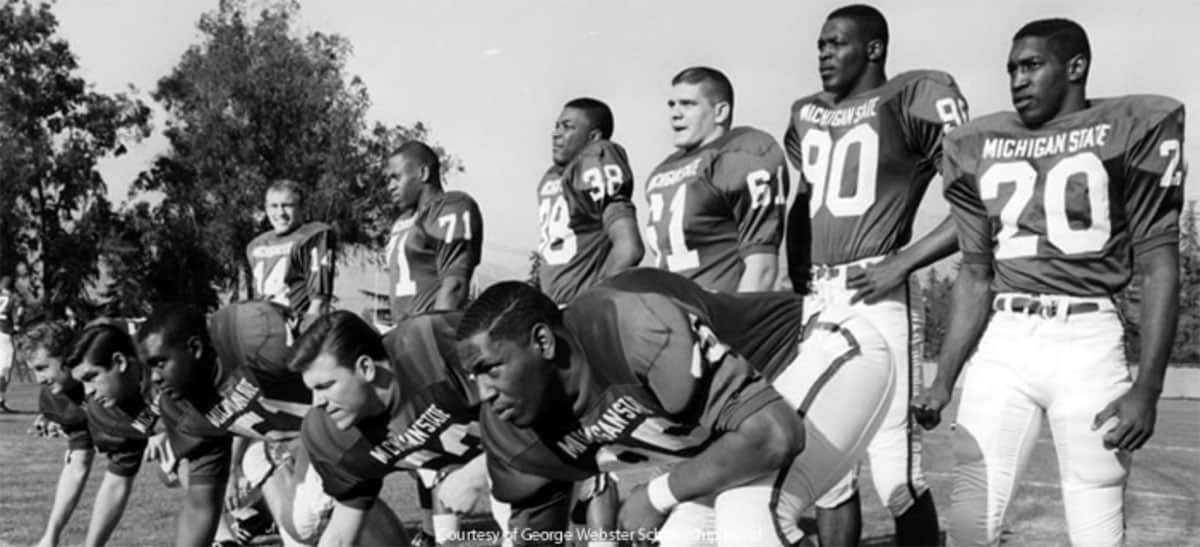 1966 would find four-star football players as seniors and future Hall of Famer's. However, at the time Clinton Jones, Bubba Smith, George Webster, and Gene Washington were also the backbone of one of the greatest college football teams ever to hit the field. What's so significant about these four? They were the first four black Hall of Famer's from the same class. The group arrived at East Lansing in 1963 in the fall. This was the era of freshman ineligibility so they couldn't play on the varsity team for another year. The next year they found their home. So what took them so long to be inducted into the Hall of Fame? Well, it seems that the 1965 – and 66 season – is to blame. Though they were the star power for sure, a tie with Notre Dame and a loss to UCLA put a couple of blemishes on a great season. If you put the two seasons together they were 19-1-1, not bad. Had they clinched Notre Dame in the Game of the Century, they most definitely would have been a contender for a national title. Still, it's phenomenal to see what was accomplished despite hurdles of race and freshman ineligibility. These four created a core that knew how to handle the ball and get the job done.
1. 2017 Georgia Football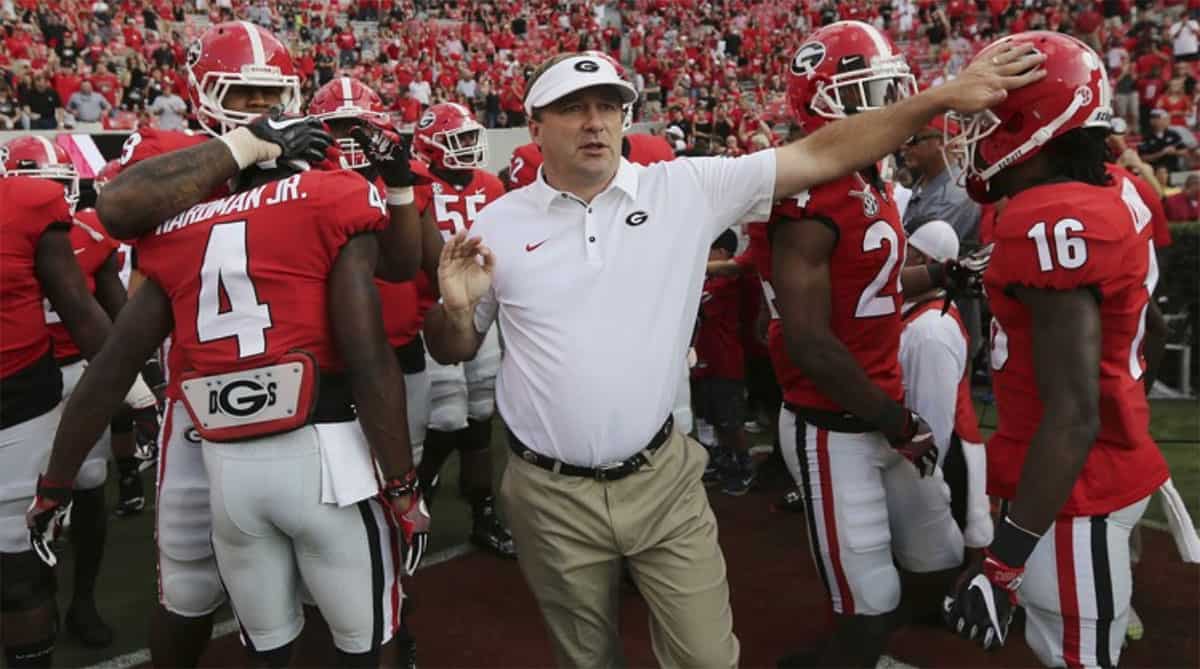 So the University of Georgia obviously has to make the list with their team from last year. You could argue back-and-forth between the two. It is pretty phenomenal to see a new head coach with the same talent that you find in a coach like Nick Saban. Wait, it seems that Kirby and Sabin know each other and that the student might actually become the teacher in a few years. Only time will tell, but Georgia had the better team this past year and lost due to recent inexperience on a national stage. However, had this been the 1980 season, with Herschel Walker on the team, the game would be history. That, of course, was Coach Vince Dooley's greatest moment and one of Georgia's as well for football. Yet, with the incredible talent, we saw this past year with a quarterback that knew how to read the field and a receiver and running back who know the mechanics, Georgia could easily eclipse their 1980 victory within a three-year span. Here's to seeing what's in store.