15 Crazy Cool RVs And Campers That Upgrade Any Trip
#15 – Terra Wind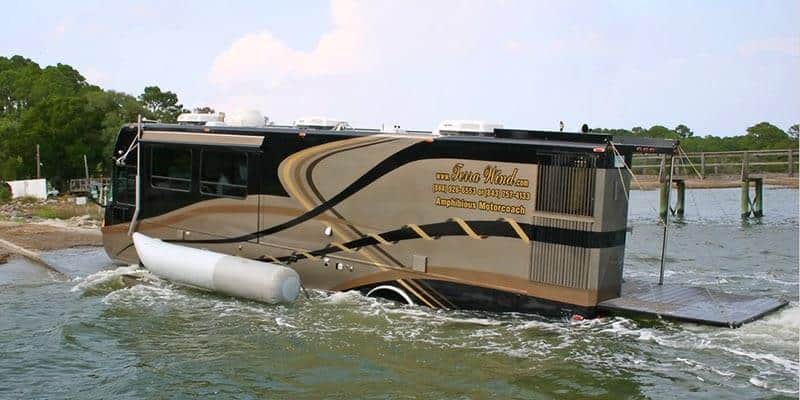 Here is the first on our "15 Crazy Cool RVs And Campers That Upgrade Any Trip" list. The team at Cool Amphibious Manufacturers International, better known as CAMI, is building one beast of an RV that gives new meaning to the term off-road. Right in the middle of a custom build, the motor coach/yacht known as the Terra Wind amphibious is poised to the ante so to speak. Yes, you heard me right. This motorhome is also trying to drive on the water, with the aid of 219 inch propellers. On land, it looks like your typical class A RV. It specs out to 42 1/2 feet long, 12 1/2 feet tall, 102 inches wide and weighs about 33,000 pounds. However, a few unique styling features do set it apart. For instance, there are sliding doors on the back of the RV, which give you access to a wonderful view on land, or water. The RV is also equipped with a swim deck that lowers much like a toy hauler ramp, and has a whirlpool tub as well. But wait, it gets even better! The Terra Wind will also have an optional trailer package that can be purchased, and yes the trailer floats. It will be able to carry a car and golf cart, or two jet skis (imagine floating on the open water with those in tow). Also, it's a party barge in itself since the flat roof is perfect for diving off of, or catching some sun.
#14 – EleMMent Palazzo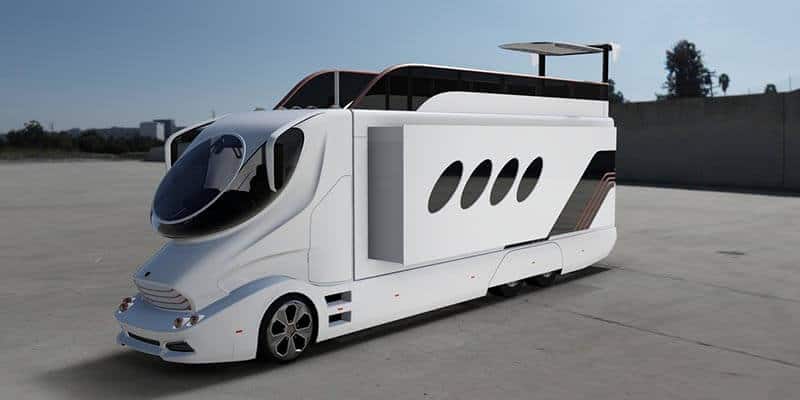 If you have an extra 3.1 million+ laying around, this badass RV could be yours. The next up on our cool RVs and campers is known as the eleMMent palazzo, and yes you have to spell it like that. It's essentially the best hybrid of a world-class sports car and motorhome that you will ever see. Inside, you can transform your coach into a sweet night life spot. There are two bars from which you can serve your guests drink of their choice, and a lift both flybridge lounge to let guests get a spectacular view of the outside world. The best part? When you're done with all of the partying and festivities you can quietly retreat to your bedroom below, and leave the noise upstairs. You even have a separate bathroom there so you can self contain in your own personal oasis. When the party's done and the guests are gone, simply dismantle the fly bridge with the touch of the screen. The graphic interface is sleek and easy to use. It's just what you'd expect from a $3 million badass RV.
#13 – Ferrari RV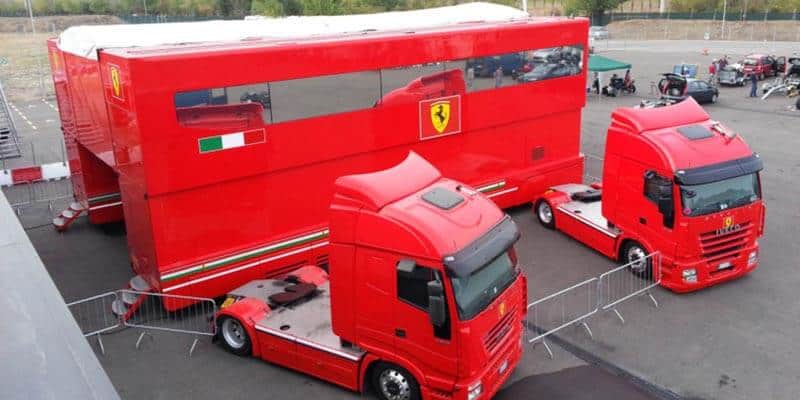 So you may know Ferrari for building some of the fastest production cars of all-time. What you might not know is Ferrari's racing team has a pretty sick RV. It's also up for sale. Even though they used it from 2003 to 2013, don't be fooled. This massive two-story recreational vehicle is decked out to the max, making it one of the craziest cool RVs and campers on this list. The most unique feature of this RV, or RVs as we should say, is how they operate. Typically, most recreational vehicles are strung together like one long daisy chain; and a second level might rise from the first to add height. They are usually long and tall, but never factor width into the equation much. Not so with the Ferrari RV. Both trailers can be joined together, after rising to a 7 m height, to comprise an area that is larger than 200 m². It's like having your own office condo/living quarters complete in one unit. In fact, that's exactly what it was for Michael Shoemaker and Fernando Alonso for many years. Now that their racing careers are finished, the motorhome is up for sale. Make sure you have deep pockets, though. This motorhome passed hundred thousand dollar land a long time ago.
#12 – 6 x 6 Jeep Camper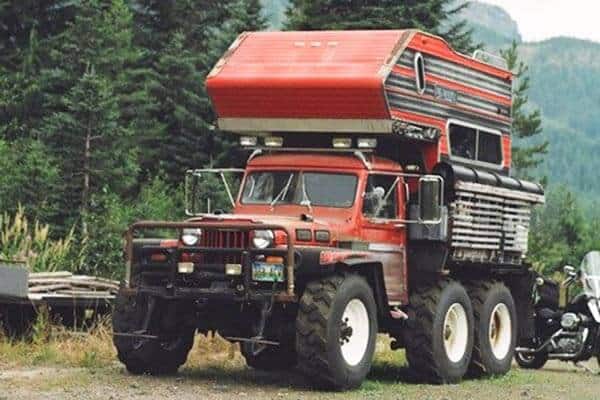 If you're looking for an affordable apocalyptic badass recreational cool rat rod vehicle, this one will fit the bill nicely. The next of our cool RVs and campers has to be every high school or college boy's dream. It's an off-road 6 x 6 Jeep camper. The entire thing was built around a 1966 Willys Jeep truck. It was originally a four-wheel-drive vehicle, but was obviously converted to a 6 x 6. The camper is boss, too. It features 48 inch tires, direct from your favorite farm tractor. Also, don't forget the custom-built camper cab. That will give you all the living space you need. Of course, that's it, so plan on a solo trip, unless you and yours are quite skinny! If someone else decides to try and join you during the adventure, you can curse them out and scream so they leave, or choose the more rational option and run them over with your functional, rugged vehicle. I'm just saying, if I were me, I would not want to mess with myself in a 6×6 Jeep motorhome conversion.
#11 – MAN KAT 1A1 Heavy Duty RV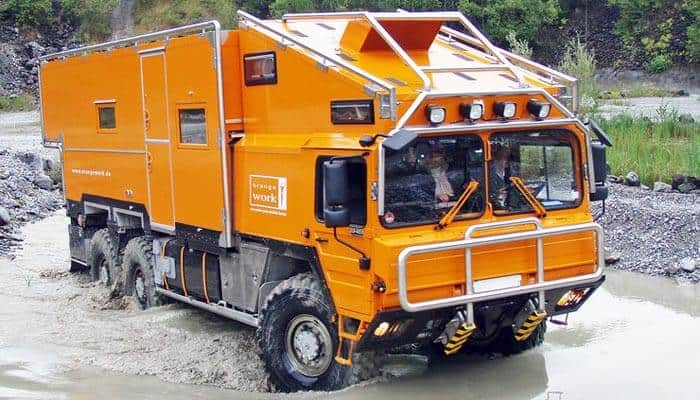 This is an unusual truck. There are many words for this one, it's kind of a what you see is what you get type situation. For starters, it's orange and massive. Plus, being German, you can pretty much bank on the fact that the design is solid. This is a state-of-the-art all-terrain, multipurpose badass RV the likes of which you will rarely see. A few interesting things about it, besides the interior. It's pretty standard as far as living quarters ago, minus the fact that it's designed to keep you off grid for about two months should you choose. Now, back to the exterior. Look at the driver's cab for starters. It's very forward and definitely gives you a clear view of what you are running over. In fact, if you will look closely you can see that the drivers actually sit in front of the tires, which is the case on many luxury RVs. Also, the headlights are not exactly where you would expect them to be. There are a row of fog lights up top while the main lights are mounted underneath a vehicle to illuminate a clear and direct path. Topping off the RV is a set of metal scaffolding that can be used to climb, mount and observe from the roof of the RV. If you need to be somewhere when it all goes south, this is a good place to be. Plus since it's orange, most people would confuse you for a city municipality and go their merry way. If you like that, stick around for the next cool RVs and campers.
#10 – Skoolie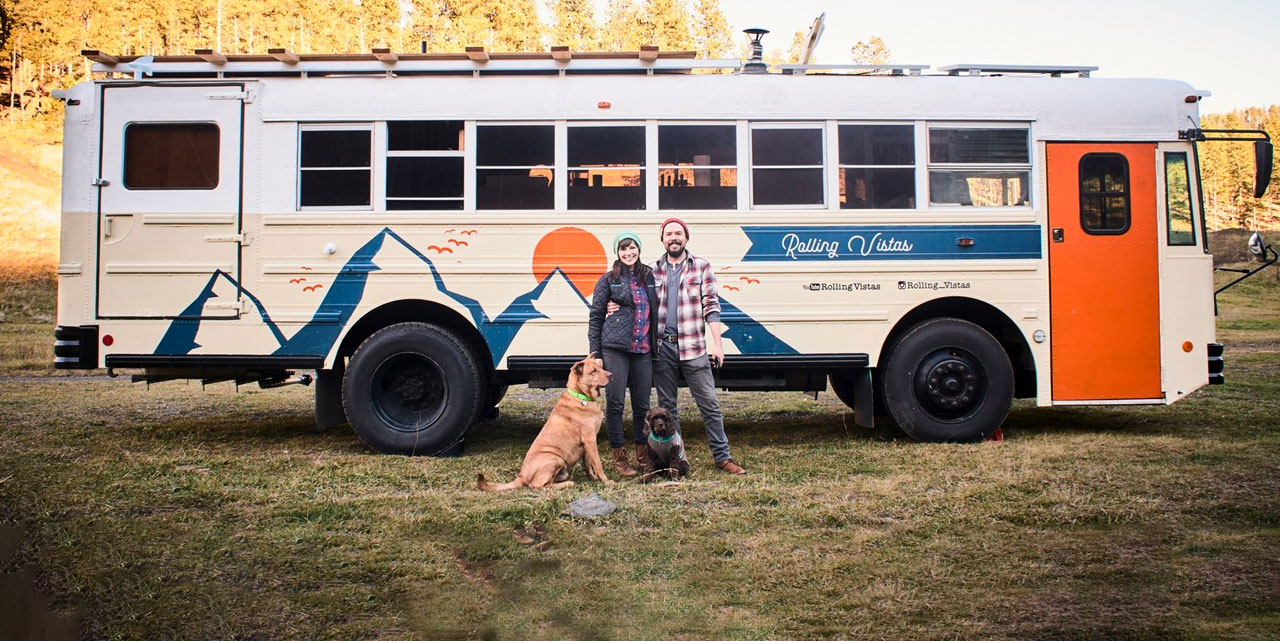 A new trend in motorhomes is the Skoolie. They are school buses renovated to function like RVs. The process involves scraping the interior and adding running water, bathrooms, and other amenities like beds and living spaces. The one in the picture is "Rolling Vistas." It belonged to a couple who sold everything to convert the bus into a cabin and hit the road. Eventually, they sold it and downsized it to a van which they also put up for sale. If you make a bus barn find discovery, why not convert it into a Skoolie.
#9 – RoadHaus Wedge RV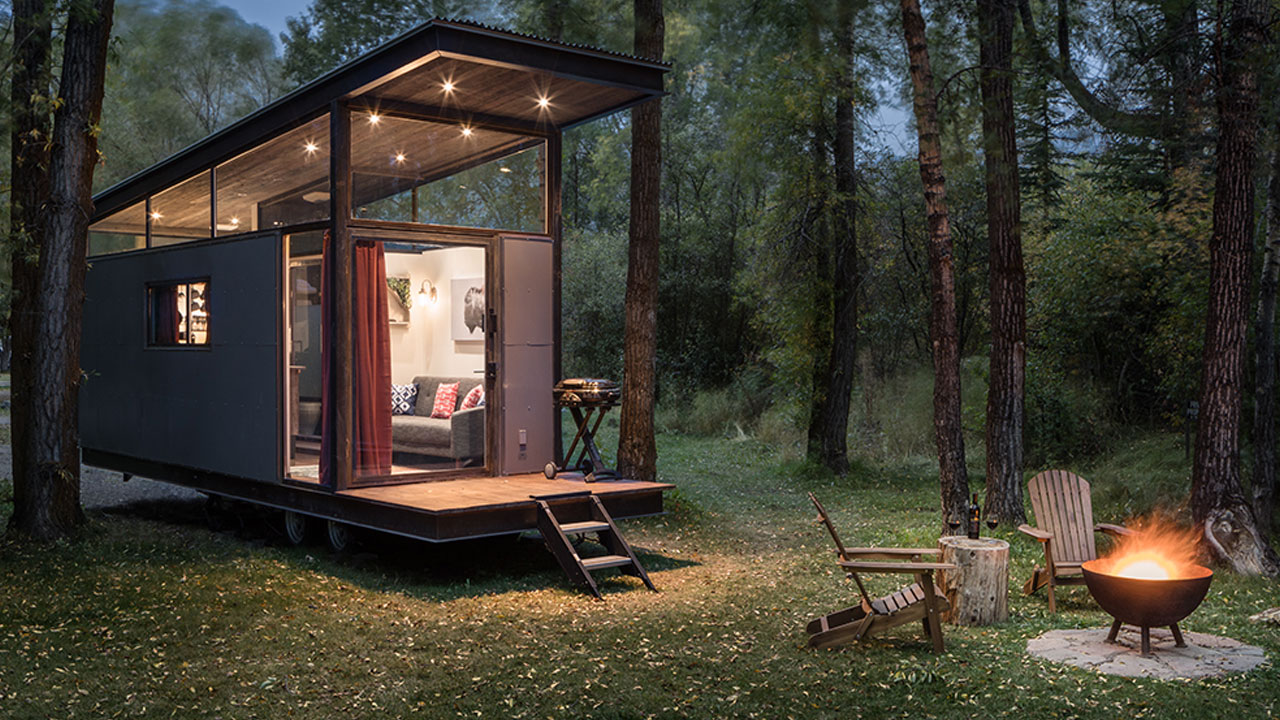 Next up on our cool RVs and Campers list is the RoadHaus Wedge RV made by Wheelhaus. This Salt Lake City, UT company specializes in tiny/modular homes. This is one of their smallest home/living spaces at 240sqft. It is large enough for a couch or meeting table. The RV is made from a steel frame and comes equipped with a kitchen, bedroom, bathroom, and an outdoor deck. Prices start at $87,000, so definitely an investment for luxury.
#8 – Mercedes-Benz Unimog Project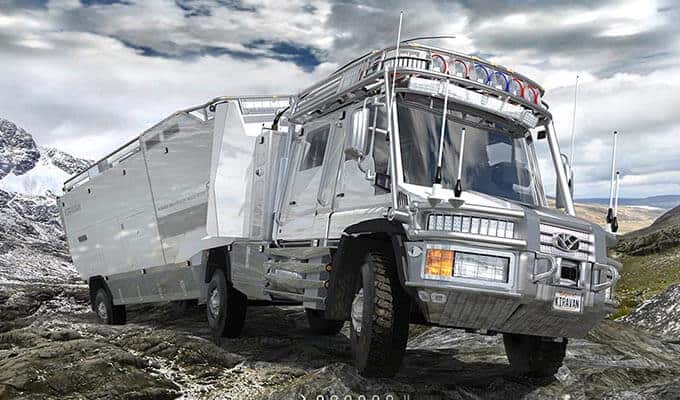 The eighth of our cool RVs and campers is something else. So Mercedes is billing this as the most badass camper ever built. We like to think of it politely as an RV on steroids. What you're looking at is the Mercedes-Benz Unimog Project. I know, I know, why can't you ever get these sorts of projects assigned to you at your job? Bran Ferran, chief designer and engineer responsible for this creation, modeled it to be a bit more kid friendly after his daughter was born. The goal was simple. They wanted to build a large scale global expedition system for exploration over land, scientific research, and of course still photography. To that end, the drivers cab is outfitted with more knobs, buttons and switches then the Apollo 13. That's badass enough in and of itself. The six cylinder turbo diesel, which Mercedes is known for with its cars, only furthers the narrative. The inside cabin looks much like something you would expect to see on the NASA spaceship, with an electronics bank filling one wall of the cabin. Yet, you won't feel a thing in this massive beast thanks to the Kevlar tires and suspension capable of tackling 45° slopes. It's perhaps the best way to drive in style while exploring the world around you. It doesn't get much more badass than that!
#7 – Atomic Camper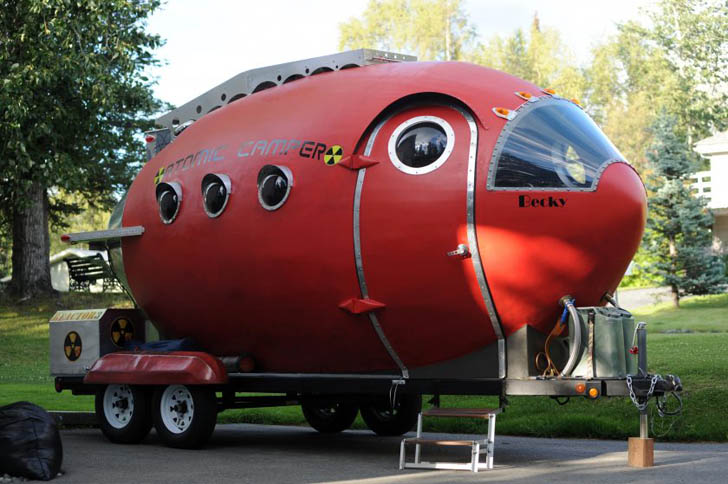 Alaskan resident Bill Guernsey built this at his home while recovering from a plane crash injury. This camper looks like something out of a 1950s B-movie and comes equipped with a kitchen, shower, and bathroom. Guernsey said that the theme is a reflection of growing up in the Cold War. He used bentwood, paper-mache, and glass fiber for the ribs. Other pieces included jatoba and tigerwood for the interior and copper, aluminum, and plywood. After completing this camper, Guernsey sold it to new owners who regularly post pictures on Instagram. Guernsey said the next project he wanted to make was a 24-foot zeppelin camper. Definitely one of the more ridiculous motorhomes you'll love on this list.
#6 – MAN 8×8 Missile Tractor RV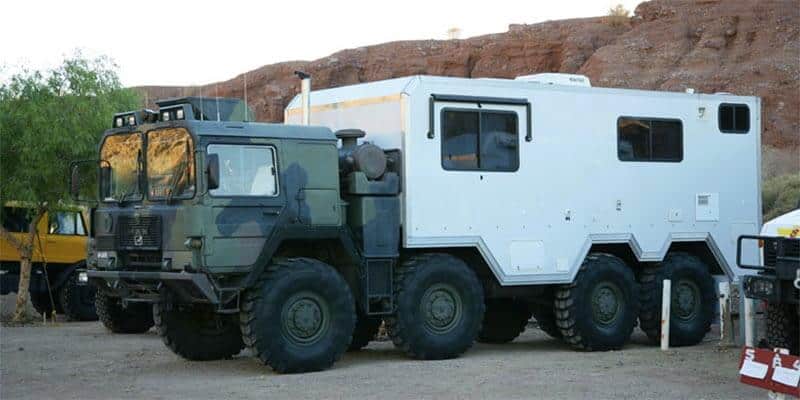 Sure, we've all been there. You have an old MAN 8×8 missile tractor laying around and are racking your brain as to what you should do with it. Why not convert a cutting edge military vehicle to an extreme motorhome like this guy? While the contrast is pretty stark between the green camouflage and the white camper shell living quarters, it is still gorgeously rugged, if we can say that. Equipped with all the creature comforts of home including a kitchen, bedroom and dining space, this war toy to RV conversion gets an A plus overall, despite the C minus for the two tone paint job. It can handle the most uneven terrain, and can also get you across the border with or without a passport. Of course, I guess you could always go back and put camouflage on the trailer, or paint the missile tractor white. Nah, go camouflage.
#5 – DecoLiner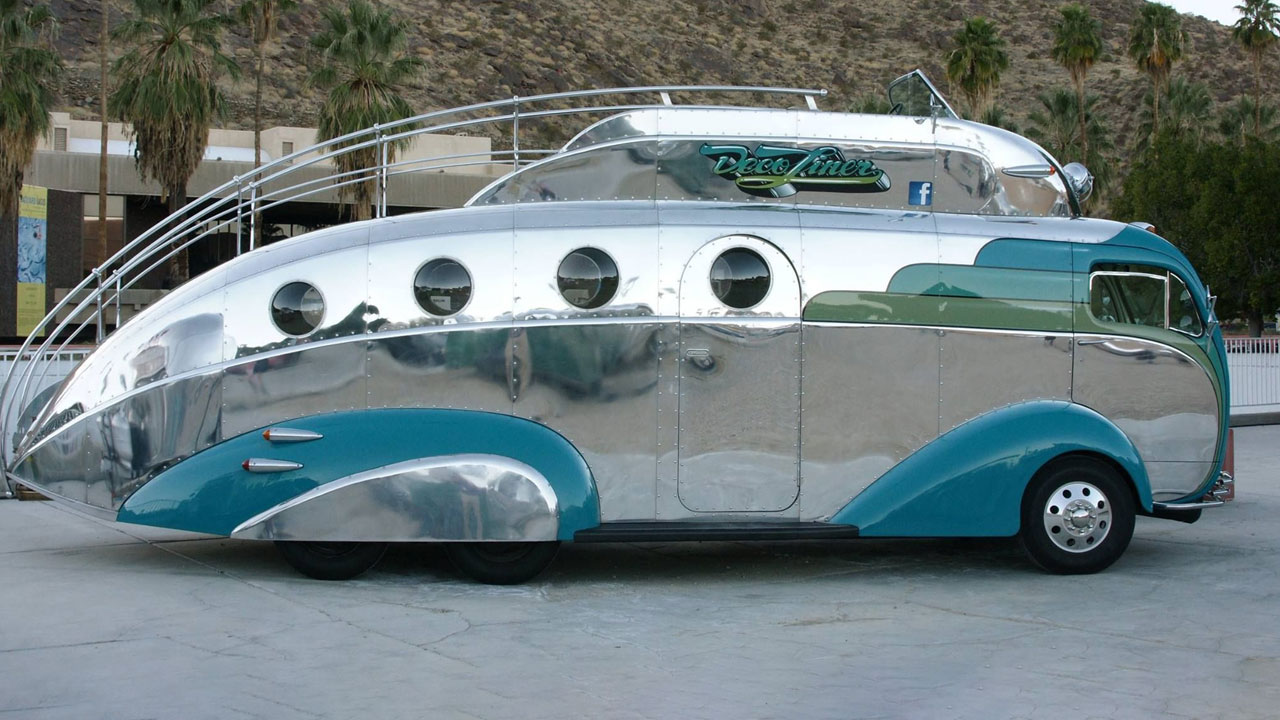 Randy Grubb creates custom cars made from ordinary vehicles. He is responsible for the DecoLiner. He built the vehicle using the chassis of a 1973 GMC motorhome. He wanted the styling to be something like the fictional sci-fi character Flash Gordon might drive, and we think he succeeded. It is a double-decker RV with the ability for the driver to steer from the roof. Grubb put $100,000 in this vehicle and 6,000 man-hours. He sold it for $500,000. If we had that kind of money drop, we'd think it would be worth it!
#4 – Alibaba EV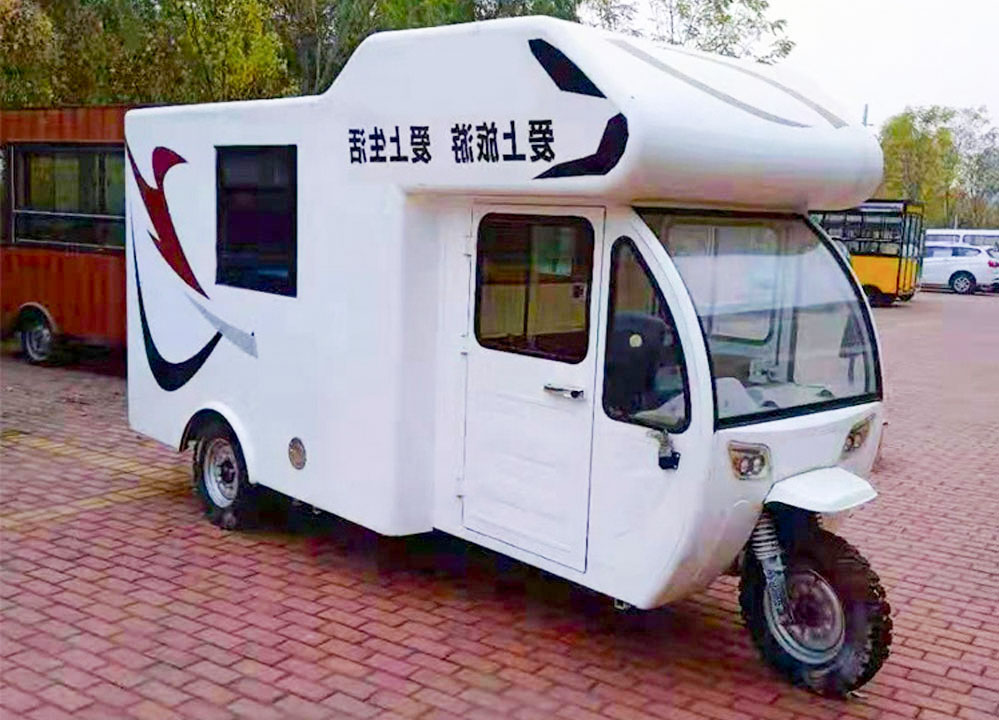 This Tiny RV can be found on Alibaba and purchased from the Chinese marketplace. It goes for $4,800 to $6,200. The vehicle is quite small and can be potentially dangerous since it only has one wheel in front. On the other hand, this is electric vehicle reaches 72-96 miles on a single charge. However, its max speed is only 25mph, so we encourage readers to stay off the highway. Still, inside, it has an electrical outlet, a table that converts into a bed, storage space, and wood flooring. Not bad for such a little package, but you might want to go camping solo with this one.
#3 – Knaus Sun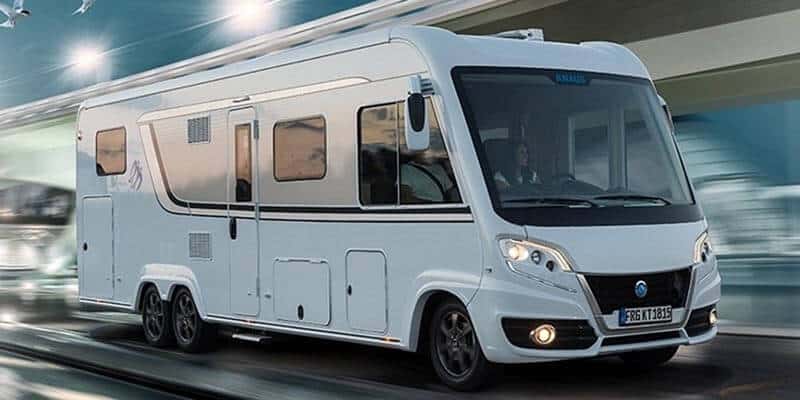 I'm not even sure how you say this name, but the Knaus Sun i brings badassery to the common folk like you and me. It's essentially a luxury penthouse on wheels, though it doesn't look it from the outside. In fact, it simply looks like a standard run-of-the-mill luxury RV. It has fluid lines and sleek styling with a minimalist flair. Yet, step inside and you get a horse of another color entirely. Built on the Fiat Ducato Premise of design and function, this badass RV is just under 30 feet long and weighs a little more than 8000 pounds. It features stiffened walls, roof and floor to ensure durability. There are two floor plan options available, and both offered sleeping for four people. The slate countertops in the kitchen are beautifully appointed with the nearest land luxury and elegance. They are further complemented and offset by the sleek stylistic leather seating, reminiscent of the Alcantara diamond pattern you would find in a luxury sports car like a Bugatti. Everything is accessed with the push of a button, including the retractable outdoor television, floor storage, alarm system and air conditioning. You can have the Knaus Sun i for just under $200,000. Yes, I heard my wallet scream, too, but sometimes that's the price you pay for that ask. If you want something as slick, stylish and awesome as this, then you won't mind shelling out the scratch for the experience.
#2 – Atacama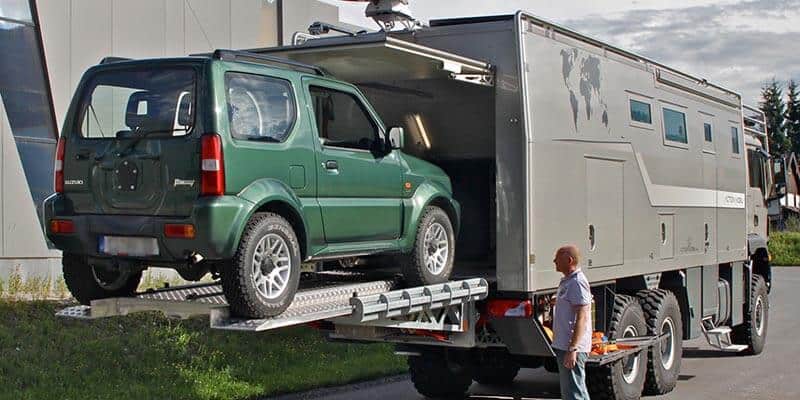 So let's say you don't want to be one of those run-of-the-mill type of RV enthusiasts who uses a tow dolly to haul your car. Well, you could always go with the badass Atacama. It's one of the world's premier RVs designed to carry your car inside. That's right, no more annoying pigtail to swing your car around in the back; your vehicle is stowed, safe and sound, inside. The team at Action Mobile has designed an RV that is certainly more than a rough-and-tumble car hauler. They are known for "sweating the small stuff" and the inside of this RV proves it. The kitchen area is large and features many of the modern conveniences you would find in your own home. They are probably more modern than what you would find in your home for that matter. The glass top stove, touch point dishwasher, and sleek stainless steel look lend an air of luxury to the rugged motorhome. It can accommodate four persons for sleeping, and hey, if you bring your in-laws and they get on your nerves, I guess you could always stick them inside a car stored in the back as "guest accommodations." Don't worry, the soundproofing is pretty good in the Atacama, so you probably won't hear them beating on the doors and windows to get out. Since this RV is designed to go deep in the wilderness, you can free them anywhere you choose.
#1 – Triple-decker RV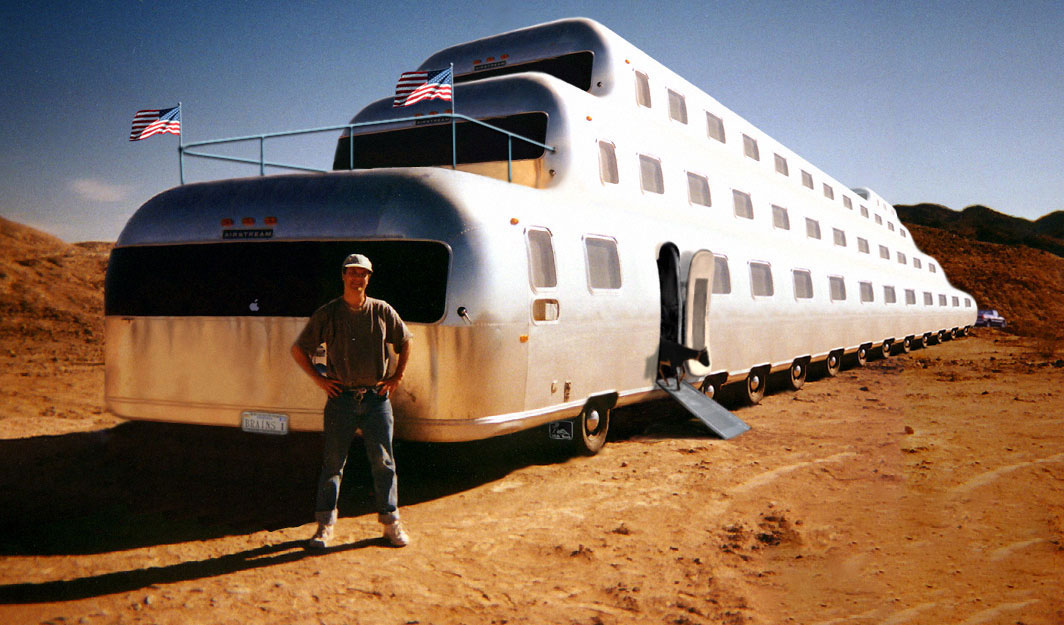 Now, this is a unique concept for a motorhome and a good finale for our "Cool RVs and Campers" list. It is a triple-decker RV with 24 wheels. We wonder how much it would weigh and whether those wheels would support it? Thankfully a Silverado is pulling it. I fully believe a Silverado could tug this behemoth or even something more extensive.
Take a look at some of the other coolest RVs on The Road