10 Coolest Concept Cars That Never Made It To Production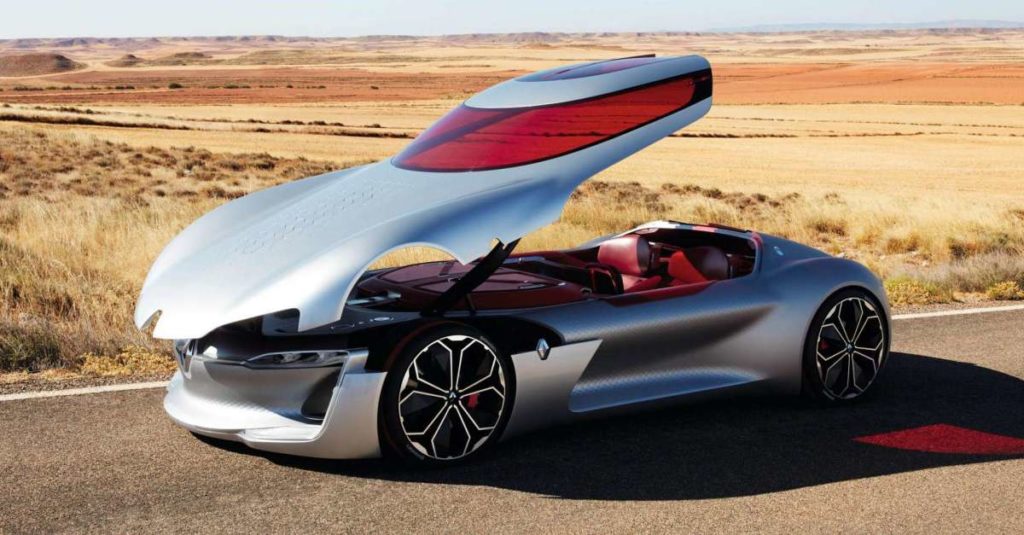 #10 – Volkswagen Aqua Curvy Hovercraft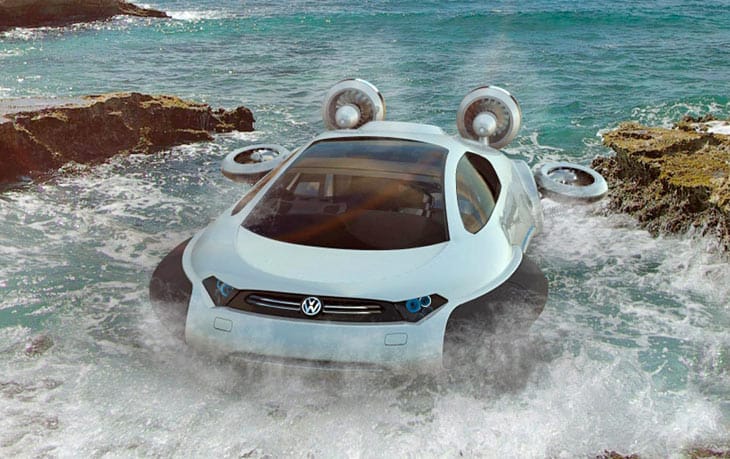 The Volkswagen Aqua Curvy Hovercraft is more than just a hybrid boat/ coolest concept cars. This clever concept is designed for all types of off-road terrain, while still providing incredibly efficient performance on normal roads. The Volkswagen Aqua Curvy Hovercraft can float, hover over anything, with incredible control. Whether you feel like a quick spin over snow banks or a jaunt at the beach, this car can do it all. The Aqua Hovercraft is equipped with four electric motors, powered by a hydrogen fuel cell.
#9 – Zoleco Eco Car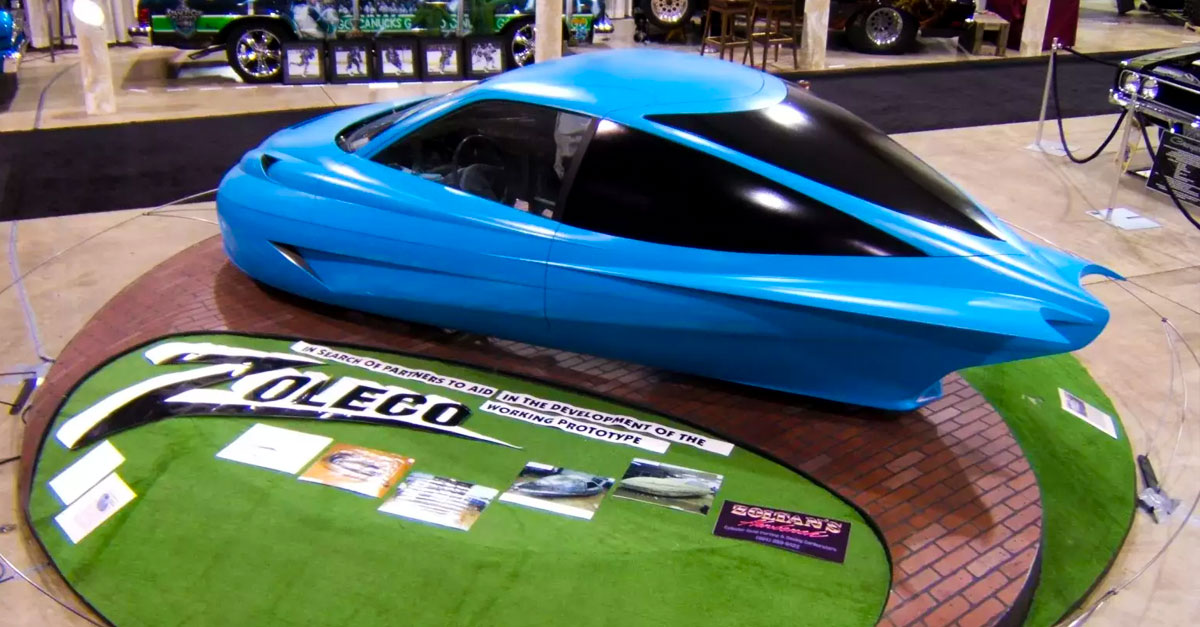 The next of our "10 Coolest Concept Cars That Never Made It To Production" list is the the sci-fi Zoleco. It is a homemade eco-car from Canadian DIYer Zoltan Bod. Bod's unique car isn't electric, hybrid or even hydrogen powered. It's just carefully crafted for maximum fuel efficiency, and even hits a jaw-dropping 151.1 mpg fuel rating. The Zoleco achieves this by massively cutting down on weight and drag, allowing it to gracefully slice through any wind resistance.
Unlike most eco-cars with strange shapes, Zoleco is actually designed to be comfortable for its occupants and can seat four. The Zoleco's lightweight body and unique design require very little engine power to propel the car. Bod estimates that a mere 8.2 horsepower would be enough to sustain the car at 65 mph. Bod is also planning on further developing his eco-car with possible plans to sell home-build kits. On a side note, this is a car with a cool name.
#8 – Renault Trezor Concept Car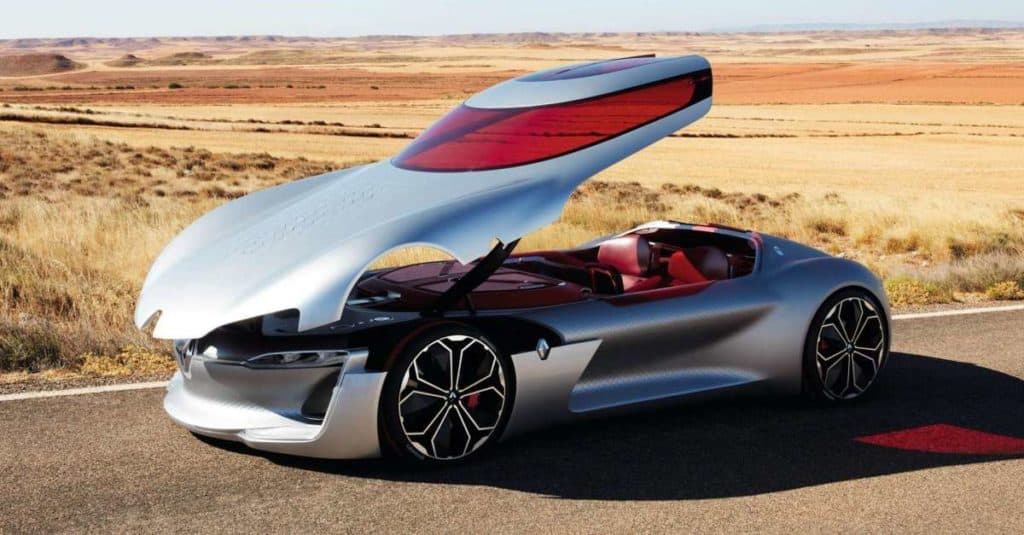 This sleek looking car is Renault's vision for a Grand Tourer car with both an all-electric powertrain and autonomous driving capabilities. It's appearance is certainly intriguing, taking styling aspects from that of a classic GT. The honeycombed bonnet of this concept car can open and close, a unique feature guaranteed to get gear head's attention. Another feature worthy of attention? The Trezor's engine. It's taken straight out of the Renault e.dams, which just so happens to have won the manufacturer's Formula E Team's world title. If you're wondering what that translates to, try 100 kps in under four seconds. Whether you choose to drive this beast in neutral, sport or autonomous mode, you'll be sure to have fun and look good doing it. Definitely an awesome concept cars!
#7 – Yamaha OX99-11
The Yamaha OX99-11 was one of the coolest concept cars that was pegged for production in 1994, with three prototypes arriving in 1992. Ypsilon Technology, a Yamaha subsidiary, and IAD, an engineering consultancy from England, designed it together. It made use of the new 3.5-liter V12 engine that Yamaha had created for racing development. The auto has dramatic aluminum bodywork, a carbon-fiber tub, a central seating position, and a glass canopy reminiscent of a fighter jet. There is also a tandem seat behind the driver. We wonder how much someone would get if this car sold at auction?
#6 – The Manta Concept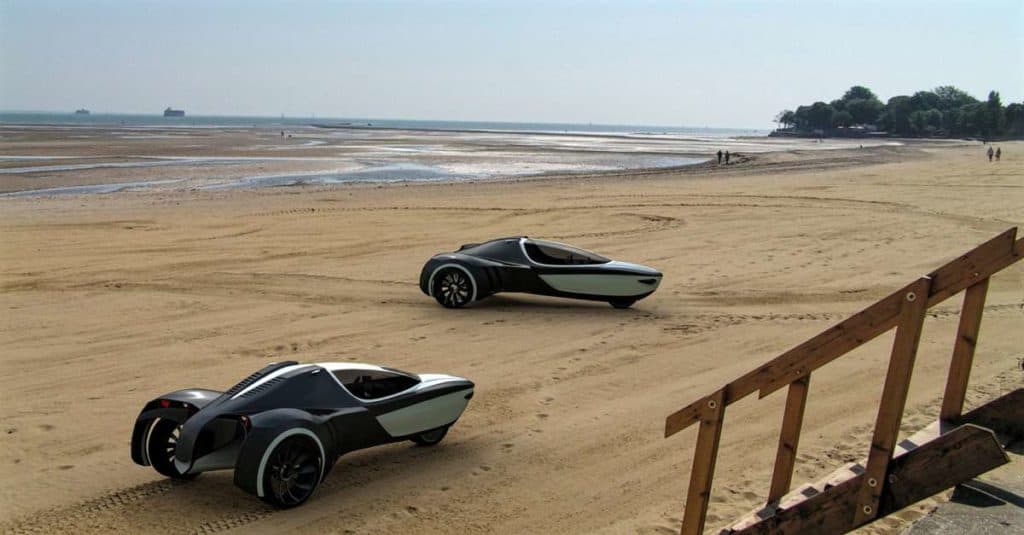 Of all the hybrid boat/cars every proposed, the Manta is likely the most practical. It sure is one of the most stylish. This odd vehicle boasts the street performance of a typical compact car with the incredible water speed of a jet ski, and all at what the designers hope will be an affordable price for the common person. The lightweight Manta can also be constructed mostly from off-the-shelf components, which helped it win the Michelin Design Challenge in 2011 for most revolutionary car design.
While clearly not the ideal vehicle for running errands, you wouldn't need to rent a separate craft when you head down to the beach. Transitioning smoothly from land to water operations without preparation, just the flick of a switch, the Manta is also rugged and light enough to drive on loose-packed sand beaches. All of which makes it the perfect yet odd car for the weekend.
#5 – Chrysler Atlantic
The Chrysler Atlantic concept car first went on display in 1995. Bob Hubbach designed it with inspiration from the Bugatti Atlantique. The auto's history actually began with a napkin sketch made by Bob Lutz, the Chrysler President, in 1993. The Atlantic has retro-styling, such as a straight-8 engine made from two four-cylinder engines and an Art Deco interior with matching gauges. The concept has about 360 horsepower and had large wheels for the time. This vehicle concept remains popular today, and if it went to market, it would probably be a very expensive car.
#4 – GFG Style Kangaroo
#3 – Bentley Hunaudières
The Bentley Hunaudières is a concept car that was displayed at the 1999 Geneva Salon International de l'Auto. It runs on a naturally-aspirated 8.0-liter Volkswagen engine that Bentley modified to create 623 bhp and 561 pound-feet. It also featured a 5-speed manual transmission and it could reach 217 mph. Although this concept never reached production, it did lead to the Bugatti Veyron, which is still a favorite among auto enthusiasts. It kind of gives us an awesome old school car vibe. The auto is a two-door coupe with an RMR layout.
#2 – Subaru F-624 Estremo
Subaru built the F-624 Estremo as a concept car in 1987. It was a four-door vehicle with a unique, bubbly shape. It featured full-time four-wheel drive, a continuously variable transmission, 4ws, and continuously variable front/rear torque split. It had an electropneumatic suspension, electric variable-assist steering without a hydraulic pump, and ABS brakes. The 2.4-liter twin-turbocharged engine was a unique variation of the Subaru 2.7-liter flat-6 found in production models. Its appearance is a clear vision of what we expected from the future of automobiles in the 1980s.
#1 – The Rolls-Royce Vision 100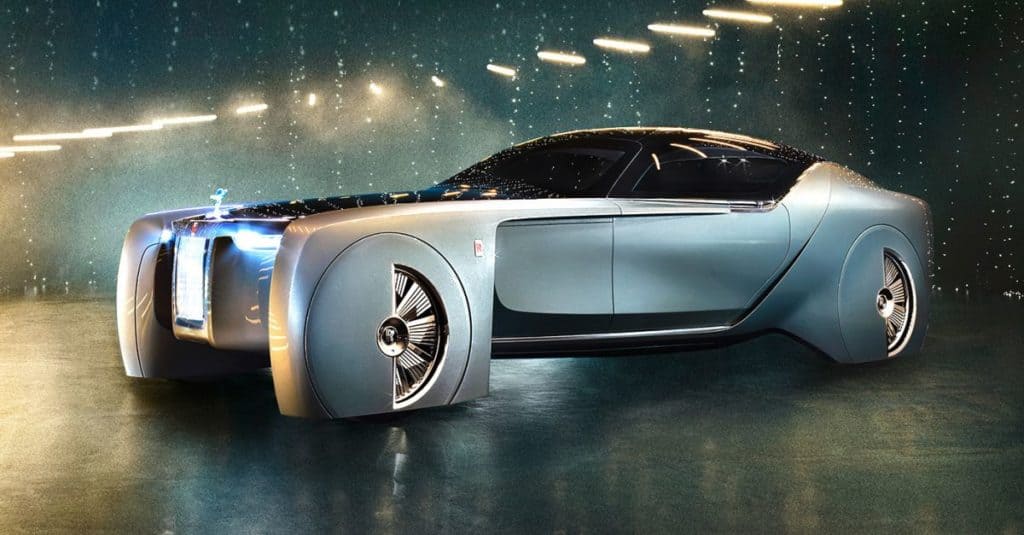 The last of on our "10 Coolest Concept Cars That Never Made It To Production" list, we have this incredible concept from Rolls Royce. As you would expect from Rolls Royce, their future ride will be as luxurious as it is practical. One of the first post-modern supercars, this will be completely autonomous. Like many of these upcoming cars, there won't be any front seat nor even access to a steering wheel. Instead, passengers will lounge in the massive back seat area. One complete with a silk sofa to fit two people comfortably and all the amenities you'd find in a stretch limo.